Vettel leads Ferrari 1-2 in 2nd Brazilian GP practice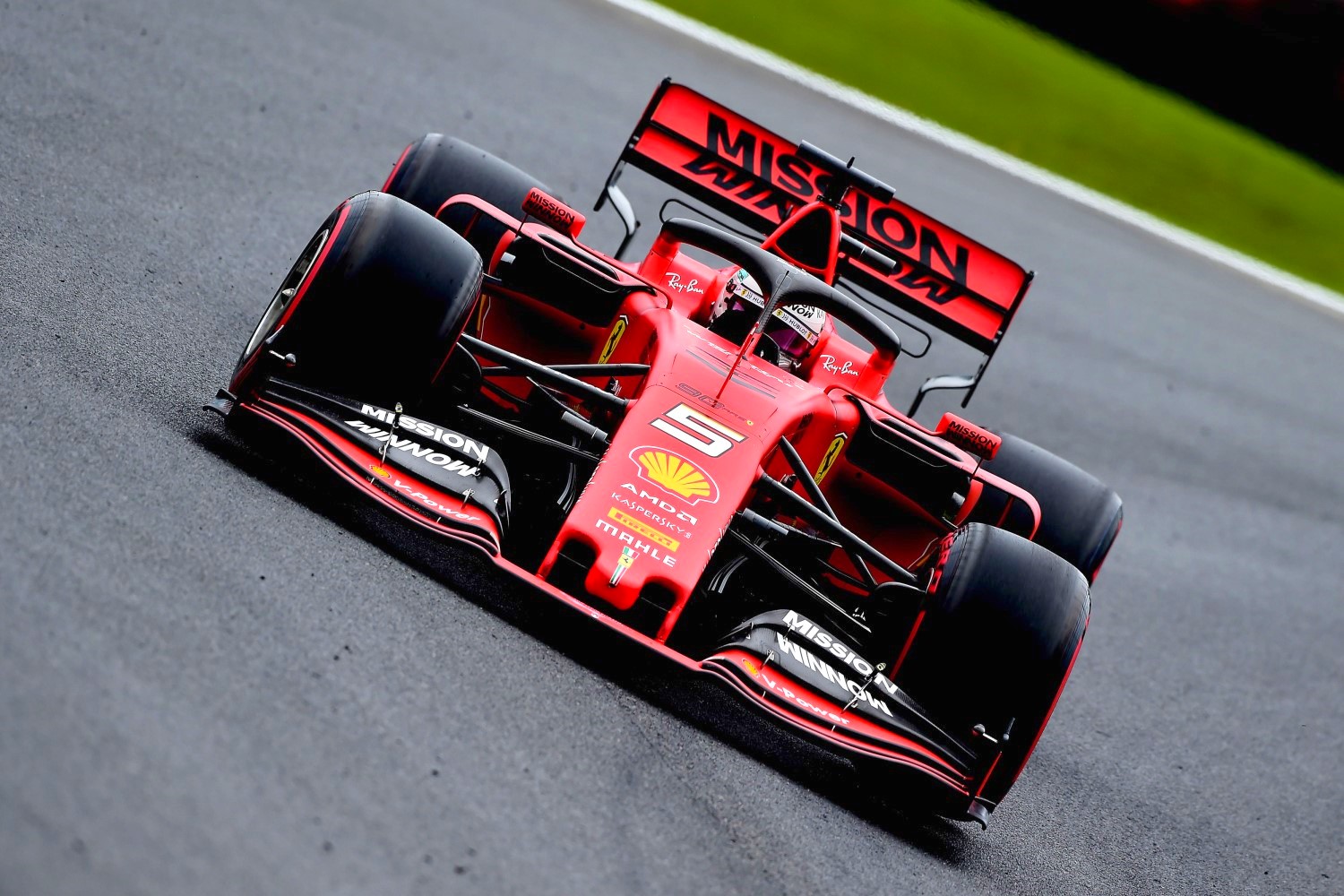 Sebastian Vettel
Sebastian Vettel led a Ferrari 1-2 in the 2nd Brazilian GP practice at Interlagos. After the first session was wet, the 2nd session ran largely on a dry track and the two Ferraris put up the fastest laps, with Vettel at 1m09.217 and Leclerc just 0.021s behind.
Max Verstappen (medium) was 0.134s back in his Red Bull Honda followed by the Mercedes' of Valtteri Bottas (hard) and Lewis Hamilton (medium) rounding out the top-5.
In the first part of the session the two Scuderia Ferrari Mission Winnow riders took to the track with medium tires. The first to score a time was Leclerc in 1m10.297s followed shortly after by Vettel in 1m10.157s. Before switching to another race, the Monegasque went down to 1m09.820s with Vettel who did better in 1.09" 570. The qualifying simulation saw the two SF90s descend on the track with soft tires and once again it was Vettel who hit the best time. Leclerc had set a 1m09.238s, but shortly afterwards Vettel lowered the limit by 21 thousandths, turning in 1m09.217s.
In the last 35 minutes of the session the Ferrari drivers focused on race setups with two long runs performed with different compounds: Leclerc rode with medium tires, Vettel with soft tires.
Robert Kubica was one of the first men out, having missed FP1 for tester Nicholas Latifi's final appearance of the season, but the Williams driver crashed almost immediately with a wicked snap of oversteer at Turn 3.
Bottas found himself on the receiving end of Vettel and Hamilton's annoyance as the Finn seemingly obstructed both of them on flying laps, Hamilton's late evasive maneuver possibly putting the encounter into the 'near miss' category.
What we learned from FP1 and FP2
Rain this morning that meant FP1 was declared a wet session. The FP2 session in the afternoon was dry but cool, with ambient temperatures of around 20 degrees centigrade.
Red Bull's Alexander Albon was fastest this morning on the intermediate tires, with the track drying up in the closing minutes of FP1 to enable some limited slick tire running. However, there were still some damp patches.
In FP2, the teams sampled all three of the slick tires available, with Sebastian Vettel leading a Ferrari one-two on the soft tire.
The remainder of the weekend is expected to be dry, meaning that only the data from FP2 is really relevant. Both practice sessions today ended under a red flag.
Low tire degradation was seen in FP2, pointing at a one-stopper on Sunday.
On the short Interlagos circuit, the performance gap between the soft and the medium is around 0.5 seconds up to now, while the gap between the medium and the hard is a bit bigger: around one second (although data on the hard tire is in relatively short supply).
Mario Isola – Pirelli Boss
"The wet morning session was useful to have a look at crossover points between wets and inters and slicks, while we then got some good dry running in the afternoon. There is a short and intense lap here, which means that the gaps are always close. We experienced cool conditions throughout the day, with ambient temperatures of 20 degrees centigrade and track temperatures struggling to get past 23 degrees. These conditions clearly affect tire behavior. Nonetheless, the tires seem to be working very well so far, with no graining despite the cool weather. In any case, temperatures are expected to get warmer for the rest of the weekend, which could alter the picture of tire behavior when it comes to performance gaps and degradation, opening up the door to some different strategies."
Quotes
Mercedes AMG Petronas Motorsport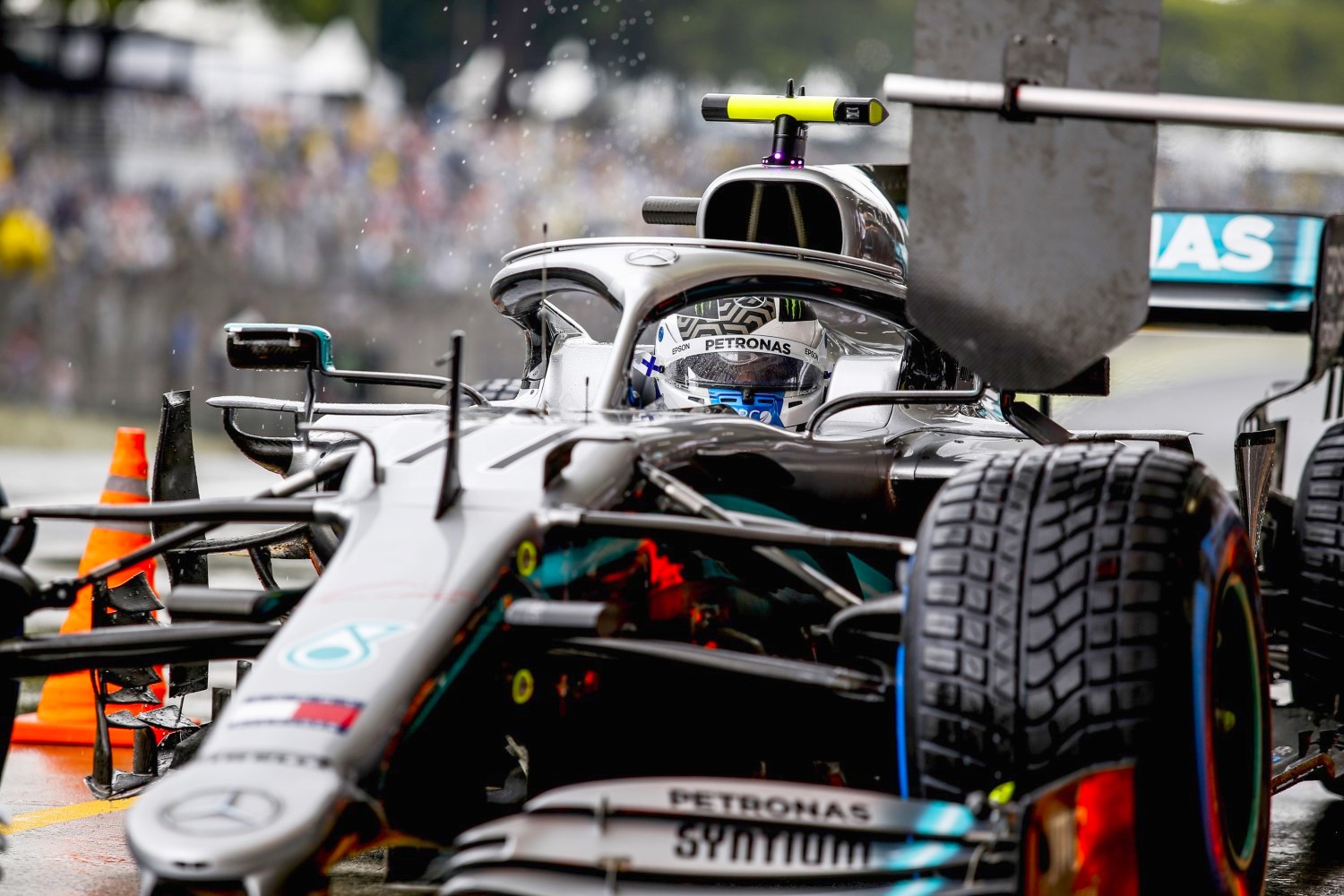 Bottas in the morning rain
Valtteri Bottas (4th, 1:09.373): "The running in FP1 was compromised a bit owing to the weather, but the forecast for the weekend is looking better. I got a few laps in in the morning to do a bit of a systems check, but that was it. The conditions in FP2 were a lot better, so we managed to do a good program in the afternoon. I started on the Hard tire to collect some data but it was tricky on a green track with that compound. We then switched to the Soft tire which changed the behavior of the car quite a bit and we made a good step forward in terms of grip levels. I had a bit of traffic in my fast laps and the times at the top look very close, so I think we are actually more competitive than the standings might suggest. I think both Ferrari and Red Bull look very strong, but we should be right up there as well, so I'm looking forward to a good fight."
Lewis Hamilton (5th, 1:09.440): "I didn't really go out in the first session when the track was wet. The afternoon session was nice and smooth, we started on a good baseline and made a couple of adjustments in the short space of time that we had in that session. We will do more work tonight to refine the car which is going to be quite crucial as we only really have two sessions to get it right for qualifying, so it's compacted a little more and we need to be a little bit more precise with the changes that we make. But we started off on the right foot, so we should be ok to progress forward."
James Allison, Technical Director: "After a fairly washed out first session it was nice to get the car running in the second session and broadly it was a good day. The car is reasonably well balanced and it looks pretty useful on the long-run simulations. We've got a little bit to find in the short runs ahead of qualifying tomorrow so we've got some work to do overnight. We've also got some thinking to do because although it was dry this afternoon, the track and air temperatures are not going to be representative of Sunday. But all in all it's been a promising start to the weekend."
Scuderia Ferrari
Sebastian Vettel (1st, 1:09.217): "The car was decent, but it was not an easy day on track with the weather conditions, as we did not get so much consistent running. I think we understood what the car needs, and now we'll take it from there and hopefully we can improve it. I believe we can and we must. My pace was better on a single lap than on a longer run. We need more grip which is not so easy to find. But we can balance the car a bit more, which should make the long run better. I am pretty confident we can make a step forward, but for the race it could be quite difficult, in line with what we saw at the last two races. Now, we must focus on our own work and make sure we are in better shape for the rest of the weekend and then we'll see what it brings tomorrow and on Sunday."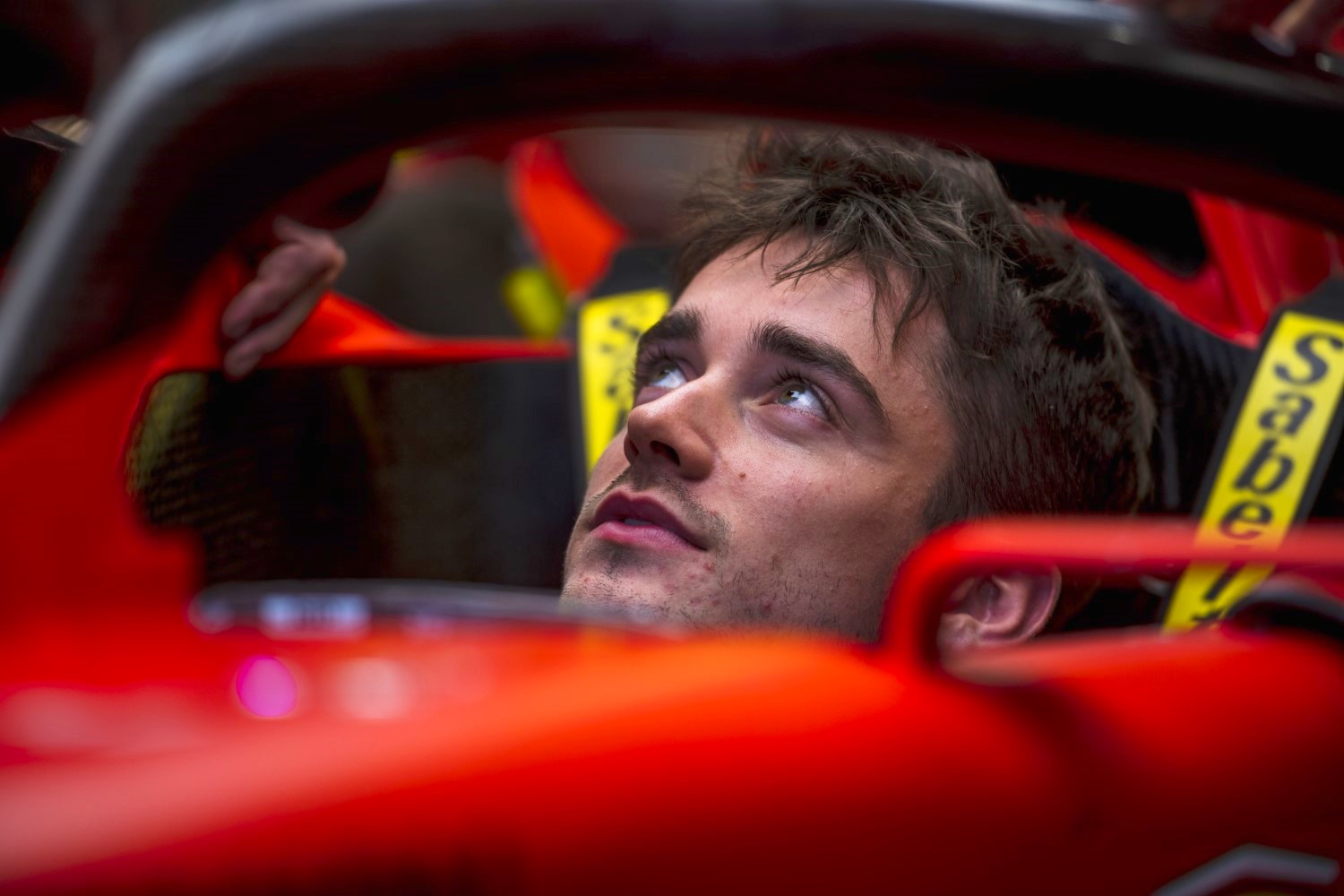 Charles Leclerc
Charles Leclerc (2nd, 1:09.238): "Overall, it was a positive day for us. Our qualifying pace looks good, while we do have some work ahead of us to improve our race pace. I am glad that I had the chance to get some more practice driving in wet conditions today and pushed to go out on track as soon as possible in FP1. Although these conditions were not really representative, as it should be quite a bit warmer tomorrow and on Sunday, it was good to see that our pace was there. I think there is some room for improvement and we will work on that tonight. We will head into qualifying knowing that I will be taking a grid penalty, but this changes nothing for me in terms of my approach. I will still push to the maximum and aim to secure the best starting position possible."
Aston Martin Red Bull Racing
Max Verstappen (3rd, 1:09.351): "It was a bit of a messy day because of the changing weather and I think the lap times are not really representative as the track and ambient temperatures are pretty different to what it looks like for tomorrow and Sunday. It's positive that the car was straight away working well, there are of course always things you can improve but it was a good start and we have a good basis for tomorrow. The top three teams are all very close to each other so let's see how everyone responds to the track and temperatures tomorrow. I also don't mind whether the rest of the weekend is wet or dry as I think we can be competitive whatever the conditions."
Alexander Albon (9th, 1:10.275): "Today was ok. FP1 was tricky in the wet and obviously it wasn't ideal crashing but it was quite a minor off. I just lost it on the brakes and it happened at the worst part of the track. The guys did a great job to get the car ready for FP2, and the car felt ok on the prime tire. Then I switched to the option and got a flat spot so that was my session over really. I think our performance looks quite good though and our race pace is strong so we can take positives from today, I just don't know where I'm at because I haven't had a clean session. This track is quite difficult, and with the weather and rivers on the circuit it's not easy, but it's fun and I'm enjoying driving it. I need more laps and I'm just chipping away at it. Interlagos is old school so you need to build up to it and get into a rhythm."
Renault Sport Formula One Team
Daniel Ricciardo (7th, 1:10.194): "The day began with some wet running, which was actually quite beneficial. I haven't done too many laps in the rain in this car, so it was nice to learn a bit in that aspect. The start of the afternoon was quite difficult on the Hard tire and cool conditions, which meant grip levels weren't quite there. We put the Soft on after that and found a bit of time and that was positive. Our long runs seemed okay and I think we're in a pretty good place."
Nico Hulkenberg (11th, 1:10.325): "I think today, on the whole, was pretty decent. For a Friday, I'm quite happy. It was a short morning with just one run on the Intermediates; it felt a bit limited but still good to be out on track and get a feel for the car in the wet conditions. The afternoon was a little rushed, quite intense with the red flags, but the car felt good. We had some minor balance issues, but the baseline seems fine and the pace is there."
Alan Permane, Sporting Director: "Obviously, it was a slightly compromised Friday with a wet first session, but we ran a set of Intermediates on both cars and both drivers were pretty happy and competitive. We're not expecting rain for the rest of the weekend, but you never know at this track. The afternoon was also decent as we ran a fairly conventional program. It's always close here as it's a short lap, but there are areas we feel we can improve the car. As has been the case recently, our long runs look competitive. We've focused a bit more on trying to find some one-lap pace and that looks to be paying off."
Haas F1 Team
Kevin Magnussen (6th, 1:10.143): "I think we had a pretty decent Friday – we were P6 on low fuel in FP2. That's almost the best we've been all year, at least since Monaco, I think. That's nice. It's been very cold today and it's not going to be cold on Sunday. The cold conditions help us, so, that's a bit of a bummer. I hope the cloud cover can stay and we can have some cool track temperatures as it definitely helps us. We'll take it as it comes though. The whole of the midfield is within half a second, it's so tight, I'm P6 and there's just four tenths down to P16."
Romain Grosjean (16th, 1:10.504): "It was very close today, very exciting. Kevin (Magnussen) was P6 and he's fourth and a half tenths ahead of me and I'm in P16. We had a small issue on the car in FP2 unfortunately, we need to resolve that for tomorrow. We know what it is and we're going to sort that out. Hopefully the car is better tomorrow. The qualifying pace was good today though, the race pace was alright. We're expecting the track temperature to be a lot hotter on Sunday and that will change the picture a lot. We just need to make sure we work on that and don't get surprised by the change of track temperature. Conditions were in our favor today, it's going to change, but we're going to try as hard as we can."
Guenther Steiner, Team Principal: "FP1 today, there wasn't a lot learned. We went out on the intermediates with Kevin (Magnussen), we ran around a little bit, but nothing really learned as I said. FP2 wasn't a bad session for us. The temperature worked in our favor here today, it was pretty cold. It's too early to jump to a conclusion because Kevin had quite a good time, Romain (Grosjean) struggled a little bit more to find the right balance of the car. Tomorrow is a different day – hopefully the track doesn't get a lot hotter, maybe then we can have a good qualifying."
McLaren F1 Team
Carlos Sainz Jr. (10th, 1:10.310): "Quite a challenging afternoon for us in the dry. I never felt 100 per cent comfortable in the car. We've got homework to do tonight as we weren't very competitive either on the short or the long runs. On the positive side, this morning we were able to do quite a lot of running in the wet. We looked quite competitive and we gathered valuable date in those conditions. I look forward to tomorrow – there's a big margin for improvement."
Lando Norris (18th, 1:10.700): "A tricky day with FP1 being wet and it's the first time here for me in those conditions. It took me time to get used to everything compared to the other drivers who have experienced conditions like that here in recent years. It's not the easiest track to be on the limit straight away, and it's easy to make a mistake. It's been a day of trying to improve small things, my driving and the set-up. I think the coming days will be dry, so we've got some good learning points for the car and for myself."
Andrea Stella, Performance Director: "The weather today gave us the opportunity to run the cars on Wet, Intermediate and dry tires. Happily, we had some wet weather tests that we wanted to do before the season ended, so this was an excellent opportunity for us. Also, it's Interlagos, so even though we expect the weekend to be dry, it's good to be ready for anything! In the dry this afternoon, as usual the gaps in the midfield were very small. Clearly, we have some work to do and overnight we'll be trying to improve both our qualifying and race preparation."
Racing Point F1 Team
Sergio Perez (15th, 1:10.443): "With a wet start to the day, we didn't do much work in the morning session and I didn't set a time. As the track began to dry this afternoon, we managed to complete some good runs, even with the red flag interruptions. We will use the information we have to make some of the set-up decisions tonight. The weather in Brazil is unpredictable and the conditions can change quickly, but it certainly looks brighter over the weekend. The battle in the midfield is very close and one tenth can change your life so it's very important to deliver clean and tidy laps in qualifying. That's the key to a strong weekend."
Lance Stroll (17th, 1:10.568): "There's not much for us to take away from today because the track conditions meant we did limited running. The rain was very heavy first thing, but it did clear up as the morning went on and we managed a couple of laps on the intermediates. But as we saw from what happened to Albon, the track was still slippery and we had to be cautious. It was very cool today compared to what we expect tomorrow and Sunday, but we will look through the data tonight and see what we can learn. Final practice is always important, but it will be even more so tomorrow."
Otmar Szafnauer, Chief Operating Officer: "We elected not to do a lot of running in the very wet morning session given that we expect dry conditions for Saturday and Sunday. This afternoon we completed a good number of laps, but we didn't feel that the conditions were representative of what we will see over the weekend – for example, track and ambient temperatures were on the low side. Both drivers were struggling in the second sector with the balance so that is where we will focus our attention. We dialed the cars in as much as we could during the session and by the time we got to the long runs they were feeling a bit happier. We will take a best guess on the conditions we expect for the weekend and set up the car accordingly."
Alfa Romeo Racing
Kimi Raikkonen (8th, 1:10.210): "It was a positive start to our weekend, despite the challenging conditions. It's good to finish the day in the top ten, even though it is just practice: for sure there is still work to be done on the setup, but we will try to keep improving and see where we end up tomorrow. Qualifying is going to be tight, as always here. The lap is so short that even one tenth can make a difference of many positions: you need to get your lap completely right to be towards the front. We'll need to see what conditions we will have tomorrow, but we can be confident we will be in the fight."
Antonio Giovinazzi (13th, 1:10.419): "I think we can be satisfied about our work today. We had a busy program and managed to do some laps in the wet as well – it was a good experience. This afternoon the times were really close, and I think it's going to be a taste of what we can expect in qualifying. We will need to keep our focus and get it all together, extracting 100% from every corner tomorrow. Our target is, as always, a place in Q3 and I am confident it is within our reach."
Red Bull Toro Rosso Honda
Pierre Gasly (12th, 1:10.352): "It was good fun driving in the wet this morning, it's been a while since we've had these kinds of conditions, so it was good to get a feeling in the wet with the Toro Rosso. Everything felt ok this morning, but it won't be so useful as the rest of the weekend should stay dry. In FP2 we had good pace on the Prime tire, then on the Soft I hit some traffic, so I wasn't able to get a good clean lap. I think it's going to be tight tomorrow between P6 and P15 as there's only three tenths in it, so we need to make sure we have a clean run and put everything together for Qualifying because the midfield is very close. It's going to be an exciting day tomorrow. Towards the end of FP2 we had an issue with the engine, so we had to stop a bit before the end of the session which meant we lost a few laps on the long run, but that's how it is sometimes. We'll bounce back tomorrow as we still have enough laps from today to make the right choices for the rest of the weekend."
Daniil Kvyat (14th, 1:10.424): "In the end we had a productive session until the moment when the car switched itself off. We now need to find out what the problem was, but until then I think it was a solid session. We understood the track well and the requirements needed for tomorrow to go faster, so we will work hard overnight and try to improve tomorrow."
Jonathan Eddolls, Chief Race Engineer: "We came to Brazil with quite an extensive test matrix planned for FP1, but the heavy rain in the morning meant we had to cancel the test items as it's very difficult to test in the wet, particularly at this time of the season and especially on the aero side. We completed some laps on the full Wets and the track dried pretty quickly to Intermediate conditions, so we ran to get a view of competitiveness and balance – the car was performing quite well which was positive. The rain stopped and towards the end of the session it looked like the conditions were ready for the dry tire, so we went out on slicks along with a few other teams, but if anything it was a little bit too early, particularly on the high working range C3 tire. We were struggling to get the tires working and as we saw, Alex spun off which meant we weren't able to get a timed lap. We reverted the cars to a dry setup for FP2 and had quite a bit of work to catch up on that we hadn't completed in FP1. We did the low fuel runs on Prime and then Option. With the low temperatures, it was quite a struggle to get the tires into a good working window. We were looking competitive on the Prime, but less so on the Options, so that's something for us to work on, particularly for tomorrow. However, the weather forecast is looking better and the temperature will be higher, so it's not necessarily relevant from today. On the long runs, the pace was looking pretty reasonable on both cars, but unfortunately, we've had an issue on the PU side for Pierre, which cut his long run short. Then towards the end of the session, there was some problem with Dany's car where it completely shut down, and it looks like that's what caused his spin. We lost all data and connection, so we have to investigate the cause for it. There's quite a bit for us to work on ahead of tomorrow, and there'll be quite some work for the mechanics tonight."
Toyoharu Tanabe, Honda F1 Technical Director: "The first half of FP1 was run on a very wet track, but then it began to dry and we could do more running. It was unfortunate that Alex crashed when he tried a run on dry tires, but the team managed to fix the damage in time for him to go out in FP2. Track conditions were much better in the afternoon, providing more useful data. Towards the end of the session, the ICE on Gasly's car failed and then Kvyat crashed due to a complete shutdown and with the team, we are now investigating the cause of both these problems. However, they have no effect on the rest of the weekend from a PU point of view, as both of them were running "Friday only" PUs, due to be changed tonight."
ROKiT Williams Racing
George Russell (19th, 1:11.818): "It wasn't the best day. We were struggling with the temperature to get the tires working and it was very tricky out there. If we get the tires in the window, I think the lap time will improve quite dramatically. Hopefully with higher temperatures and a bit more grip, it should come towards us. We've definitely got work to do tonight and let's see what we can do for tomorrow."
Robert Kubica (20th, No Time): "I was on my first lap around Interlagos, I lost the car in a nasty way in-between turns two and three. Initially I did not understand the accident. However, once I reviewed it, I understood that a Haas had gone off the track a few seconds ahead of me, which pulled quite a lot of water onto the track. It was my first lap on the hard tire, so with all of these factors, I ended up in the wall. It was unfortunate, but this is motorsport and it can be frustrating at times."
Nicholas Latifi: "It was my first time driving a Formula One car in wet conditions, so it was a new experience for me. I was hoping it wouldn't rain as much as it did, but I was very happy to go out and get five or six good pushing laps. Overall, it was a very valuable session for me, I got the car back in one piece, so I felt I did a good job."
Dave Robson, Senior Race Engineer: "The heavy overnight rain was supplemented by further showers before and during FP1. This is quite common in Sao Paulo in November and we had a suitable program prepared, which we would have executed successfully but for the red flag at the end of the session. George and Nicholas drove very well in the wet conditions, which enabled us to gain a lot of valuable data on a range of test items. By the start of FP2 the track had dried but it remained very cold, and while the track drainage had been effective in clearing the water, some of the curbs remained wet. Having missed FP1, we were keen for Robert to maximize his track time in FP2 but, unfortunately, he put a wheel in a wet patch that had been created by a car ahead running through the wet curbs at T3. This damaged the car and stopped his session before he had any opportunity to do any meaningful running. We will assess the extent of the damage tonight and rebuild the car accordingly. George had a productive FP2 session, but the cold conditions made tire warm-up and management especially difficult. Fortunately, the forecast is for warmer conditions for the rest of the weekend, and this will probably change the tire behavior significantly. On this basis, we can expect a relatively busy FP3 session tomorrow as everyone finalizes their tire preparation in the warmer conditions."
Practice 2 Results
| | | | | | | |
| --- | --- | --- | --- | --- | --- | --- |
| POS | NO | DRIVER | CAR | TIME | GAP | LAPS |
| 1 | 5 | Sebastian Vettel | Ferrari | 1:09.217 | +0.000s | 30 |
| 2 | 16 | Charles Leclerc | Ferrari | 1:09.238 | +0.021s | 35 |
| 3 | 33 | Max Verstappen | Red Bull Racing Honda | 1:09.351 | +0.134s | 33 |
| 4 | 77 | Valtteri Bottas | Mercedes | 1:09.373 | +0.156s | 37 |
| 5 | 44 | Lewis Hamilton | Mercedes | 1:09.440 | +0.223s | 39 |
| 6 | 20 | Kevin Magnussen | Haas Ferrari | 1:10.143 | +0.926s | 38 |
| 7 | 3 | Daniel Ricciardo | Renault | 1:10.194 | +0.977s | 32 |
| 8 | 7 | Kimi Raikkonen | Alfa Romeo Racing Ferrari | 1:10.210 | +0.993s | 39 |
| 9 | 23 | Alexander Albon | Red Bull Racing Honda | 1:10.275 | +1.058s | 31 |
| 10 | 55 | Carlos Sainz | McLaren Renault | 1:10.310 | +1.093s | 38 |
| 11 | 27 | Nico Hulkenberg | Renault | 1:10.325 | +1.108s | 31 |
| 12 | 10 | Pierre Gasly | Scuderia Toro Rosso Honda | 1:10.352 | +1.135s | 26 |
| 13 | 99 | Antonio Giovinazzi | Alfa Romeo Racing Ferrari | 1:10.419 | +1.202s | 36 |
| 14 | 26 | Daniil Kvyat | Scuderia Toro Rosso Honda | 1:10.424 | +1.207s | 34 |
| 15 | 11 | Sergio Perez | Racing Point BWT Mercedes | 1:10.443 | +1.226s | 31 |
| 16 | 8 | Romain Grosjean | Haas Ferrari | 1:10.504 | +1.287s | 38 |
| 17 | 18 | Lance Stroll | Racing Point BWT Mercedes | 1:10.568 | +1.351s | 33 |
| 18 | 4 | Lando Norris | McLaren Renault | 1:10.700 | +1.483s | 41 |
| 19 | 63 | George Russell | Williams Mercedes | 1:11.818 | +2.601s | 36 |
| 20 | 88 | Robert Kubica | Williams Mercedes | No Time | No Time | 2 |