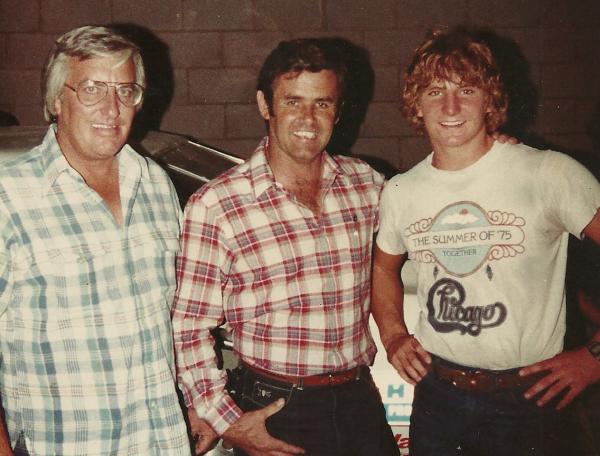 Hillin Sr. (L) and Jr. (R) flank their 1982 Indy 500 driver Al Unser Sr.
Bobby Hillin Sr., a race team owner and father of retired NASCAR competitor Bobby Hillin Jr., died over the weekend. He was 79 years old.
Obituary:
Devoted husband of PJ Hillin; loving father of Deborah (Steve) Rickey, Bobby (Jamie) Hillin Jr., Adriane Lawless, Clay (Cassandra) Hillin and Chandler Hillin; grandfather of six and great-grandfather of three. Bobby lived life to the fullest. Over the course of almost eight decades, he touched lives as an independent oilman, race car driver, IndyCar team owner, art collector, dutiful husband, loving father, mentor to many and friend to even more. A competitive and driven man, he strove to be the best, and could always see the best in others.
His proudest achievements were the successes of those he helped. Family and friends are invited to a memorial service at 1:00PM on Saturday, March 23rd, 2019 at the Holy Ghost Lutheran Church at 115 E. San Antonio Street, Fredericksburg, TX 78624. Reception to immediately follow at InSight Gallery, 214 W Main Street, Fredericksburg, TX 78624. In lieu of flowers, donations can be made to Hill Country Memorial Hospital in Fredericksburg, TX.
Arrangements are by the Schaetter Funeral Home. Expressions of sympathy may be sent at
www.schaetter.com
.
Racing History
Based out of Midland, Texas, Hillin scored 10 victories as a car owner in what is now called the USAC AMSOIL National Sprint Car Series. His first victory came in 1985 at Ohio's New Bremen Speedway with Bruce Walkup at the wheel.
The following season he earned three victories as an owner, with two victories coming at Eldora Speedway with Jackie Howerton and Jan Opperman. Opperman added another victory later in the year at Ohio's Dayton Speedway before being injured driving a car fielded by Hillin in the Hoosier Hundred.
In 1977 Hillin's team scored six victories on the USAC trail with Bubby Jones at the wheel. Jones earned three victories at Eldora, a triumph at the Terre Haute Action Track and twice at Indiana's Winchester Speedway.
By 1978 Hillin transitioned away from sprint cars towards Indy car racing. For the next few years he tried unsuccessfully to win in Indy car competition, though he did earn a fifth-place result in the Indianapolis 500 with Al Unser at the wheel in 1982.
Others to drive for Hillin in Indy car competition included Sheldon Kinser, George Snider, Opperman and Jones, among others. He left Indy car racing at the end of the 1982 season.
His son, Bobby Hillin Jr., followed his father into motorsports as a driver. He earned one victory in the Monster Energy NASCAR Cup Series and two in the NASCAR Xfinity Series during a career that spanned nearly 20 years.