Vietnam approves F1 circuit land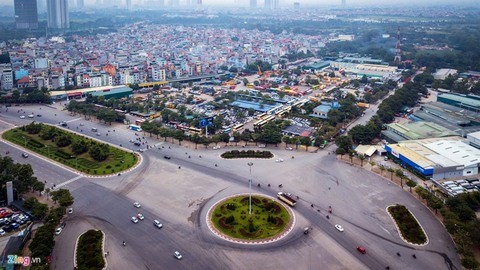 88 Hector (217 Acre) Vietnam circuit location approved
Chairman of Ha Noi People's Committee Nguyen Duc Chung has approved more than 88ha of land in the capital city for the Formula One (F1) race, which is slated to take place in April 2020.
Under the decision on the F1 event, which was issued recently, the planned area will be divided into two main areas.
The first one will be the functional area, which includes My Dinh national stadium, the square in front of the stadium, the golf academy and Tu Liem Post Office. The second will be a new area built for the race including the track, operating center, public area, support area and event organizing area, in addition to constructions such as a three-story pit building, bridge over the race track, broadcasting center, healthcare center, warehouse, car parking for racing teams and helicopter parking area.
The race track is designed with a length of more than 5.5km and width of between 12m and 15m, mainly running on the area's current 4km road, which will be upgraded to meet the technical standards of the F1 race track.
The decision stated that when no race is taking place, the tracks will accommodate normal traffic. It's expected that the project will be completed in April 2020.
Ha Noi was chosen to host a Formula One race for 10 years, which is organized by Grand Prix Viet Nam, an entity responsible for the race organisation.
Viet Nam is the third Southeast Asian country to host a F1 race after Malaysia and Singapore. The hosting of the race will put Ha Noi and Viet Nam on the world map of major sporting events. — VNS