Teammates Loshak and Drisi Share Front Row for Sebring Trans Am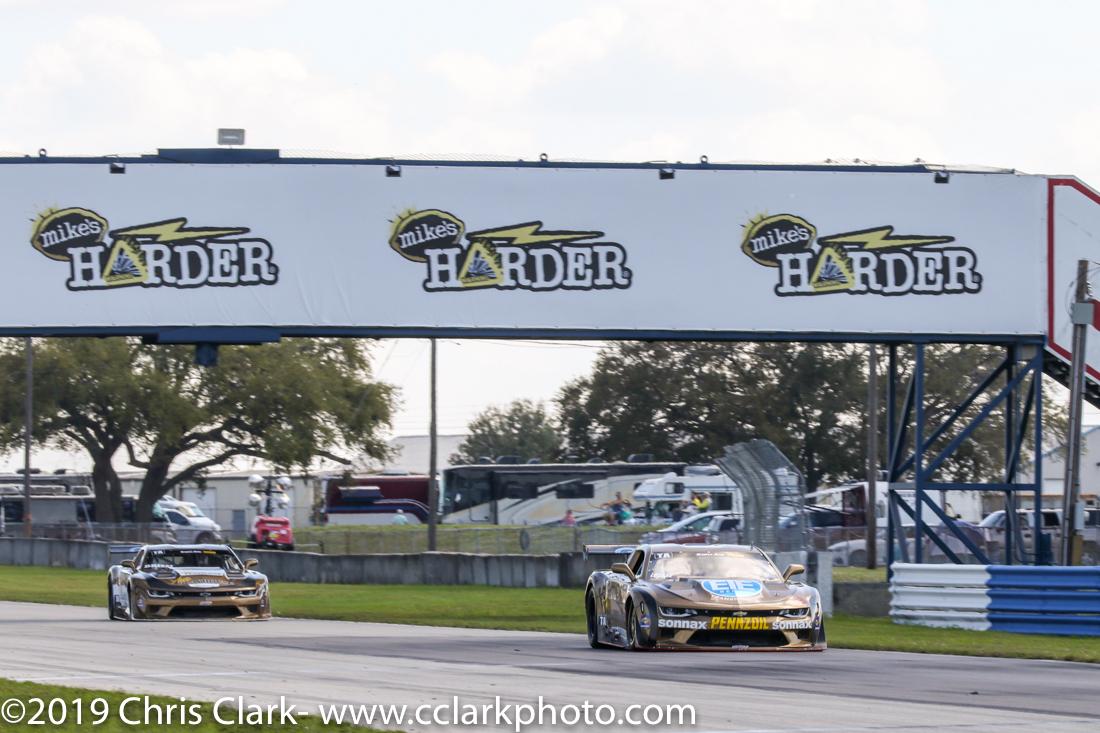 The gold Burtin Racing Chevy Camaros will start 1-2
Lawrence Loshak captured the pole position to give Burtin Racing's gold Chevy Camaros a sweep of the front row in qualifying for Sunday's Trans Am presented by Pirelli 2019 season-opening event at Sebring International Raceway.
Loshak toured the historic circuit in 3.74-mile circuit in 2:00.427-seconds to earn the pole in the No. 3 Pennzoil/Go Share Camaro, followed by his teammate Tomy Drissi, who carded a fast lap time of 2:01.426 in the No. 8 Axalta Camaro.
"It was a dream lap," Loshak said. "We drivers are always working with the engineers to get that perfect, impossible lap, and we're always trying to go faster. In a series like this, the guy behind you is going to pass you if you get complacent. The guys gave me an incredible car all weekend. We were P-1 in every session, and then they sprinkled a little special sauce on it for qualifying. They have all the confidence in me, and I came through with a dream lap – and an all-gold front row at Sebring."
Defending TA champ Ernie Francis Jr. was third in the No. 98 Frameless Shower Doors Ford Mustang, 2:01.854. Chris Dyson – who finished second behind Francis in the 2018 race at Sebring – qualified fourth at 2:02.066 in the No. 20 Plaid Ford Mustang.
"This is Ernie's home track," Loshak said. "We might be fast in one lap, but we're not going to take it lightly. But I'm comfortable with Sebring, and I think I just have to go. I've just got to be clean and mistake free. I know Ernie, Tomy (Drissi) and Chris (Dyson) aren't going to make it easy."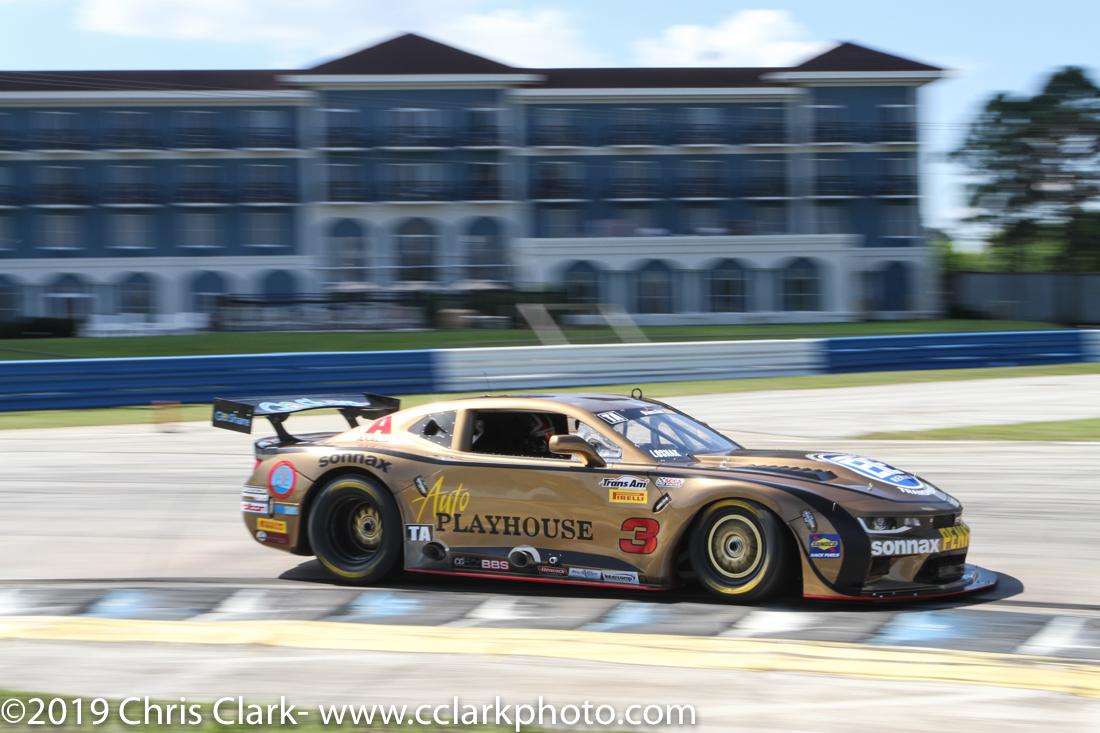 Loshak grabs pole
Last year's race winner will have a great view of the start from third on the grid, and has the last lap rather than the first lap in mind for tomorrow.
"I'm not worried about not being on the front row, I think we did a great job for a small team like ours," said Francis, Jr. "We are running stuff that we just work on ourselves. I think the pace that the leaders had today will be hard to maintain in the race and we've got a good consistent car for tomorrow, I know this place well, and I think it is going to be a good race here tomorrow."
Defending champion Rafa Matos led TA2 powered by AEM qualifying with a lap of 2:08.269-seconds in the No. 88 3Dimensional Services Group Chevy Camaro. TA2 races for one-hour, 15-minutes beginning at 11:10 a.m. on Sunday morning.
"The track was very different from this morning's practice, so I was expecting to be a little bit quicker," Matos said. "It was very hot and the track was slippery, but I had a good enough pace. Our car feels very good and balanced, so I think we will have a real good race car for tomorrow."
Tony Buffomante stayed close to Matos as he clocked the second-fastest lap of 2:08.391-seconds in the No. 34 Mike Cope Racing Ford Mustang.
Marc Miller was third in the No. 40 Prefix/Miller Racing Dodge Challenger, 2:08.662. This is a brand-new car for Miller, who passed Matos with two laps remaining to win the 2018 Trans Am opener at Sebring.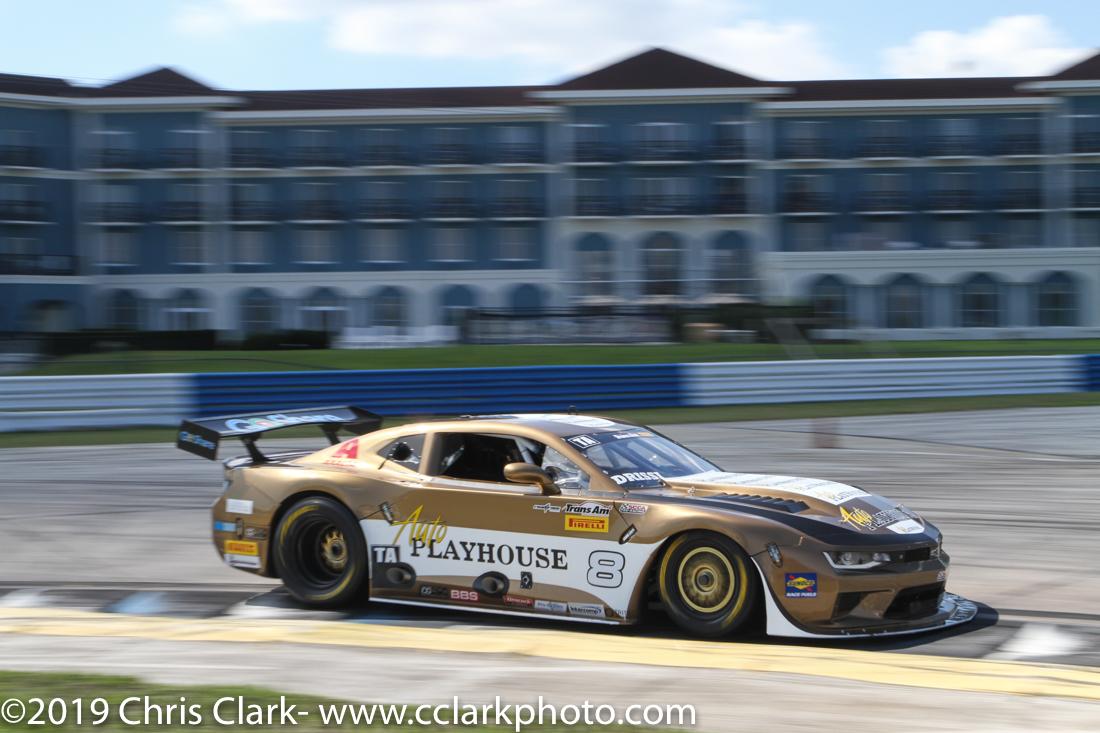 Tomy Drissi 1-second slower than teammate
The SGT and GT classes will race concurrently with TA in Sunday afternoon's event.
Mark Boden was fastest in SGT, seeking his fourth career and third-consecutive SGT triumph at Sebring in the No. 46 Beverage Flavors International Porsche 991 GT3 Cup.
"Considering the temperature cooled down today, I was really able to take advantage of the changing conditions," said Boden, who qualified at 2:09.825. "We had it set up for a one-shot deal, and I didn't make any mistakes. Now I'm in front when it goes green. We engineer our cars to maintain a fast pace for the entire race. In reality, we might struggle early on, but later in the race we hope to have a better car."
Tom Herb made it an all-Fall-Line Motorsports front row with a lap of 2:10.610 in the No. 16 Porsche, followed by Lee Saunders, 2:10 in the V10PWR Racing Dodge Viper.
Jeff Courtney led the GT competitors with a lap of 2:15.536 in the No. 88 Matrix/RecStuff.com/Kendra Maserati GT4, followed by Steven Davidson, 2:16.256 in the No. 22 Davinci Plastic Surgery Aston Martin Vantage.
"It was an uneventful lap – the way we like it," Courtney said. "I was hoping for a clear space and a clean lap, and we got it. I didn't actually get the tires up to the sweet spot, but we did the lap and now we can save the tires for the race. We're hoping to get to do battle tomorrow."
TA Qualifying
| | | | | | | |
| --- | --- | --- | --- | --- | --- | --- |
| Pos | No. | Clas | PIC | Name | Sponsor/Car | Time |
| 1 | 3 | TA | 1 | Lawrence Loshak Milwaukee Wisc. | Pennzoil/GoShare/Chevy Camaro | 02:00.427 |
| 2 | 8 | TA | 2 | Tomy Drissi Los Angeles Calif | Dark Phoenix/Auto PLAYHOUSE/Chevy Camaro | 02:01.426 |
| 3 | 98 | TA | 3 | Ernie Francis Jr Southwest Ranches Fla. | Frameless Shower Doors/Ford Mustang | 02:01.854 |
| 4 | 20 | TA | 4 | Chris Dyson Pleasant Valley N.Y. | Plaid/Ford Mustang | 02:02.066 |
| 5 | 41 | TA | 5 | Vincent Allegretta Hampton Bays N.Y. | TA Sights and Sounds/Chevy Corvette | 02:02.613 |
| 6 | 06 | TA | 6 | RJ Lopez Bal Harbor Fla. | TinaBazucaCraftAle/RepublicaBrw/Chevy Corvette | 02:03.606 |
| 7 | 0 | TA | 7 | Jordan Bupp Ft. Lauderdale Fla. | Hamilton Safe Security/NCR/Chevy Camaro | 02:03.638 |
| 8 | 23 | TA | 8 | Amy Ruman Stow Ohio | McNichols Co./Chevy Corvette | 02:04.072 |
| 9 | 57 | TA | 9 | David Pintaric Canfield Ohio | Kryderacing/Cadillac CTSV | 02:05.679 |
| 10 | 59 | TA | 10 | Simon Gregg Ponte Vedra Fla. | Derhaag Motorsports/Chevy Corvette | 02:05.772 |
| 11 | 91 | TA | 11 | Bobby Kennedy Ormond Beach Fla. | Advanced Composite Products Inc/Chevy Camaro | 02:06.676 |
| 12 | 86 | TA | 12 | John Baucom Wesley Chapel N.C. | BaucomMtrspts/RoadRaceParts.com/Ford Mustang | 02:06.681 |
| 13 | 19 | TA | 13 | Kerry Hitt Harrisburg Pa. | Advanced Composite Products Inc/Cadillac CTSV | 02:07.350 |
| 14 | 04 | TA | 14 | Natalie Decker Hurley Wisc. | N29 Technologies/Cybersight/Chevy Corvette | 02:07.999 |
| 15 | 18 | TA | 15 | Jon Leavy Sunrise Fla. | Info@MORPrinting.com/Chevy Camaro | 02:08.198 |
| 16 | 9 | TA | 16 | Jeff Hinkle Destin Fla. | NetDepot.com/TechnicalRealtyGrp/Dodge Challenger | 02:09.180 |
| 17 | 30 | TA | 17 | Richard Grant Germantown Tenn. | Grant Racing/Chevy Corvette | 02:11.459 |
| 18 | 99 | TA | 18 | Lawrence Lepurage New York City N.Y. | Share Logistics/Chevy Corvette | 02:11.949 |
SGT and GT Qualifying
| | | | | | |
| --- | --- | --- | --- | --- | --- |
| Pos | No. | Class | Name | Sponsor/Car | Time |
| 1 | 46 | SGT 1 | Mark Boden Winnetka Ill. | Beverage Flavors International/Porsche 991 GT3 Cup | 02:09.825 |
| 2 | 16 | SGT 2 | Tom Herb Barrington Ill. | Fall­Line Motorsports/Porsche 991 GT3 Cup | 02:10.610 |
| 3 | 84 | SGT 3 | Lee Saunders Lakeland Fla. | V10PWR Racing/Dodge Viper | 02:10.933 |
| 4 | 07 | SGT 4 | Brian Kleeman Baltimore Md. | DWWMotorsports/ExpoIT/Forgeline/Ford Mustang | 02:12.886 |
| 5 | 71 | SGT 5 | Dave Ricci West Palm Beach Fla. | Breathless Racing/Chevy Camaro | 02:13.558 |
| 6 | 33 | SGT 6 | Joe Moholland St. Pete Beach Fla. | Breathless/Moholland Racing/Chevy Corvette | 02:16.441 |
| 7 | 09 | SGT 7 | Chris Outzen Sudbury Ma. | DWWMotorsports/ExpoIT/Forgeline/Ford Mustang | 02:16.785 |
| 8 | 55 | SGT 8 | Milton Grant Germantown Tenn. | SentrySelfStorage/FairfieldInn/Porsche 991.3 GT3 Cup | 02:17.133 |
| 9 | 80 | SGT | Fabio Escorpioni dos Reis Windermere Fla. | AllSenses Mkt/Lamborghini Gallardo | no time |
| 10 | 88 | GT 1 | Jeff Courtney Milwaukee Wisc. | Matrix/RecStuff.com/Kendra/Maserati GT4 | 02:15.536 |
| 11 | 28 | GT 3 | Fernando Seferlis Miami Lakes Fla. | Compulab S.A./Aston Martin Vantage GT4 | 02:21.922 |
| 12 | 22 | GT 2 | Steven Davison Arlington Va. | Davinci Plastic Surgery/Aston Martin Vantage | 02:16.256 |
TA2 Qualifying
| | | | | | |
| --- | --- | --- | --- | --- | --- |
| Pos | No. | Class | Name | Sponsor/Car | Best Tm |
| 1 | 88 | TA2 1 | Rafa Matos Boca Raton Fla. | 3Dimensional Services Group/Chevy Camaro | 02:08.269 |
| 2 | 34 | TA2 2 | Tony Buffomante Naperville Ill. | Mike Cope Racing/Ford Mustang | 02:08.391 |
| 3 | 40 | TA2 3 | Marc Miller Holland Mich. | Prefix/Stevens­Miller Racing/Dodge Challenger | 02:08.662 |
| 4 | 92 | TA2 4 | Scott Lagasse Jr St Augustine Fla. | SLR/Fields Racing/M1Racecars/Chevy Camaro | 02:08.696 |
| 5 | 77 | TA2 5 | Dillon Machavern Heritage Vt. | Liqui­Moly/Prefix/Ford Mustang | 02:09.206 |
| 6 | 10 | TA2 6 | Misha Goikhberg Woodbridge Ont. Canada | BC Race Cars/Chevy Camaro | 02:09.321 |
| 7 | 25 | TA2 7 | Ethan Wilson Loomis Calif. | BCRaceCars/WesternGrindingServ/Chevy Camaro | 02:09.628 |
| 8 | 13 | TA2 8 | Louis­Philippe Montour St. Donut Q.C. Canada | Montour Ltd/Chevy Camaro | 02:10.230 |
| 9 | 02 | TA2 9 | John Atwell Azle Texas | A&J Lab Portal/Chevy Camaro | 02:10.284 |
| 10 | 9 | TA2 10 | Keith Prociuk Chicago Ill. | HP Tuners/Chevy Camaro | 02:10.347 |
| 11 | 87 | TA2 11 | Doug Peterson Bonita Springs Fla. | 3Dimensional Services Group/Ford Mustang | 02:10.603 |
| 12 | 31 | TA2 12 | Elias Anderson Driftwood Texas | AccioData/SampsonRace/HarrisHill/Ford Mustang | 02:10.847 |
| 13 | 52 | TA2 13 | Lawless Alan Van Nuys Calif. | AutoParkIT/Ford Mustang | 02:11.049 |
| 14 | 11 | TA2 14 | Peter Klutt Halton Hills Ont Canada | TBD/Prefix/Dodge Challenger | 02:11.605 |
| 15 | 57 | TA2 15 | Maurice Hull High Point N.C. | WaukeeganFarms/EvertreeCompany/Ford Mustang | 02:11.626 |
| 16 | 23 | TA2 16 | Curt Vogt Walling/ Ford Conn. | Cobra Automotive/Ford Mustang | 02:11.633 |
| 17 | 97 | TA2 17 | Tom Sheehan Bow N. H. | LTK Insulation Technologies/Ford Mustang | 02:12.217 |
| 18 | 83 | TA2 18 | Alex Wright Mount Vernon Ohio | Stevens Miller Racing/Dodge Challenger | 02:13.018 |
| 19 | 32 | TA2 19 | Barry Boes Dripping Springs Texas | AccioData/SampsonRace/HarrisHill/Ford Mustang | 02:13.254 |
| 20 | 05 | TA2 20 | Steven Lustig Chester N.J. | The Autosport Group/Chevy Camaro | 02:13.358 |
| 21 | 17 | TA2 21 | Jacob Mosler St Augustine Fla. | SLR/Fields Racing/M1Racecars/Chevy Camaro | 02:13.423 |
| 22 | 70 | TA2 22 | Willis Woerheide Hilton Head Island S.C. | TexasToolTraders/Multi­Building/Chevy Camaro | 02:13.935 |
| 23 | 14 | TA2 23 | Matt Parent Bellevue Wash. | Venture Construction/Ford Mustang | 02:14.617 |
| 24 | 43 | TA2 24 | Roberto Sabato Toronto Ont. Canada | 6th Gear Garage/Ford Mustang | 02:14.758 |
| 25 | 29 | TA2 25 | Mitch Marvosh Ventura Calif. | Wolf Entertainment/Chevy Camaro | 02:17.814 |
| 26 | 63 | TA2 26 | Bob Lima Philadelphia Pa. | Lima Company/Chevy Camaro | 02:18.078 |
| 27 | 41 | TA2 27 | John Cloud Naples Fla. | Ultimate Headers/Chevy Camaro | 02:18.511 |
| 28 | 60 | TA2 28 | Tim Gray Eden Praire Minn. | Ryan Companies/Ford Mustang | 02:21.640 |
| DNS | 12 | TA2 29 | Brian Swank Cumming Ga. | Berryman Products/Chevy Camaro | no time |