Tommy Thompson could have been the Jackie Robinson of IndyCar racing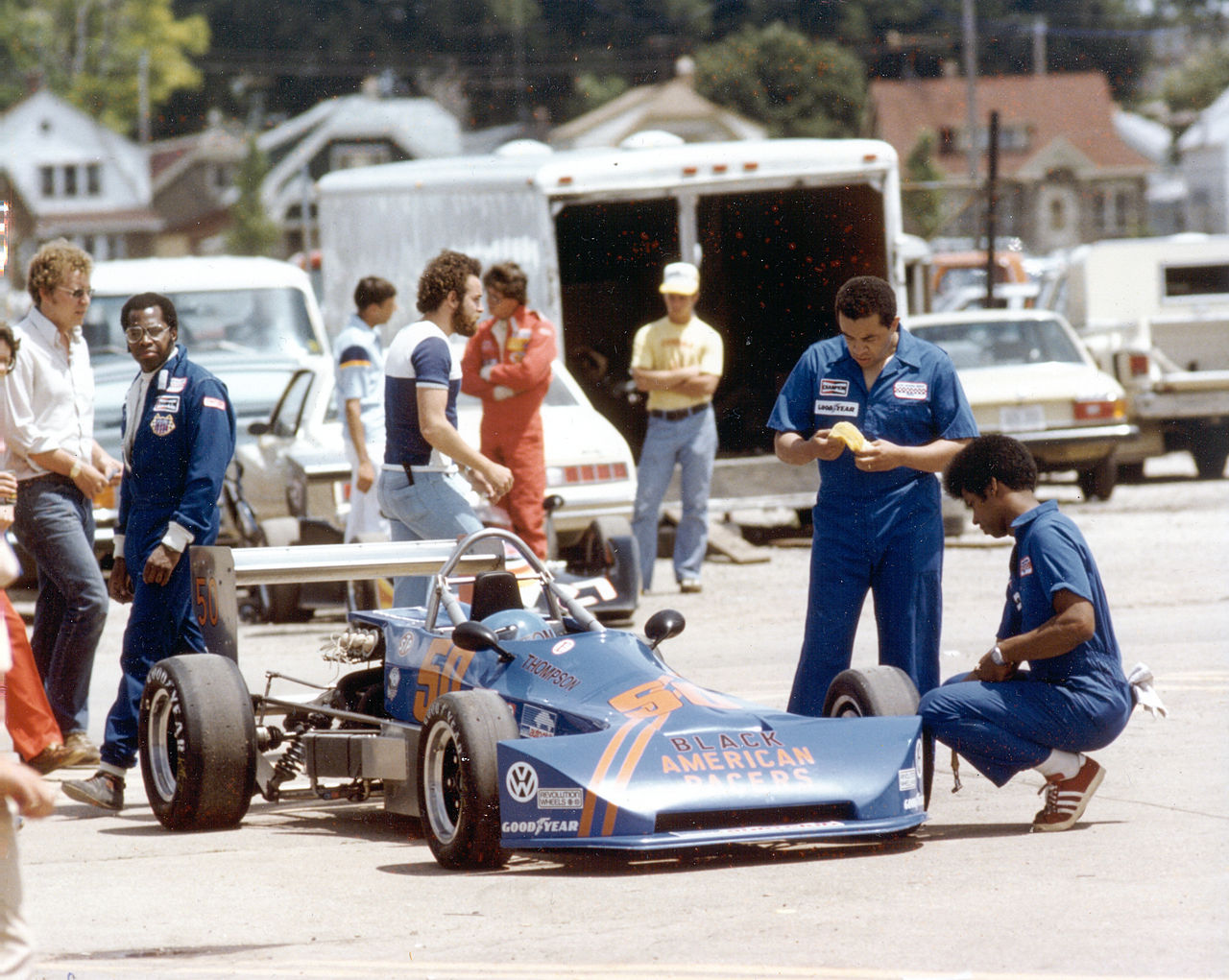 Tommy Thompson walks behind his car at Milwaukee. A week later he would be killed at Trenton. Oh what might have been.
Editor's Note: The President of AR1.com, Mark C. remembers this September 23rd day 20 years ago like it was yesterday, sitting in the grandstands at Trenton Speedway then as a young fan watching Mario Andretti win in the #7 Gould Charge Penske PC6 Cosworth. The following story by Mike Sielski appeared on Philly.com. The Tommy Thompson accident is discussed at the beginning of the video below.
HAMILTON, N.J. – Near the site of the crash that killed Tommy Thompson, tall cones of arborvitae rise from the earth and Mexican sunflowers add droplets of orange to a backdrop of green, but there is no sign of a racetrack anymore. Trenton Speedway closed in 1980, and in its place is Grounds for Sculpture, a 42-acre museum and arboretum that opened in 1992 by one of the Johnson&Johnson sons. Because constructors could not pull up the concrete foundation of the track's grandstand, they simply built on top of it. Its footprint matches the park's Sculpture Court, where female statues hold erotic poses and a reflecting pool glimmers in the sun. You would never know what the court had once been, and what had happened there.
From that old grandstand, there was a clear view of the speedway's front straightaway and of the horrifying sequence that unfolded during a Mini-Indy 100 race on Sept. 23, 1978. On the final lap, Thompson's Lola T-324 was moving at 120 mph when it slammed into another competitor's car. The collision launched the Lola over the track's catch-fence [in turn 4] and onto an open grassy area, the vehicle flipping over and disintegrating into hunks of smoking metal, Thompson trapped in the driver's cockpit. Five days later, at just 35 years old, he died of his injuries.
His story all but died with him. It is rarely remembered and rarely told, and that's hardly surprising. We celebrate and hold on to the stories of history-makers, of those who were the first to finish their races – Jackie Robinson and the Dodgers, Gertrude Ederle and the English Channel, Neil Armstrong and the moon – and for the most terrible reason of all, Thompson did not finish his. That's what happened here 40 years ago. Read the old newspaper clippings. Listen to the people, including the Philadelphia-area motorsports pioneer who witnessed it. If not for that crash, Tommy Thompson might have made history. He might have raced in the Indianapolis 500 – and become the first black man to do so.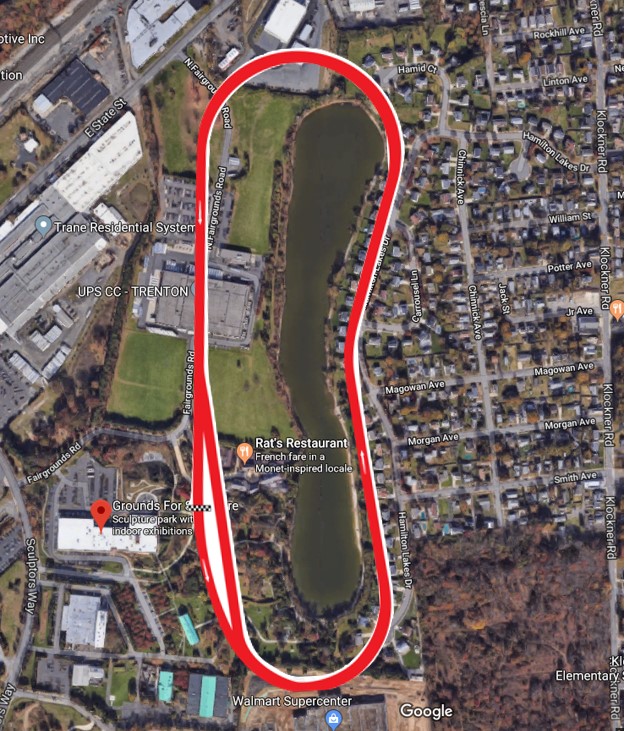 Trenton Speedway overlaid on Grounds for Sculpture today
Thompson grew up in Nyack, N.Y., with a diverse set of interests. He played ice hockey, and competitive racing, particularly open-wheel racing, fascinated him. He wore mutton-chop sideburns and spoke in the stereotypically tinny voice of an intellectual, a pre-Urkel Urkel, except that his bravery and physical endurance matched his intelligence. He served in the U.S. Army during Vietnam, earning a Bronze Star and an Air Medal, and after returning from the war, he joined the Sports Car Club of America in 1970, racing MGBs and Formula Fords on weekends while working in Manhattan as a financial systems analyst for AT&T.
In 1974, Thompson attended a meeting in Trenton of the Black American Racers, an association founded by owner and manager Leonard Miller to connect and promote blacks in motorsports. A native of Wayne, Pa., Miller had formed the association two years earlier, after heading a team – with a white driver, John Mahler – that placed 22nd in the 1972 Indianapolis 500. Already, Wendell Scott had become the first black driver to win a NASCAR Grand National race, at Jacksonville's Speedway Park in 1963, but one had not qualified at Indianapolis yet. Miller wanted to lead that team, and Thompson wanted to be that driver.
"Tommy would start coming around to races, and he would call me," Miller said during an interview at his home in Washington Crossing, Pa. "He grew on us. He was a quiet guy who grew on us."
Miller, Thompson, and men like them in racing had to traverse two cultures, two worlds, at once, and neither was particularly welcoming. Thompson, for instance, was a self-taught mechanic who "had better setup skills than many working on the professional formula road racing teams," Miller wrote in his autobiography, Silent Thunder. Such skills and knowledge had been a necessity for any black racer for years, guarding him against any carelessness or outright sabotage that a white team might inflict upon his car.
Not only was there that sort of daily, banal racism that blacks faced for daring to break into what was considered a white man's sport, there was also the matter – and importance – of money. Miller struggled to persuade companies to sponsor the Black American Racers at levels comparable to other teams, and he confronted pressure and questions from blacks who wondered why he was involved in professional motorsports at all, as if his participation were a betrayal of his race.
"America will give money to market the clown, to do anything outside of technical expertise," said Miller, whose own affection for racing grew out of a childhood spent in Upper Merion Township reading Hot Rod Magazine and driving cars on neighborhood farms.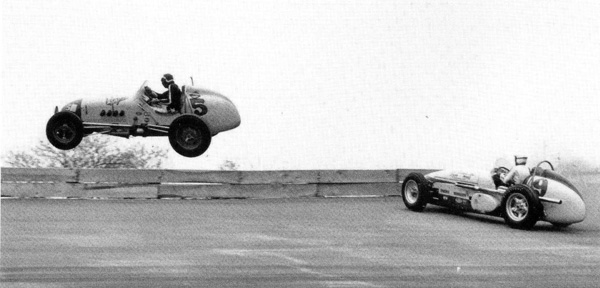 Thompson wasn't the only driver to die at Trenton. April 19, 1959 at Trenton race track – On the 56th lap of the 100-miler, third-place runner Don Branson, who had broken the track record qualifying, spun in turn three in the Bob Estes #9. As shown above, Dick Linder caught one of his wheels, flew out of the park, flipped, and perished. Linder, 36, was no kid at the time, but he was moving up. After amassing over 100 feature wins in the Pennsylvania area, Linder had run some NASCAR on the Beach and was now trying USAC. He was driving the Jake Vargo KK4000 and hoped to make Indy the next month. Jim Reece died at Trenton in 1958 and Bill Scheffler died in 1949
"There are five things that everyone in the world appreciates, every man appreciates, except black America: astronaut, fighter pilot, racecar driver, neurosurgeon, combat-arms general. But because of the situation we have in this country over the last 500 years, blacks gravitate to what we adhere to in athletics from our own special standpoint: basketball, track, football. And that's OK. I'm not against that. But when you get to the real thing, and you're dealing with motors and you can die, it's a whole different thing.
In 1976, a wildcat strike at the cigarette company Viceroy caused its executives to terminate its sponsorship of the Black American Racers. "We basically had to start over," Miller said. To keep the dream of competing at Indianapolis alive, Thompson moved to Somerset, N.J., and agreed to drive for Miller in Formula Super Vee events – a circuit two rungs below big-time Indy Car racing. Of his 15 races on the circuit, Thompson won four and placed second five times, which allowed him to move up in 1977 to the Mini-Indy Touring Series, where potential sponsors scouted promising drivers for the Championship Auto Racing Teams (CART) series.
For his first Mini-Indy race of the 1978 season, Thompson and the team spent $500 to drive from New Jersey to Phoenix International Raceway. For finishing eighth out of 28 cars, he earned $505. "His car wasn't dialed in, but he was proud of his finish," said Jay Dunn, a longtime sportswriter at The Trentonian, who covered the race. "I said, 'That's pretty impressive for a car that's not dialed in,' and he said, 'Don't put that in there. We're not making excuses.' That was his attitude."
Thompson was the 12th-ranked Mini-Indy driver in the country entering the Sept. 23 race at Trenton, a 42-lap, 100-kilometer curtain raiser for the Machinist Union 150, a CART event that featured drivers such as Mario Andretti, Al Unser, and Gordon Johncock. A mile-and-a-half oval with a unique dogleg-right turn, the speedway had opened in 1900. Through the Trenton YMCA and some local church groups, Miller had arranged to have 300 black children attend in support of Thompson. The day was clear and dry, the temperature topping out at 67 degrees.
The race's beginning was an omen, an ominous one. Ron Hines, the team engineer, noticed a malfunction in the Lola's oil pump. He placed a string of tennis balls atop the carburetor to keep dust and dirt out of the engine, then reassembled the pump. Once on the grid, though, the car wouldn't start. Finally, Hines realized his mistake: He hadn't removed the tennis balls.
As a result, Thompson started dead last, joining the 28-car field as the flag was going down. But by the final lap, he had worked his way up to ninth place as he came to the top of the homestretch, hurdling toward the finish line at full speed when Nancy James, the only female driver in the race, slowed abruptly ahead of him. Her car's engine had failed, and the vehicle drifted at a 45-degree angle.
Chaos followed her. Another driver, John Barringer, swerved to avoid James, and when Thompson swerved to avoid Barringer, Thompson's left front wheel and Barringer's right rear wheel locked, sending both cars into the four-foot-high crash wall. Barringer's car struck the wall head-on; he sustained multiple leg fractures. Watching another part of the track from the press box, Jay Dunn heard someone say, Wow, somebody just went out of the ballpark.
"Then I noticed," Dunn said, "that I didn't see Tommy Thompson come across the line."
Miller and Hines ran from the pits to the plot of grass where Thompson, still in the chassis, had landed. They arrived to a gruesome scene. Their friend was moaning in pain, bleeding from his nose and ears. A crowd gathered.
"There were 300 black kids crying," Miller said.
An ambulance rushed Thompson to St. Francis Hospital in Trenton. Each of the next five days, after staying at Thompson's bedside for several hours, Hines would touch Thompson's ankle before leaving the room, and in the hospital parking lot, he'd tell Miller, Man, his ankle was colder today than it was yesterday. Thompson died on Sept. 28, having never regained consciousness.
"It was a tragic situation," Andretti, who won the Machinist Union 150 that day, said in a phone interview. "Psychologically, it's very painful. He definitely made a mark. He was an upcoming star."
No black driver qualified for the Indianapolis 500 until Willy T. Ribbs in 1991. "You had to have someone on the horizon who was skilled and had the same mind-set," Ron Hines said. "After Tommy, we didn't have that." Hines lives in Ewing, N.J., not far from Grounds for Sculpture, not far from where Trenton Speedway used to be, and every now and then, he said, he meets someone who remembers that race and a little of Tommy Thompson's story. Oh, Mr. Hines, I was there. What a sad day that was… But only now and then. Mike Sielski/Philly.com