Kirkwood Remains Undefeated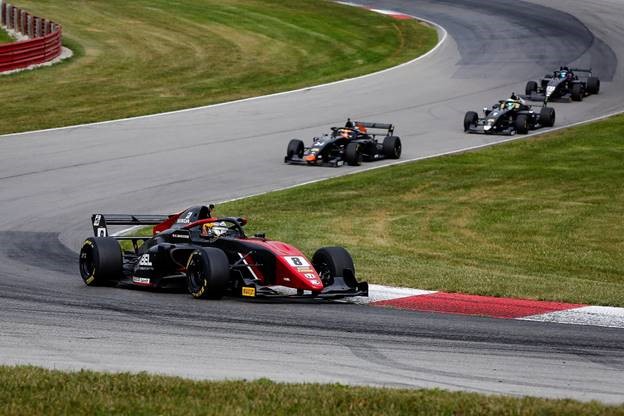 Kirkwood remains undefeated in the Amethyst Beverage F3 Americas Championship after the second event at Mid-Ohio
Kyle Kirkwood of Jupiter, Florida, was unbeatable during the second Amethyst Beverage F3 Americas Championship Powered by Honda weekend, sweeping victories in all three races held at Mid-Ohio Sports Car Course in Lexington, Ohio, Friday and Saturday. The Abel Motorsports driver remains undefeated in the newest FIA regional single-seater, single-chassis championship.
Kirkwood seized fast-lap times in both practices, qualifying and all three races, claiming pole position for each of the rounds. The Sunday morning victory marked the sixth consecutive win for the reigning F4 U.S. champion in F3, adding to a combined 15 win and six weekend sweep streak between F3 Americas and USF2000, where Kirkwood claimed the championship prior to the season culmination. The success at Mid-Ohio bumped Kirkwood ahead in standings by 48 points over Baltazar Leguizamon of Buenos Aires, Argentina.
"I don't think we could have had a better weekend," said Kirkwood, who aspires to be the first driver to win the F4 U.S., USF2000 and F3 Americas championships in one year's time. "The Abel Motorsports crew put together a very well-balanced car and it showed every time on track. Between my two seasons with USA's most winningest junior motorsport team Cape Motorsports, it would put pressure on any team I would join. I think Abel embraced that with much confidence and produced right away. The team is so focused, and I believe we can sweep the weekend again at New Jersey."
While, Abel Motorsports and Kirkwood dominate the standings in wins, Global Racing Group maintains the lead in podium visits. GRG is the only multi-car team in the F3 paddock, fielding two drivers Leguizamon and Benjamin Pedersen of Copenhagen, Denmark, who was added to the team's lineup this weekend. Both GRG pilots represented the Seattle-based team on the podium in each Mid-Ohio round, adding an extra six podium visits to the three Leguizamon earned at Pittsburgh International Race Complex last weekend. Today, Leguizamon claimed second and Pedersen took third.
"It's a huge benefit having Balta as a teammate," Pedersen said. "We are able to overlay data and help each other. We try to use the information the best we can to improve each other during our debriefs."
Pedersen's No. 24 DirtFish car and Leguizamon's No. 9 Motorola car laid down nearly identical lap times in the final two rounds of the weekend.
Ohio-native John Paul Southern Jr's second F3 Americas event was full of nail-biting moments which created an exciting couple of days for race fans without the fruitful outcome he had at PITT. After a hard-fought battle with Leguizamon for third yesterday that ended in a rain-soaked track with the young pilot high center off course on the final lap, Southern sustained a hand injury that affected his Round 6 race today. Starting off pole, Southern launched off the line, but quickly lost momentum with each turn due to a heavy steering issue which was difficult to control with the prior hand injury.
"When I hit the tire wall yesterday in the rain, my hand swelled and turned blue with a possible sprain," explained Southern. "It was a race-time decision on whether I was going to participate in the final round today. We wrapped my hand, and I decided to race. It wasn't an issue right away. We got a great start but the mechanical issue kicked in which was hard to handle with the sprained hand. Throughout the race my hand got more painful, but I stayed out and got the points for the team. We will be back and healed for New Jersey."
The Amethyst Beverage F3 Americas Championship travels to New Jersey Motorsports Park for its next event, supporting the F4 U.S. Championship presented by Amethyst Beverage and Formula Race Promotions. Visit F3Americas.com for a full list of results and standings.