Hunter-Reay tops 2nd practice session at Mid-Ohio.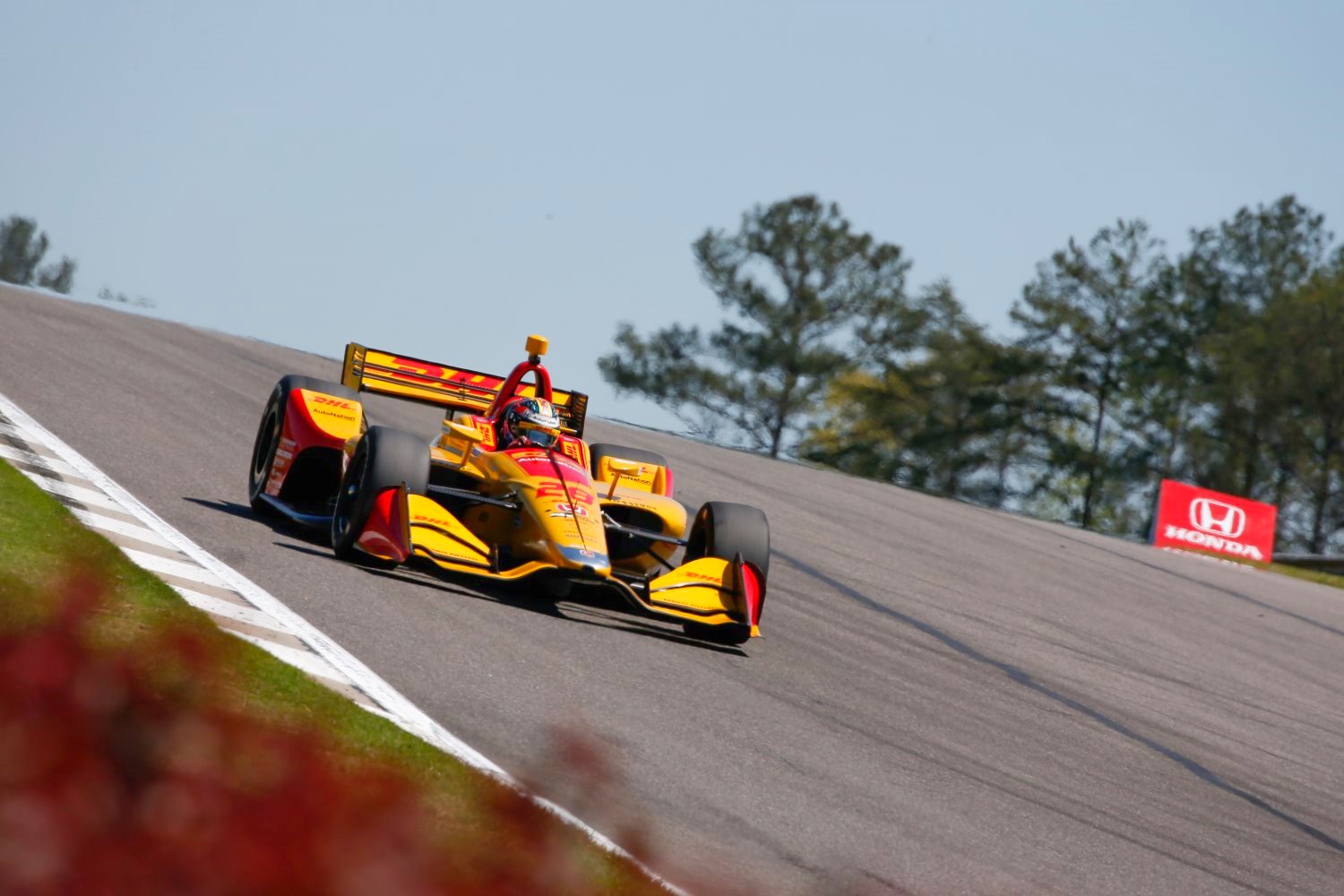 Ryan Hunter-Reay quickest
Ryan Hunter-Reay tuned a lap of 1m05.195s to lead the 2nd practice session for the Honda Indy 200 at Mid-Ohio Friday afternoon.
Will Power was 2nd quick in his Penske Chevy after going off the track earlier in the session.
Graham Rahal was 3rd quick in his Rahal Honda while Spencer Pigot (Chevy) and Alexander Rossi (Honda) rounded out the top-5.
All the fast times were set on the soft Red Firestones.
"Not having tested here, I'm pleasantly surprised," said Hunter-Reay, whose team elected not to participate in private team testing at the 2.258-mile permanent road course last week. "I thought we would be on the back foot a little bit for Day 1 and a little bit for Day 2. The team did a good job coming back here preparing for it."
In addition, Alexander Rossi of Andretti Autosport (third in points) posted the fifth-best lap of the day in the No. 27 NAPA AUTO PARTS Honda (1:05.4526). Dixon ranked eighth on the combined timesheet from Friday's practices with a lap of 1:05.6063 in the No. 9 PNC Bank Honda.
"I think we made a gain here and there, but we're kind of in a box that's not really working," Dixon said. "I think we need to kind of shift the program in general maybe for tomorrow morning and see if we can make it a little easier to drive and get a little bit of performance out of it.
"We definitely have a lot of work to do," added Dixon, who holds a 62-point advantage over Team Penske's Josef Newgarden as he seeks a fifth Verizon IndyCar Series title. "We have good points right now, but it doesn't guarantee you anything, either. As we've seen in the last sort of couple races, it can flip and change pretty quickly."
The two practices were incident-filled as drivers, using the 2018 Indy car with the universal aero kit for the first time on a race weekend at Mid-Ohio, came to grips with the flowing, technical circuit. There were five red-flag stoppages of practice for cars going off track or spinning – Power and Newgarden among them – with numerous other instances of cars spinning or sliding off track and continuing.
Hunter-Reay, 91 points behind Dixon, attributed the rash of incidents to the lower downforce generated by the new car and drivers pushing those cars to their limit.
"Guys are trying to figure out what they can get away with," he said. "Once you get off line a little bit, it's just gone; there's nothing bringing it back. It's tough to really figure out what you can get away with here.
"You're relying on the downforce. Once you get it into the yaw at a certain angle, you're dumping all that air off the wings. It does give you a little bit more warning than the previous car did, no doubt, but right now we're just dealing with a low-grip situation. Like I said, sometimes Mid-Ohio is that way. I think we're dealing with a lot less downforce and a pretty finicky Mid-Ohio racetrack at the moment."
Ohio native Graham Rahal, back at the home track where he won in 2015, was third for the day in the No. 15 Fifth Third Bank Honda (1:05.4141), with Spencer Pigot fourth in the No. 21 Ed Carpenter Racing Fuzzy's Vodka Chevrolet (1:05.4312).
Quotes
JOSEF NEWGARDEN (No. 1 Hitachi Team Penske Chevrolet): "It was an all right day. We need to be a little better. We seem to struggle to find exactly what we want. But, I think we got the best in the business to figure it out. So, I feel optimistic in the No. 1 Hitachi Chevy. I think we'll get there. We've just got a little bit of work to do tonight. We'll focus on that and try and come back better tomorrow."
MATHEUS LEIST (No. 4 ABC Supply AJ Foyt Racing Chevrolet): "Practice was difficult, we were struggling a little bit with the car setup. I think we might have a good direction for tomorrow. We just have to keep working hard and improving the car, and hopefully, we'll have a good qualifying session, which is very important because it's very difficult to pass here."
JAMES HINCHCLIFFE (No. 5 Arrow Electronics SPM Honda): "Challenging day here at the track for the Arrow crew. The team tested with Robbie (Wickens) and Jack (Harvey) last week, and the cars were really solid, but this is one of the most temperature- and weather condition-sensitive tracks that we go to. The conditions are different enough that the setup didn't really translate super well. We're battling a bunch of different things. Unfortunately, very different balances from blacks (Firestone primary tires) to reds (Firestone alternate tires). We didn't get the most out of the reds, I think we're OK on the blacks, but it's traditionally a red race here. We've got some things to look at and some work to do overnight to make sure we can figure out how to go fast in qualifying, but also keep the balances consistent for both tires in the race."
ROBERT WICKENS (No. 6 Lucas Oil SPM Honda): "Today was a pretty hard day. We had an issue in the first practice; we didn't really get any running, just six laps. Then we tried to make up for lost time this afternoon, but then it was just red flag after red flag. I feel like I haven't done two consecutive laps yet. The Lucas Oil car feels all right; I think we're there and I don't think the times show our true potential. We still have to find more lap time for tomorrow."

SCOTT DIXON (No. 9 PNC Bank Chip Ganassi Racing Honda): "It was hard to piece a lap together today, really. But things can change pretty quickly in the Verizon IndyCar Series. We're happy to have the points lead, but it's a long way to go. There are five more races, and as you know, anything can happen. I think we're in a bit of a box with our thinking here today with the car. We might need to change a few things to make the car better. Tonight will be a lot of hard work to get the PNC Bank car where we want it to be."

ED JONES (No. 10 DC Solar Chip Ganassi Racing Honda): "There was a big difference between the primary and the alternate Firestone tires today. I think we started off fast with the DC Solar car and it seems like both cars unloaded well and have good speed with Scott (Dixon) in third the first session. I think we're really starting to hit a stride as a team and with the test here last week, I'm optimistic for a strong race here on Sunday."

WILL POWER (No. 12 Verizon Team Penske Chevrolet): "I think we're kind of in the window. Still searching a bit, to be honest. The No. 12 Verizon Chevy was good on (Firestone) alternate tires and not bad on primary tires. There's a big difference between the tires. The primaries have just been difficult to get the right balance on. I think we'll have a good look tonight and see what direction we go in."

TONY KANAAN (No. 14 ABC Supply AJ Foyt Chevrolet): "We tested here and thought we made some improvements, but it didn't work today. We need to regroup tonight."

GRAHAM RAHAL (No. 15 Fifth Third Bank Honda): "It was a good day. In the end, I think we got the Fifth Third Bank car pretty close. We still have some work to do overnight to try to figure out what this car wants on the red (Firestone alternate) tires and all of that stuff, but so far, it's been a pretty strong day. We will get with Takuma (Sato) tonight, look over the data and see what we need to keep making progress. It just makes life so much easier to qualify well. The year that we won, yeah, we struggled in qualifying and got blocked and started 13th, but it turned out to be 'Lucky 13,' but that's no fun. This year, we have not done a good job of just starting in the front and having a normal day. It would be a nice thing to have happen. There have been a lot of circumstances that have bit us this year and there have been times that there have been opportunities that we haven't taken advantage of. We want to have a good weekend and put it all together."
SEBASTIEN BOURDAIS (No. 18 Team SealMaster Honda): "It was a mixed bag day for the SealMaster Honda No. 18. Under cooler conditions this morning, the car was really quick and the balance was pretty good. As the day went on and temperatures went up, we struggled with the balance. It got even worse on the red (Firestone alternate) tires, although I didn't get a representative run because we got a lot of traffic. We just have to sit down and try and understand exactly why things are happening and try and find a solution."
PIETRO FITTIPALDI (No. 19 Paysafe Honda): "I'm really happy to be back. It was a long recovery. I worked really hard, but I was surrounded by a great group of people, like Dr. Trammell and the guys at PitFit, who put together a great program for me to get back this fast. I'm definitely ready for the race weekend. We had two practice sessions today and while we struggled a little bit, we know what we have to work on to improve the Paysafe car for tomorrow. We need to focus on qualifying. It's very important here at Mid-Ohio because it will be key for Sunday's race result."

SPENCER PIGOT (No. 21 Ed Carpenter Racing Fuzzy's Vodka Chevrolet): "The car seemed to have a pretty good balance in the high-speed sections and in the longer corners like the carousel and the keyhole. That's where we have struggled before, we're working on keeping the car rotating for a long duration of time. The car feels really good in the corners. We're still going to be looking for a little more front grip, but so far for me, it's been OK. It's easy to lose grip around here if you overdo it. If you overdrive the car, the grip goes away quickly, so you have to stay right around the limit. We'll have a good weekend if everything continues to go smooth and according to plan."

SIMON PAGENAUD (No. 22 Menards Team Penske Chevrolet): "It's difficult. We're trying to find the best way around the track and we just have to find the right compromise for all of these different corners. There's high-speed corners and low-speed corners and a lot of elevation changes, so we are to trying to find the best compromise to link the whole track together. There are sections where we are really good, so we need to understand how we can make it better everywhere. There's certainly fierce competition again this weekend, but I'm sure we'll get the No. 22 Menards Chevrolet there tomorrow. I think the new car is a great package. I think it's a bit more complicated to find the right setup and balance, so that requires a bit more head-scratching, but I think it's going to be good racing. I think it's going to be similar to the last few years. It's just going to be a little faster down the straightaway and a little slower in the corners."

CHARLIE KIMBALL (No. 23 Tresiba Chevrolet): "It was a decent start to the weekend. It was a little tough during that second session with all of the red flags. We just didn't get the lap time we thought the No. 23 Tresiba Chevrolet was capable of, but we'll learn overnight and see what can be improved before qualifying tomorrow afternoon. We'll look at what the No. 59 car did today, figure out how to be better, and make a plan for tomorrow."
ZACH VEACH (No. 26 Relay Group 1001 Honda): "We ended up P12 after the second practice session. I think there's real pace in the car and we're looking like we're getting close to our first Firestone Fast Six of the year. It was just really tough to try and find track position today, and then when you would get clean track, it seemed like everyone was bringing out a red (flag) – myself included. It's really slick out there for a lot of people, but I'm really confident in the car we have with the Relay crew. I'm excited for tomorrow, we just have to piece it together."
ALEXANDER ROSSI (No. 27 NAPA AUTO PARTS Honda): "The second practice was a good step up from this morning. I'm pretty surprised that the track didn't gain as much grip because usually from session to session it picks up a huge amount of timing, and if anything, it went slower – so we need to understand that. It's always the challenge with Verizon IndyCar Series weekends from Friday to Saturday and Saturday to Sunday – staying on top of the different rubber. That's the parity right now, but I think we have four fast race cars, and we'll look and see what Ryan (Hunter-Reay) did and take the positives from there."

RYAN HUNTER-REAY (No. 28 DHL Honda): "It was a productive day. We kept getting the car balance closer and closer to what I wanted. We didn't test here, so I think being on top of the timesheets after Day 1 is a testament to the team. They did their homework on this and we just have to continue to work together as a team to move forward tomorrow."

TAKUMA SATO (No. 30 Mi-Jack / Panasonic Honda): "The day started pretty good. There were several red flag interruptions in the first practice, but the car worked pretty well and I think we were competitive. We tried some setup changes in the second practice session that I thought were initially good, but it looks like we needed to shift in another direction for the red (Firestone alternate) tire. We might not have had the ultimate speed we wanted today, but we made good progress."
RENE BINDER (No. 32 HD Pellets Chevrolet): "Today, it was a little tricky during both sessions. There were a lot of red flags, so it made it hard to have enough time to lay down a good lap. We are going to go back through the data we gained today and put it towards our strategy tomorrow for qualifying."

MAX CHILTON (No. 59 Gallagher Chevrolet): "It was a challenging couple of sessions for us today. Obviously, this morning we showed good pace, but didn't end up where we wanted to on the timing sheet. We struggled with a bit of balance issues in both sessions today that we didn't see when we tested here last week. We're going to work on getting to the bottom of that overnight and try to correct it before we head out tomorrow morning. There were a lot of reds and yellows (flags) in both sessions, which didn't help us, but we did a long run and our tires seemed to last a little bit better than some of the other cars. Fingers crossed we can qualify as well as we did when we tested here last week. Mid-Ohio is a track that I enjoy driving, so I'm hoping for a top-10 finish on Sunday."

JACK HARVEY (No. 60 AutoNation Sirius XM MSR with SPM Honda): "I thought Practice 1 was a lot better than it looked on the timing sheet. I just seemed to hit traffic every single lap and it was always at the end of the lap, so you would do most of the hard work and then not get the end result, which is a good lap time. In the second practice session, I think we had a battery issue and the car just stopped and I lost communication with the team. Luckily, they managed to get it changed and in a really short amount of time. The guys working so quickly probably saved our session. We had a great run on reds (Firestone alternate tires) and ended up 10th, which is the best we have been all year. Michael (Shank) has never put us under pressure, but I do want to give the team a good result this weekend with it being his home race."

CONOR DALY (No. 88 Harding Group Chevrolet): "Today we tried something vastly different from the test and I don't think it was the right direction, but at least we eliminated a direction that we were wanting to try. Hopefully, we can now go back to what we were running at the test and get another good feel for the car tomorrow. Realistically, we had a better session than a lot of other drivers, there were a lot of cars struggling out there, so it's good to be able to continue to do laps, and hopefully, we keep improving."
MARCO ANDRETTI (No. 98 Ruoff Home Mortgage / Curb Honda): "Not a bad Day 1 – especially for not testing here. I'm pretty happy with the Ruoff Home Mortgage car – I think we're one good change away from having a shot at pole, so that's going to be the goal for tomorrow."
Practice 2 Results
| | | | | | | | | |
| --- | --- | --- | --- | --- | --- | --- | --- | --- |
| Pos | No | Name | FTime | Diff | Gap | FSpeed | Engine | Team |
| 1 | 28 | Ryan Hunter-Reay | 1:05.195 | 0.0000s | 0.0000s | 124.684 | Honda | Andretti Autosport |
| 2 | 12 | Will Power | 1:05.337 | 0.1421 | 0.1421 | 124.413 | Chevy | Team Penske |
| 3 | 15 | Graham Rahal | 1:05.414 | 0.2191 | 0.0770 | 124.267 | Honda | Rahal Letterman Lanigan Racing |
| 4 | 21 | Spencer Pigot | 1:05.431 | 0.2362 | 0.0171 | 124.234 | Chevy | Ed Carpenter Racing |
| 5 | 27 | Alexander Rossi | 1:05.453 | 0.2576 | 0.0214 | 124.194 | Honda | Andretti Autosport |
| 6 | 98 | Marco Andretti | 1:05.584 | 0.3886 | 0.1310 | 123.946 | Honda | Andretti Herta Autosport with CA |
| 7 | 9 | Scott Dixon | 1:05.606 | 0.4113 | 0.0227 | 123.903 | Honda | Chip Ganassi Racing Teams |
| 8 | 10 | Ed Jones | 1:05.622 | 0.4273 | 0.0160 | 123.873 | Honda | Chip Ganassi Racing Teams |
| 9 | 1 | Josef Newgarden | 1:05.659 | 0.4635 | 0.0362 | 123.804 | Chevy | Team Penske |
| 10 | 60 | Jack Harvey | 1:05.729 | 0.5343 | 0.0708 | 123.671 | Honda | Meyer Shank Racing with SPM |
| 11 | 22 | Simon Pagenaud | 1:05.802 | 0.6074 | 0.0731 | 123.533 | Chevy | Team Penske |
| 12 | 26 | Zach Veach | 1:05.806 | 0.6111 | 0.0037 | 123.527 | Honda | Andretti Autosport |
| 13 | 6 | Robert Wickens | 1:05.819 | 0.6241 | 0.0130 | 123.502 | Honda | Schmidt Peterson Motorsports |
| 14 | 18 | Sebastien Bourdais | 1:05.945 | 0.7504 | 0.1263 | 123.266 | Honda | Dale Coyne Racing with VS |
| 15 | 5 | James Hinchcliffe | 1:06.104 | 0.9094 | 0.1590 | 122.969 | Honda | Schmidt Peterson Motorsports |
| 16 | 30 | Takuma Sato | 1:06.110 | 0.9151 | 0.0057 | 122.959 | Honda | Rahal Letterman Lanigan Racing |
| 17 | 59 | Max Chilton | 1:06.222 | 1.0269 | 0.1118 | 122.751 | Chevy | Carlin |
| 18 | 19 | Pietro Fittipaldi | 1:06.335 | 1.1399 | 0.1130 | 122.542 | Honda | Dale Coyne Racing |
| 19 | 14 | Tony Kanaan | 1:06.379 | 1.1841 | 0.0442 | 122.460 | Chevy | AJ Foyt Enterprises |
| 20 | 4 | Matheus Leist | 1:06.381 | 1.1861 | 0.0020 | 122.457 | Chevy | AJ Foyt Enterprises |
| 21 | 20 | Jordan King | 1:06.400 | 1.2048 | 0.0187 | 122.422 | Chevy | Ed Carpenter Racing |
| 22 | 88 | Conor Daly | 1:06.597 | 1.4024 | 0.1976 | 122.059 | Chevy | Harding Racing |
| 23 | 23 | Charlie Kimball | 1:07.082 | 1.8875 | 0.4851 | 121.176 | Chevy | Carlin |
| 24 | 32 | Rene Binder | 1:07.223 | 2.0276 | 0.1401 | 120.924 | Chevy | Juncos Racing |