Latest F1 news in brief – Wednesday
The rain and snow that impacted preseason testing in Barcelona this year, won't be an issue in the Bahrain desert

2019 to begin with testing in Bahrain

2019 German GP rescue talks underway
Zetsche worried about Marchionne exit
Magnussen backs Haas' Hungary test decision
Hamilton portrays himself as Jesus – Villeneuve
Giovinazzi to return to Sauber cockpit in Hungary
2019 to begin with testing in Bahrain
(GMM) F1 will kick off the 2019 season with winter testing in Bahrain.
That is the claim of Germany's Auto Motor und Sport, revealing that the risk of bad weather in Spain is the reason for the decision.
That risk has risen even more for 2019 because next season is slated to begin in Australia a week earlier than usual.
"The teams want to vote on the (test) date ahead of the Hungarian grand prix," said correspondent Michael Schmidt.
"But the FIA and Liberty have already given the green light."
This year, several days of the already limited winter testing program were affected by freezing temperatures and even snow.
Some teams initially baulked at the suggestion of the move to Bahrain for 2019, but it is believed Liberty Media has agreed to pick up some of the extra freight costs.
In return, the teams have been asked by Liberty to make the private testing more 'open', including by not using screens in front of the garage doors.
2019 German GP rescue talks underway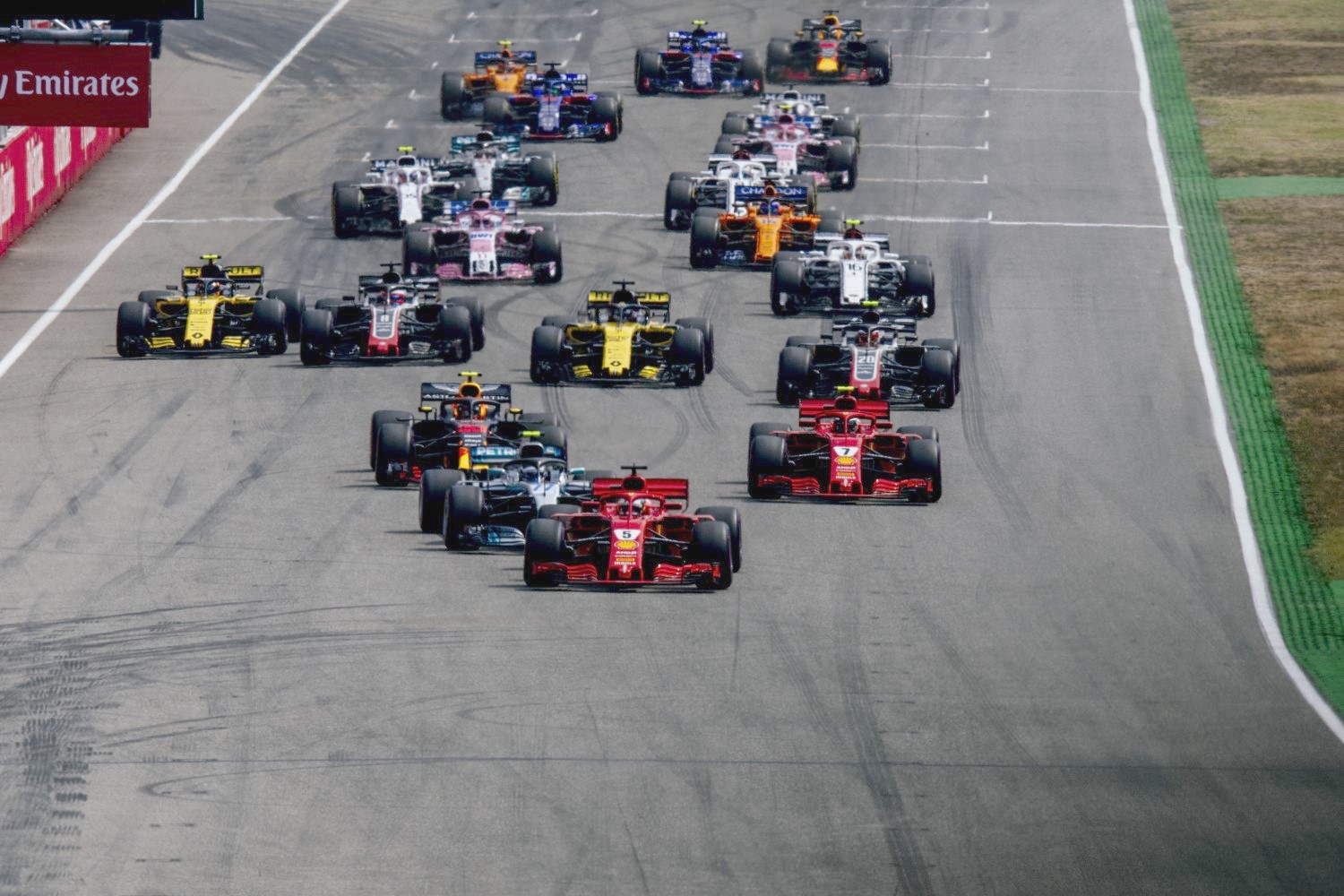 Hockenheim back on schedule for 2019
(GMM) Germany could still have a formula one race next year.
With no 2019 deal in place for Hockenheim, a wild rumor did the rounds last weekend that the Nurburgring has made a daring bid to entice Liberty Media to organize a race on the famous Nordschleife circuit.
"I would love it," Lewis Hamilton told Frankfurther Allgemeine Zeitung newspaper.
But Niki Lauda, who was almost burned to death on the layout in 1976, said simply: "No."
Indeed, much more likely is that – with plans for a Miami street race now delayed until 2020 – Liberty Media is instead open to new talks with Hockenheim.
Sport Bild claims that the German automobile clubs ADAC and AVD are working on the deal and in contact with Liberty Media.
"I'm convinced that we have some very strong representatives in the ADAC and also the AVD who are working to keep the race," former Mercedes boss Norbert Haug told Bild newspaper.
He thinks Liberty would be ill-advised to let Germany drop out of formula one again.
"They have said they want traditional races as well as new ones," said Haug. "That should not be lip service.
"I think Miami is great but not if you lose Hockenheim, Monza, Silverstone. Then it's goodnight formula one."
Zetsche worried about Marchionne exit
Dieter Zetsche
(GMM) Mercedes CEO Dieter Zetsche is concerned about the change at the very top at Ferrari.
With Sergio Marchionne reportedly gravely ill, Ferrari has appointed a new chairman as well as CEO.
The new bosses, John Elkann and Louis Camilleri, met with the Maranello team's boss Maurizio Arrivabene on Monday, according to La Gazzetta dello Sport.
That meeting included video conference calls with Sebastian Vettel and Kimi Raikkonen, the report added.
"Winning the world championship is Ferrari's only goal," said Elkann afterwards.
What is clear is that the Ferrari management change has a big impact. Raikkonen, for instance, is believed to perhaps now be the favorite to keep his seat for 2019.
Earlier, Charles Leclerc appeared to have been selected by Marchionne to be Vettel's teammate.
But even beyond the driver situation, Marchionne's departure is significant.
"I have always worked together well with Sergio, even throughout our battles," Mercedes and Daimler CEO Zetsche told Ansa news agency.
"I don't know what will happen now, because we must start over. I have no doubt that I will continue to have good relations as I did with Sergio.
"It is clear, however, that we had reached certain fixed points on which we could work together. This will no longer be possible," Zetsche said.
"The future is a big question mark."
Magnussen backs Haas' Hungary test decision
With ride-buyer Ferruci's money now gone, Magnussen understands there is no money to go testing
(GMM) Kevin Magnussen says he understands Haas' decision to skip the post-Hungary test.
Ekstra Bladet newspaper reports that, as of the summer break, the American team's full focus will be on the 2019 car.
That decision was made due to the 2019 aerodynamic rule changes, and the knock-on effect is that Haas does not see the need to test in Hungary after the forthcoming Budapest race.
"We have so much data from the five recent races plus a test at Silverstone, so why spend money doing nothing?" said team boss Gunther Steiner.
Not just that, Haas' development driver Santino Ferrucci has been fired by his Formula 2 team. Steiner said making a decision about what the F1 team will do about the troubled American is "not at the top of my priorities".
And Haas doesn't just want to sell the Hungary test cockpit to a high bidder.
"So many people come to these tests with money, but in the end we are not a car rental company," said Steiner.
Therefore, Magnussen backed Haas' decision to skip Hungary.
"It's logical," said the Dane.
"We don't have big things to test, it's expensive, and we have few spare parts after the recent race. It's been a tough month for all of the guys," Magnussen added. "They deserve a break."
Hamilton portrays himself as Jesus – Villeneuve
Villeneuve says Hamilton thinks he's the Messiah
(GMM) Lewis Hamilton should not be surprised when he is sometimes booed.
That is the view of outspoken 1997 world champion Jacques Villeneuve. At Hockenheim last weekend, Mercedes' British driver was booed at times during the driver parade.
"Lewis should not be surprised," Villeneuve is quoted by Auto Bild.
"He confuses formula one with Hollywood. Everything he does is staged.
"He portrays himself on social media like he is Jesus. The way he knelt next to his car after his problem in qualifying looked like the suffering of Christ. And what he said afterwards was the Sermon on the Mount.
"Then he gestured so dramatically on the podium that everyone could see who sent the sudden rain," Villeneuve said.
Mercedes team boss Toto Wolff, however, wants Hamilton to remain being himself.
After watching the TV replay of the German grand prix, Hamilton wrote on social media that he thought Sky's ex-driver pundits could not find "a good word to say" about him.
He deleted the Instagram post.
But Mercedes team boss Toto Wolff told the Sun: "I actually encouraged him to leave all that stuff online and speak his mind.
"It is what we need. We need to create stories. We need controversies. We need polarizing stances," he added.
Giovinazzi to return to Sauber cockpit in Hungary
Antonio Giovinazzi
Sauber have announced Antonio Giovinazzi will drive one of their cars during the first practice session at the Hungaroring.
Antonio Giovinazzi, who took part in two Grands Prix in 2017 as a replacement for the injured Pascal Wehrlein at the start of the season, has been on the sidelines of F1 ever since. He has been working as a simulator driver for Ferrari, as well as acting as Sauber's test driver.
Having had his first F1 run of 2018 during the German FP1 session by taking over Marcus Ericsson's car, he immediately gets another go when he takes over from Charles Leclerc for the first practice session at the Hungaroring.
There is a possibility that Giovinazzi is being lined up for a seat at the Sauber team for next season, with Marcus Ericsson admitting that he is fighting to keep his seat for 2019: "It's up to Fred [Vasseur, team principal] to take these decisions. But it's no secret that I want to stay here. I think the team has something great going and I've been part of this journey for a few years now.
"The team has done a great job, but also I feel a part of that transformation as well with my work with the team. So it would be nice to continue that and see where we can go, because the progress that we've made this year has probably been the best of the field, and that's been very impressive."
There's also the possibility that Charles Leclerc could leave Sauber for Haas or even Ferrari, meaning Sauber are having to evaluate other options if they suddenly have no confirmed drivers for next season.
Giovinazzi has also been confirmed as taking part in the Budapest test next week; Marcus Ericsson will drive Day 1, with the Italian taking over for Day 2. FormulaSpy