Decisive Mazda Road to Indy Weekend in Store at Mid-Ohio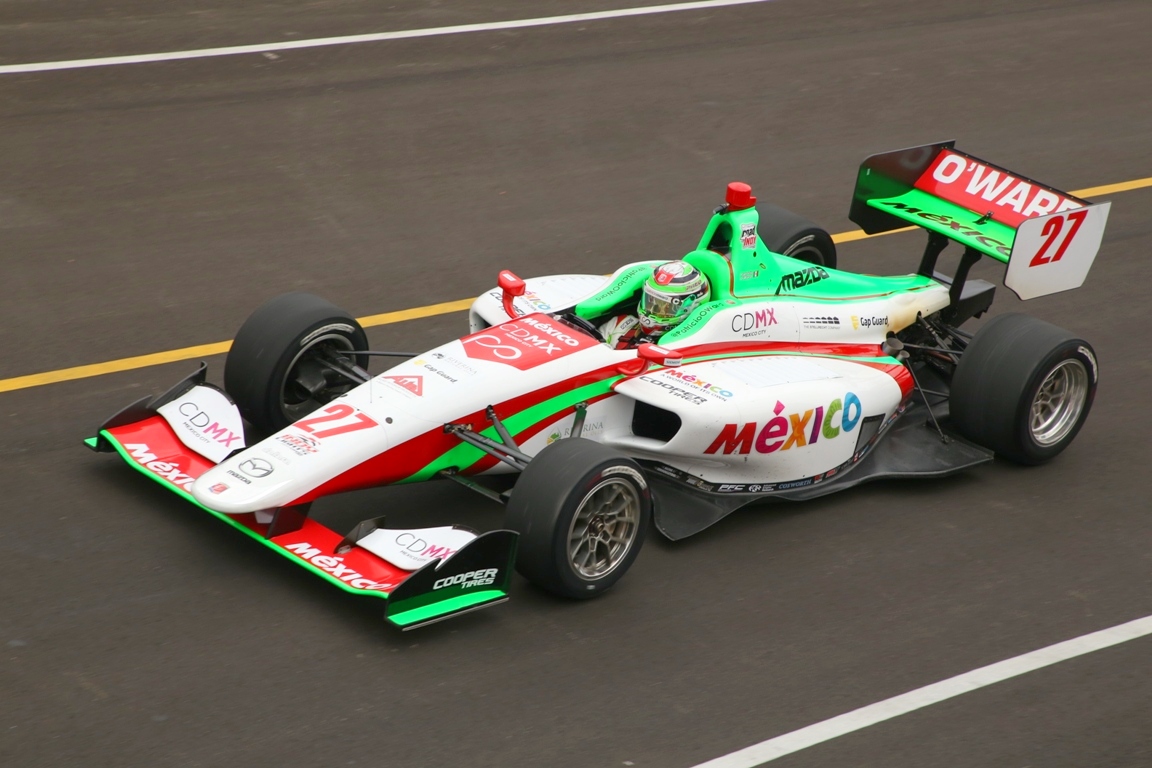 Patricio O'Ward
It's coming down to crunch-time for all three tiers of the Mazda Road to Indy Presented by Cooper Tires open-wheel development ladder, which collectively offers scholarships and prizes valued at more than $3.5 million to assist drivers in their progression from the grassroots of the sport to the Verizon IndyCar Series.
The title-chases for both Indy Lights Presented by Cooper Tires and the Pro Mazda Championship Presented by Cooper Tires are finely poised heading into this weekend at the Mid-Ohio Sports Car Course, near Lexington, Ohio, which will feature double-headers for each of the two series.
Meanwhile, the outcome of the Cooper Tires USF2000 Championship Powered by Mazda is highly likely to be settled in favor of 19-year-old Kyle Kirkwood, from Jupiter, Fla., who requires only a modest points haul from the unique triple-header on deck to put the top prize beyond the reach of his rivals.
O'Ward Holds the Advantage in Indy Lights
Two race victories and a second-place finish from the last three races have catapulted Patricio O'Ward into a relatively comfortable 18-point lead over primary rival Colton Herta prior to the Cooper Tires Indy Lights Mid-Ohio Grand Prix Powered by Mazda.
The pair have endured a somewhat tortuous battle for supremacy this year. It began with O'Ward, 19, from Monterrey, Mexico, winning three of the first four races for Andretti Autosport – although it should have been four straight wins had he not made a mistake while leading comfortably in Race Two on the streets of St. Petersburg, Fla.
Herta, 18, from Valencia, Calif., kept himself in contention by claiming three podium finishes for Andretti-Steinbrenner Racing. He then went on a tear of his own, winning four consecutive races to gain an advantage in the quest for a scholarship valued at $1 million to guarantee entry into three Verizon IndyCar Series events in 2019, including the 103rd Indianapolis 500.
But there has been another shift in power over the course of this month, with O'Ward claiming victory on the Iowa Speedway oval, then adding a win and a second two weeks ago on the streets of Toronto. His path was eased considerably when Herta suffered a dismal weekend in Toronto. Three separate crashes left Herta with a broken left thumb and caused him to pull out of Race Two in the hope of allowing the injury some time to heal.
Herta has been obliged to rest as much as possible during the intervening two weeks, and he will race with a special cast on his wrist at a track where, in 1993, his own father, Bryan, clinched the Indy Lights Championship in style by winning the race for his Hilliard, Ohio-based Tasman Motorsports team.
Uruguay's Santiago "Santi" Urrutia also remains in the championship mix for Belardi Auto Racing. After finishing runner-up in the standings in each of the past two years, Urrutia won Round Two at St. Petersburg back in March and added another "W" in the most recent race at Toronto. The 21-year-old has enjoyed plenty of success at Mid-Ohio before, winning once on his way to the Pro Mazda Championship in 2015 and emerging victorious in three of four Indy Lights races over the past two years at the undulating and challenging 2.258-mile road course.
Belardi teammate Aaron Telitz, from Birchwood, Wis., also has enjoyed some recent success after a difficult start to the season, finishing on the podium in Toronto, although the 2016 Pro Mazda champion, twice a winner in 2017, is still seeking his first victory of the year.
Brazilian Victor Franzoni, who succeeded Telitz as Pro Mazda champion and therefore carries the distinctive Mazda Soul Red livery on his Juncos Racing Dallara-Mazda, claimed a well-deserved first Indy Lights victory last month at Road America, while Ryan Norman, from nearby Aurora, Ohio, has been edging closer to his first win with a pair of podium finishes this season for Andretti Autosport alongside teammate Dalton Kellett, who finished third in the Freedom 100.
The 13th and 14th rounds of the 17-race title-chase will follow the usual format, starting with 40 minutes of official practice at 9:25 a.m. on Friday, July 27, and the first of two 25-minute qualifying sessions (to set the grid for Race One) at 1:20 p.m. After another qualifying session to determine the starting order for Race Two at 9:20 a.m. on Saturday, the two races are scheduled for 3:05 p.m. on Saturday and 1:05 p.m. on Sunday – immediately before the headline Verizon IndyCar Series event. All times are EDT.
VeeKay on a Roll in Pro Mazda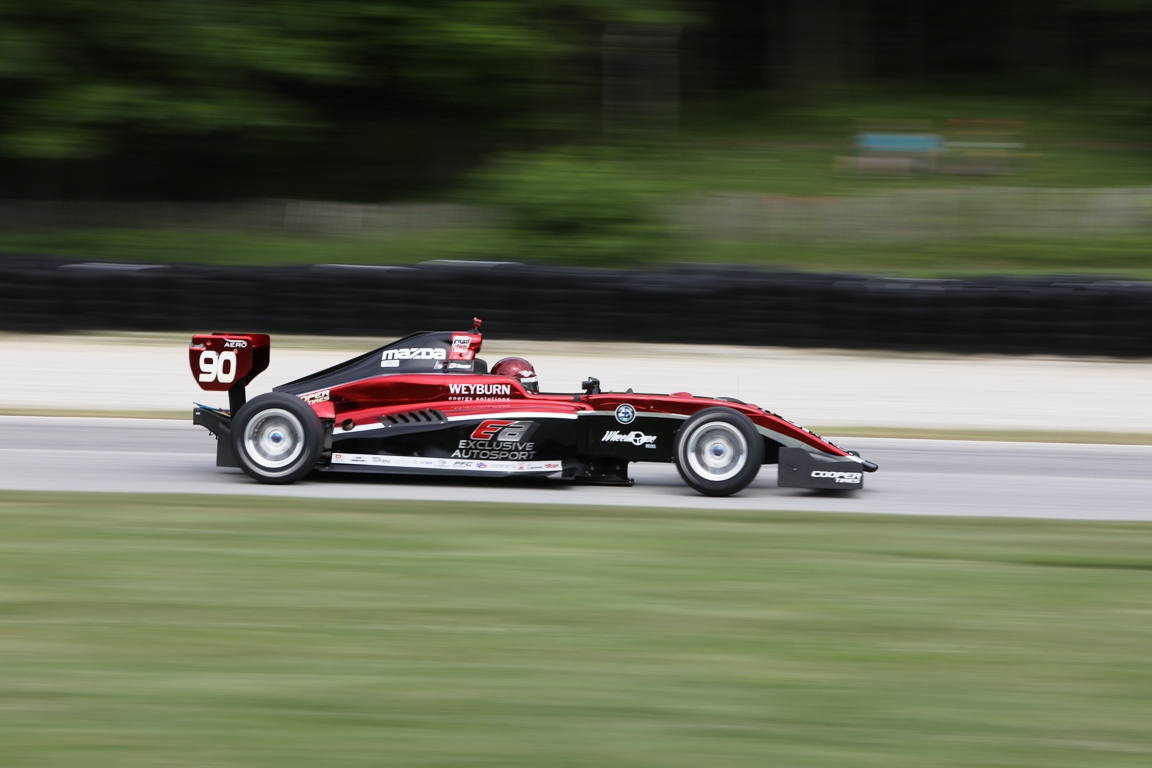 Thompson
The Pro Mazda Championship Presented by Cooper Tires – and a Mazda Scholarship worth $790,300 to move on to Indy Lights in 2019 – is very much up for grabs with just five rounds remaining in the 16-race season.
Prior to the most recent pair of races on the streets of Toronto, Canadian rookie Parker Thompson held a seemingly commanding 46-point advantage for his Canadian-based Exclusive Autosport team. But that margin has been whittled to a mere seven points, 263-256, following a weekend to forget for Thompson and Dutch teenager Rinus VeeKay's impressive two-race sweep for Juncos Racing.
The victories heralded a welcome return to form for VeeKay, 17, following a mixed bag of results since claiming both wins on the streets of St. Petersburg, Fla., way back in March.
This weekend's Cooper Tires Pro Mazda Mid-Ohio Grand Prix will see the pair anxious to continue their rivalry from last year, when Thompson claimed a win and a second in USF2000 competition while VeeKay earned a second and a third.
Intriguingly, Oliver Askew, 21, from Jupiter, Fla., who won one of the two USF2000 races last year and beat both of them to the championship crown and the right to carry the Mazda Soul Red colors into Pro Mazda for 2018, also should be in the mix with Cape Motorsports following a strong second-place finish in the most recent race in Toronto.
Others to watch among a strong 16-car lineup include Chicago teenager David Malukas, who won both races at Road America last month for BN Racing and set the fastest time during last week's series test at Mid-Ohio; Brazilian Carlos Cunha and Juncos Racing teammate Robert Megennis, from New York, N.Y., who both claimed podium results in Toronto; and the Team Pelfrey pair of Sting Ray Robb, 16, from Payette, Idaho, and Mexican teenager Andres Gutierrez, both of whom deserve a break following a dismal sequence of misfortune.
The field also will include four drivers making their Pro Mazda debuts: highly rated 18-year-old Brazilian Felipe Drugovich (RP Motorsport Racing), who won the MRF Challenge series in India earlier this year and currently leads the Euroformula Open (F3) Championship in convincing style; Colombian teammate Mathias Soler-Obel, who is stepping up from USF2000; Mexican Moises de la Vara (DEForce Racing), who has already won the NACAM Formula 4 Championship after competing previously in USF2000; and Antoine Comeau, from Joliet, Ill., who also joins DEForce Racing after a background in Radical sports cars.
Three 40-minute test sessions will kick off the Mid-Ohio activities on Thursday, July 26, followed by a 25-minute practice on Friday at 10:20 a.m. and then the first of two 20-minute qualifying sessions later in the afternoon at 2:00 p.m. Qualifying Two will take place at 11:00 a.m. on Saturday with the green flag for the pair of races set for 4:10 p.m. on Saturday and 11:05 a.m. on Sunday, July 29. All times are EDT.
Kirkwood Closes on USF2000 Championship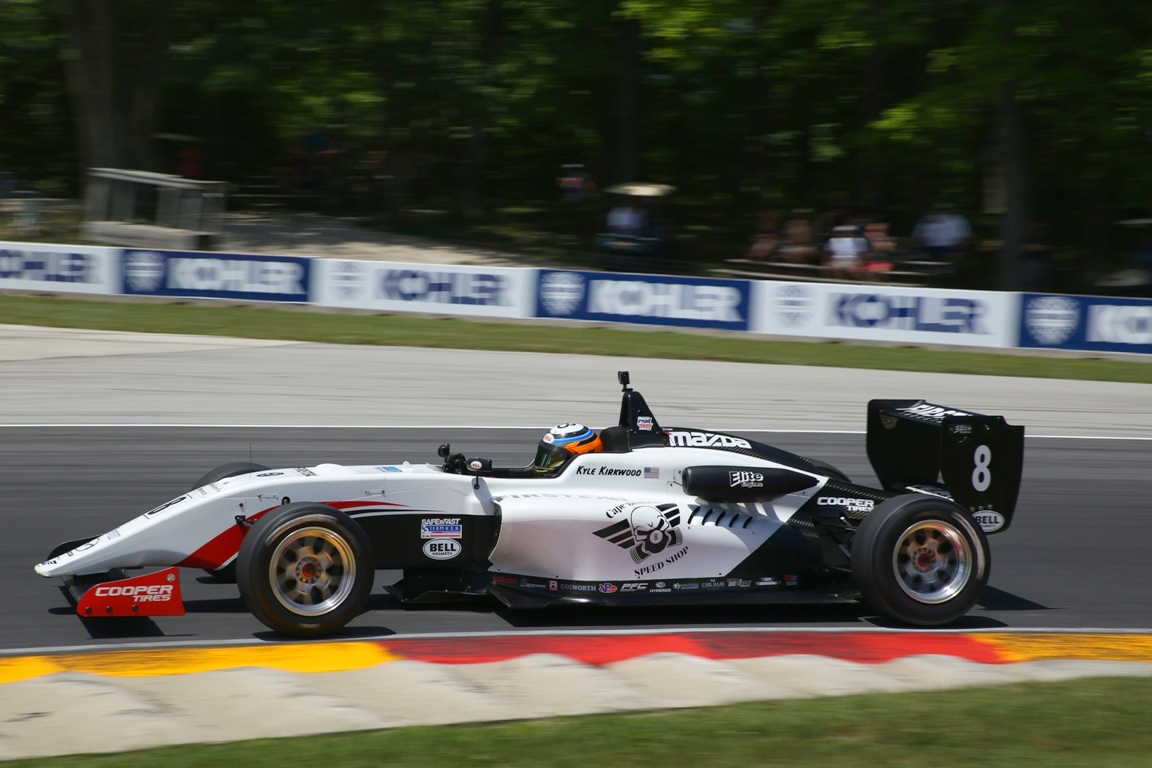 Kirkwood
Kyle Kirkwood, 19, from Jupiter, Fla., has taken this year's USF2000 championship by storm, winning seven of the nine races for Cape Motorsports – including the last six in succession – to open up an astonishing 131-point advantage with just five races remaining. Kirkwood requires only a relatively modest 34-point haul from this weekend's trio of 30-minute races, comprising the Cooper Tires USF2000 Mid-Ohio Grand Prix Powered by Mazda, to secure a $325,000 Mazda Scholarship which will ensure graduation onto the next step of the Mazda Road to Indy ladder, Pro Mazda, in 2019.
If Kirkwood is able to accomplish his goal, he will be following directly in the footsteps of childhood friend (and karting rival) Oliver Askew, who won the title in 2017.
While Kirkwood's domination has been complete, the battles in his wake have been intense. An impressive tally of nine other drivers have so far finished on the podium, while no fewer than 15 – representing nine different teams – have a top-five finish to their credit. And in the coveted Team Championship, Cape Motorsports currently holds only a four-point edge over Pabst Racing, which will field a quartet of potent Tatuus-Mazda USF-17s for Kaylen Frederick, Rasmus Lindh, Lucas Kohl and Calvin Ming.
Frederick, 16, from Potomac, Md., has finished on the podium in four of the last five races – and claimed his first pole position in Toronto. He also made a handful of podium appearances during his rookie campaign in 2017, so a first victory is long overdue. Kohl, from Santa Cruz do Sol, Brazil, and Ming, from Georgetown, Guyana, also are still seeking that elusive maiden win, as is 17-year-old Swedish rookie Lindh, who has picked up two poles and two fastest race laps from the four most recent races.
Igor Fraga also has been knocking on the door to Victory Lane for Exclusive Autosport. The Japanese-born Brazilian came close in Toronto, where he overtook Kirkwood boldly for the lead and held on for several laps before eventually succumbing to a spectacular maneuver by the champion-elect.
The long list of other potential challengers includes Dakota Dickerson (ArmsUp Motorsports), from San Diego, who earned his first pole and finished third in Toronto – and recently took the lead in this year's U.S. F4 Championship following his first win at Mid-Ohio; Ireland's Keith Donegan (BN Racing), who finished third at Road America; 2017 South African F1600 champion Julian Van der Watt (Team Pelfrey), who outlasted a sequence of misfortune to finish fifth in Toronto; plus youngsters Michael d'Orlando (Team BENIK), from Hartsdale, N.Y., who impressed during last week's test to build upon his first top-six finish recently at Road America ,and Jacob Abel, from Louisville, Ky., who similarly tested well for his family's Abel Motorsports team.
This weekend will see debuts for former British Formula Ford Festival winner James Raven (DEForce Racing) and 15-year-old Yuven Sundaramoorthy (Exclusive Autosport), from Guilderland, N.Y., who has impressed this year in the F1600 Championship Series.
A busy week for the USF2000 contingent will begin with a trio of 40-minute test sessions on Thursday, July 26, followed on Friday by a 25-minute practice at 8:45 a.m., 20 minutes of qualifying at 12:45 p.m. and then the first of three races later in the afternoon at 4:30 p.m. Saturday's action will comprise another 20 minutes of qualifying at 8:45 a.m. to set the grid for Race Two at 12:35 p.m. Each driver's fastest lap from Race Two will be used to determine the starting order for the third and final race of the weekend, which will start at 12:10 p.m. on Sunday, July 29. All times are EDT.
Coverage of on-track action in all three series can be found on a series of platforms including Road to Indy TV, the Road to Indy TV App and dedicated broadcast channels on demand via Apple TV, Amazon Fire and Roku and, most recently, the Xbox One Official App as well as live streaming and live timing on the series' respective websites and indycar.com. Indy Lights is also featured on the Advance Auto Parts INDYCAR Radio Network broadcasts on Sirius 214, XM 209, IndyCar.com, indycarradio.com and on the INDYCAR Mobile app.
The Indy Lights race will be broadcast on NBCSN at 6:00 pm EDT on Tuesday, July 31.