FIA doing everything possible to hand Hamilton F1 title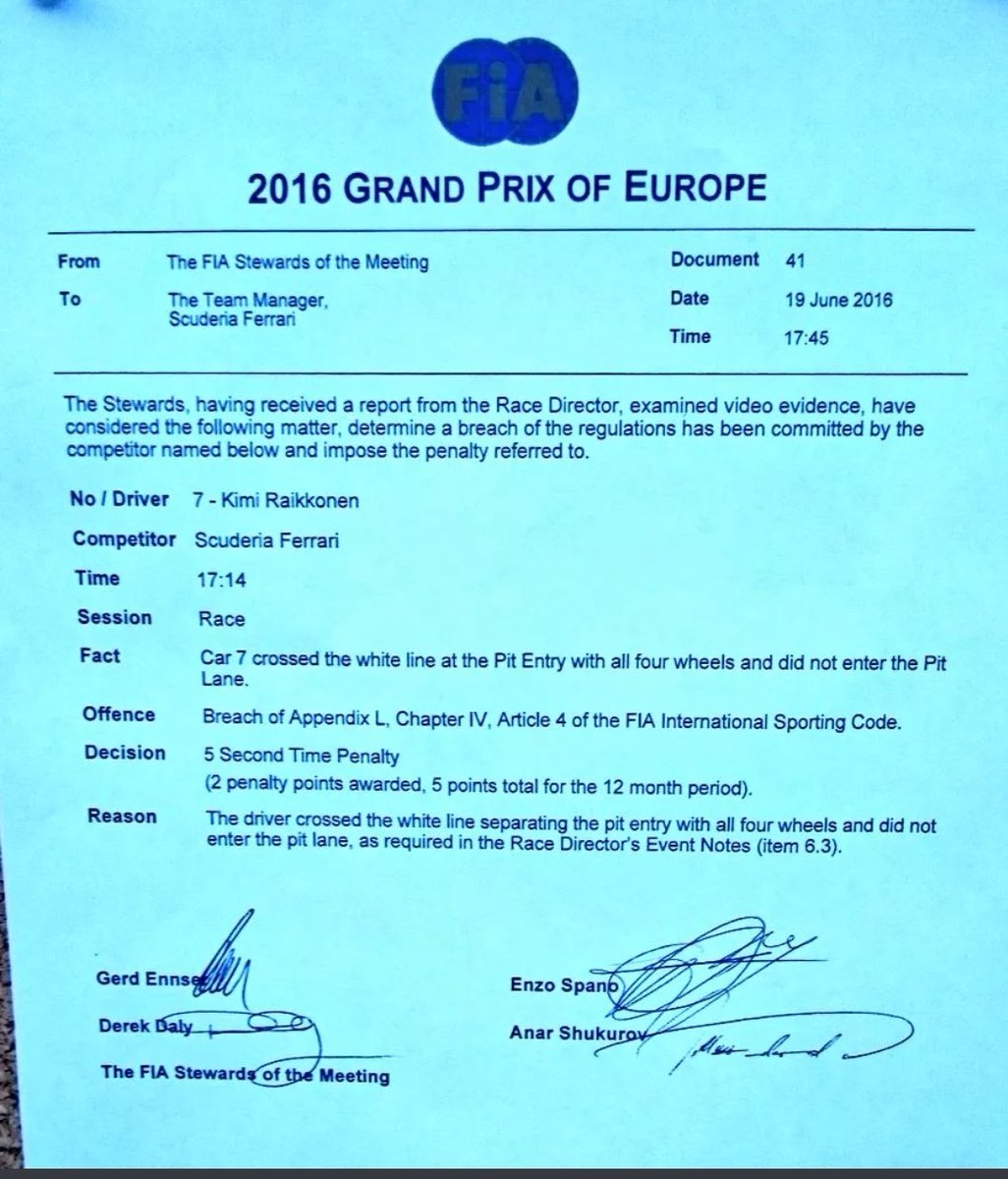 The same infraction for a Ferrari driver (Raikkonen) 2 years ago resulted in a 5-sec. penalty. But because the FIA wants Hamilton to win the F1 title, no penalty was assessed.
Lewis Hamilton took to the pitlane entry road in today's German GP but then cut across the grass and emerged on the start-finish straight – a decision which ultimately allowed him to lead the race at the restart and take the checkered flag in first.
Hamilton and Mercedes were called up to the stewards after the podium ceremonies had concluded, with the summons' notice citing a potential violation of the FIA International Sporting Code.
If it was a Ferrari driver, they would have been handed a 5-sec. penalty as they have in the past (see image to right) and the 2nd place driver in the German GP (Valtteri Bottas) would have won the race.
Hamilton's race-winning margin of 4.5 seconds over teammate Valtteri Bottas meant his race win was under threat due to the possibility of a time penalty.
However, following lengthy deliberations, the stewards decided that the sanction would be limited to a reprimand of their 'pet' driver – Hamilton's first of the season.
The stewards' explanation for the decision read: "It was clear that there was an infringement of the above mentioned rule – the driver clearly crossed the line separating the pit entry from the track.
"In deciding on the penalty for the infringement, we took into account the following mitigating factors:
"(i) The driver and the team candidly admitted the mistake and the fact that there was confusion within the team as to whether to stay out or to enter the pits and that led to the infringement.
"(ii) The fact that the infringement took place during a Safety Car period.
"(iii) At no time was there any danger to any other competitor and the change in direction was executed in a safe way.
"Taking all of the above into account, including considering previous infringements of the above rule, we are of the opinion that a reprimand would be the appropriate penalty for the said infringement on this occasion."
Editor's Note: they should have added (iv) "Lewis Hamilton is our pet driver and we will do everything in our power to ensure he wins his 5th World Title."