Chase Elliott Unveils Throwback Car Honoring His Late Cousin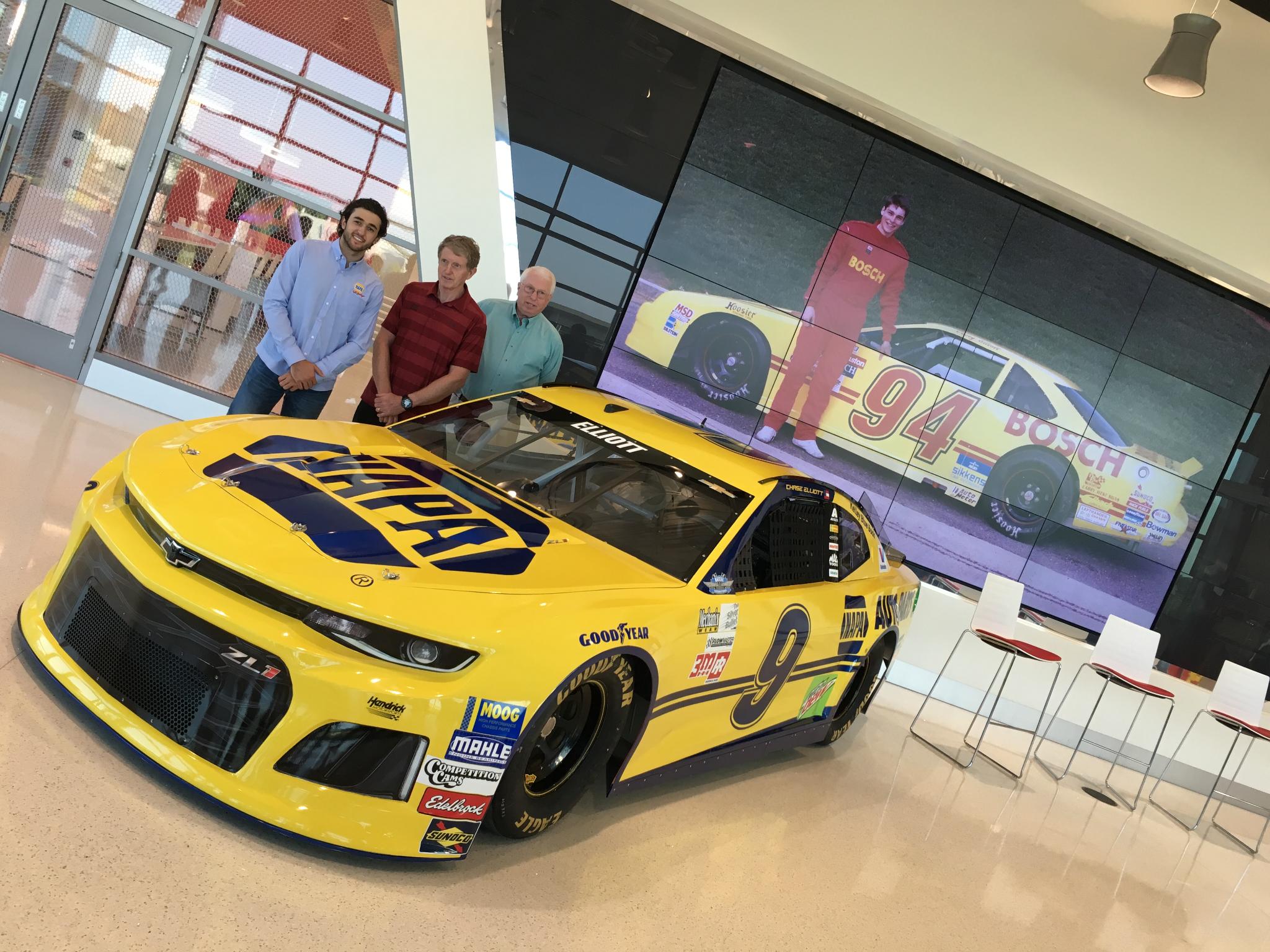 (L-R) Chase, Bill & Ernie Elliott with Chase's paint scheme honoring his late cousin Casey Elliott (background)
Pete McCole/AR1
Chase Elliott unveiled a special throwback paintscheme for his No. 9 NAPA Auto Parts Chevrolet Camaro for the upcoming Bojangles' Southern 500 throwback weekend at Darlington Raceway on Sept. 2, featuring a yellow and blue livery honoring his late cousin Casey Elliott, who passed away in 1996 after a long battle with cancer.
Elliott's uncle – and Casey's father – Ernie Elliott, was on-hand for the unveiling, as was Elliott's father Bill Elliott – the 1988 Cup Series Champion and three-time Southern 500 winner.
The throwback scheme is a replica of the car Casey Elliott campaigned in the NASCAR Slim Jim All Pro Series during the 1993 season – Casey's last season as a driver.
Casey Elliott had been a rising star in NASCAR's development leagues – running in the All Pro Series full time in 1993 as well as making two starts in the NASCAR Busch (now Xfinity) Series.
Casey Elliott was poised to run a full season in the Busch Series in 1994, but was diagnosed with cancer in December of 1993.
While it was initially thought Casey's treatment for cancer would sideline him only temporarily, the cancer soon spread. After a two year battle with the disease, Casey Elliott passed away in 1996 at the age of 21. Chase Elliott was barely two months old when his cousin died.
Although Chase Elliott didn't get a chance to know his cousin while he was alive, he got to know Casey through the stories told to him by people who had worked for the Elliott family for years, and felt the Darlington throwback weekend was the perfect way to tell Casey's story.
"Unfortunately, I never really had a chance to get to know Casey, but a lot of the guys who worked with my dad and Uncle Ernie had worked there for a long time, and they shared a lot of stories with me and told me what kind of person Casey was and that's kind of where I grew my appreciation for Casey comes from," said Chase, who helped design the throwback car. "Beyond that, I feel like what people leave behind often tells the true story as to what kind of person they were too, and how much everyone still misses him and talk about him after all these years says a lot about him.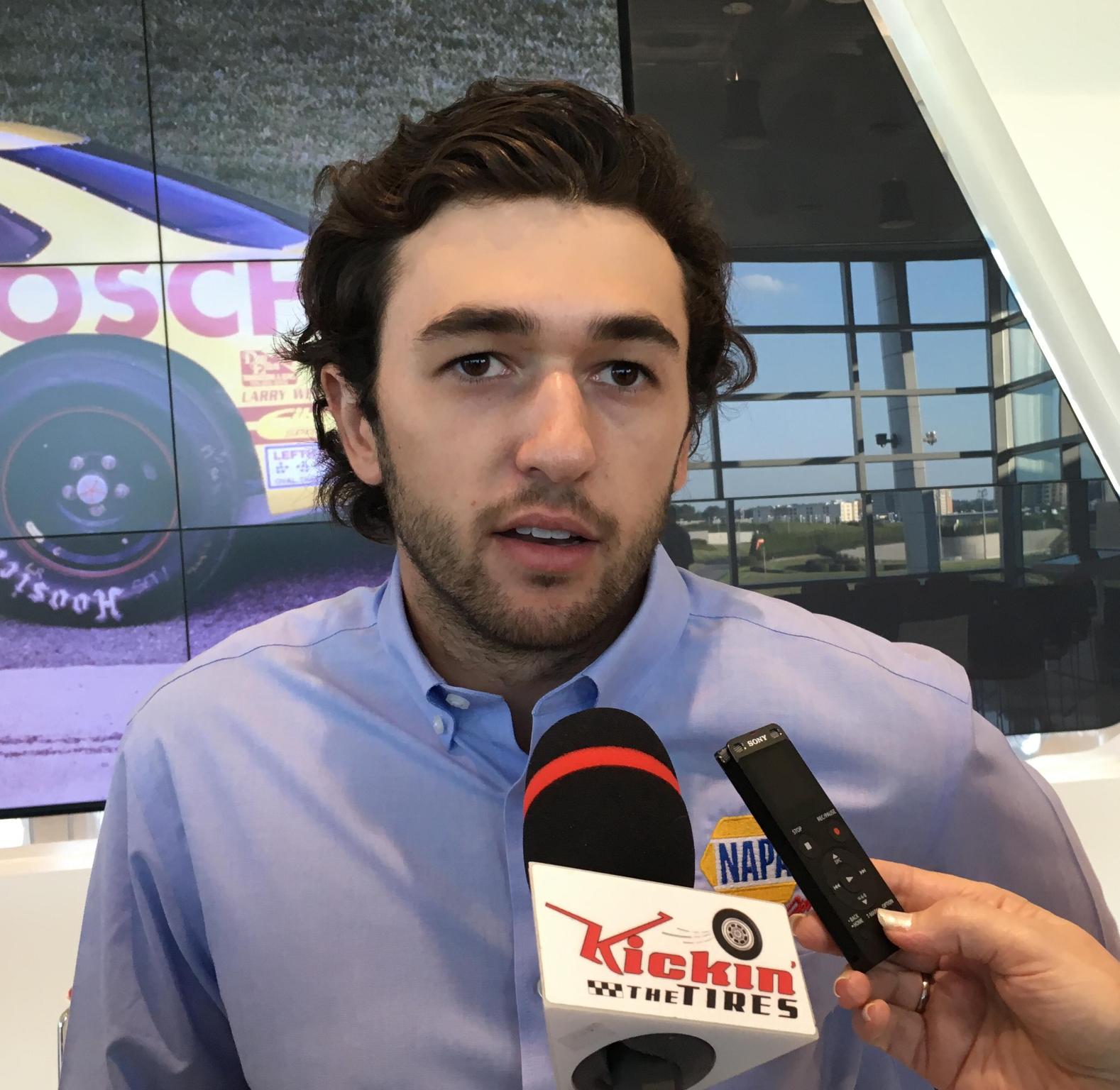 Chase Elliott
Pete McCole/AR1
"The idea really hit me at the end of 2016, after we ran the throwback paint scheme in September, and I thought it would be a cool thing to do and I brought it up to the people at NAPA. I think it was just to share his story more than anything. The Elliott family and our racing history wasn't just about Dad and Uncle Ernie and myself, and I think it's fair to share Casey's story with people who might not know about Casey, and this is a great opportunity to do that."
Ernie Elliott, who served as Bill Elliott's crew chief and engine builder during his early days in NASCAR, was happy to see the final design, which is based on a car he helped build.
"This (paint scheme) does take me back, in a way," said Ernie. "I appreciate Chase thinking about (Casey) and putting this into perspective. Having never really known Casey, never knowing how he was, just putting this into perspective of honoring him is a great deal for our family. It's really great honor and a great tribute."
Despite Chase never knowing Casey, Bill Elliott sees a lot of Casey's positive attitude in his son, and was proud that Chase chose to honor Casey's memory.
"Growing up around Casey, he was just such a good kid, it's hard to talk about it," said Bill Elliott. "He had a great outlook on life – he had this old Ranger pickup truck he drove around in and the tag on the front said 'Who knows? Who cares?' and I think he lived that life. He would go to the racetrack and he always seemed to be in a great mood, and even through his tough times as he went on with (his battle with cancer), he still had a great attitude on life. He was just the type of kid that everyone looked up to.
"I think what Darlington has brought back with the throwback weekend, this is just a great opportunity to honor Casey and honor our family and to bring some closure to what happened in the past."
– Pete McCole