2018 model of the Nissan GT-R Nismo GT for sale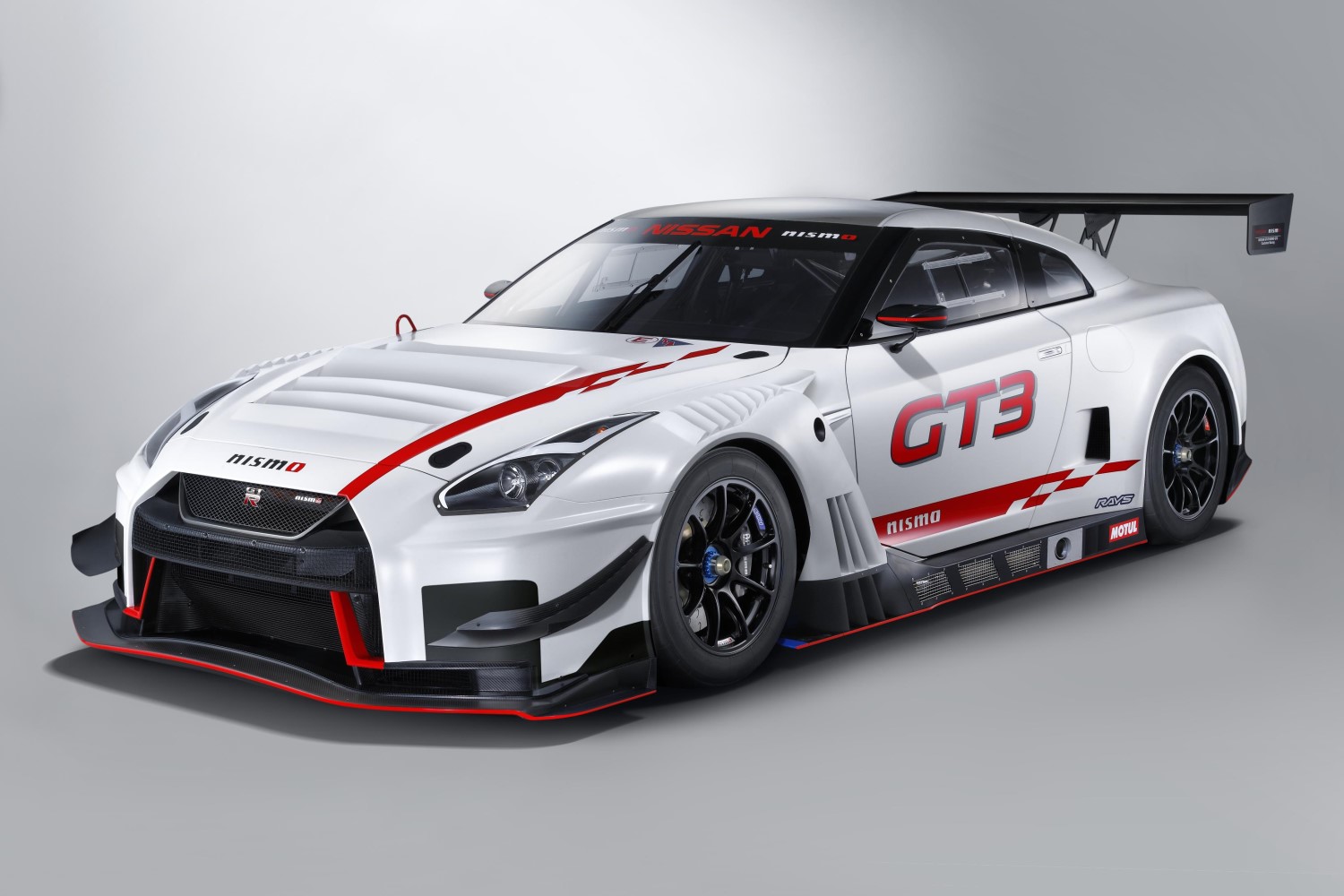 Nissan GT-R Nismo GT3
Nissan Motorsport International Co., Ltd. (NISMO) is releasing its 2018 model of the NISSAN GT-R NISMO GT3, which is based on the NISSAN GT-R (R35) NISMO and conforms to FIA GT3 regulations. Build-to-order and delivery are to begin from around January 2019.
NISMO launched the NISSAN GT-R NISMO GT3 in 2012 and has been supplying it to customers around the world including in Japan, Europe, America, China and Australia. The car accumulated several achievements including taking the championship titles in the SUPER GT GT300 class and the Blancpain Endurance Series (currently the Blancpain GT Series Endurance Cup), along with overall victory in the Bathurst 12 Hour (Australia) in 2015.
The 2018 model that is set for release reflects significant advances made on the base vehicle NISSAN GT-R (R35) NISMO, and the lessons learned from accumulated actual race data since the 2015 model was released. NISMO aimed to create a vehicle that took advantage of all of the GT-R 's strengths and was capable of running with stability and speed at any circuit and on any brand of tire.
Specifically, weight distribution has been optimized and the center of gravity lowered by mounting the engine 150mm further back and lower than in the 2015 model. At the same time, the front and rear suspension, along with the cross member have been newly designed to improve the vehicle dynamics.
In addition to vigorous tests carried out in Japan and overseas since April of last year, participation in several series, in cooperation with NISMO 's official partner teams this season, has seen the car run a total of approximately 30,000km. This new vehicle has enhanced competitiveness through improvements in its fundamental performance, at the same time, the new model is easy to handle for both professional and gentleman drivers, and offers significant reliability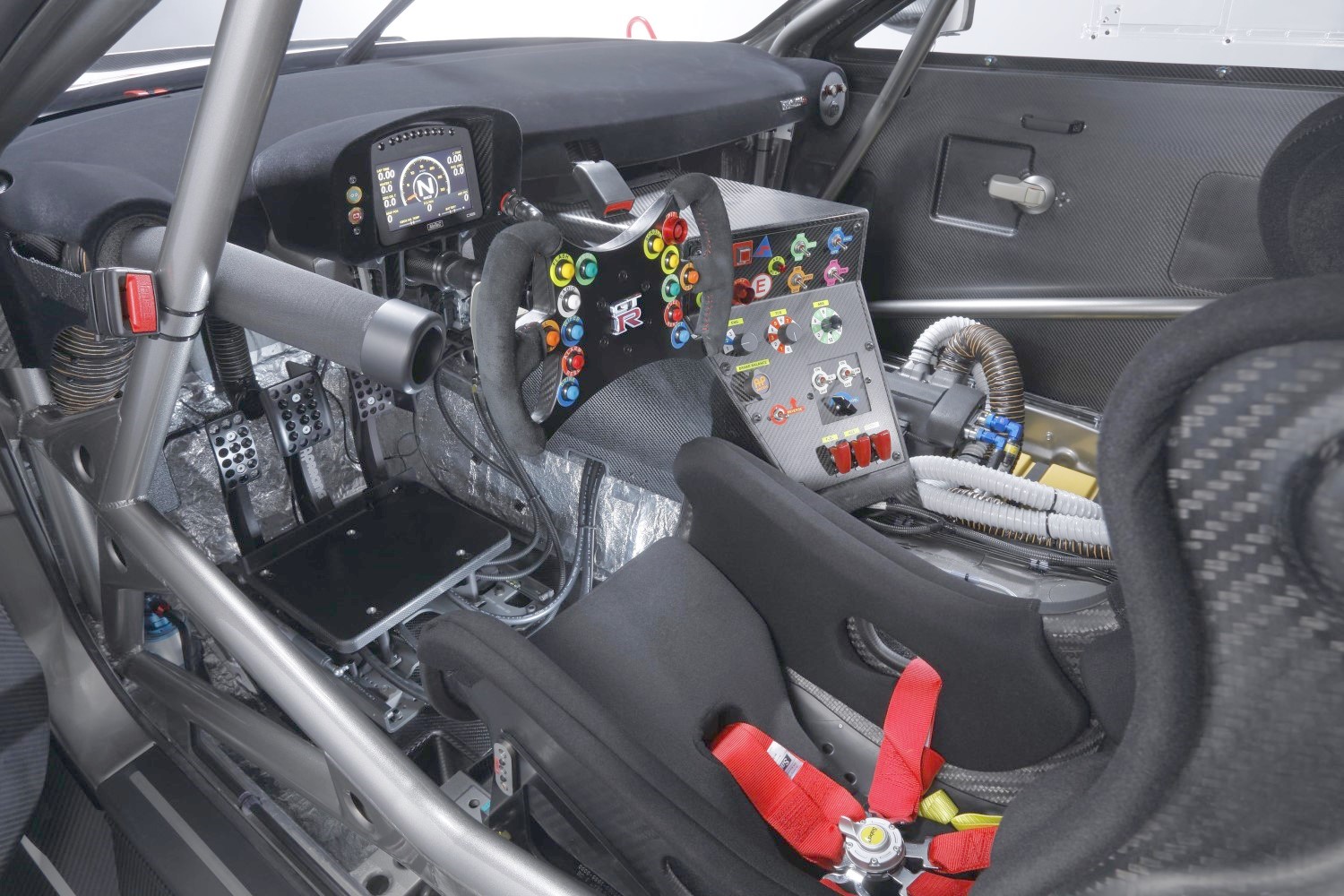 Interior layout
"To develop the 2018 model NISSAN GT-R NISMO GT3, NISMO, as the official sporting arm of NISSAN, has made full use of the advanced technology and expertise we have gained through our vast experience in racing, and this car is built to be competitive in GT3 racing around the world, " said Takao Katagiri, CEO of NISMO. "Whilst this is its first year of actual competition, it is already demonstrating its competitiveness, having attained achievements such as a 3rd place podium finish in the Japan 's SUPER GT (GT300 class) and a 3rd place overall finish in the Blancpain GT Series Asia. I would like to greatly thank our official partner teams for being the first to choose and demonstrate the full potential of the car and we have high hopes that a number of teams will be competing with the 2018 model NISSAN GT-R NISMO GT3."
Development features of the 2018 model

Lowered center of gravity and optimized weight distribution through a revision of the vehicle package
Improved dynamics through newly designed suspension
Optimized balance between stable downforce characteristics and drag
Front and rear rigidity (flexural, torsional) improvements and enhanced linearity by utilizing advanced analysis technology
Dry sump system implementation for lowered center of gravity and lubrication reliability
Extended maintenance cycle through a newly designed transmission
Strengthened brakes with increased durability and reliability
An exclusively designed air conditioning system to reduce driver stress and ensure comfort during endurances races, etc. available as an option
Â¥60,000,000 (excl. tax / delivery at NISMO factory)
※ Optional / spare parts will be necessary depending on what category you intend to participate in.
For more details, please enquire at the contact provided below.
NISMO will be carrying out vehicles sales and customer support.
| | | |
| --- | --- | --- |
| Length | | 4,832mm |
| Width | | 2,036mm |
| Wheelbase | | 2,817mm |
| Track | Front | 1,690mm |
| | Rear | 1,700mm |
| Weight | | 1,285kg*1 |
| Engine Model | | VR38DETT |
| Displacement | | 3,799cc |
| Maximum Power | | Over 405kw/6,500rpm Over 550ps/6,500rpm*1 |
| Maximum Torque | | Over 637M m/5,000prm Over 65.0kgf m/5,000rpm*1 |
| Drive System | | 2WD FR |
| Cluth | | Metal, 5.5 inch 4-plate |
| Transmission | | 6-speed Sequential |
| Brake | Front | 6-piston caliper/Ventilated Steel Disc Brake and Pad |
| | Rear | 4-piston caliper/Ventilated Steel Disc Brake and Pad |
| Suspension | Front | Independent Suspension Double Wishbone |
| | Rear | Independent Suspension Double Wishbone |
| Tire | Front | 330/710-18 |
| | Rear | 330/710-18 |
| Wheel | Front | 13.0Jx18 |
| | Rear | 13.0Jx18 |
*1 Subject to change accordingly to FIA's balance of performance