Kyle Larson Fastest In Final Cup Series Practice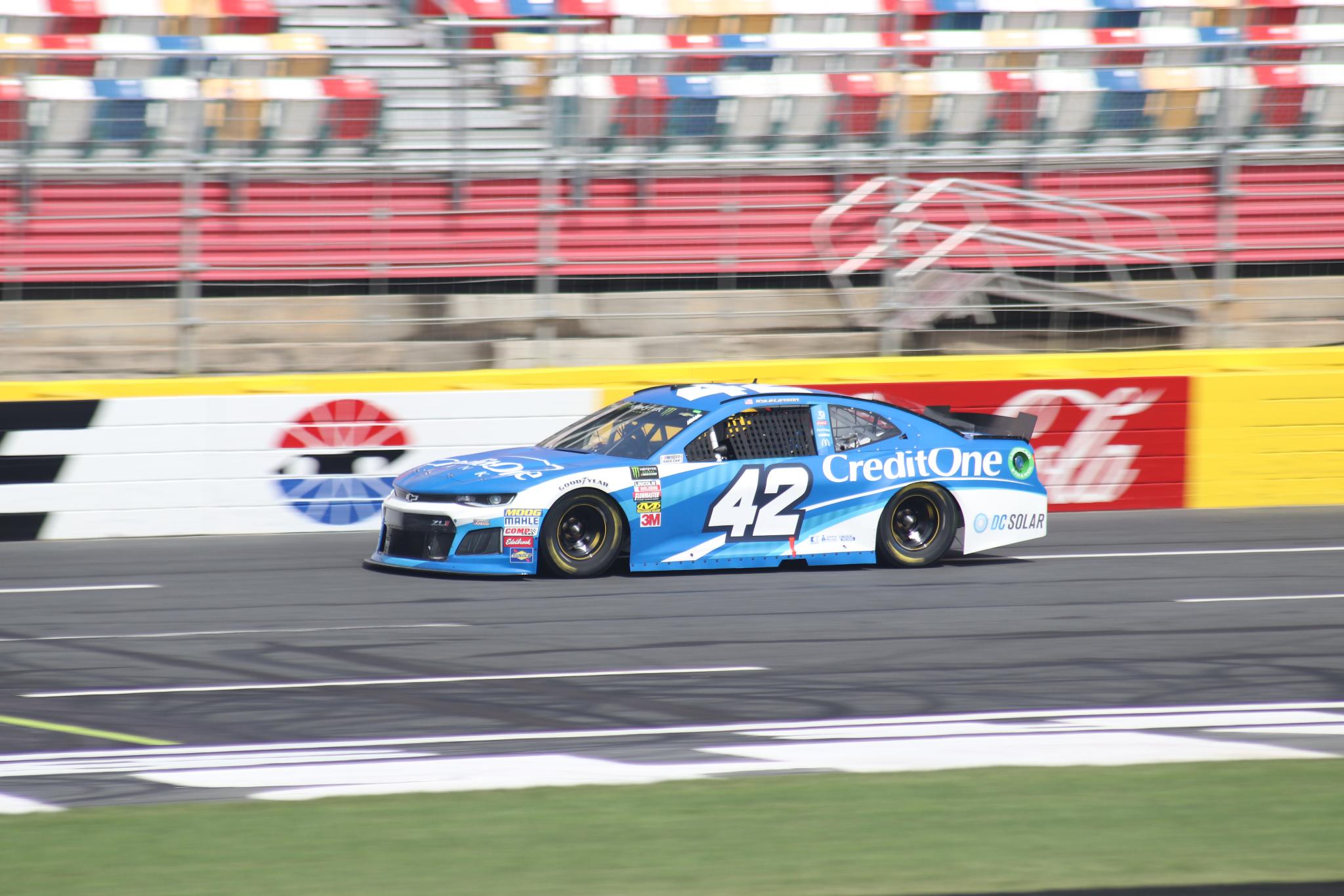 Kyle Larson
Amy Henderson/AR1
Kyle Larson led the pack in a last-minute practice addition Saturday at Charlotte Motor Speedway with a top lap speed of 173.305 MPH. Clint Bowyer was second and Kevin Harvick third. All three are already in the All-Star event tonight, which will feature a high-drag, low-horsepower aerodynamic package with restricted engines in an attempt to close up the pack during races. Rain washed out the scheduled Friday practices, and NASCAR opted to give drivers a chance to get acclimated to the cars, which they have not raced previously.
The fastest Open drivers were Aric Almirola (172.474 MPH), Daniel Suarez and Darrell Wallace, Jr., who were fourth, fifth and sixth overall, respectively. Kurt Busch was seventh, Alex Bowman eighth, Ryan Blaney ninth and Chase Elliott rounded out the top 10.
Other notables include seven-time champion Jimmie Johnson in 11th, point leader Kyle Busch in 12th and reigning Cup champ Martin Truex Jr. in 19th.
Lap times for the top 27 of the 38 cars that practiced were within a half-second of one another, with most teams practicing drafting in packs as the session wore on, something that this rules package allows for.
The Monster Energy Open is scheduled for 6:00 PM Eastern with the All-Star Race to follow at 8:00.
— Amy Henderson reporting from Charlotte Motor Speedway

PRACTICE RESULTS

| | | | | | | | | | |
| --- | --- | --- | --- | --- | --- | --- | --- | --- | --- |
| Pos | # | Driver | Sponsor/Make | Best Time | Best Speed | Best Lap | Laps | Fastest | Next |
| 1 | 42 | Kyle Larson | Credit One Bank Chevrolet | 31.159 | 173.305 | 2 | 62 | —.— | —.— |
| 2 | 14 | Clint Bowyer | Stewart-Haas Racing Fan Club Ford | 31.168 | 173.255 | 3 | 39 | -0.009 | -0.009 |
| 3 | 4 | Kevin Harvick | Jimmy John's Ford | 31.205 | 173.049 | 4 | 44 | -0.046 | -0.037 |
| 4 | 10 | Aric Almirola | Smithfield/Waffle House Ford | 31.218 | 172.977 | 2 | 35 | -0.059 | -0.013 |
| 5 | 19 | Daniel Suarez | ARRIS Toyota | 31.276 | 172.656 | 6 | 48 | -0.117 | -0.058 |
| 6 | 43 | Darrell Wallace Jr. # | World Wide Technology Chevrolet | 31.309 | 172.474 | 6 | 45 | -0.15 | -0.033 |
| 7 | 41 | Kurt Busch | Monster Energy Ford | 31.311 | 172.463 | 1 | 42 | -0.152 | -0.002 |
| 8 | 88 | Alex Bowman | Axalta Chevrolet | 31.33 | 172.359 | 3 | 53 | -0.171 | -0.019 |
| 9 | 12 | Ryan Blaney | Hawk/Carlisle Ford | 31.405 | 171.947 | 3 | 33 | -0.246 | -0.075 |
| 10 | 9 | Chase Elliott | SunEnergy1 Chevrolet | 31.414 | 171.898 | 2 | 44 | -0.255 | -0.009 |
| 11 | 48 | Jimmie Johnson | Lowe's for Pros Chevrolet | 31.425 | 171.838 | 1 | 32 | -0.266 | -0.011 |
| 12 | 18 | Kyle Busch | M&M's Red Nose Day Toyota | 31.43 | 171.81 | 3 | 53 | -0.271 | -0.005 |
| 13 | 2 | Brad Keselowski | Discount Tire Ford | 31.434 | 171.789 | 7 | 62 | -0.275 | -0.004 |
| 14 | 31 | Ryan Newman | Caterpillar/Grainger Chevrolet | 31.457 | 171.663 | 3 | 43 | -0.298 | -0.023 |
| 15 | 3 | Austin Dillon | Dow Chevrolet | 31.49 | 171.483 | 2 | 44 | -0.331 | -0.033 |
| 16 | 22 | Joey Logano | Shell Pennzoil Ford | 31.505 | 171.401 | 17 | 49 | -0.346 | -0.015 |
| 17 | 11 | Denny Hamlin | FedEx Express Toyota | 31.51 | 171.374 | 5 | 73 | -0.351 | -0.005 |
| 18 | 17 | Ricky Stenhouse Jr. | Fastenal Ford | 31.517 | 171.336 | 2 | 51 | -0.358 | -0.007 |
| 19 | 78 | Martin Truex Jr. | 5-hour Energy/Bass Pro Shops Toyota | 31.521 | 171.314 | 2 | 31 | -0.362 | -0.004 |
| 20 | 6 | Matt Kenseth | #DoYouKnowJack Ford | 31.527 | 171.282 | 5 | 46 | -0.368 | -0.006 |
| 21 | 95 | Kasey Kahne | Dumont Jets Chevrolet | 31.54 | 171.211 | 9 | 58 | -0.381 | -0.013 |
| 22 | 37 | Chris Buescher | Clorox Chevrolet | 31.58 | 170.994 | 26 | 35 | -0.421 | -0.04 |
| 23 | 34 | Michael McDowell | Dockside Logistics Ford | 31.583 | 170.978 | 5 | 49 | -0.424 | -0.003 |
| 24 | 20 | Erik Jones | Sport Clips Toyota | 31.616 | 170.8 | 8 | 35 | -0.457 | -0.033 |
| 25 | 21 | Paul Menard | Menards/Knauf Ford | 31.618 | 170.789 | 13 | 47 | -0.459 | -0.002 |
| 26 | 13 | Ty Dillon | GEICO Military Chevrolet | 31.624 | 170.756 | 2 | 49 | -0.465 | -0.006 |
| 27 | 24 | William Byron # | Hertz Chevrolet | 31.625 | 170.751 | 4 | 52 | -0.466 | -0.001 |
| 28 | 38 | David Ragan | MDS Trucking Ford | 31.639 | 170.675 | 6 | 37 | -0.48 | -0.014 |
| 29 | 1 | Jamie McMurray | Bass Pro Shops | 31.677 | 170.471 | 4 | 38 | -0.518 | -0.038 |
| 30 | 47 | AJ Allmendinger | Kroger ClickList Chevrolet | 31.759 | 170.031 | 14 | 46 | -0.6 | -0.082 |
| 31 | 32 | Matt DiBenedetto | Zynga Poker Ford | 31.818 | 169.715 | 19 | 30 | -0.659 | -0.059 |
| 32 | 72 | Corey LaJoie | Chevrolet | 32.152 | 167.952 | 3 | 25 | -0.993 | -0.334 |
| 33 | 23 | Gray Gaulding | Toyota | 32.394 | 166.698 | 8 | 29 | -1.235 | -0.242 |
| 34 | 0 | Landon Cassill | Dairi-O Chevrolet | 32.504 | 166.133 | 6 | 34 | -1.345 | -0.11 |
| 35 | 55 | Reed Sorenson | Chevrolet | 32.741 | 164.931 | 4 | 4 | -1.582 | -0.237 |
| 36 | 51 | BJ McLeod(i) | Prefund Capital Chevrolet | 32.819 | 164.539 | 5 | 17 | -1.66 | -0.078 |
| 37 | 15 | Ross Chastain(i) | Internetwork Engineering Chevrolet | 32.839 | 164.439 | 1 | 1 | -1.68 | -0.02 |
| 38 | 66 | Timmy Hill(i) | Sentinel One Toyota | 33.132 | 162.984 | 4 | 16 | -1.973 | -0.293 |