Latest F1 news in brief – Monday
Niki Lauda (L – with Ecclestone and Jordan) is wrong. Crashstappen was weaving like a seamstress all race long and moved twice under braking to cause the accident. It was 100% Crashstappen's fault

Drivers should pay for Red Bull crash – Lauda

Boullier plays down McLaren 'B' car hopes
Vettel upbeat despite losing title lead
Teams to vote on overtaking rules
Mercedes Formula 1 Against Ban Of 'Virtual Garages'
F1 trademarks 'Shoey'
Drivers should pay for Red Bull crash – Lauda
(GMM) Red Bull's drivers should have to pay for the damage to their cars after colliding in Baku.
That is the view of Niki Lauda, whose fellow Mercedes chief Toto Wolff said after the clash on Sunday that F1 drivers "sometimes go too far".
"I've been in Christian (Horner's) position," Wolff said after Daniel Ricciardo and Max Verstappen crashed.
"On the one hand you want two equal drivers who are not afraid to fight. But we have to remind them that hundreds of people work 24 hours a day to give them the car," he added.
Lauda, the Mercedes team chairman, said that in Horner's situation, he would "go home and cry".
"My view is that Verstappen is 70 per cent guilty, Ricciardo 30 per cent guilty. You cannot move like that in a straight line. Eventually the poor guy had nowhere to go.
"What would I do? I would bring them to my office and make them pay for the repairs," Lauda added.
However, Horner and fellow Red Bull chief Dr Helmut Marko would not apportion blame, saying both drivers were now in the "doghouse" and would have to apologize.
As for Lauda's suggestion of a financial penalty, Horner answered: "Niki thinks about the financial side more often than most of us in the paddock.
"For us the most important thing for Daniel and Max to realize is that it was completely unacceptable."
He said Red Bull's philosophy is always to let the drivers fight, but "We will discuss it before Barcelona".
F1 race director Charlie Whiting admitted "both drivers could have acted more circumspectly", while Ricciardo said the incident won't damage his relationship with Verstappen.
"We are not angry with one another," said the Australian. "We just want to apologize to the team. It's all we can do."
Boullier plays down McLaren 'B' car hopes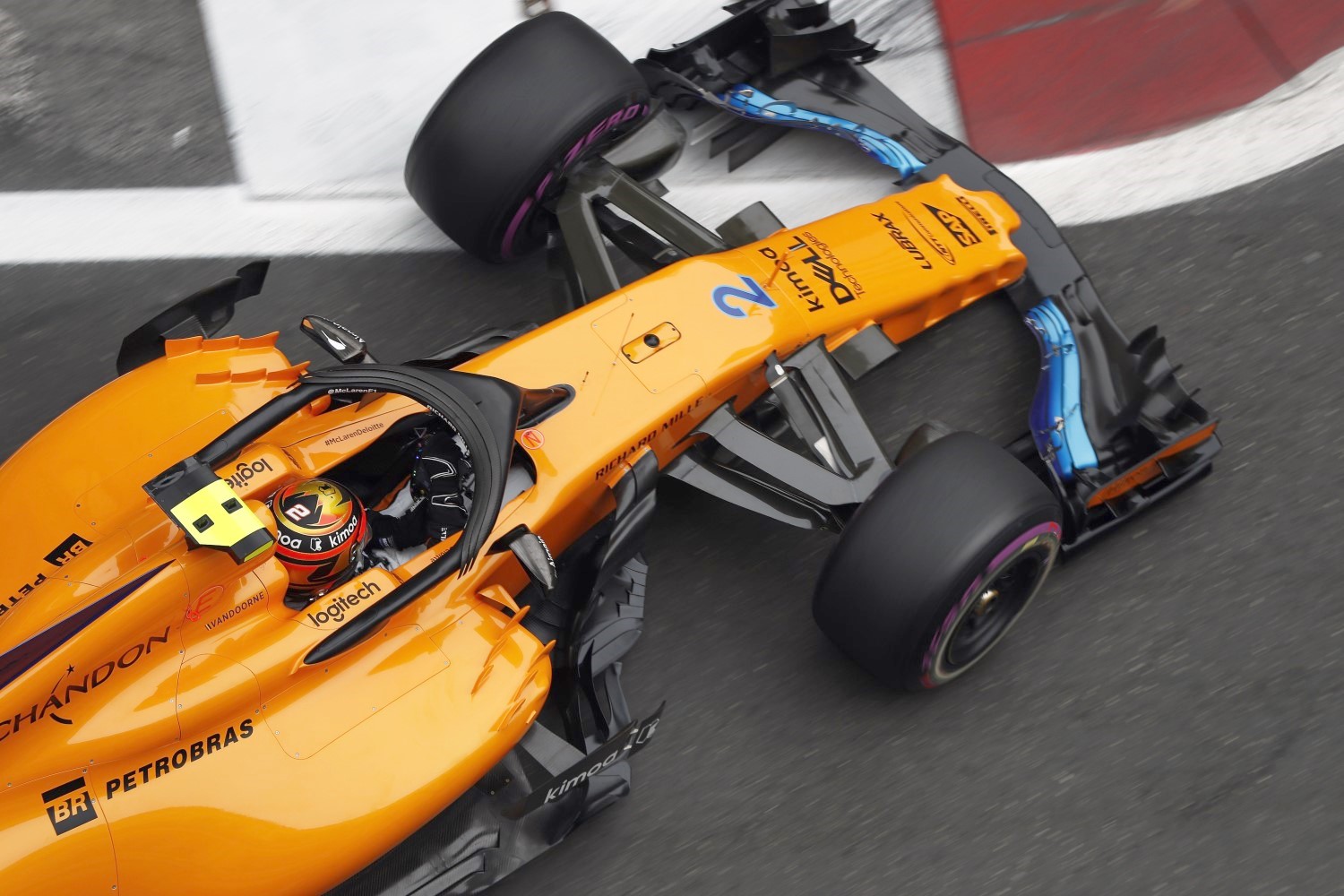 All the teams will bring new aero bits to Barcelona says Boullier
(GMM) Eric Boullier has played down hopes a reported 'B' car for Spain could be a silver bullet for McLaren.
The British team has struggled so far in 2018 despite having switched from Honda to Renault power.
Now, reports suggest the car changes will be so significant for Barcelona next month that it might be called a 'B' car.
"There is a new direction for Barcelona," confirmed team boss Eric Boullier. "But you cannot expect us to leap ahead of everyone else.
"I think 95 per cent of the paddock will bring new aerodynamic packages to Barcelona, so the difference will either be the same, we lose some ground, or perhaps we gain a little," he is quoted by El Confidencial newspaper.
"It is up to us that our evolution works and lives up to our own expectations, and then to hope that the others cannot do the same," said Boullier.
Vettel upbeat despite losing title lead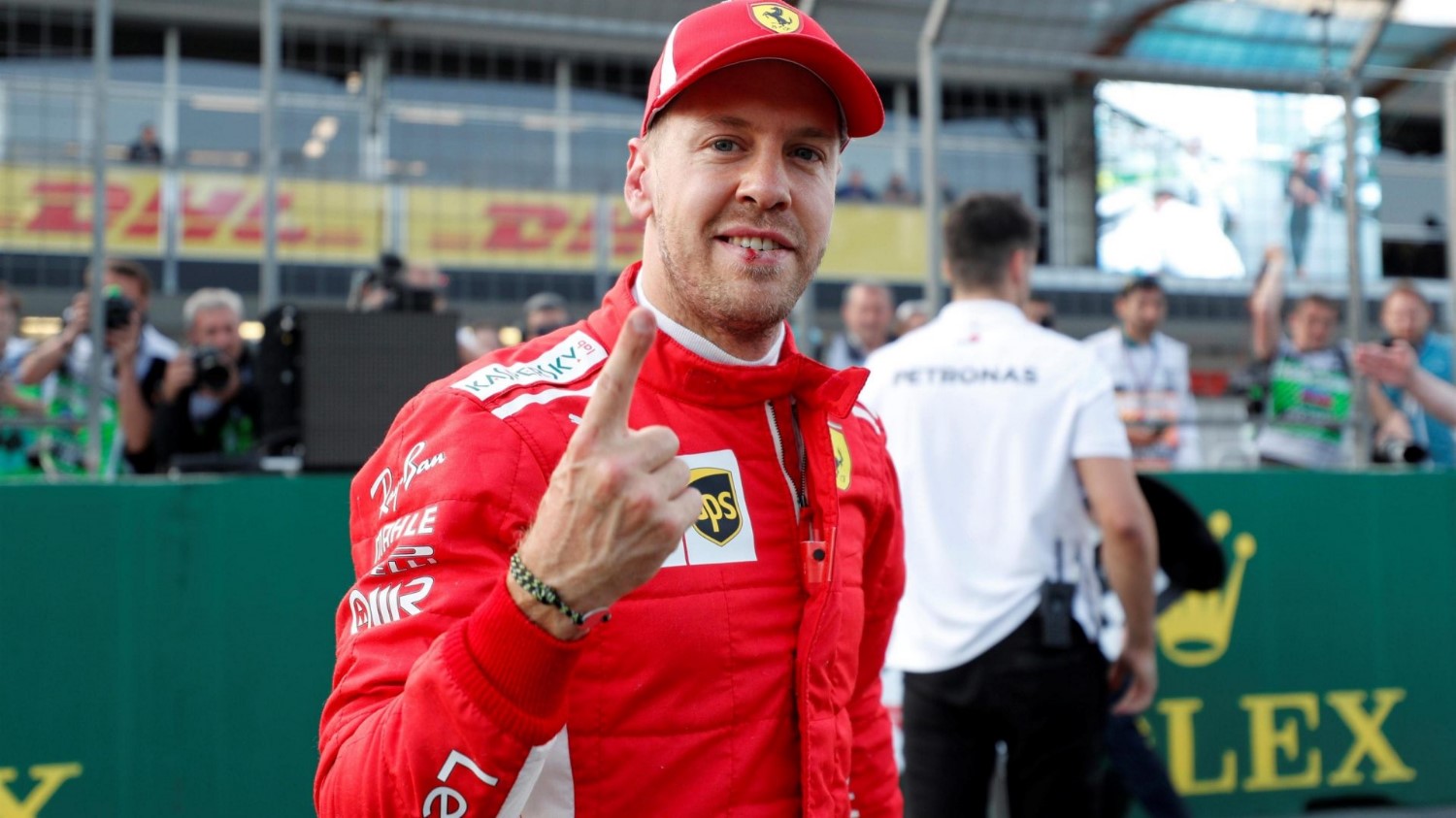 Vettel was #1 but not at the end
(GMM) Although losing the championship lead to Lewis Hamilton in Baku, Sebastian Vettel was the more upbeat driver.
Indeed, while Hamilton's won the race, it was only because Vettel's late overtaking move for the win failed.
And also because Valtteri Bottas, in the other Mercedes, retired from the lead with a puncture.
Hamilton, on the other hand, did not manage to emerge from what some pundits since China two weeks ago have been calling a slump or a crisis.
"In all honestly I struggled through the weekend. I'm definitely struggling to extract the car's potential and my potential," said the Briton in Baku.
Hamilton said Ferrari is "a lot" ahead of Mercedes in terms of pace at present.
German Vettel agreed that while he lost the title lead in Baku, his and Ferrari's performance was "strong" except for the failed pass for the lead.
"The result changes nothing — we have a good car," he said. "I'm not worried.
"The big difference from last year is that we're fast enough for pole now. That was a problem before," added Vettel.
He said he feels for Bottas, agreeing that Baku "was his victory".
"But that's the way it works in our sport," Vettel added. "For me the most important is that we have a good car. Now we have to make sure we keep having a good car."
Teams to vote on overtaking rules
With plans to introduce new regulations to aid overtaking in time for next season previously rejected by six of the F1 teams after they met in Bahrain, tomorrow represents the last realistic chance for such rules to get the green light.
Tomorrow being April 30, the deadline for new rules to be agreed on, the F1 Commission is to hold an e-vote at which time all ten teams must give their decision. As of tomorrow, only a majority vote is needed, after that time unanimity would be required.
With the drama of Bahrain and particularly Shanghai overtaking has been on the back burner somewhat since the season opener in Melbourne produced only five passes.
However, even though there should be an overtaking fest today in Baku, future races on the 2018 calendar are likely to see a return of the age-old problem of cars being unable to get within 1 or 2 seconds of one another.
A number of suggestions have been put forward, relating to the front and rear wings, but with an eye on the complete overhaul of the regulations in 2021 some teams, particularly the smaller ones, fear that another change before then will merely drive up costs. Then again, this has to be balanced against the negativity of races that see little passing.
Formula One Management has been working with the FIA and the teams and a report has now been issued ahead of tomorrow's e-vote.
"The FIA gathered all the data from those teams that contributed, which was eight teams out of ten," said Paddy Lowe, according to Motorsport.com. "So they've analyzed all of that and sent out a report yesterday. Then there's an e-vote on Monday.
"The conclusion of the FIA's work, in collaboration with FOM, was what the teams had analyzed their proposal as being suitable and supporting their analysis that it would improve the ability of the cars to follow. It's the FIA and FOM working together, and they wanted to gain more confidence in their proposal by involving the teams, and I believe that's been achieved.
"I don't believe there were any teams' results which contradicted their own analysis," he added. "It's mostly about the front wing endplate."
Unlike some, the Briton is keen to see the changes implemented.
"I think it all makes sense," he said. "We've got another three years of this formula, and if we don't make changes at this point, it becomes a bit pointless because there are a huge set of changes for 2021. So this is the time that F1 should act and act decisively for the good for the show."
Mercedes Formula 1 Against Ban Of 'Virtual Garages'
Wolff says virtual garage staff play a vital role
Formula 1 champion Mercedes is against any future ban on the use of "virtual garages," the factory-based control centers used during grand prix weekends by teams to back up engineers at racetracks, according to Alan Baldwin of REUTERS.
Mercedes Motorsport Dir Toto Wolff said, "I think it's a very bad idea because we've invested in the virtual garages."
Such high-tech operations rooms, directly linked in real-time to cars and systems at the track, are "widely used by top teams to circumvent restrictions on the number of personnel allowed into the paddock."
They are also important sources of revenue, however, with teams "using them to engage sponsors."
Wolff said that the virtual garage was "a great selling proposition" for partners and sponsors.
Wolff: "Actually, there's not only engineers in our virtual garage back at Brackley. We have sponsors there, we are trying to have cooperations with high-tech companies and this is the part they are most interested in." REUTERS
F1 trademarks 'Shoey'
Ricciardo drinks from his shoe – 'Shoey'
Formula One Licensing has trademarked the word 'Shoey', Daniel Ricciardo's customary celebration following a win.
While there was nothing to celebrate yesterday in Azerbaijan, only two weeks ago following his superb win in China, Daniel Ricciardo revived his trademark gimmick of celebrating with a trainer filled with Champagne.
Previously, Supercar rider David Reynolds had introduced the 'Shoey' to motorsport following his first non-endurance race in 2015, while a year later Australian MotoGP rider Jack Miller celebrated his win in Assen in the same fashion.
Ricciardo first performed the Shoey in 2016, introducing it to F1 fans at the German Grand Prix where he finished second.
Since then, the Australian has shared his trainer, filled with the bubbly nectar, with other drivers, the occasional MC, Patrick Stewart and Gerard Butler… but neither of F1's two Finns.
However, the practice actually dates back around 15 years, courtesy of surfing and fishing brand, The Mad Hueys. Dean and Shaun Harrington, widely regarded as the face of The Mad Hueys, quoted as saying that they were drinking Shoeys as early as 2002.
Now, the Independent reveals that filings with the World Intellectual Property Organization (WIPO), reveal that F1's branding department, Formula One Licensing, has been granted a trademark registration to the word 'Shoey'. Registered in August last year, the trademark applies in 25 countries including the United States, Germany, Italy, France and the United Kingdom.
While the trademark is only for one category, crucially it covers flasks, glasses, bottles, mugs, sculptures and figurines.
F1 had also applied to trademark the word 'Shoey' in terms of clothing also, but this was cancelled due to the fact that the word already existed in that category having been registered by Korinne Harrington, a relative of the The Mad Hueys pair who first coined the phrase.
While yesterday's clash of the Wild Bulls of Baku will please F1 bosses, delighted to see the sport getting so much mainstream media attention, no doubt they will be hoping that Daniel Ricciardo is back on the podium in the very near future, if only to help promote whatever items the sport ids hoping to sell to its fans. Pitpass