Firestone tweaks tires for Phoenix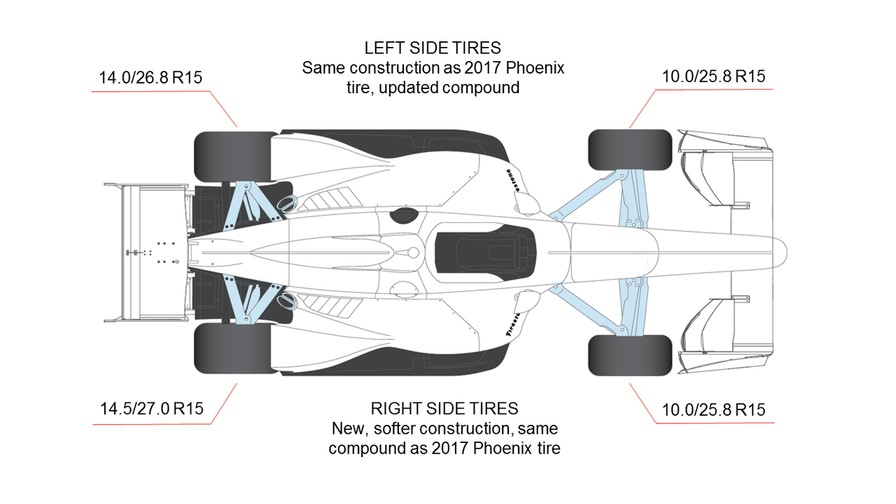 Tires specs for Phoenix
"With a significant reduction in IndyCar downforce for the new aero kit's short oval package, Firestone's Race Engineering team was tasked with the development of a tire with increased mechanical grip," said Cara Adams, Chief Engineer, Bridgestone Americas Motorsports. "Our team tested various constructions and compounds on the new car during the 2017 postseason. We developed a new, softer right side construction and we will also bring a new left side compound. This combination gives drivers more grip in the low downforce configuration."
Firestone will bring more than 900 race tires to Phoenix. Each entry will receive 10 sets of Firestone Firehawk race tires
When the winner of the Desert Valley Casino Phoenix Grand Prix takes the checkered flag on April 7, it will mark the 500th Indy car victory for Bridgestone Americas since returning to the sport in 1995.
Scott Pruett captured win No. 1 on July 30, 1995 in thrilling fashion when he won the Marlboro 500 at Michigan International Raceway by .056 seconds after passing Al Unser Jr. on the final lap.
Sebastian Bourdais claimed win No. 499 with a victory at the 2018 season-opening Firestone Grand Prix of St. Petersburg – his second consecutive win in his hometown.
Between wins No. 1 and No. 499, Bridgestone Americas has:
• Carried more than 70 drivers to victory lane
• Won races at more than 55 tracks
• Captured 20 wins at the Indy 500 with 14 different drivers
Which driver will capture win No. 500?