Whincup gives a driving lesson in the wet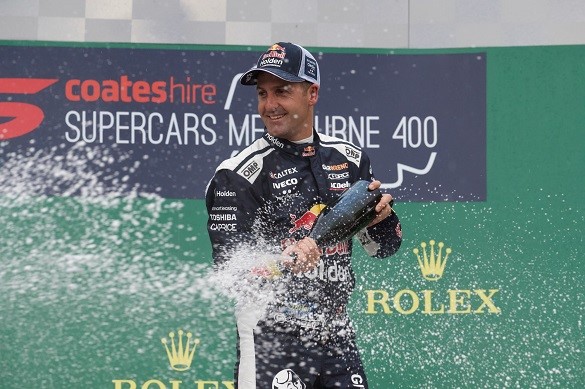 Jamie Whincup
Seven-time Supercars Champion Jamie Whincup got one back on Scott McLaughlin to make the weekend score one-all in the Coates Hire Melbourne 400 at Albert Park.
Red Bull Holden racing Team's Whincup controlled the short sprint race from the front of the grid following a morning of Melbourne race, taking the second race of the weekend from Shell V-Power Racing's McLaughlin and his team-mate Fabian Coulthard.
Greasy conditions slowed lap times and extra caution in the knowledge the second, longer race of the day was scheduled for this evening at 6.30pm. With valuable Championship points on the line preservation was as important as passing.
Whincup led from start to finish to cross the line 4.2034 seconds clear in the second leg of his 200th Supercars event, despite two of the 13 laps being run behind the Safety Car and a pair of mistakes.
"I was pretty loose out there, I nearly speared off a couple of times," Whincup, who moves up to 10th in the standings, said.
"I actually nearly spun on the warm-up lap as well which would have been embarrassing. But it was good fun… it'll probably be another wet race this evening, so we'll see how we go."
The second Red Bull Commodore of Shane van Gisbergen had a big dice with youngster Cam Waters in the Monster Energy Tickford Racing Falcon in the closing stages with the two side by side and toe to toe lap on lap. Waters made one mistake on the last lap which the former Champion and Series leader sized for fourth place.
Nick Percat in the Tempur BJR Holden and Supercheap Auto Racing's Chaz Mostert had a similar battle for fifth and sixth. Mostert won out in a great sequence on the penultimate lap.
Race 3 Results
| | | | | | |
| --- | --- | --- | --- | --- | --- |
| POS | # | DRIVER | TEAM | TIME | POINTS |
| 1 | 1 | Whincup | Red Bull Holden Racing Australia | 31:49.409 | 50 |
| 2 | 17 | McLaughlin | Shell V-Power Racing Team | +4.203 | 46 |
| 3 | 12 | Coulthard | Shell V-Power Racing Team | +4.998 | 43 |
| 4 | 97 | Van Gisbergen | Red Bull Holden Racing Australia | +9.291 | 40 |
| 5 | 6 | C. Waters | Monster Energy Racing | +10.080 | 37 |
| 6 | 55 | Mostert | Supercheap Auto Racing | +13.104 | 34 |
| 7 | 8 | Percat | Brad Jones Racing | +15.343 | 32 |
| 8 | 23 | Caruso | Nissan Nismo | +15.824 | 30 |
| 9 | 5 | Winterbottom | The Bottle-O Racing Team | +16.564 | 28 |
| 10 | 14 | Slade | Brad Jones Racing | +17.513 | 26 |
| 11 | 2 | S. Pye | Mobil 1 Boost Mobile Racing | +22.906 | 24 |
| 12 | 9 | Reynolds | Erebus Motorsport | +25.109 | 23 |
| 13 | 15 | R. Kelly | Nissan Motorsport | +27.208 | 22 |
| 14 | 230 | Davison | Milwaukee Racing | +27.678 | 21 |
| 15 | 18 | Holdsworth | Preston Hire Racing | +28.084 | 20 |
| 16 | 7 | Heimgartner | Nissan Motorsport | +30.910 | 19 |
| 17 | 34 | J. Golding | Wilson Security Racing GRM | +39.811 | 18 |
| 18 | 33 | Tander | Wilson Security Racing GRM | +41.883 | 17 |
| 19 | 99 | A. de Pasquale | Erebus Motorsport | +42.632 | 16 |
| 20 | 25 | Courtney | Mobil 1 Boost Mobile Racing | +43.883 | 15 |
| 21 | 21 | Blanchard | CoolDrive Racing | +48.033 | 14 |
| 22 | 19 | J. Le Brocq | TEKNO Woodstock Racing | +49.237 | 13 |
| 23 | 78 | S. De Silvestro | Nissan Nismo | +1:31.343 | 12 |
| NC | 888 | Lowndes | Team Vortex | +4 Laps | 0 |
| NC | 56 | R. Stanaway | Tickford Racing | +4 Laps | 0 |
| NC | 35 | T. Hazelwood | Bigmate Racing | +10 Laps | 0 |