Halliday looking good for Conquest ride
UPDATE #3
This rumor is upgraded to 'fact' with today's announcement that Halliday has signed with Conquest Racing – see Hot News page.
03/11/07
Matt Halliday
"I think it was a good test but a little frustrating because we lost a lot of track time. We had problems with our gearbox yesterday, which is just one of those things. It put us behind a little bit with trying to get a good direction on the car. It was really enjoyable to work again with the Conquest guys. They did a great job to fix the problem we had. I had to adapt to the car quickly and I still managed to put in a good time even though it wasn't a perfect lap, and even if we missed out on a little bit of track time in the end we could drag a time out of the car."
Eric Bachelart
"I'm very satisfied and happy with the overall result of this test. Unfortunately we had some gearbox problems yesterday that delayed us in our testing program. But once everything was working fine, things went very well. Matt really showed us that he deserves to be here. He did a great job, his feedback was excellent and he adapted quickly to the car without any problems. It was good to work with him once again and I hope that we can work things out in order to be able to continue working together this season. He would be a wonderful addition to the team."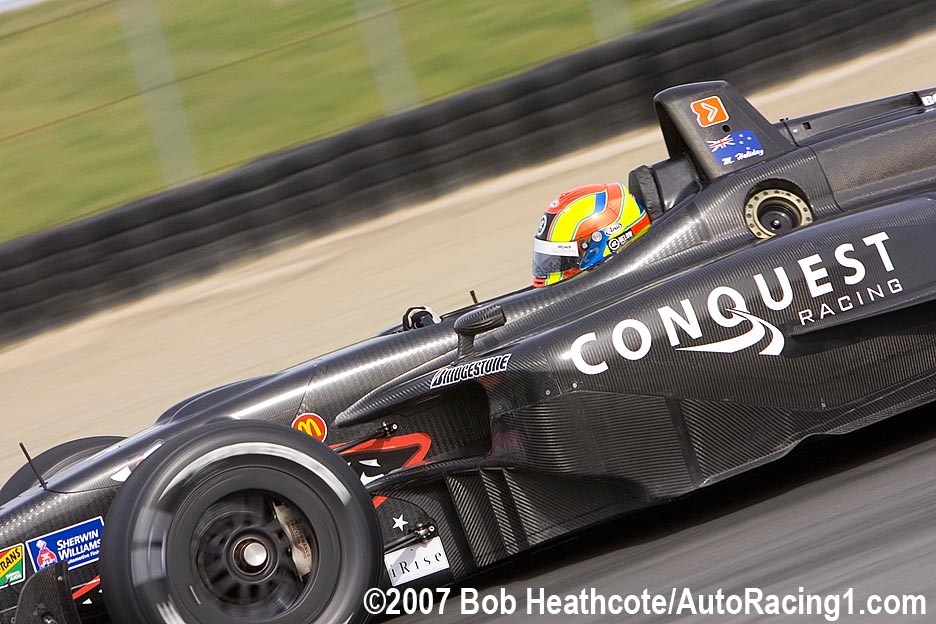 03/10/07 Matt Halliday made quite an impression these last two days in his debut Champ Car testing for Conquest Racing. We hear the team is very happy with his performance, sponsorship is almost finalized and we expect to see he and Conquest on the grid at in Las Vegas.
03/08/07 We are told that Conquest Racing will probably get a deal done by Las Vegas, but Eric Bachelart tells AutoRacing1.com, "we are working really hard and trying to put a deal together, but there is no financial support coming from Champ Car so it's very hard and I'm just not sure we'll make it.".