FOX Sports Daytona 500 Tech: Drone, Visor Cams, Record-Setting In-Car Cameras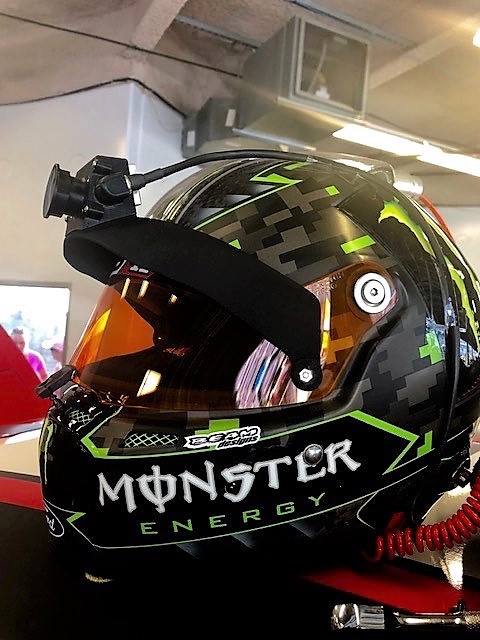 Fox Sports Visor Cam
FOX Sports, marking its 15th Daytona 500, is raising its game yet again, adding aerial drone coverage and a record number of in-car cameras to its already standard-setting production lineup for the 60th running of the Great American Race on Sunday, Feb. 18 (2:30 PM ET) on the FOX broadcast network.
In an industry first, and working closely with NASCAR and ISC, FOX Sports is utilizing a drone to provide live coverage from behind the backstretch at iconic Daytona International Speedway. Tethered to allow it to fly for longer periods of time, it will be able to hover and move around outside of the racing area to cover the action from an entirely new angle for viewers.
"Each year, Daytona Speedweeks allows us to develop, test and deploy more and more technical enhancements than we are able to do at most other events," said Michael Davies, FOX Sports SVP Field & Technical Operations. "The sheer mount of multi-day, multi-platform programming FOX Sports has over multiple races, qualifying sessions and practice sessions allows us the reps to do so.
Added Davies: "This year is no different, as we are using the popular Visor Cam for the first time in a Daytona 500, our first fiber NASCAR IP transmission, different stabilized camera mounts to access different areas of the pits and our digital mosaic offering."
In addition, FOX Sports has a record number of in-car cameras, giving fans a driver's-eye view of the action. FOX Sports, NASCAR and their partners are deploying 14 in-car cameras (including the Daytona 500 pace car) for the race, more than in any NASCAR race in the last 15 years.
Included in the mix is the popular Visor Cam, a small camera clipped to the helmet of a selected driver. Developed by Maryland's BSI, the Visor Cam was first used by FOX Sports at the Eldora NASCAR Camping World Truck Series race in 2017, and was transitioned to NASCAR Monster Energy Cup races later in the year. Defending Daytona 500 champion Kurt Busch of Stewart-Haas Racing, and Joe Gibbs Racing's Daniel Suarez will don Visor Cams for Sunday's race.
Stay tuned to FOX Sports GO for a unique and immersive compilation stream consisting of multiple in-car cameras, with live telemetry to dive deeper into the race. The FOX Sports streaming app also will display the linear broadcast alongside these exciting added elements.
"With such amazing resources and technology around our NASCAR coverage, we are excited to provide the fans with some great additional content," said Zac Fields, FOX Sports SVP Graphic Tech/Integration. "We look forward to growing this throughout the season."
The FOX Sports Daytona 500 production elements also include:
TOUCHSCREEN CUTAWAY CAR
FOX Sports has enhanced its 3D-cutaway car, putting these graphics in the hands of the broadcast team. In addition to a touchscreen in the Hollywood Hotel, FOX NASCAR analyst Larry McReynolds will once again have his own dedicated touchscreen inside the booth, allowing for immediate access to enhance any technical story, giving the viewer clear illustrative explanations around the latest changes to the Cup cars.
VIRTUAL GRAPHICS
Camera-tracking technologies from Croation Company, Stype, provide FOX Sports the ability to place 3D-graphics in the real environment by combining with VIZRT for the graphic rendering. For example, specialty graphics, including virtual leaderboards, sponsor enhancements and race summaries, are placed on Turn 3 as giant virtual billboards.
GOPHER CAM – A CAMERA IN THE TRACK
FOX's Gopher Cam, provided by Inertia Unlimited is a tiny high-definition point-of-view camera buried underneath the asphalt track surface. This is the 10th year the camera has been used, and it is ever-improving. Advances in lens quality and materials enable FOX to provide a much wider and clearer field of view. For Daytona, there are three cameras placed in harm's way, including one in Turn 4 and another on the backstretch, positioned so cars run the cameras over at more than 200 mph.
HAT CAM and PIT WALK
Viewers can go for a pre-race walk with two-time Daytona 500 winner and FOX NASCAR analyst Michael Waltrip down pit road – seeing what Michael sees with the RF hat camera.
CRANK IT UP!
As always, FOX Sports gives viewers a chance to truly test the ability of their home stereo system with its hugely popular "CRANK IT UP" segment, in which the FOX Sports Emmy-winning audio team allows viewers to listen to the action on the track in dynamic 5.1 surround sound as if they were there.
EQUIPMENT BREAKDOWN
FOX Sports employs seven main mobile production units in the multi-network television compound at Daytona International Speedway. In addition, the network's coverage from Speedweeks requires two satellite uplinks and a set of mobile generators that provide nearly two megawatts of power independent of the local power source. This command center directs the following arsenal of production equipment:
Live tethered drone
300 FOX Sports personnel
12 production trucks including facilities for
Live Television Production and Transmission
Digital Production
Editing Facility
RF Cameras and Audio from BSI
Telemetry and graphics from SMT
Power Generation
Studio Production
20 manned cameras
3 in-track Gopher Cam cameras
2 6-times super slow motion cameras (Sony 4300)
1 16-times super slow motion camera (Sony 4800)
1 1000-frame-per second Xmo cameras located the start/finish line
10 Robotic Cameras around the track
3 robotic Hollywood Hotel cameras
Jib camera with Stype Augmented Reality Enhancement
14 in-car camera packages, each featuring three different camera angles
4 wireless roving pit/garage camera crews
2 in-car Gyro-Cams
Massive network of digital replay devices and a rolling archive of past races
40 race team communication radios, one for each car on the track
More than 150 microphones placed along the track and throughout Daytona International Speedway
Racing Radios edit unit – deployed to get the most radio chatter on the air as possible
The iconic Hollywood Hotel mobile studio