HVM team signs primary sponsor
UPDATE #5
We are hearing that HVM did get the Pemex sponsorship deal but it does not include Jourdain Jr. He is toast (NASCAR bound). See other rumor on Jourdain.
01/04/05
Hold the presses, In what could be a major blow, Champ Car may have lost Jourdain to NASCAR. According to an article in today's Mexican Newspaper Reforma, who spoke to him yesterday, Michel is in Charlotte working on some of the details on the ppc contract. He says that he is pretty close to signing, and might close the deal this week. As for Champ Car he says that he had offers from PKV Racing and from Forsythe, but they weren't quite as good.
01/03/05
Robin Miller reported on SPEED News last evening that Michel Jourdain will stay in Champ Car and has a big Mexican oil company behind him. We assume he means Pemex, per this rumor.
Mark C.
12/25/04
A little history info about Pemex. It's the only oil company in Mexico. In March of 1938, all foreign oil interests in Mexico were nationalized to the Mexican government. Therefore, March 18th is a national holiday. Mexicans are extremely proud of the fact that their country owns its own oil production. Mexicans would gladly pay more for national oil instead of opening up competition to foreign oil companies which would guarantee lower oil prices. Mexico's oil is the peoples' oil and the money stays in the country.
The thought of selling Pemex to private foreign investors has tickled the minds of many Mexican political and economists. They know that if Pemex is privatized a huge load of their debt would be eliminated overnight. However, the thought of not having control of its own oil is sacrilege. It would be un-nationalistic and that would hurt the ego of Mexicans throughout the nation.
Since NAFTA, many national services and companies (e.g. Telmex, Banamex) have been privatized and Pemex remains one of the few government owned income generating assets that Mexicans would hate to see privatized.
12/25/04 Where does Pemex rank in terms of world oil production? What about the other oil companies involved in racing?
1. Saudi Arabia 9.9 Million Barrels per Day (MBD)
2. United States 8.8
3. Russia 8.5
4. Iran 3.9
5. Mexico 3.8 (Pemex)
6. China 3.4
7. Norway 3.3
8. Canada
9. United Arab Emirates
10. Venezuela
11. Britain
12. Kuwait
13. Nigeria
14. Algeria
15. Brazil 1.8 (Petrobras)
16. Libya
17. Indonesia
18. Iraq
19. Kazakhstan
20. Qatar
21. Angola
22. Argentina
23. Egypt
24. India
25. Malaysia 0.8 (Petronas)
26. Oman
27. Australia
28. Colombia
29. Syria
30. Yemen
31. Ecuador
12/25/04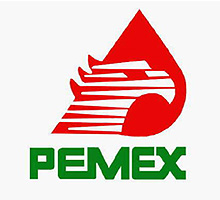 We are hearing that the Mexican fuel monopoly Pemex has signed to be the primary sponsor of the HVM team in 2005, which looks to be an all-Mexican team of Mario Dominguez, Michel Jourdain Jr. and possibly Roberto Gonzalez if they decide to run a third car. We also heard that Gigante would scale back their sponsorship due to financial woes but Tecate was looking to do something. The signing of Pemex, if true, will be welcome news because the Mexican sponsorship market for both Champ Car and the IRL has significantly fallen off recently. If you recall, Pemex was the old Brabham F1 sponsor (early 80's) when Hector Rebaque was Nelson Piquet's teammate. This would also be welcome news in light of the tragedy that befell the team this week when two crewmembers were killed in an auto accident while driving back from Mexico City with a show car. Mark C.