Charles Leclerc leads all the way to win Vietnam GP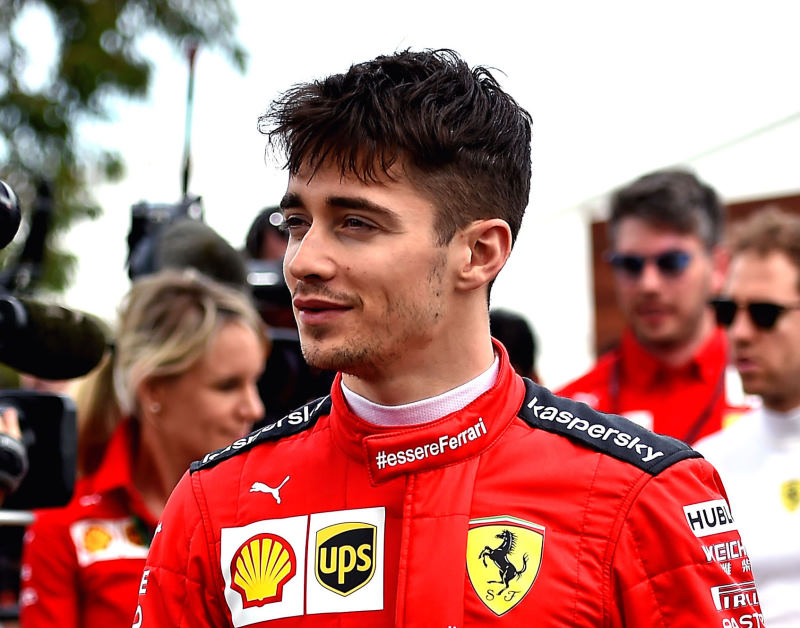 Charles Leclerc
Ferrari driver Charles Leclerc grabbed the lead from pole position in Turn 1 and led all the way to win the 29-lap Vietnam GP run at the Australian GP virtual circuit. Due to the F1 2019 video game not having the Hanoi track that was due to hold the Vietnam Grand Prix this weekend, the virtual race was instead run around Melbourne's Albert Park Street Circuit, the home of the Australian Grand Prix.
Leclerc gradually extended his lead from start to finish to win by 14-seconds over Christian Lundgaard with Williams drivers George Russell rounding out the podium in the third.
Arthur Leclerc was 4th in the 2nd Ferrari with Alfa Romeo driver Antonio Giovinazzi rounding out the top-5
Formula 2 driver Lundgaard took pole position ahead of Leclerc.
[adinserter name="GOOGLE AD"]However, a five-place grid penalty for a collision in qualifying for Lundgaard promoted Leclerc to pole.
"It was unbelievably hard," Leclerc said after the race.
"I'm sweating like crazy. Great race.
"Eight days ago [I bought the game], but I put quite a lot of hours into it.
"At least five hours each day."
Mercedes Formula E star Stoffel Vandoorne took sixth place ahead of Haas F1 reserve driver Louis Deletraz, who hit the wall twice.
Red Bull's Alexander Albon spun down to 15th place, but recovered to finish in eighth place ahead of Jimmy Broadbent and 2020 F1 rookie Nicholas Latifi.
A Virtual Grand Prix will take place each weekend of the equivalent F1 race that was scheduled before the postponements, with the Vietnamese and Dutch rounds run virtually at different circuits due to the new tracks not being available on the F1 2019 video game.
The next official virtual race, the Chinese Grand Prix, will take place on April 19.
Results 29 Laps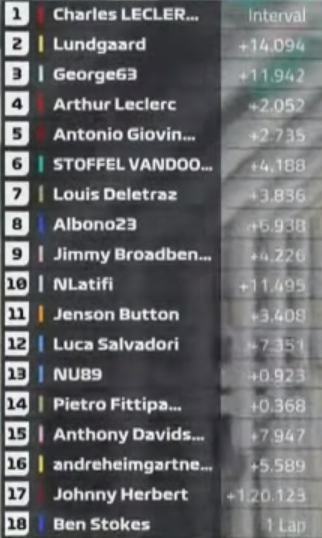 29 Laps
Full Virtual Vietnam Grand Prix line-up was as follows:
Mercedes: Stoffel Vandoorne, Esteban Gutierrez
Ferrari: Charles Leclerc, Arthur Leclerc
Red Bull: Alexander Albon, Ben Stokes
McLaren: Lando Norris, Jenson Button
Renault: Christian Lundgaard, Andre Heimgartner
AlphaTauri: Luca Salvadori, NU89 (Nunzio Todisco)
Racing Point: Jimmy Broadbent, Anthony Davidson
Alfa Romeo: Antonio Giovinazzi, Johnny Herbert
Haas: Pietro Fittipaldi, Louis Deletraz
Williams: George Russell, Nicholas Latifi