Wolff to leave Mercedes F1 for Aston Martin? (4th Update)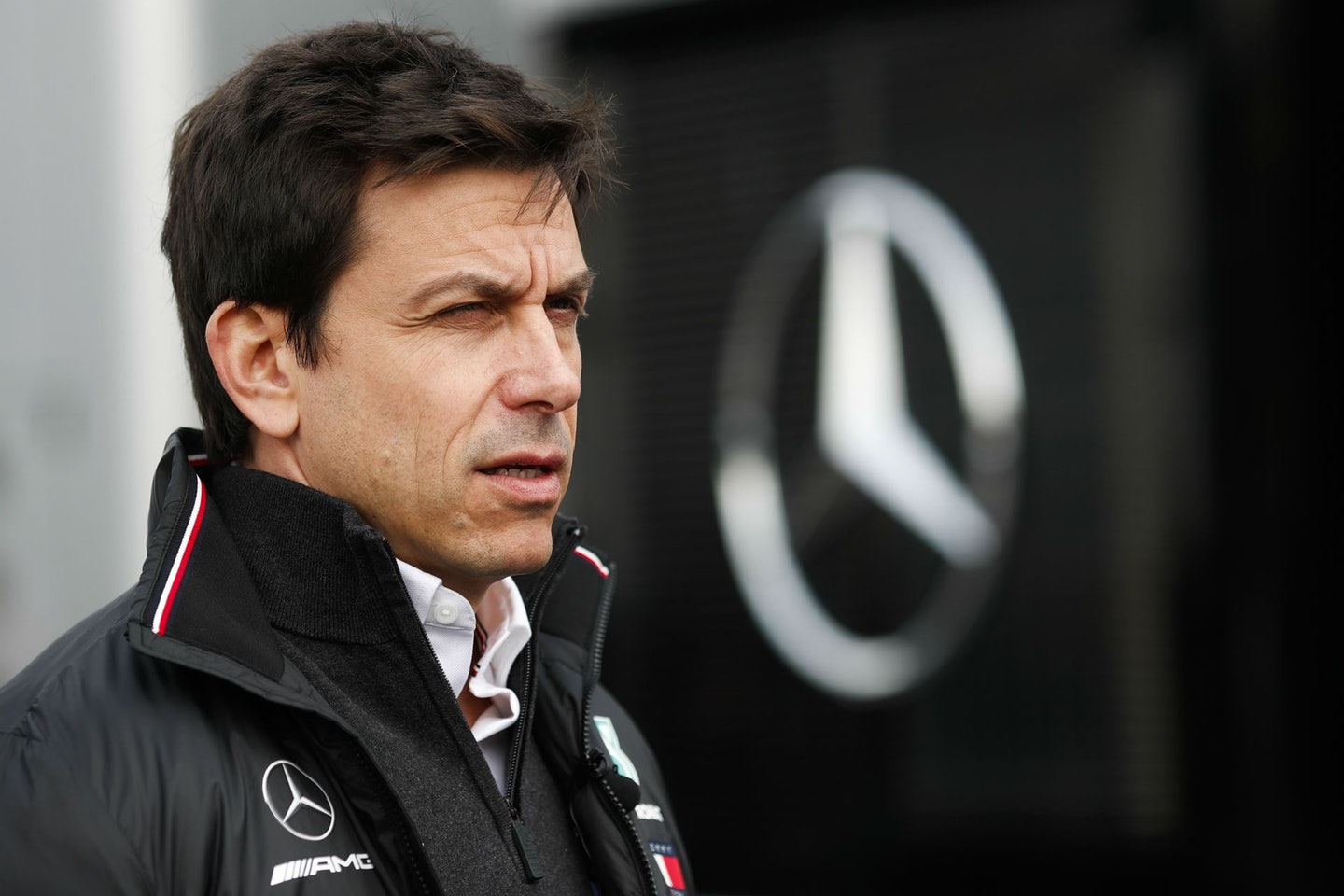 Toto Wolff
UPDATE (GMM) Toto Wolff says he is staying in charge of Mercedes' works F1 team for "the short term".
The Austrian has been linked strongly with Lawrence Stroll's Aston Martin project, amid rumors Wolff has fallen out with new Daimler boss Ola Kallenius.
But he told Osterreich newspaper: "In most of the stories I read about it, people have added one plus one and come up with three."
When asked what his current situation is, Wolff added: "My contract with Mercedes runs until the end of 2020, and we are still in good discussions about what we want to do together.
"All of this has been pushed into the background by the coronavirus, because we all have bigger problems to solve now – human problems in our companies," he said.
But Wolff has already ruled out becoming Aston Martin CEO, and he also insists: "I am not going to make a strategic investment there either."
When pressed on his relationship with billionaire Stroll, though, he said: "Stroll and his team are a big customer of our team. In addition, Lawrence has been a good friend of mine for many years – regardless of our business relationships.
"Lawrence is becoming chairman of Aston Martin and from this people added one and one and came up with three."
However, the speculation is not likely to stop there – especially as Wolff almost admits to some internal problems behind the scenes.
"I'm in my eighth year (at Mercedes) now – I love the sport and this team," he said.
"However, I am somewhat surprised by the changes that have taken place over the winter and by the behavior of individual people. This also has to do with my decision on what to do in 2020 and beyond.
"But I am and will remain the head of Mercedes motorsport and in charge of the Formula 1 team, and nothing will change in the short term."
Wolff also rubbished speculation that his relationship with Lewis Hamilton – whose contract also runs out this year – has become strained.
"Total nonsense," he insisted. "Our relationship is closer than ever and we talk about our future every day.
"Everything indicates that we will continue in a similar form to today."
04/02/20 (GMM) Toto Wolff says working with Mercedes remains the "priority" in his career.
In recent weeks and months, speculation has linked the Austrian with Lawrence Stroll, who announced on Wednesday that plans to rebrand Racing Point as Aston Martin from 2021 remain on track despite the pandemic.
"I am committed to Formula 1 with a long-term vision and this (coronavirus) is just a temporary pause in the journey," billionaire Stroll said.
There are rumors that Wolff may invest in the works Aston Martin project, but he told ORF: "Rumors that I would lead Aston Martin had no basis.
"Collaborating with Daimler in our team is my priority," he insisted.
"A consortium of investors led by Lawrence Stroll acquired a stake in Aston Martin, which is a financial issue. But any role for me in Aston Martin was out of the question," Wolff added.
"Our team in Formula 1 works perfectly for the Mercedes brand, and everything indicates that we will cooperate for several more years.
"I am with Mercedes for the eighth year and I really like working with this group of people.
"At the same time, I am discussing the future with Ola Kallenius regarding how we will continue to work together," said Wolff, who is rumored to not get on well with Daimler's new CEO.
03/30/20 (GMM) Toto Wolff has denied reports that he could quit Mercedes and join billionaire Lawrence Stroll at Aston Martin.
Wolff's contract as team boss expires this year, and former F1 supremo Bernie Ecclestone thinks his relationship with new Daimler CEO Ola Kallenius is not great.
"At the moment he has other problems than the Formula 1 team," Ecclestone told f1-insider.com.
"If I was him (Kallenius), I would sell the team at the end of 2020. What does Mercedes have to prove after six world titles in a row?" he added.
As for Wolff, Ecclestone thinks it is very interesting that the Austrian has suddenly become very close with Racing Point owner Stroll.
"As far as I know, Wolff decided long ago to leave Mercedes and join with Stroll at Aston Martin. For the past two years they've been like identical twins," he said.
Wolff, though, denies it.
"The story is not true. I am not becoming CEO of Aston Martin," the Mercedes team boss told motorsport-total.com.
But if Mercedes does quit F1, Ecclestone thinks the German marque should continue to supply its engine to other teams.
"Why not make McLaren the factory team again and put the star on the car of all the other customers?" said Ecclestone.
03/28/20 Mercedes team principal Toto Wolff has flatly denied reports that he has received a written offer from Aston Martin to take over as chief executive officer.
"The story is not true, I am not going to be the CEO of Aston Martin," he said in response to reports that originally surfaced in Motorsport.com's Dutch-language website this week.
But former F1 supremo Bernie Ecclestone still predicts that Wolff will indeed decide to jump ship in the coming months, insisting that "we will more than likely see him" move to Aston Martin at the end of 2020.
03/20/20 (GMM) Two conspicuous absences from F1's crisis conference calls are sure to ramp up speculation about the future of Toto Wolff.
The Daily Mail reports that both Wolff, the Mercedes team boss, and Racing Point owner Lawrence Stroll did not take part in two separate rounds of talks this week that discussed the sport's next moves amid the coronavirus pandemic.
Two days ago, it emerged that Stroll has upped his stake in the Aston Martin car company from 16.7 to 25 percent. The Canadian fashion billionaire intends to rebrand Racing Point from 2021.
But in January, it was rumored that Stroll might actually team up with Wolff to take over the Mercedes works team and rename that Aston Martin instead.
And with most of Daimler's operations suspended across Europe due to the pandemic, the pressure to withdraw Mercedes from F1 will only be ramping up.
According to correspondent Jonathan McEvoy, Stroll and Wolff traveled back from Australia together.
"Suggestions were rife on Thursday night – though denied by Mercedes – that Wolff is being lined up to take over as chief executive of Aston Martin", he wrote.
If confirmed, it may also have implications for the future of Lewis Hamilton, whose Mercedes contract runs out this year.
It is also claimed that, during the crisis teleconferences, there were heated exchanges between Christian Horner and Zak Brown on the one hand, and Ferrari's Mattia Binotto on the other.
An insider said: "There was genuine anger at Binotto's reluctance to give way over deferring the 2021 regulations. It got very heated.
"He didn't want to concede a competitive advantage for the greater good."
Ultimately, Ferrari did agree. Binotto told F1's official website: "Ferrari is ready to take responsibility for a choice that must be made in the ultimate interest of this sport.
"It is certainly not the time for selfishness and tactics."