IndyCar Quote of the Week (Update)
UPDATE
A reader writes, Dear AR1.com, I worked on the Porsche 2708 Indy car and was at Laguna Seca when Al was driving it in 1987. I was always amazed at how fast he was in that car ever though it was at the back of the grid. The car was about 100 lbs overweight and had a spool instead of a differential!
The gearbox was a dog box like a Hewland, not a syncro box like on a 962, the "hockey stick" that swings through the gates on the end of the shift rails normally is polished with generous radii on it to allow it to swing through the gates smoothly. The one fitted to the gearbox was razor sharp and it could hardly be shifted. The German gearbox mechanic refused to let me radius the corners and actually replaced it with a nice new razor sharp one after every practice!
Poor Al was stuck with a car that shifted like an old truck and would not turn because of the spool. After Friday practice he had a blister as big as his palm on his hand from shifting the thing, by the end of Sat. he had no skin left, just raw meat. How many of today's drivers could drive that thing and go faster in each practice? This is all history now so print this in full if you want. John Miller
06/24/14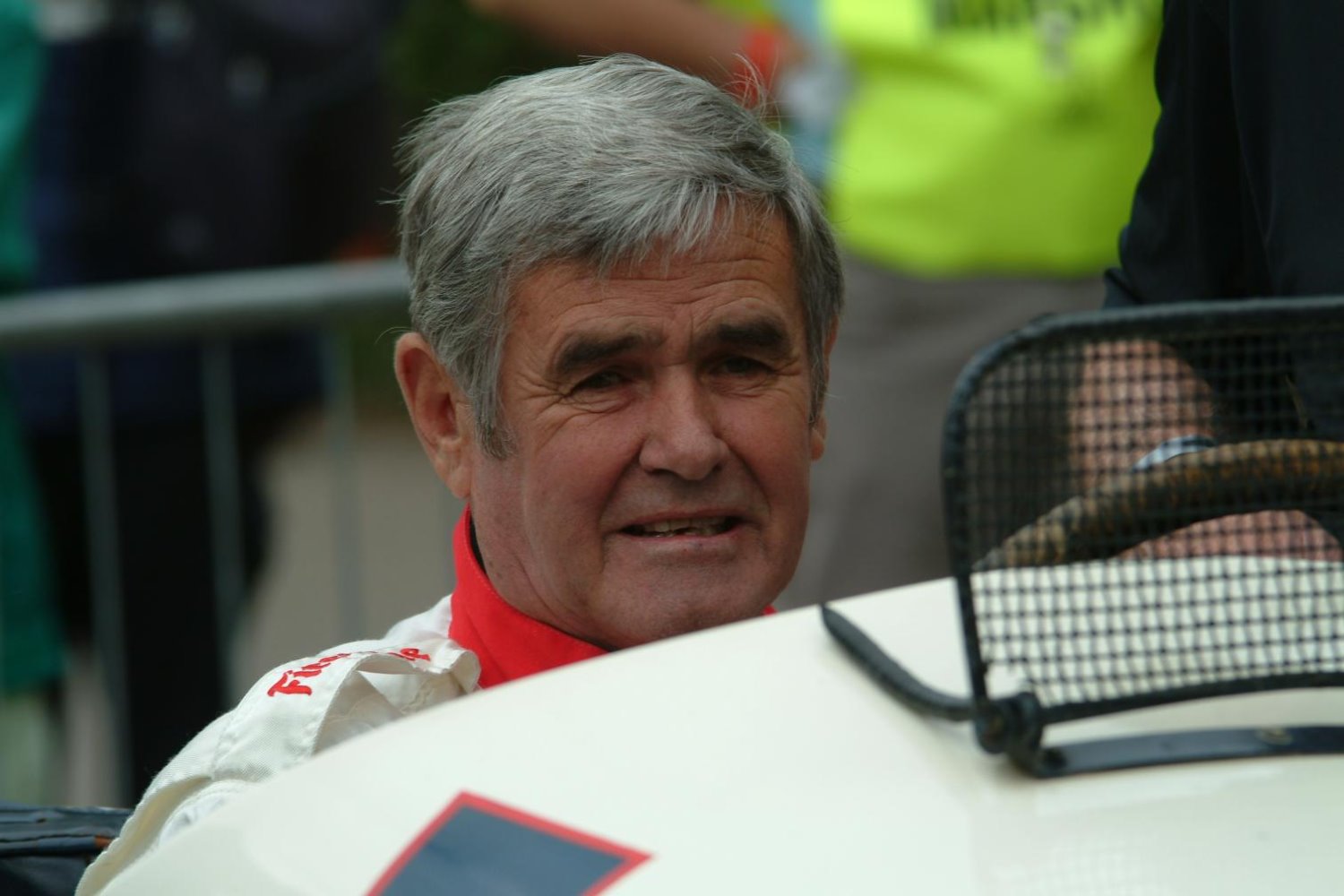 Al Unser Sr. berates today's IndyCar Racing
"Look at the old TV film from the cockpit and see how we had to fight the wheel," he said. "Today, you look at those onboard cameras and they never turn the steering wheel or lift off the throttle. Even when I've run IndyCar's two-seater, you never even lift. You can run around the Speedway for fifteen laps and never even lift. Well, that's not racing.
"I chuckle when I hear some of the drivers say that when they take on a full load of fuel the handling goes crazy. First of all I say, eighteen gallons is a full load of fuel? Give them a car that you put 75 gallons into and see how they like it!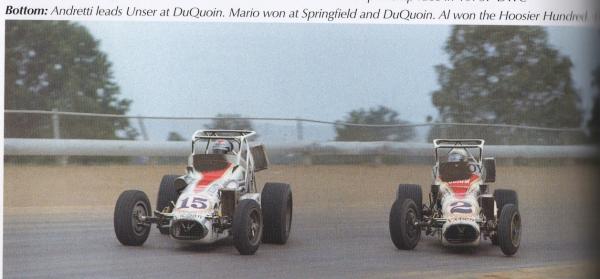 Mario Andretti leads Al Unser Sr. at DuQuoin in 1973
"I'd like to see it, but that will never happen again. Of course, it wouldn't be safe. Back then we didn't know any better, but that's not the point many of us are trying to make. They've turned Indy car racing into a form of NASCAR restrictor plate racing and that's wrong. I don't believe the crowds and the media are going to come back until they change it.
"There's nobody in the grandstands at so many of the races and nobody's watching on TV, but they don't want to admit there's something wrong with the show they're putting on." Al Unser Sr./The Way it is by Gordon Kirby