Rahal hopes Spring Break in Vegas is memorable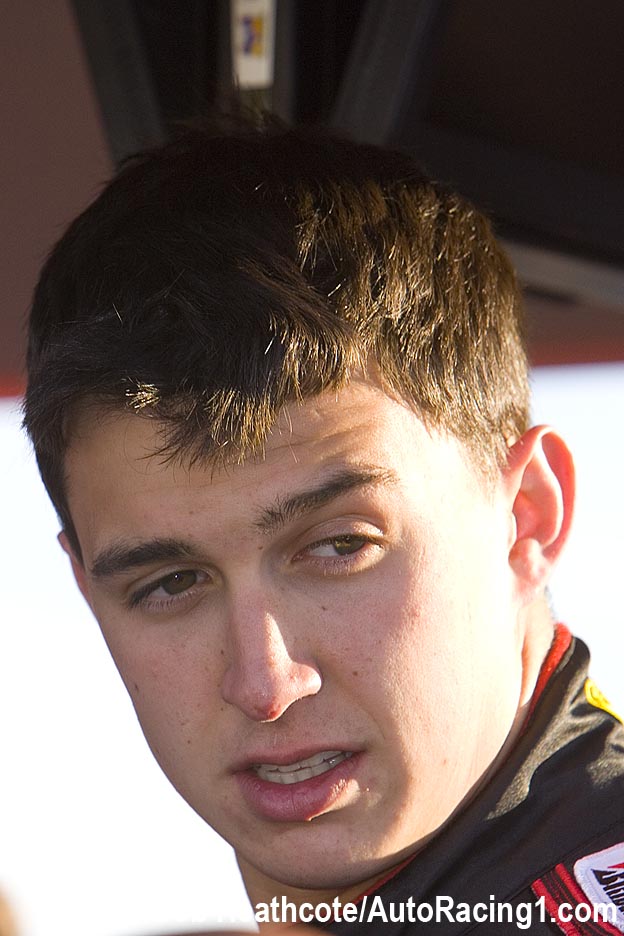 LAS VEGAS — Thoughts of senior year Spring Break conjure up great memories of sleeping in, relaxation and beaches for many teenagers but for 18-year old New Albany (Ohio) High School senior Graham Rahal the learning continues – and at a pace approaching 180 mph. Although he isn't old enough to gamble or even rent a car, Rahal will be enjoying his Spring Break in Las Vegas where he will pilot his No. 2 Medi | Zone race car in his Champ Car World Series debut in the season-opening Vegas Grand Prix, April 6-8.
"For me and for the Medi | Zone team to go into the Las Vegas race weekend is going to be very difficult," said Rahal, who will make his series debut with Newman/Haas/Lanigan Racing (NHLR) as a teammate to three-time series champion Sebastien Bourdais. "It's the first race of the season, it's my first race in a Champ Car, it's a new track and we've got a new car. I certainly believe our team is the best prepared for Las Vegas and I think that, for all of us, it's going to be a learning experience. All we need to do is cover all the bases that we know how to cover and we've done that. Not only just in Las Vegas but the first three races are going to be a learning experience to see what we have to do to make it through all three because that's going to be a huge part of the season."
Rahal finished second in the Champ Car Atlantic championship in 2006 after a title hunt that concluded in the season finale. He earned a series-high five wins (42 percent), four poles (33 percent) and six podium finishes in the 12 events and at 17 years old was the youngest race winner in series history. During 2006 he also participated in other series including the A1 GP, IndyPro Series and 24 Hours of Daytona and 12 Hours of Sebring sports car races. Prior to the season-opener in Las Vegas he has tested the Cosworth-DP01-Bridgestone race car in Sebring, Fla., Houston and Monterey, Calif. and was second fastest in the Houston test. Although Rahal is ready for many "firsts" this weekend, he would deem a top-five result a success.
"To finish up front is important for points and it's important for me," said Rahal whose 3.8 grade point average shows that he is a successful multi-tasker. "Obviously I would love to go to Las Vegas and win the race — what else can you ask for? At the same time I need to be realistic about it and to finish in the top-five is really my goal. I don't see a reason why we can't finish in the top-five. I've never driven one of these things on a street circuit. I've never had to qualify these cars under pressure. I've never had to do pit stops or any of this stuff so it will be a learning experience."
Rahal won't be the only driver taking to the streets of downtown Las Vegas for the first time. It will be the first time the series has raced on the 2.44-mile street course along popular Fremont Street, the first street to be paved in the city in 1925. Championship Auto Racing Teams (CART) ran events at Caesars Palace casino in 1983 and '84 on a 1.125-mile temporary oval that was constructed in the parking lot of the casino. NHR driver Mario Andretti won the inaugural 1983 event and in the 1984 race that served as the season finale, Andretti clinched the series championship by coming home in second place. In 2004 and 2005 the Champ Car World Series (formerly CART) returned to the city to hold events on the 1.5-mile oval at Las Vegas Motor Speedway. NHR driver Bourdais won both events while his teammates for those years — Bruno Junqueira and Oriol Servia — finished second in 2004 and 2005, respectively.
Rahal is only the third driver that will attempt to earn Rookie of the Year honors while at the team. In 1993, reigning Formula One World Champion Nigel Mansell moved to Champ Car (then CART) and earned Rookie of the Year while Sebastien Bourdais came to NHR as the reigning F3000 champion in 2003 and also earned Rookie of the Year. Others Rahal will have to contend with for this honor include Simon Pagenaud, whom he lost the Atlantic battle to despite having led 129 laps to Pagenaud's 39 as well as PKV drivers Neel Jani and Robert Doornbos, Pacific Coast Motorsports drivers Ryan Dalziel and Alex Figge and Matt Halliday from Conquest Racing.
Having a three-time champion as your teammate gives a rookie knowledge to fall back on but McDonald's driver Bourdais doesn't think there is much he can tell Rahal that he doesn't already know.
"Well, I think he (Rahal) is very well prepared, he's done a lot of tests starting the middle of the season last year, and he's definitely ready," said Bourdais. "He knows what he's doing, and he's got a great engineer and got a great group of guys. I don't really have much to tell him. I think he's learned pretty much everything he needed to learn before the season started, and it's a great thing for him. He's going to probably be one of the drivers who is really, in the rookie field, the one that looks really strong because of the good preparation he's got and the talent he has."
If talent runs in the family, it's in the midst of the third generation. Graham's father Bobby is a three-time Champ Car champion and 1986 Indy 500 winner and his grandfather, Mike, raced sports cars. For the first time, two generations of Rahal's will race on the same course, the same weekend. While Graham will compete in the Champ Car World Series event, his father Bobby will compete in a different race on Easter Sunday.
"My dad will be racing in the historic Formula One race which I know is very exciting for him," said Graham. "I believe he is driving the Brabham BT44 which is one of his favorite cars; he loves that thing. It's pretty cool for me to be competing the same weekend. (Said with a laugh:) I just hope I'm faster than him — I should be. Because I know he's going to be sitting there telling me how to drive the track and telling me this and that so I just have to make sure I have him covered!"
Although his peers are most likely enjoying a leisurely pace this week, Graham Rahal is hoping that he can turn his accelerated learning experience into some lasting memories as well.
"I can't rent a car and can't gamble but I hope Spring Break in Las Vegas is one to remember!" added Rahal.
The inaugural Vegas Grand Prix will get underway with the qualifying on Friday and Saturday at 2:00 p.m. local time with the race set to take the green flag at 1:00 p.m. local time on Sunday afternoon. Fans can watch all the racing action live on NBC beginning at 3:30 p.m. EDT. As always, fans can follow the action from every on-track session via the Race Director feature on the official website of the Champ Car World Series, www.champcar.ws.