NHRA Winternationals Friday: Langdon & Hagan #1
Top Fuel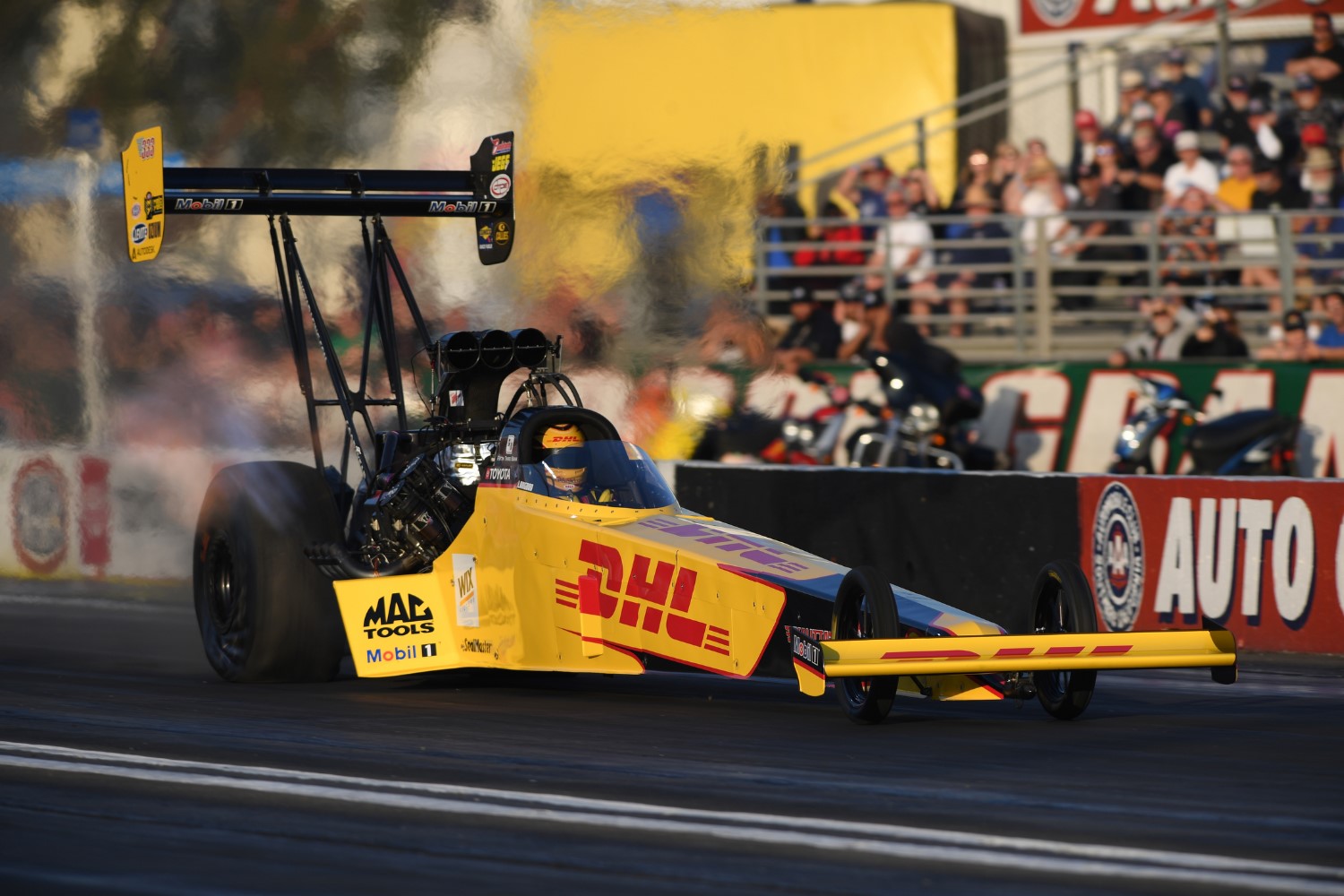 Shawn Langdon
Shawn Langdon spent a lot of time in the No. 1 in his nine years of Top Fuel racing before switching to Funny Car for a two-year stint in 2018-19, but the former Top Fuel world champ wasted no time reclaiming the top spot, grabbing the provisional pole Friday in his return to Top Fuel.
Langdon, who qualified No. 18 times between 2009 and 2015, powered the Kalitta Motorsports DHL dragster to a 3.699 in Q2 to steal the pole from fellow former world champ Brittany Force, who had carded a 3.706 on her first pass down the Pomona track in her new Monster Energy machine.
Leah Pruett also dropped back a spot from Q1 when neither she nor Force made a full run in Q2, but her 3.715 in the white with blue stripes Mopar dragster held onto the No. 3 spot.
World championship runner-up Doug Kalitta, winner of the Auto Club NHRA Finals here in November, is qualified No. 4 in the Mac Tools dragster with a 3.729.
Shawn Reed, driving the only Bob Vandergriff Racing machine entered, put down a pair of quality passes with Hughes oilfield transportation rail, an opening 3.771 and a 3.735 in Q2 that secured the No. 5 qualifying spot overnight.
Terry McMillen (3.758), Clay Millican (3.779), and Antron Brown (3.780) hold the next three spots with Top Fuel newcomer Brandon Welch sitting an admirable ninth after an engine-blowing 3.841 in Q1.
Force's teammate, reigning rookie of the year Austin Prock, was not so fortunate, struggling on both runs and clocking a best of just 4.361 for the No. 12 spot out of the 12 cars that ran on the opening day.
Funny Car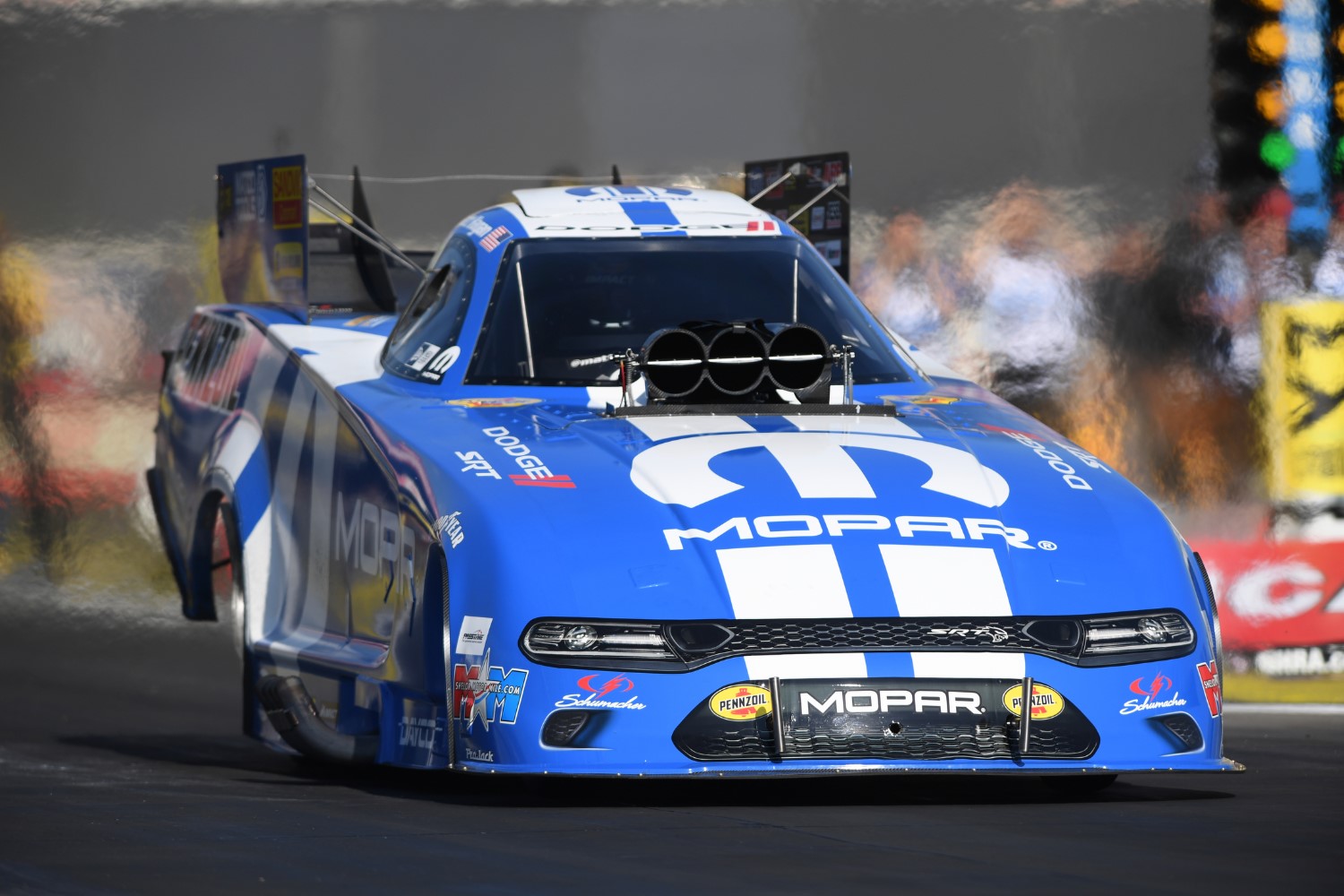 Matt Hagan
Matt Hagan grabbed the No. 1 spot on the opening day of the Funny Car season, powering his Mopar Charger to a 3.867 in the opening session, and a run that lasted throughout the day and the cooler second qualifying session where a number of cars improved.
Hagan, who qualified No. 1 just once last season (Brainerd) and crew chief Dickie Venables smoked the tires in the second session but nonetheless remained at the top of a quick field that featured 10 three-second teams.
Hagan's Don Schumacher Racing teammate Jack Beckman, who won the season finale here in Pomona in November, is qualified No.2 with a 3.868, also recorded in the first session, but impressively backed up with a 3.885 in Q2.
World champ Robert Hight posted a 3.885 and a 3.890 for the No. 3 spot with the third DSR car, the MD Anderson Cancer Center Dodge of Tommy Johnson Jr., slotted No. 4 after a 3.905 best.
Joining that foursome in the threes were Paul Lee in his debut with Global Electronic Technology on his entry (3.910), former world champ J.R. Todd (3.914), Tim Wilkerson (3.918), and Ron Capps (3.947).
Alexis DeJoria made her triumphant return to the class after a two-year hiatus, powering her Del Worsham-tuned ROKiT Phones/ABK Beer Toyota with runs of 4.04 and 3.98. She's currently qualified No. 9.
Bob Bode impressed with a 3.984 for the No. 10 spot.
Nostalgia Funny Car racer Alex Milanovich made his debut with 4.55 in his "big show" debut in his Hot For Teacher Toyota and ended the day in the No. 14 spot.
Cruz Pedregon, who had to shut off on the starting line in Q1, is on the bump spot with a tire-smoking 10.95 in Q2.
Pro Stock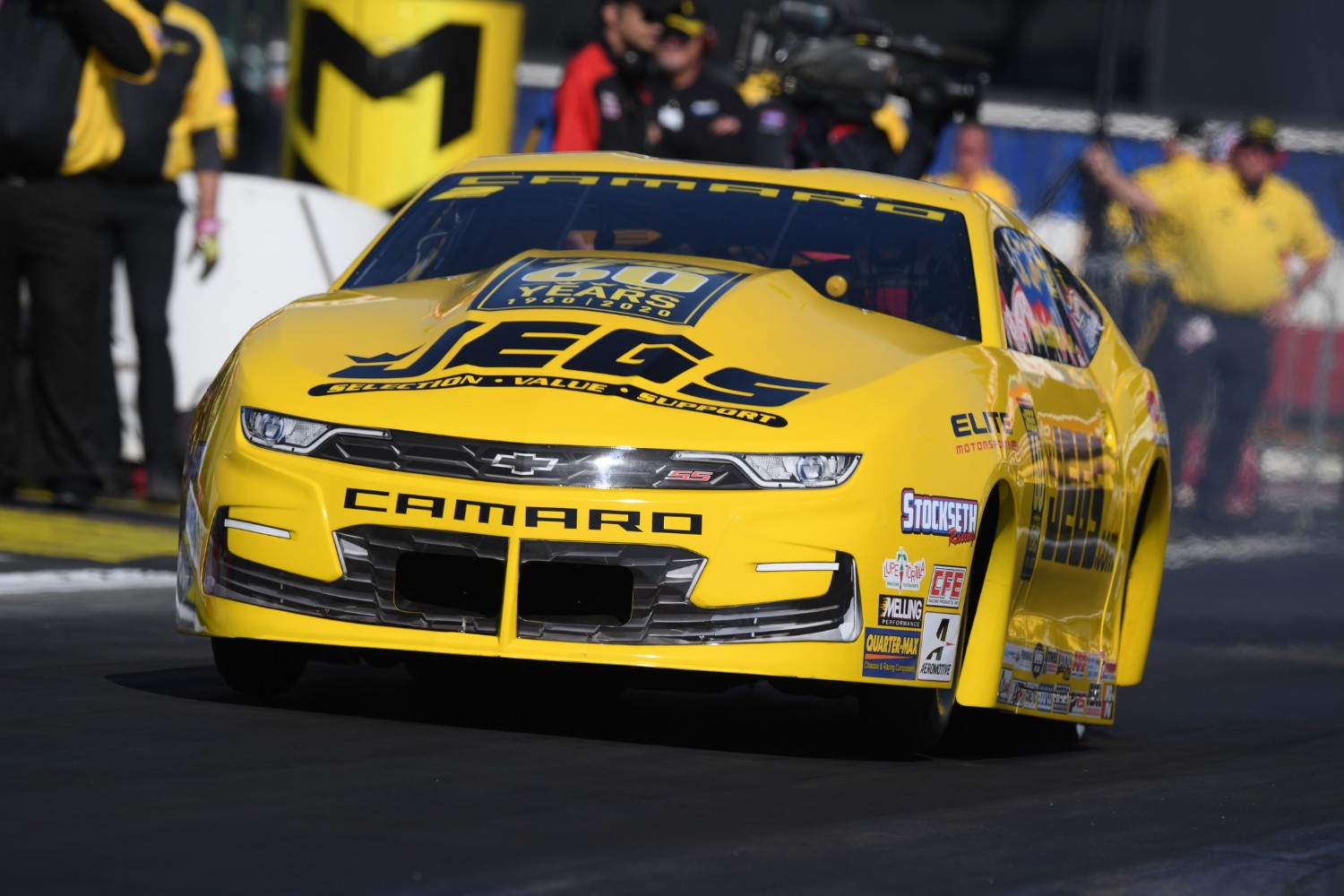 Jeg Coughlin Jr.
Jeg Coughlin Jr. began the 50th season of Pro Stock with a pair of incredible runs at the 60th Lucas Oil NHRA Winternationals. He went 6.530 seconds at 210.73-mph in his JEGS.com Chevrolet Camaro to take pole position after the first day of Mello Yello qualifying at Auto Club Raceway.
He bested teammate Erica Enders, who began her title defense in second position with a 6.552 at 210.7 in her Melling Performance Camaro. She slotted ahead of Kenny Delco, whose season started tremendously in the No. 3 position at 6.553. That's better (so far) than the best he qualified in 2019, sixth in Phoenix.
Jason Line ended the first day of qualifying of his final season of Pro Stock driving in eighth after a 6.564 pass. He slotted behind K.B. Racing teammate Greg Anderson by .002-second as they posted 6.562 and 6.564s in their Summit Racing Chevy Camaros.
Cristian Cuadra and his brother, Fernando Cuadra Jr., qualified within .02-second of each other in their Ford Mustangs. Cristian ran a 6.611 at 209.39 while Fernando hit a 6.636 at 207.62.
Marty Robertson made his career debut in Pro Stock in Pomona after obtaining his license during the offseason and he needs to make a move to qualify for his first event. The Elite Motorsports racer made an 8 and 7 second run in his Chevy Camaro before settling for the 20th spot in the qualifying order, a 7.555 pull at 133.86-mph.
Tom Huggins, Fernando Cuadra Sr. and Alan Prusiensky all missed the field through the first day of qualifying. Huggins came closest in his Dodge Dart, coming within three-hundredths of Val Smeland, who sits on the bump spot with a 6.647.
Qualifying resumes Saturday at the Lucas Oil NHRA Winternationals presented by ProtectTheHarvest.com at 12:15 p.m. Eliminations begin Sunday at 11 a.m. Catch all the action on NHRA.tv and FS1.
[adinserter name="GOOGLE AD"]