Hamilton eases to Hungarian GP using superior car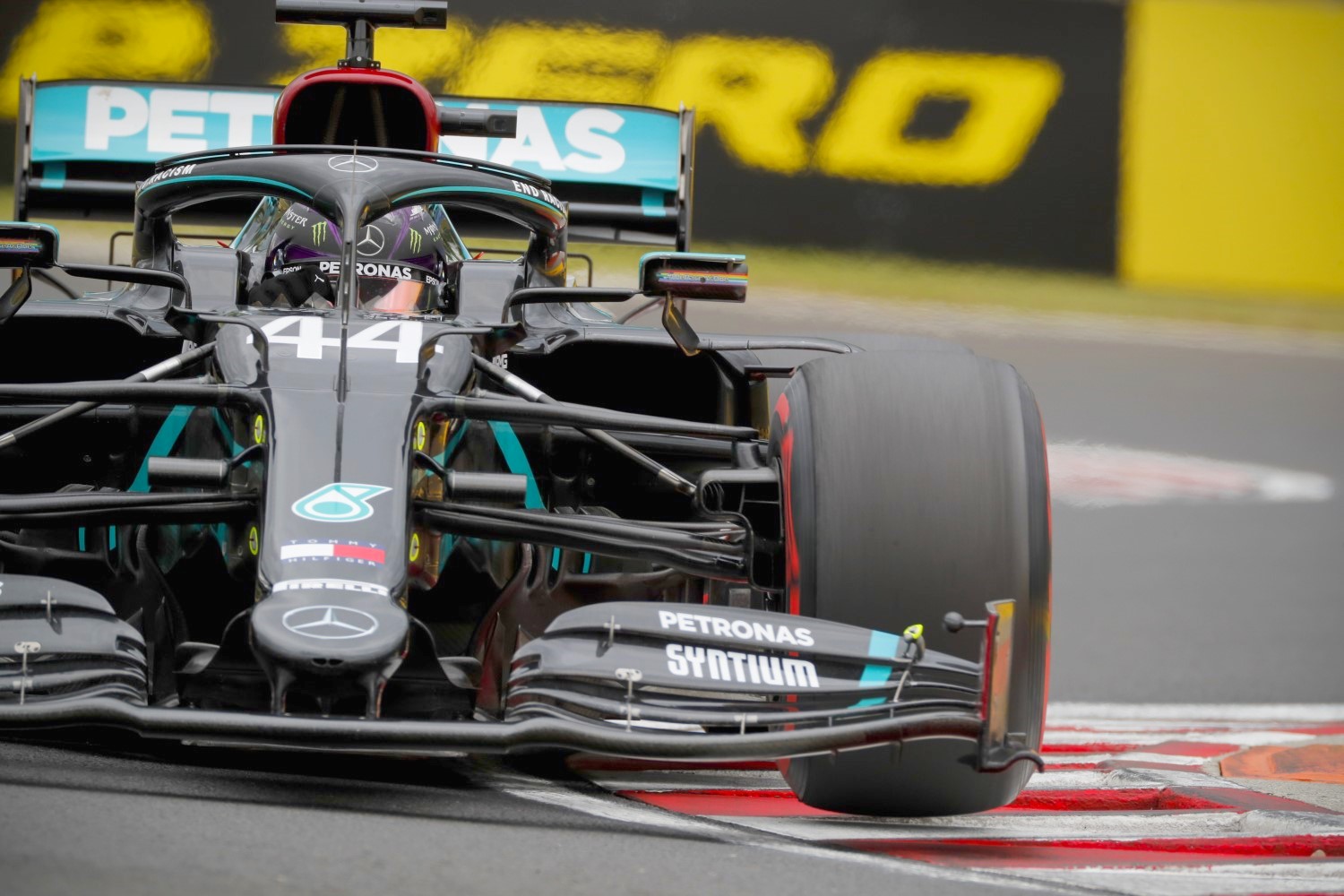 No contest for Lewis Hamilton
When you have the best car on the F1 grid for five straight years you win a lot of poles, fastest laps and races with ease.
That was no more evident on Sunday in Budapest as Lewis Hamilton dominated the Hungarian GP from start to finish in his superior Mercedes for his 86th F1 win and 8th win at the Hungaroring.
It's like taking candy from a baby. "Believe it or not, I was still pushing out there," said Hamilton bullshitting the media. "It was a different kind of challenge, but great pit stops, great strategy. I need to try and keep this up!"
Max Verstappen was 2nd for Red Bull after Valtteri Bottas blew the start on a semi-wet track and was never able to get back up to 2nd place.
"Not how I wanted it at the beginning of course, ending up in the barriers," said Verstappen. "The mechanics did an amazing job, I don't know how they did it but I paid them back with a second place. Splitting the Mercedes is good for us."
[adinserter name="GOOGLE AD"]Lance Stroll was 4th for Racing Point while Alex Albon rounded out the top-5 in the second Red Bull Honda.
Sebastian Vettel was the highest placed Ferrari in 6th, well ahead of his teammate Charles Leclerc down in 11th because Vettel is no longer helping Ferrari's 'pet' driver with setups having been sacked by Ferrari after this season. Both Ferraris were lapped by the leaders and the red team remains out to lunch and an embarrassment to Italy.
Vettel might be moved up to 5th because race Stewards summoned a Red Bull representative to see them after the race to investigate a breach of the sporting regulations.
The team are charged with having used the blowers they use to cool the engine and brakes on the car, to dry Albon's grid slot before the start of the race.
The FIA's technical delegate Jo Bauer reported the incident once the race got underway. His statement read: "The Aston Martin Red Bull Racing team artificially dried the grid box of car number 23 by using the engine cooling air of their leaf blowers when using these to cool the car engine.
"As this is in contradiction to the Race Directors Notes, Document 35, published on 19 July 2020 at 13:56hrs, I am referring this matter to the Stewards for their consideration."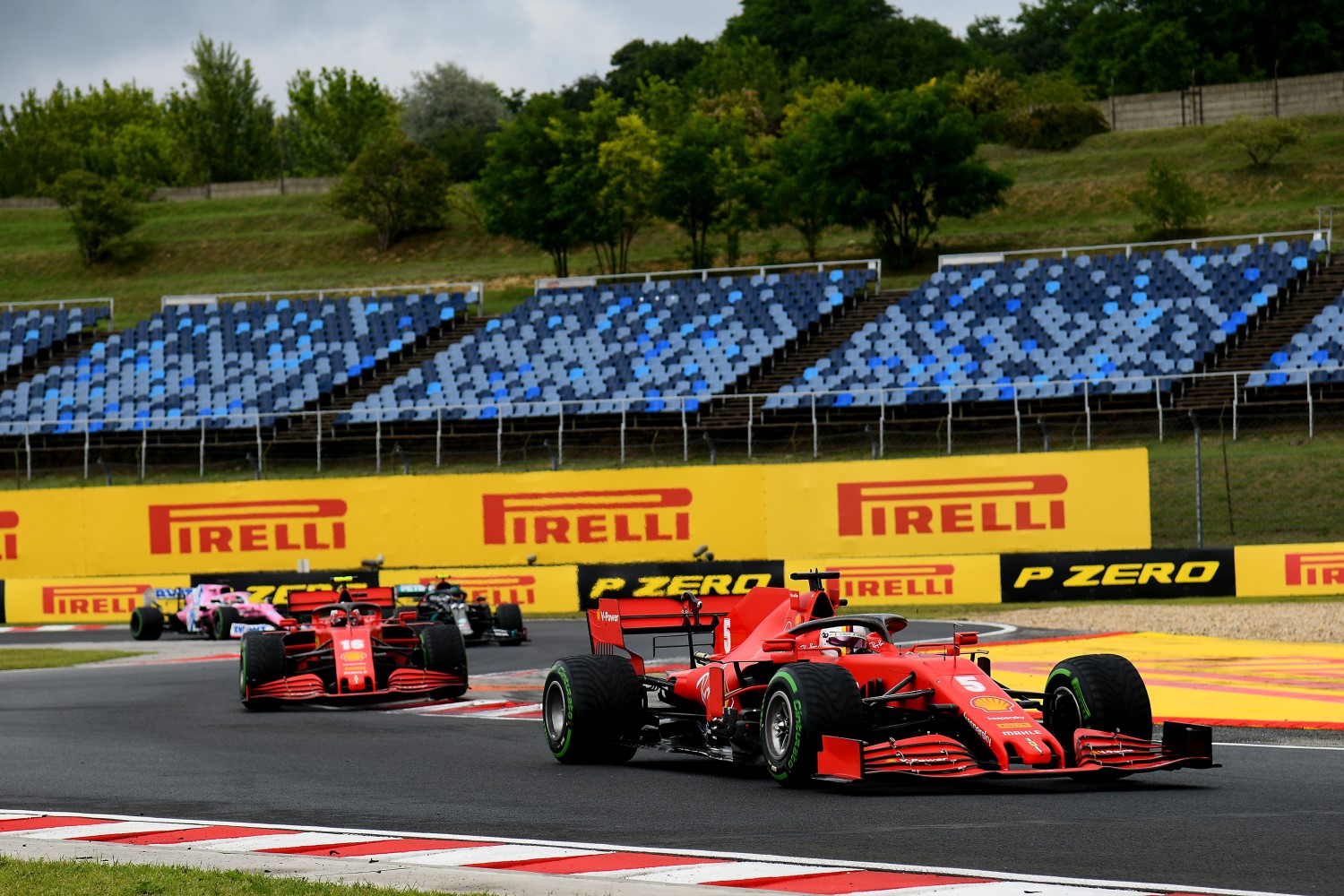 Vettel leads Leclerc. By race end he was nearly 1/2 lap ahead of him
And just 30 minutes later, the stewards confirmed they were investigating the incident, and summoned a team representative to appear before them after the race.
If the stewards do find Red Bull breached the regulations, Albon could be hit with a significant post-race penalty.
Sergio Perez recovered to seventh at the finish ahead of Daniel Ricciardo's Renault.
Kevin Magnussen was ninth to take Haas's first points of 2020 ahead of Carlos Sainz Jr, who survived contact in the pitlane with Williams' Nicholas Latifi
Sainz Jr. won a tight late scrap with Leclerc to take the final point.
Key Moments in Race
Rain before the start of the race influenced all the strategies today, with the grand prix getting underway on a damp track. Everyone went to the grid on the Cinturato green intermediate tire, apart from the Haas of Kevin Magnussen on the blue full wets.
At the end of the formation lap, both Haas cars went to the pits for P Zero Yellow medium slick tires. Their early switch meant that both Haas cars were running in third and fourth places throughout the opening stages of the race, after all the other drivers changed to slicks on a rapidly-drying track.
There were four different strategies in the top five places. Hamilton was the last of the frontrunners to stop, making a third and final pit stop for P Zero Red soft tires, to chase the point for fastest lap. His team mate Valtteri Bottas, who finished on the podium, also made a third stop to try and get past Max Verstappen. The Red Bull driver was second with just two stops: despite crashing en route to the grid.
As the race started with wet-weather tires, the rules no longer obliged drivers to run two different types of slick tires during the grand prix.
Quotes
Lewis Hamilton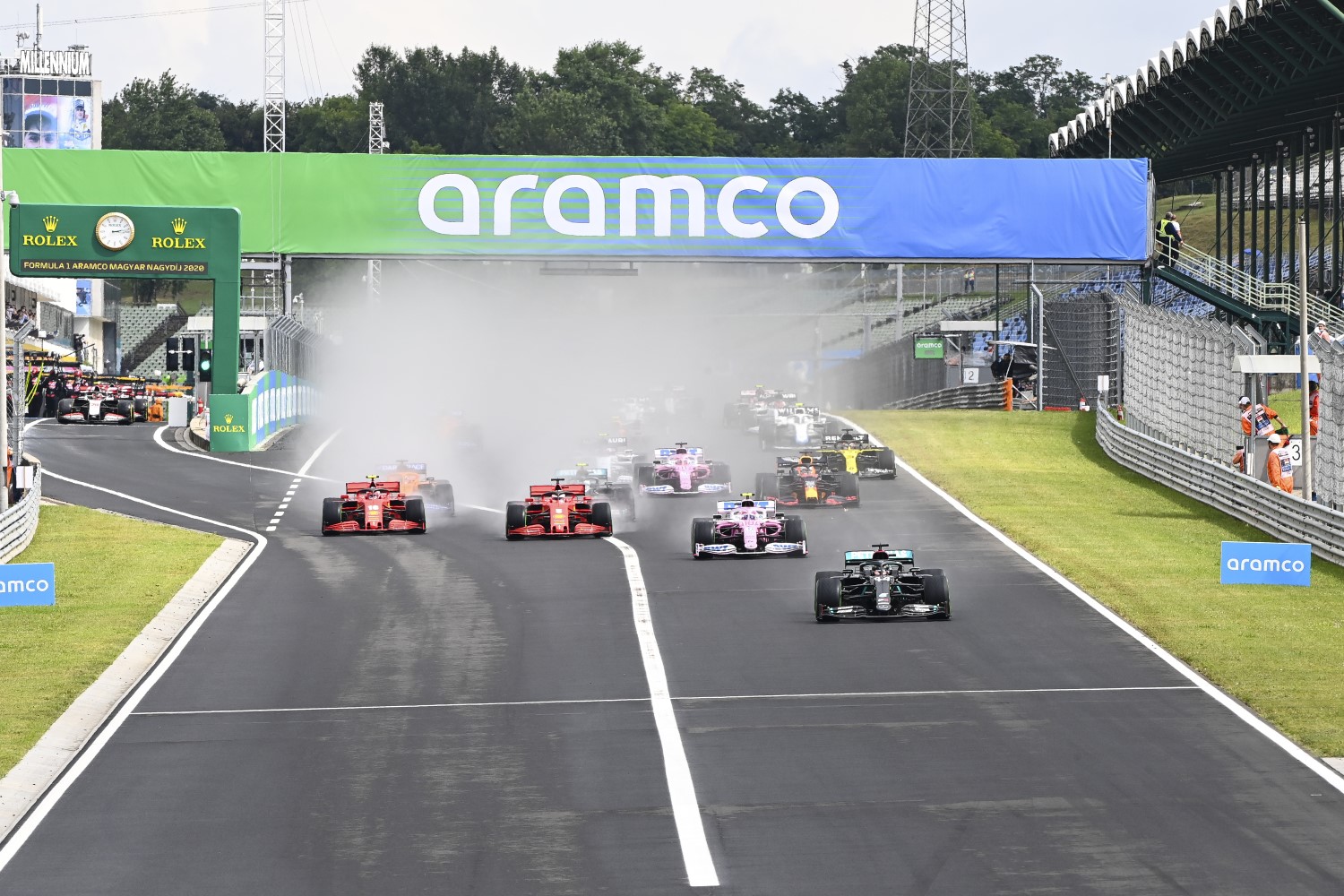 Hamilton gets big jump at the start
What an incredible race. Honestly, that was one of my favorites that I've raced, even though I was on my own for the majority, it's a very different kind of challenge and I was pushing hard out there – particularly for the fastest lap at the end. I want to say a huge congratulations to everyone back home at the factory in Brackley and at HPP in Brixworth, they've done such a fantastic job developing and improving for this year and this team just continues to amaze me. I love working with them and I'm grateful to be able to perform for them on weekends like this. We had great pace today, brilliant pit stops, a fantastic strategy and then, as I was managing those Mediums for a long, long time, at the end it was the perfect time to get on fresh tires and take that extra point for fastest lap. Everything has just been on point throughout the weekend, so we need to try and keep it up. I can't wait for Silverstone now, although I'll miss the energy the fans bring, so I hope I can perform for them there as I know they'll be watching from home.
Valtteri Bottas
That was a tough race. Obviously starting second on the grid, you aim to win the race, but I had a bad start and lost a few positions. I reacted to a light on my dash that went off, instead of the start lights, which then meant the car went into anti-stall and I had to do the start again. I lost some ground there and that made the race very difficult for me, as I was fighting right to the very end. It was pretty close with Max and I think the gamble to pit late on was definitely worth taking, as it gave me the difference in tire life. But it didn't quite pay off today. Still, I scored a good haul of points and there's plenty to learn from this weekend, heading to Silverstone.
Toto Wolff, Mercedes Team Boss
A 1-3 result is really satisfying, especially on a track that hasn't always been our favorite in the past. A great result for the team! Lewis had a really good start in those tricky conditions and from there, he was in control of the race, managing his pace and dealing with the curveballs the weather threw at us. For Valtteri, obviously he had a difficult start and that dropped him into the midfield, but he fought back well to finish P3. We leave the Hungaroring with three wins out of three races and very happy. The car seems to be in a good place but to maintain it, we know we need to keep working hard and adding performance. Now we're looking ahead to Silverstone in two weeks and we're looking forward to be back there.
Andrew Shovlin
It's great to finish this first triple-header with a third win and be able to further extend our lead in the Championships. Lewis put in another masterclass, he was able to control the race from start to finish and build enough of a gap to give us some margin to cover the uncertain weather and any risk of Safety Cars. Valtteri had a busy afternoon. He nearly went before the lights but pulled the clutch and managed to avoid a jump start. However, that cost him a load of time and he was down in seventh exiting Turn 1. Valtteri called first to switch to dry tires which was a good call, but he was stuck behind the Charles and lost a bit of the benefit to the cars that went one lap longer. Lewis didn't need to take risks so went a lap further before stopping. Valtteri did a good job passing Charles and both Haas cars on track but by mid-race, the talk on the pitwall was all about the weather. We could see a shower moving towards us very slowly, but it looked like it would be short-lived and not heavy enough to take us to Intermediates. With Valtteri, we used it as the opportunity to undercut Lance by putting him on fresh tires just before the rain started to fall. That worked nicely and he quickly was able to start closing down Max. His extra stop was a bit of a gamble and a shame it didn't work out, but there was no downside to trying. With Lewis we had the margin to wait until the others had stopped and from there he was just looking after the car and tires to the finish. The car has been really strong all weekend, good in the corners and on the straights and it's run here without any reliability concerns. It's great that the sport has been able to get the season underway and as much as we're looking forward to a few days at home, we're also excited about getting back on track at Silverstone in twelve days' time.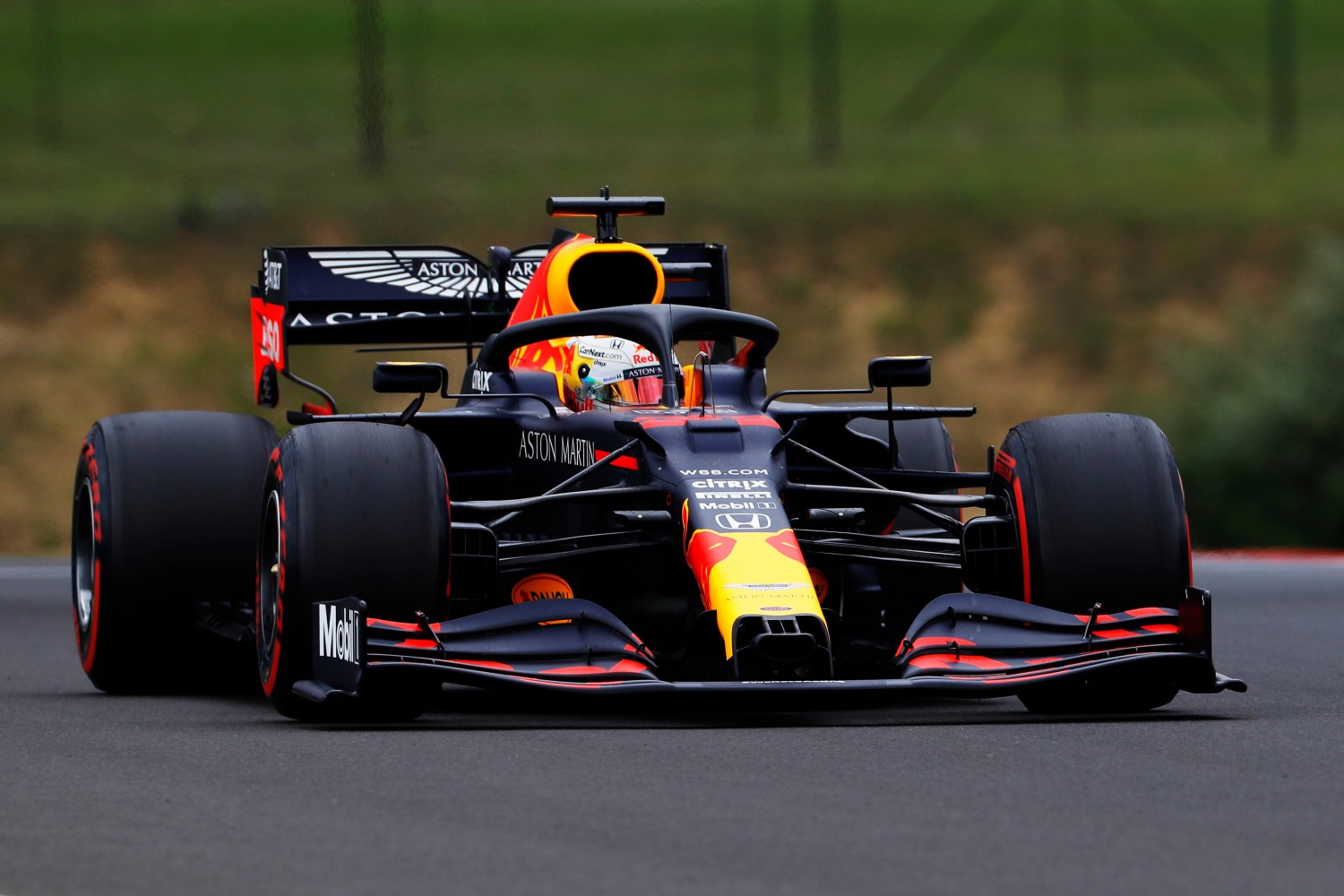 Verstappen recovered for 2nd
Max Verstappen
"This podium is definitely dedicated to my mechanics. I thought the race was over before it had even started. I braked, locked a wheel, came off the brakes and tried to brake again but went straight on into the wall on the out lap. I couldn't believe it but I managed to reverse out of the wall and get to the grid. As a Team we never give up and the mechanics did an incredible job to fix the car so quickly, I don't think anyone could actually believe they managed it but they all stayed very calm. The track was still pretty greasy but I had a good start. You cannot plan going into Turn 1 but I saw there was a traffic jam on the inside so I thought I would go around the outside where I knew there was grip in the wet and it worked. The race could have been very different if I was stuck in seventh place for a few laps that's for sure. We then made all the right strategy calls and I just had to manage my tires, be as consistent as possible and manage the backmarkers. To be second here between the two dominant Mercedes cars is an unbelievable result and we did not expect it yesterday after qualifying and such a difficult weekend. We want to try to close the gap to Mercedes, they are really dominant at the moment so it will be very hard to beat them but we won't stop trying."
Alex Albon
"It was a good race and I had a lot of fun with my elbows out. If you had told me we'd be P5 after yesterday I would have jumped at it. Today was never going to be easy starting from P13 but we had a good start and we made our way through the field. It's not easy to overtake at this circuit so we had to do some big moves to get past people. Every move you do is always on the limit here but it worked out for us and I enjoy the battles as it's nice to put on a show. When we fight we tend to come out on top and the car is good on the brakes so it's nice to make these moves. We lost quite a lot of time in traffic today behind the Ferraris otherwise I think we would have been closer but the car was really good and when we were in clean air we were fast and very competitive. I'm happy with the result and it's good points for the Team after such a tricky day yesterday so I think we have to be thankful. Today is a bit of a surprise as to why our race pace is so much better than our quali pace, so we need to understand that, but it's positive and means some things on the car are working."
Christian Horner Red Bull Team Principal
"The mechanics did an amazing job today and Max owes this result to them. To get his car repaired in 20 minutes on the grid is incredible and you could see the sweat dripping off them. The guys have been doing an amazing job, especially with the amount of specification changes we've had this weekend, as well as breaking curfew on Friday night. We were obviously on the ropes in qualifying yesterday so to bounce back and split the Mercedes with a P2 here is great. Max drove the wheels off the car and Alex drove a great race too. Considering where he started from on the grid, he put the lap times in and all credit to him as the passing moves he did today made for a great recovery drive. The car is in better shape in race trim and strategically we are sharp but we have updates that aren't behaving as expected, compared with pre-season testing, so we need to go through all the data we've collected and understand it before Silverstone."
Sebastian Vettel
"This was a better performance compared to my first race in Austria. However, in the early stages we might have done a bit better if I'd taken more of a gamble and come in for dry tires on lap 3 instead of 4. As it was, I lost a lot of time, having to let other cars come down pit lane before I could be released. But in the end, fifth or sixth was the most we could have done. Towards the end, I was struggling with the tires and even if I would have loved to have put up more of a fight, there wasn't much I could do to keep Alex (Albon) behind me. We are not where we want to be just now, but at least we did everything we could today."
Charles Leclerc
"It was a very complicated race. I'm not sure what happened, because we didn't make changes to the car, but it was extremely hard to drive, as the balance was so much worse than Friday and Saturday, when it was actually better than expected. It just didn't feel like the same car. We need to look further into that to try and understand, as I was struggling a lot. We stopped for Softs a bit earlier than others and maybe it was a bit too optimistic. But it was a good call and I managed a few quick laps, but there was only one dry line so I could not overtake and, with hindsight the Soft was not the best choice. After that we were just slow. There's lot of work ahead of us."
Mattia Binotto, Ferrari Team Principal
"An extremely disappointing Sunday and the result is very hard to swallow. In qualifying, we had got the most out of the car as it is at the moment, but in the race that was not the case. To be lapped is very painful for us and our fans. Now we return home after this very long trip and we have to try everything we can to improve as much as possible in every area. Everyone will have to analyze their work and have the courage to change course if necessary, because the current dynamic is unacceptable. There is no other solution to fix this situation."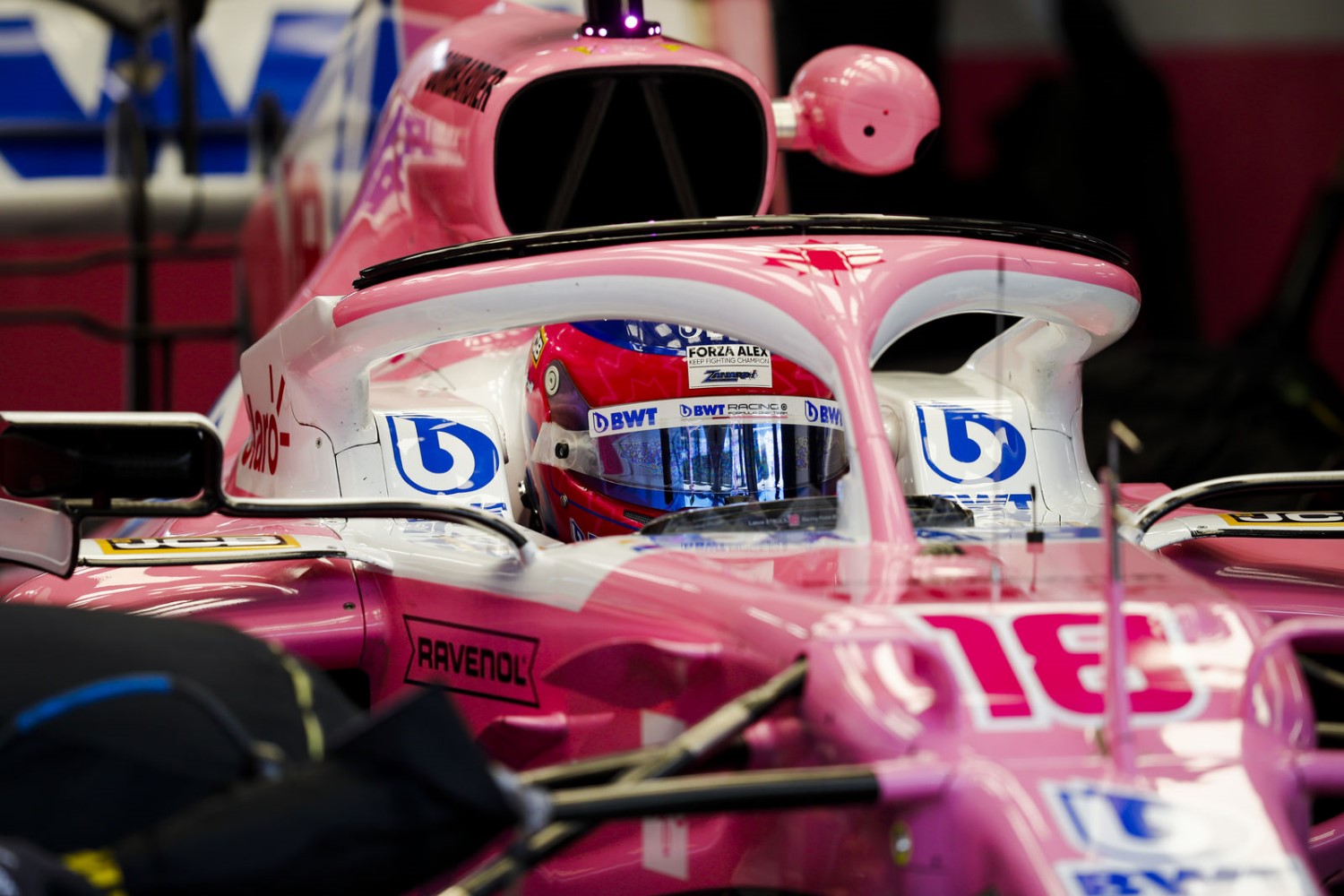 Lance Stroll P4
Lance Stroll
"I'm really happy with P4: it's a good result and I have to thank the team for such a great job today and all weekend. It was fun to fight Max [Verstappen] at the start of the race and run in P2 in the changeable conditions. We actually ended up in quite a lonely race to P4, but the main thing is that we were able to score a good haul of points for the team, and so did Checo. It was such a complex race and I'm looking forward to reviewing it and learning what we can for the races to come. We've had three races now and looked strong in all of them. I think the podium was close today because we were in a big battle with Bottas and maybe we could have done things differently, but you can always say that after the race. That's racing and we've got to be happy with fourth."
Sergio Perez
"It was a shame about my start. I just picked up a lot of wheelspin in the first phase and that cost us a lot of positions. It's always tricky to recover at the Hungaroring, but we tried our best and I had some good battles. I had a few adventures out there too and I ran wide – in the dry – and was lucky not to touch the wall. When I did get some clean air, I could show the pace of the car, but the time I lost on lap one was costly. The main thing is that we've scored more points for the team and are now just behind third place in the Constructors' Championship."
Otmar Szafnauer, CEO & Team Principal Racing Point
"The rain showers ahead of the start certainly changed the complexion of the race and made things more challenging for everyone. Lance had a strong start moving up to second, but Sergio suffered from wheelspin and dropped down to seventh. The track was ready for dry tires almost immediately and I think we pitted at the opportune time – certainly in sync with the cars we were racing. As the race settled down, Lance was in contention for a podium, but it proved difficult to hold off the recovering Mercedes of Bottas. The eventual fourth place for Lance is an excellent result following a mature drive to complete a very strong weekend. Checo's seventh-place finish was a legacy of the poor start and he spent most of the afternoon in the wheel tracks of Vettel and Albon. It proved difficult to follow cars closely, let alone overtake – even with a pace advantage. The 18 points scored consolidate our fourth place in the championship and we're actually tied on 40 points with the third-placed team. This result is an important reward for the entire team's efforts – both here in Budapest and back home in the UK."
George Russell
Firstly, we made a bad start in the wet and it was very tricky. I think everyone on the inside struggled for whatever reason. From then on in, our race pace was really poor, we just need to understand what is going on. Last year it was the opposite, our race pace was better than the qualifying pace. Now we are pretty fast on the Saturday and struggle a lot on the Sunday. However, if we look at everything and see the steps we have made, especially on the Saturdays, we have got to be relatively pleased. There are plenty of positives, we just need to rectify the negatives and make our pace of the car a bit better across the ball.
Nicholas Latifi
We had a good start and first lap, and then it all came undone with the pitstop, unfortunately that can happen in a busy pitlane. I got the puncture and then unfortunately sustained quite a lot of damage bringing the car back to the pits. We had a big chunk of the floor missing, so just keeping the car on the track the whole race was quite difficult. Today just wasn't meant to be, it was a bit unfortunate, but still there are positives to take from yesterday. We just need to reset going into Silverstone.
More to follow…….
Results
| | | | | |
| --- | --- | --- | --- | --- |
| POS | DRIVER | NAT. | TEAM | BEHIND |
| 1 | Lewis Hamilton | GBR | Mercedes AMG Petronas | +0.000s |
| 2 | Max Verstappen | NED | Aston Martin Red Bull Racing | +8.702 |
| 3 | Valtteri Bottas | FIN | Mercedes AMG Petronas | +9.452 |
| 4 | Lance Stroll | CAN | BWT Racing Point F1 Team | +57.579 |
| 5 | Alexander Albon | THA | Aston Martin Red Bull Racing | +78.287 |
| 6 | Sebastian Vettel | GER | Scuderia Ferrari | +1 lap |
| 7 | Sergio Perez | MEX | BWT Racing Point F1 Team | +1 lap |
| 8 | Daniel Ricciardo | AUS | Renault F1 Team | +1 lap |
| 9 | Kevin Magnussen | DEN | Haas F1 Team | +1 lap |
| 10 | Carlos Sainz Jr. | ESP | McLaren F1 Team | +1 lap |
| 11 | Charles Leclerc | MON | Scuderia Ferrari | +1 lap |
| 12 | Daniil Kvyat | RUS | Scuderia AlphaTauri Honda | +1 lap |
| 13 | Lando Norris | GBR | McLaren F1 Team | +1 lap |
| 14 | Esteban Ocon | FRA | Renault F1 Team | +1 lap |
| 15 | Romain Grosjean | FRA | Haas F1 Team | +1 lap |
| 16 | Kimi Raikkonen | FIN | Alfa Romeo Racing Orlen | +1 lap |
| 17 | Antonio Giovinazzi | ITA | Alfa Romeo Racing Orlen | +1 lap |
| 18 | George Russell | GBR | Williams Racing | +1 lap |
| 19 | Nicholas Latifi | CAN | Williams Racing | +5 lap |
| DNF | Pierre Gasly | FRA | Scuderia AlphaTauri Honda | 16 laps |
[adinserter name="GOOGLE AD"]