United Autosports Take First Win of 2020 ELMS Season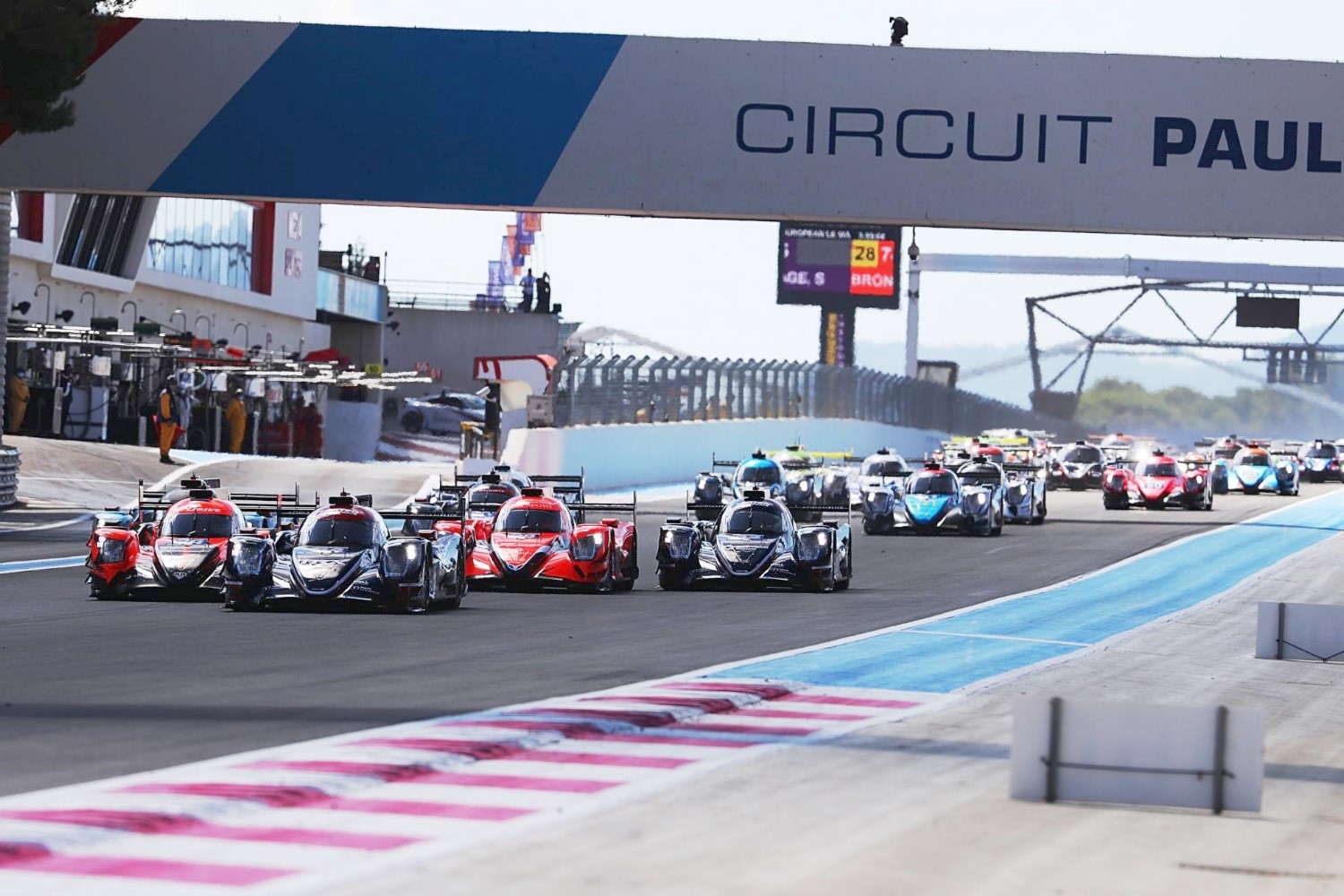 Race Start
The no32 United Autosports Oreca took the first victory of the 2020 European Le Mans Series at the end of a thrilling 4 Hours of Le Castellet with Job Van Uitert taking the checkered flag. The no22 United Autosports Oreca of Phil Hanson was leading but a front left puncture dropped the British driver back to 4th. Thomas Laurent crossed the line in the no39 Graff Oreca in 2nd with Nyck De Vries completing the podium in the no26 G-Drive Racing.
At the checkered flag this was the order they crossed the line. However the no39 Graff Oreca was handed a three lap penalty for non-respect of the driving time of the silver driver (Alexandre Cougnaud), which dropped them down the order from 2nd and promoted the no22 United Autosports Oreca to 3rd place.
LMP3: Perfect Weekend for United Autosports At Le Castellet
The LMP3 victory went to the no2 United Autosports Ligier with Wayne Boyd bringing the car home after claiming pole position in yesterday's qualifying session to claim maximum championship points.
A typical summers day on the Cote D'Azur greeted the competitors for the opening round of the 2020 European Le Mans Series, with blue skies and warm temperatures.
LMGTE: Proton Competition Secure Top Spot at Le Castellet
The LMGTE category saw plenty of action during the 4 Hours of Le Castellet, with the no77 Proton Competition Porsche of Christian Ried, Michele Beretta and Alessio Picariello eventually coming out on top to take the checkered flag for Round 1 of the 2020 season.
Results
| | | | | | | | |
| --- | --- | --- | --- | --- | --- | --- | --- |
| POS | NO. | TEAM | DRIVER_1 | DRIVER_2 | DRIVER_3 | VEHICLE | CLASS |
| 1 | 32 | United Autosports | William OWEN | Alex BRUNDLE | Job VAN UITERT | Oreca 07 – Gibson | LMP2 |
| 2 | 26 | G-Drive Racing | Roman RUSINOV | Mikkel JENSEN | Nyck DE VRIES | Aurus 01 – Gibson | LMP2 |
| 3 | 22 | United Autosports | Philip HANSON | F. ALBUQUERQUE | | Oreca 07 – Gibson | LMP2d |
| 4 | 37 | CoolRacing | Nicolas LAPIERRE | Antonin BORGA | Alexandre COIGNY | Oreca 07 – Gibson | LMP2 |
| 5 | 50 | Richard Mille | André NEGRÃO | Tatiana CALDERON | | Oreca 07 – Gibson | LMP2 |
| 6 | 24 | Algarve Pro Racing | Henning ENQVIST | Loic DUVAL | Jon LANCASTER | Oreca 07 – Gibson | LMP2 |
| 7 | 34 | Inter Europol | J SMIECHOWSKI | Rene BINDER | M ISAAKYAN | Ligier JSP217 – Gibson | LMP2 |
| 8 | 21 | DragonSpeed | Memo ROJAS | Ben HANLEY | Ryan CULLEN | Oreca 07 – Gibson | LMP2 |
| 9 | 39 | Graff | James ALLEN | Thomas LAURENT | Alex COUGNAUD | Oreca 07 – Gibson | LMP2 |
| 10 | 25 | Algarve Pro Racing | John FALB | Simon TRUMMER | Gabriel AUBRY | Oreca 07 – Gibson | LMP2 |
| 11 | 2 | United Autosports | Wayne BOYD | Tom GAMBLE | Robert WHELDON | Ligier JS P320 – Nissan | LMP3 |
| 12 | 13 | Inter Europol | Nigel MOORE | Martin HIPPE | | Ligier JS P320 – Nissan | LMP3 |
| 13 | 15 | RLR MSport | Malthe JAKOBSEN | James DAYSON | R HARPER-ELLAM | Ligier JS P320 – Nissan | LMP3 |
| 14 | 8 | Realteam Racing | Esteban GARCIA | David DROUX | | Ligier JS P320 – Nissan | LMP3 |
| 15 | 9 | Graff | Vincent CAPILLAIRE | Arnold ROBIN | Maxime ROBIN | Ligier JS P320 – Nissan | LMP3 |
| 16 | 11 | Eurointernational | Thomas ERDOS | Niko KARI | | Ligier JS P320 – Nissan | LMP3 |
| 17 | 77 | Proton Competition | Christian RIED | Michele BERETTA | A PICARIELLO | Porsche 911 RSR | LMGTE |
| 18 | 3 | United Autosports | James McGUIRE | Duncan TAPPY | Andrew BENTLEY | Ligier JS P320 – Nissan | LMP3 |
| 19 | 74 | Kessel Racing | M BRONISZEWSKI | Nicola CADEI | David PEREL | Ferrari F488 GTE EVO | LMGTE |
| 20 | 83 | Iron Lynx | Manuela GOSTNER | Michelle GATTING | Rahel FREY | Ferrari F488 GTE EVO | LMGTE |
| 21 | 10 | Nielsen Racing | Rob HODES | Garett GRIST | Charles CREWS | Duqueine M30 Nissan | LMP3 |
| 22 | 16 | BHK Motorsport | Lorenzo VEGLIA | Andrea FONTANA | Jacopo BARATTO | Ligier JS P320 – Nissan | LMP3 |
| 23 | 66 | JMW Motorsport | Jody FANNIN | Finlay HUTCHISON | Hunter ABBOTT | Ferrari F488 GTE EVO | LMGTE |
| 24 | 4 | DKR Engineering | Laurents HÃ-RR | François KIRMANN | Wolfgang TRILLER | uqueine M30 Nissan | LMP3 |
| 25 | 51 | AF Corse | Christoph ULRICH | Alexander WEST | Steffen GÃ-RIG | Ferrari F488 GTE EVO | LMGTE |
| 26 | 60 | Iron Lynx | Claudio SCHIAVONI | Sergio PIANEZZOLA | Andrea PICCINI | Ferrari F488 GTE EVO | LMGTE |
| 27 | 93 | Proton Competition | M FASSBENDER | Felipe LASER | Richard LIETZ | Porsche 911 RSR | LMGTE |
| 28 | 5 | Graff | Eric TROUILLET | Luis SANJUAN | Sébastien PAGE | Duqueine M30 – Nissan | LMP3 |
| 29 | 20 | High Class Racing | Anders FJORDBACH | Dennis ANDERSEN | | Oreca 07 – Gibson | LMP2 |
| 30 | 98 | Aston Martin | Paul DALLA LANA | Mathias LAUDA | Ross GUNN | Aston Martin VANTAGE AMR | LMGTE |
| 31 | 30 | Duqueine Team | Tristan GOMMENDY | Jonathan HIRSCHI | K. TERESCHENKO | Oreca 07 – Gibson | LMP2 |
| 32 | 31 | Panis Racing | Julien CANAL | Nicolas JAMIN | William STEVENS | Oreca 07 – Gibson | LMP2 |
| 33 | 35 | BHK Motorsport | Francesco DRACONE | Sergio CAMPANA | | Oreca 07 – Gibson | LMP2 |
| 34 | 28 | IDEC Sport | Paul LAFARGUE | Paul Loup CHATIN | Richard BRADLEY | Oreca 07 – Gibson | LMP2 |
| 35 | 55 | Spirit of Race | Duncan CAMERON | Matthew GRIFFIN | Aaron SCOTT | Ferrari F488 GTE EVO | LMGTE |
| 36 | 7 | Nielsen Racing | Anthony WELLS | Colin NOBLE | | Duqueine M30 – Nissan | LMP3 |