Zhou wins race 1 as Schumacher scrambles to ensure title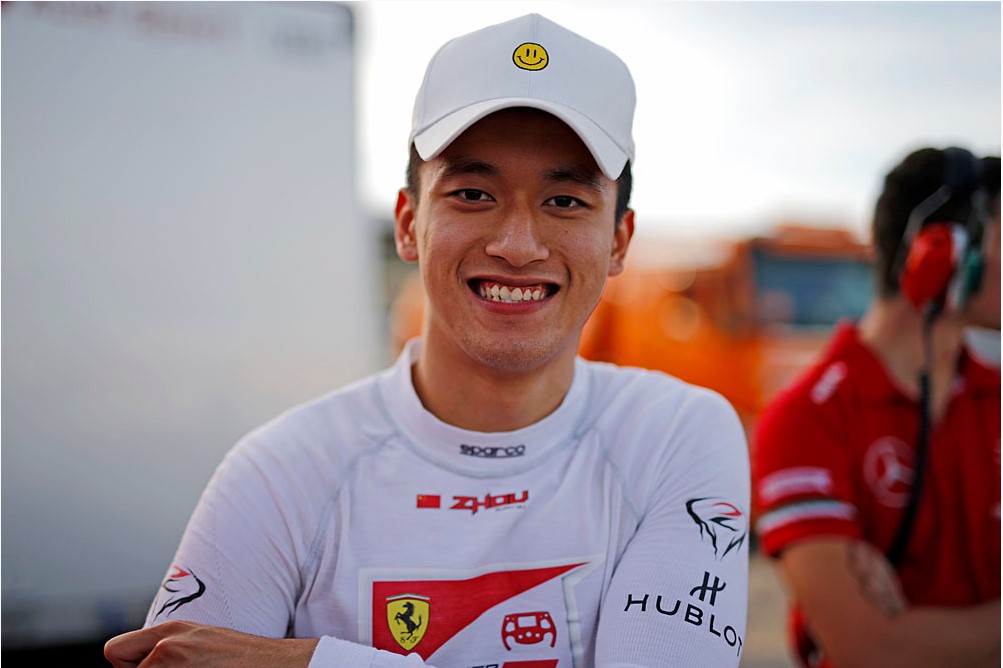 Ferrari junior Guan Yu Zhou wins race 1
Ferrari junior Guan Yu Zhou won the first race of the Formula 3 European Championship finale at Hockenheim, as Mick Schumacher choked with a first-lap collision that damaged his wing that required a pitstop to change it.
Schumacher was battling Marcus Armstrong for sixth on the opening lap when he hit the New Zealander through the fast right-hander into the Mercedes Arena.
He battled back to finish 12th but his chief rival, Daniel Ticktum was 6th.
This puts Ticktum 39 points behind Schumacher going into the second race, meaning he needs at least a podium finish from 15th on the grid to have any hope of wresting the crown from front-row starter Schumacher.
Full story to follow……
Result – Race 1
| POS | DRIVER | TEAM | CAR | BEHIND |
| --- | --- | --- | --- | --- |
| 1 | Guan Yu Zhou | PREMA Theodore Racing | Dallara/Mercedes | 0.000s |
| 2 | Robert Shwartzman | PREMA Theodore Racing | Dallara/Mercedes | 2.339s |
| 3 | Juri Vips | Motopark | Dallara/Volkswagen | 2.988s |
| 4 | Alex Palou | Hitech Bullfrog GP | Dallara/Mercedes | 5.638s |
| 5 | Dan Ticktum | Motopark | Dallara/Volkswagen | 6.330s |
| 6 | Ralf Aron | PREMA Theodore Racing | Dallara/Mercedes | 8.588s |
| 7 | Sacha Fenestraz | Carlin | Dallara/Volkswagen | 9.374s |
| 8 | Nikita Troitskiy | Carlin | Dallara/Volkswagen | 13.531s |
| 9 | Enaam Ahmed | Hitech Bullfrog GP | Dallara/Mercedes | 14.287s |
| 10 | Frederik Vesti | Van Amersfoort Racing | Dallara/Mercedes | 15.076s |
| 11 | Julian Hanses | Carlin | Dallara/Volkswagen | 16.606s |
| 12 | Mick Schumacher | PREMA Theodore Racing | Dallara/Mercedes | 17.053s |
| 13 | Artem Petrov | Van Amersfoort Racing | Dallara/Mercedes | 18.187s |
| 14 | Ben Hingeley | Hitech Bullfrog GP | Dallara/Mercedes | 20.085s |
| 15 | Sophia Florsch | Van Amersfoort Racing | Dallara/Mercedes | 20.962s |
| 16 | Jonathan Aberdein | Motopark | Dallara/Volkswagen | 22.732s |
| 17 | Keyvan Andres | Van Amersfoort Racing | Dallara/Mercedes | 23.299s |
| 18 | Sebastian Fernandez | Motopark | Dallara/Volkswagen | 23.495s |
| 19 | Marino Sato | Motopark | Dallara/Volkswagen | 24.249s |
| 20 | Ameya Vaidyanathan | Carlin | Dallara/Volkswagen | 25.401s |
| – | Ferdinand Habsburg | Carlin | Dallara/Volkswagen | Retirement |
| – | Fabio Scherer | Motopark | Dallara/Volkswagen | Retirement |
| – | Marcus Armstrong | PREMA Theodore Racing | Dallara/Mercedes | Retirement |
| – | Jehan Daruvala | Carlin | Dallara/Volkswagen | Retirement |