Torrence, Capps, Coughlin and Sampey win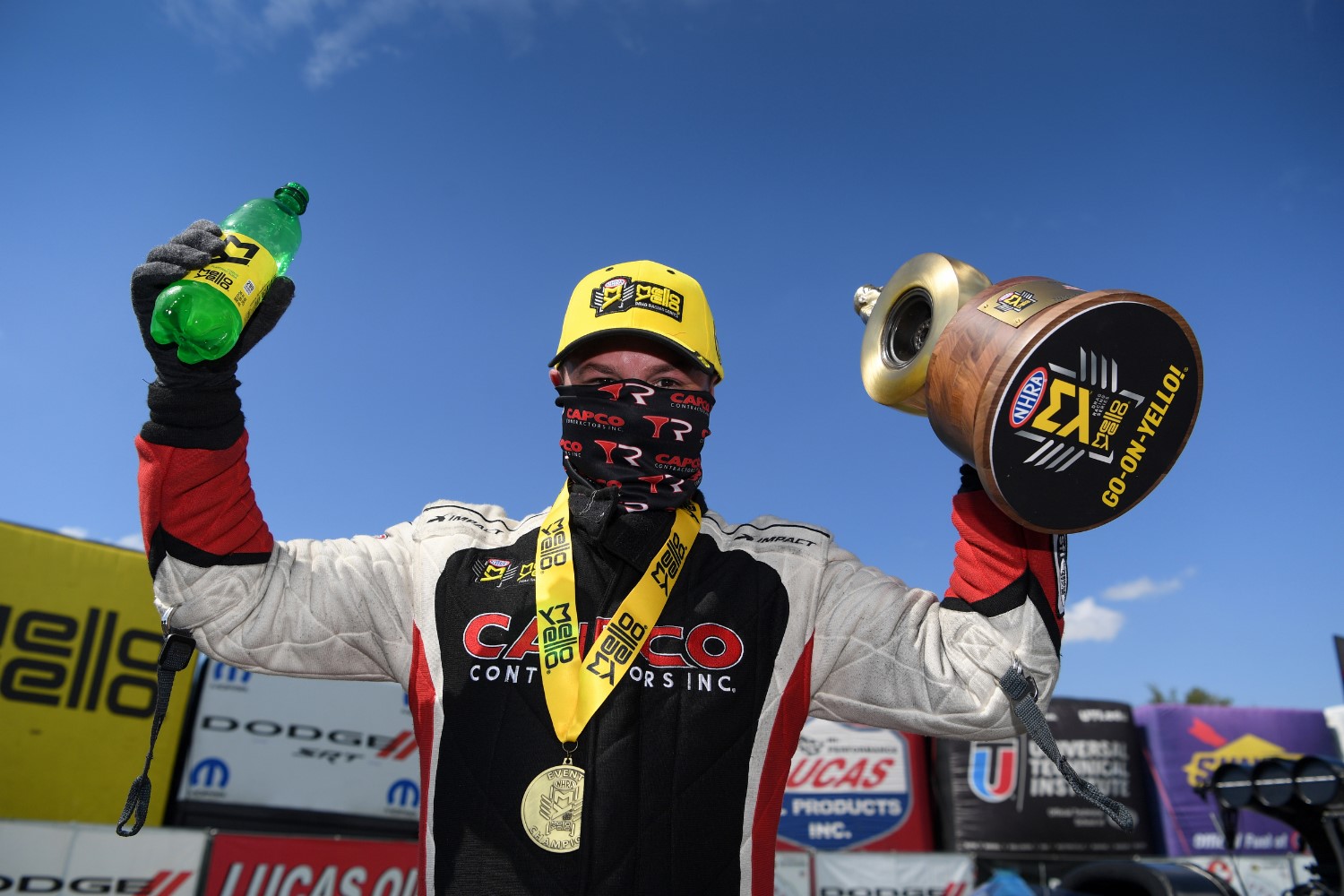 Steve Torrence wins in Top Fuel
Steve Torrence's drive to win a third-straight NHRA Mello Yello Top Fuel championship got a kick-start after he wheeled his Capco Contractors dragster to a final round victory over low qualifier Terry McMillen at the Dodge NHRA Indy Nationals presented by Pennzoil. The final numbers show that Torrence won on a hole shot, 4.27 to 4.15, but they don't begin to tell the whole story. McMillen, the low qualifier, was clearly distracted on the starting line and left nearly two-tenths behind Torrence. What looked like an easy win seemed less probable when the Capco dragster began to smoke the tires. What eventually turned into a pedal contest ended when McMillen's engine let go in a ball of fire just before the finish line.
For Torrence, the win was his 38th as a professional, and second this season following his win in Phoenix. Torrence was the No. 2 qualifier behind McMillen and took out Luigi Novelli, Justin Ashley, and Leah Pruett to reach the final round. After missing the Pomona season-opener, he's quickly gaining ground the points leaders.
"It's frustrating because I ain't the best at peddling one of these things but I try to do my job," said Torrence. "We go out there and it knocked the tires off and it kind of surprised me. I did the best I could do. Terry is a great guy and I love his little boy, Cameron but Cameron didn't want to talk to me today. He said, 'we're racing, I can't talk.' All the guys at Capco, thank you for supporting us. I got my head out of my butt and we're heading home with another Wally and it's just a blessing to be able to come out here and enjoy what we love doing. Maybe out country will overcome these obstacles, and we'll get back to normal real soon."
Capps gets back to winning ways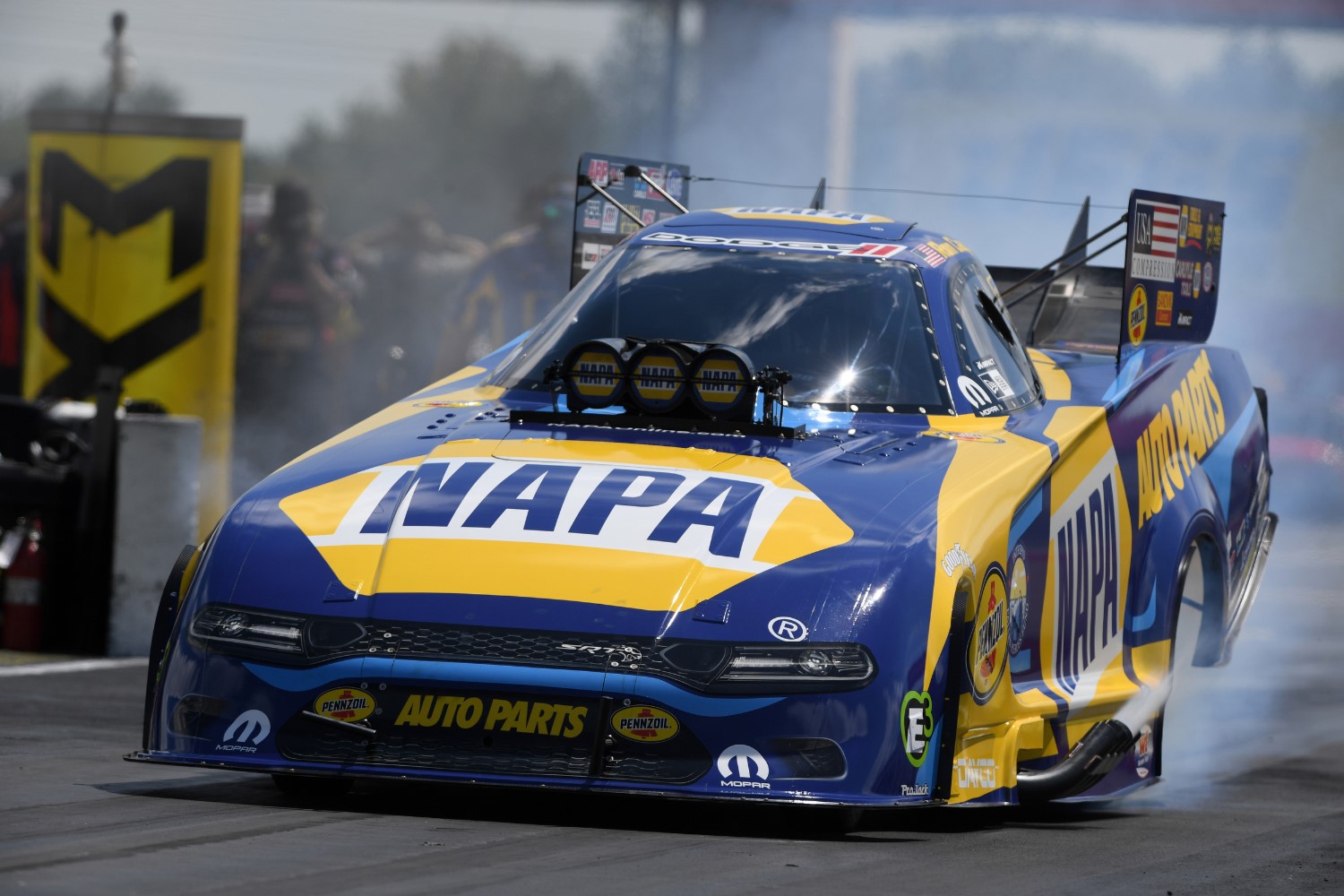 Ron Capps
There was only one track in Ron Capps' storied 26-year career where a national event victory had eluded him, but the Don Schumacher Racing (DSR) veteran Funny Car driver finally checked the historic Indianapolis drag strip off that list by driving his HEMI-powered Dodge Charger SRT Hellcat to the winner's circle at the Dodge NHRA Indy Nationals presented by Pennzoil.
"Leave it to 2020 to get my first win at Indianapolis," said Capps of the emotional and long-awaited victory. "For a driver to be able to say that he's won at every track on the (NHRA) circuit is pretty incredible and it shows you the talent that I've had around me since I started my career."
"For Dodge to jump in and to win a Dodge race for them and Pennzoil, means something," adds Capps. "This is hallowed ground and I really started to wonder if I would ever win here. It may not be the U.S. Nationals, but maybe we broke the yolk. This is still a place that has so many great memories and such a great rich history."
After qualifying third, Capps drove his HEMI-powered ride through eliminations with wins over Tim Wilkerson, Blake Alexander, and Bob Tasca, earning lane choice along the way over his final round opponent, J.R. Todd and then his first win of the year. It was Capps' first final round appearance since his 2019 win at Brainerd.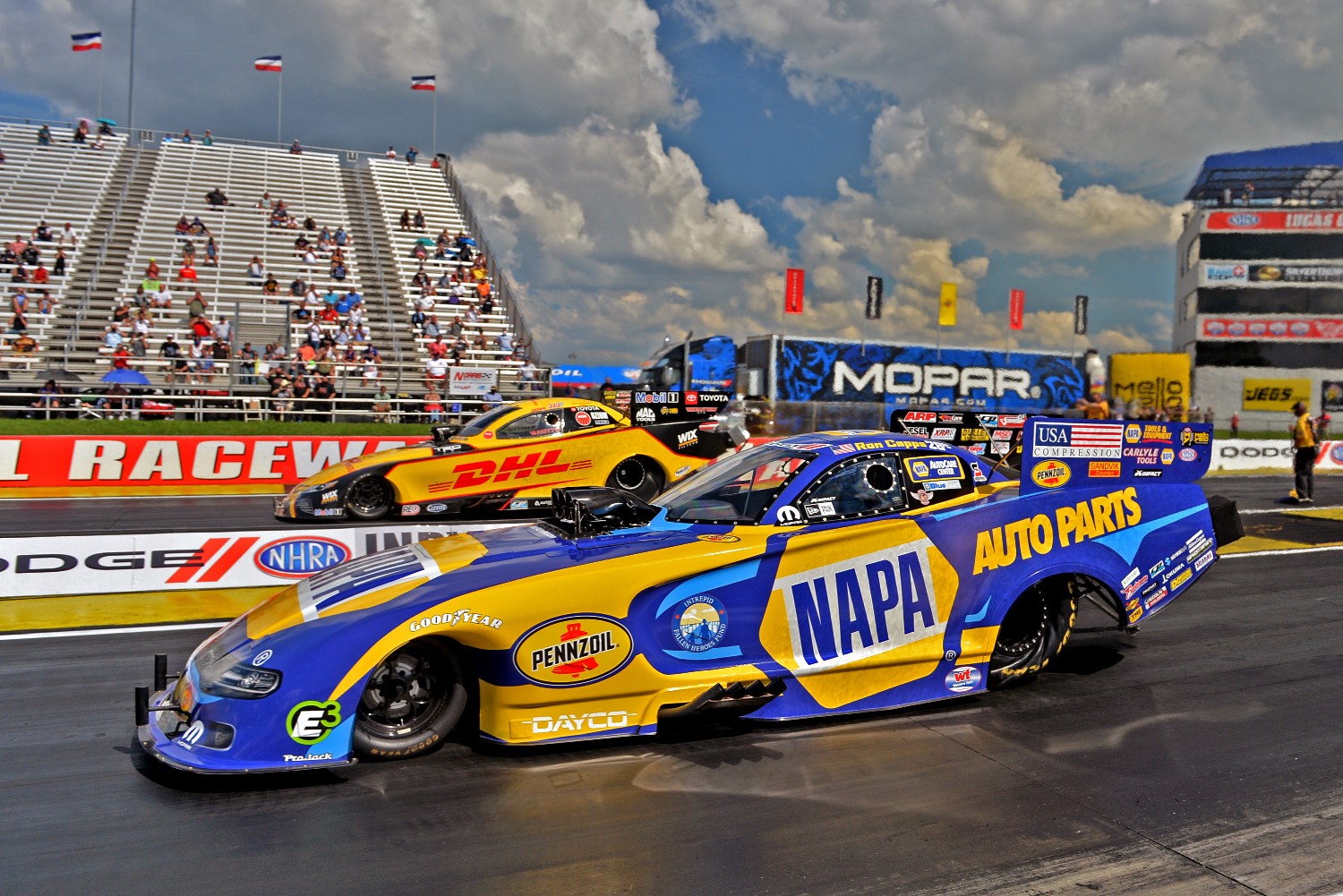 Capps squares off in the finals
Capps' 64th career Funny Car victory, second only to John Force (151) on the all-time win list, was earned at the third Indianapolis-based event since the National Hot Rod Association (NHRA) Mello Yello Drag Racing Series' returned to racing following a four-month hiatus due to the ongoing pandemic, and saw the 2016 world champion bounce back from a pair of disappointing first-round losses to DSR teammates in the first two events.
"The last two weeks were hard with these two races here," says Capps who jumped up two positions to fourth place in the championship points battle. "After the break, we came back and knew that we were on limited time to make a run in the points. We came back from the hiatus and I didn't get a lot of laps in the car. We didn't get to do a lot of testing like some other teams did. The one saving grace is that I've got a great team and (Rahn) Tobler gives me a great car so that helped. I just haven't had a lot of confidence mainly because we haven't had a lot of runs. We've been knocked out first round so this helped me a bunch. This was a feel good weekend on many fronts; my confidence is back and Tobler found his race car."
With the win, DSR extends a streak of nine consecutive final round appearances for one of their Dodge Charger SRT Hellcats that dates back to September 2019 (Charlotte), and puts the team just one victory away from an unprecedented NHRA milestone of 350 national event wins.
The DSR Dodge Charger foursome is also now 1-2-3-4 in the Funny Car championship points standings with each driver having earned a Wally (trophy) of their own this year to date (and one rain postponed final (Indy 2) between Matt Hagan and Jack Beckman yet to be run during the U.S. Nationals.)
Jeg Jr. schools Troy Jr. in historic all-Coughlin Pro Stock final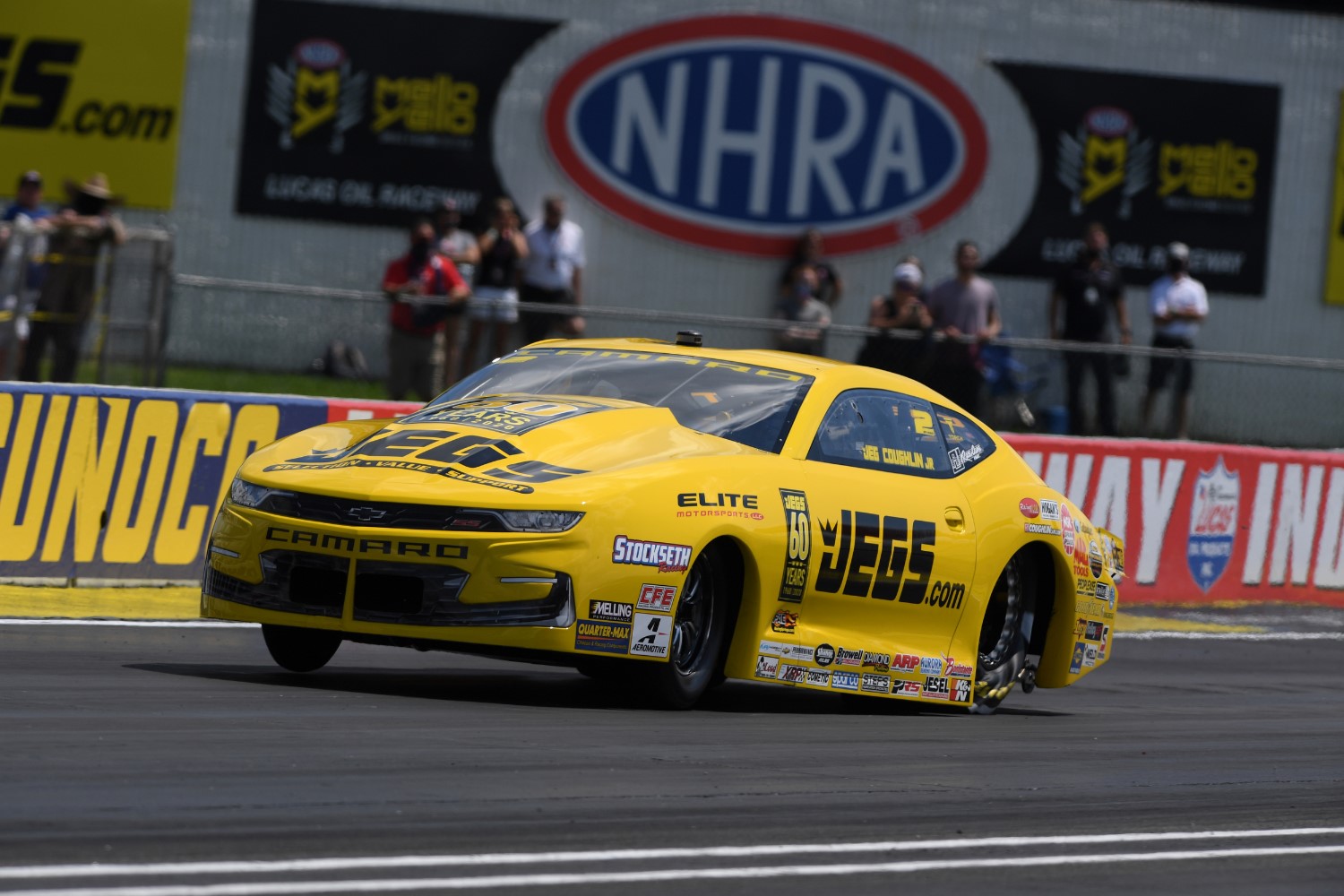 Jeg Coughlin Jr
As he prepares to leave the Pro Stock class at the end of the 2020 season, Jeg Coughlin Jr. has spent a lot of time grooming his nephew, Troy Jr., to be his successor in the factory hot rod class but the five-time champion clearly isn't yet ready to abdicate his throne. In a historic all-Coughlin final round, Jeg Jr. earned the victory at the Dodge NHRA Indy Nationals presented by Pennzoil with a 6.68 after Troy shook the tires and shut-off. It was Coughlin's 65th Pro Stock victory in his 114th final round. All told, Coughlin has 84 victories, tying him with Tony Schumacher for eighth-place on NHRA's all-time wins list.
"This is huge. Without question. Troy Jr. has been a student of this spot since he was a kid and I've loved having him come with us week in and week out whether we're pro racing or bracket racing he was always a study," said Coughlin. "I knew I'd have my hands full with him in the final without question. He's been knocking the Tree over, and we've been pretty good in old yeller behind us here. What a weekend."
Jeg Jr. opened the season with a win in Pomona and also drove to the final round of the Lucas Oil NHRA Summernationals last month in Indy. Driving his Elite Motorsports-powered Camaro, Coughlin came from the No. 3 qualifying spot to post victories against Val Smeland, Alex Laughlin, and longtime rival Greg Anderson. In that round, Coughlin drove to a 6.73 for the win after Anderson shook the tires and shut off in his Summit Camaro. Coughlin entered the latest Indy event as the points leader in Pro Stock and extended his advantage as he pursues a sixth Pro Stock title seventh overall.
Although Troy Jr. was appearing in just his second Pro Stock event, his drive to the final round should have surprised few people. Already a winner in Top Alcohol Dragster, Super Comp, and Super Gas, the third-generation racer has quickly adapted to Pro Stock, often regarded as the some of the most difficult and challenging cars to drive in all of drag racing. Driving the Elite team's Chevy-powered Mustang, Troy Jr. entered the field as the No. 13 qualifier and downed fellow rookie Kyle Koretsky in round one and the upset Erica Enders in the quarterfinals when the three-time world champion fouled by .004-second. Troy Jr. completed the all-Coughlin final round with a victory over Jason Line, who shook the tires and shut off.
Angelle Sampey gets career win No. 43 in Pro Stock Motorcycle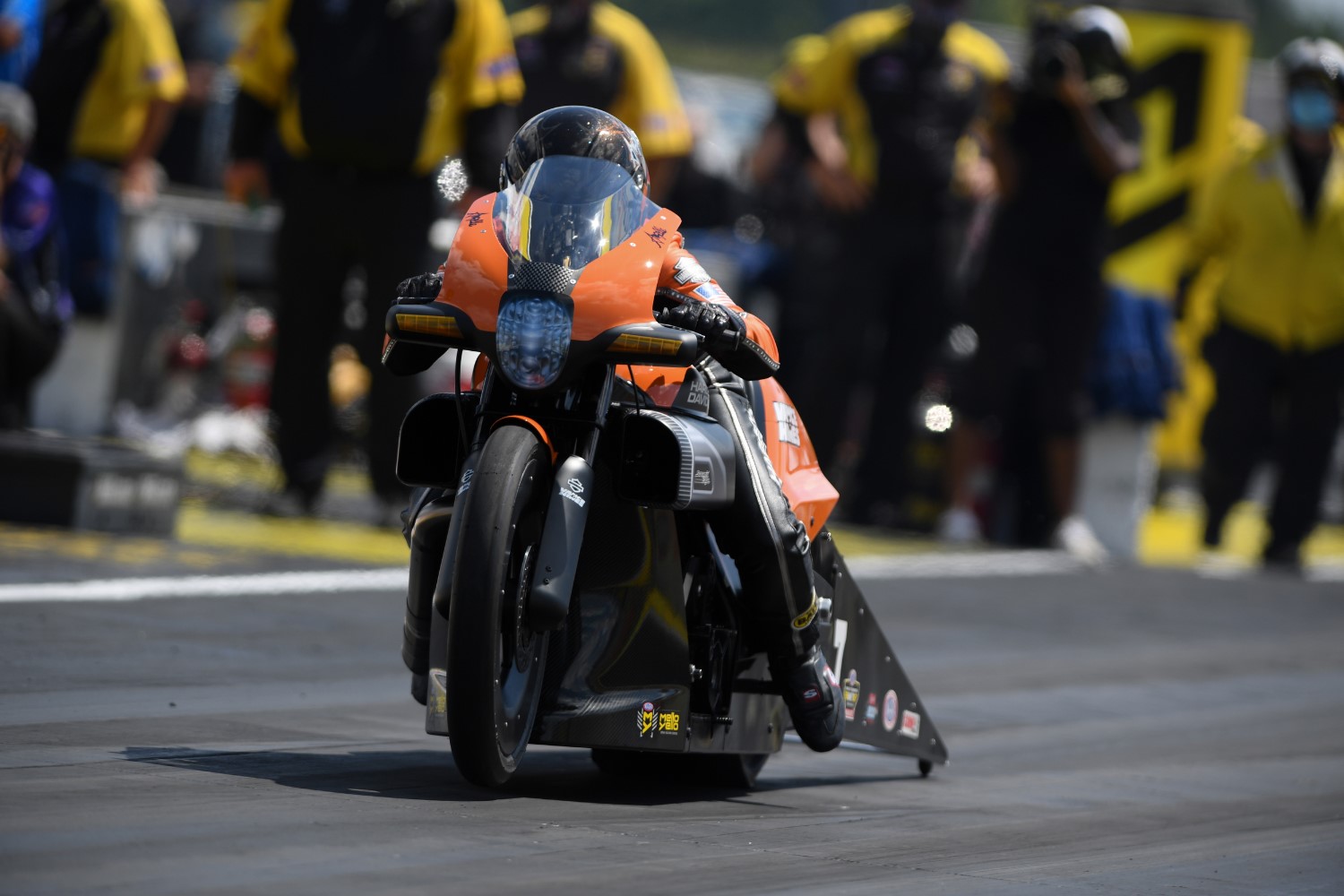 Angelle Sampey
Two days after celebrating her 50th birthday, Angelle Sampey gave herself a present she could have only dreamed of when she won her long awaited 43rd Pro Stock Motorcycle title at the Dodge NHRA Indy Nationals presented by Pennzoil. For Sampey, the win was her first since the 2016 Englishtown race and her first since joining the Vance & Hines factory Harley-Davidson team two seasons ago.
Paired with first-time finalist Chris Bostick, Sampey was nearly perfect off the starting line with a .001 reaction time and ran a 6.880 for the victory. Bostick was well behind with a 6.950, but the final wasn't without its share of drama. As Sampey's team prepared to fire up her Harley FXDR, they encountered a problem with the clutch cable. Quick thinking by the Vance & Hines crew got the problem fixed in time for her to make the run and the three-time world champion did the rest.
"I just tried to stay calm because I didn't know if they were going to get my bike fixed in time," said Sampey. "Chris was doing such a good job and luck seemed to be on his side. They got it fixed and we got it done. Thank you Vance & Hines and Harley-Davidson. I told you I was going to do it. I'll bet you thought I was dead but I'm not dead. Happy Birthday to me!"
After qualifying No. 4 with a 6.847, Sampey rode to race-day wins against Steve Johnson, who broke, as well as teammate Andrew Hines and Scotty Pollacheck. The final round was the 74th of career.
If not for Sampey's performance, the Dodge NHRA Indy Nationals might well have been the third-straight Pro Stock Motorcycle event to feature a first-time winner. Following Jianna Salinas' victory at the 2019 Auto Club Finals in Pomona and Ryan Oehler's recent win at the E3 Spark Plugs NHRA Nationals last month. Bostick nearly joined that group when he reached the first final of his career. Racing in his 22nd career Pro Stock Motorcycle race, Bostick, who leased a Suzuki from the Stoffer/Underdahl team for the event, nearly doubled his career win total of four rounds on Sunday by beating Angie Smith, Oehler, and Eddie Krawiec.
[adinserter name="GOOGLE AD"]