MotoGP: Petrucci victorious in Le Mans wet race stunner
Thought 2020 couldn't get any more dramatic?
Think again!
In a wet race at Le Mans, Danilo Petrucci (Ducati Team) emerged victorious in a tantalizing premier class encounter to beat reigning Moto2 World Champion Alex Marquez (Repsol Honda Team) by 1.2 seconds, the rookie, who everyone thought was a wanker, producing a wonderful ride to finish P2 from P18 on the grid.
Pol Espargaro (Red Bull KTM Factory Racing) claimed the final podium spot as the title race takes another twist. Fabio Quartararo (Petronas Yamaha SRT), Joan Mir (Team Suzuki Ecstar) and Maverick Viñales (Monster Energy Yamaha MotoGP) finished P9 and lower, with Andrea Dovizioso (Ducati Team) picking up P4.
How it Happened
Ahead of lights out, it was all eyes to the skies as dark gray clouds rolled in a threatened to throw a spanner in the works as the riders rolled around to the grid. The wind was picking up and so was the tension and nerves, no rain was forecast but it was turning into a real possibility and sure enough, five minutes before the race was scheduled to start, the rain started falling – heavily. Turn 8 and the bottom of the circuit was where it was starting to fall and then, it was teaming down on the start-finish straight. Understandably, the race was delayed as the riders headed back to the garage. Now, it was all hands on deck getting the second bikes warmed up and ready for a wet start, but how long would the rain last? Race Direction confirmed the Rain On Grid Procedure was in play: Quick Start procedure to follow at 13:04 local time, pit-lane exit open for 60 seconds ahead of a sighting lap, with a new race distance of 26 laps confirmed. If tensions weren't reaching boiling point already, they certainly were now.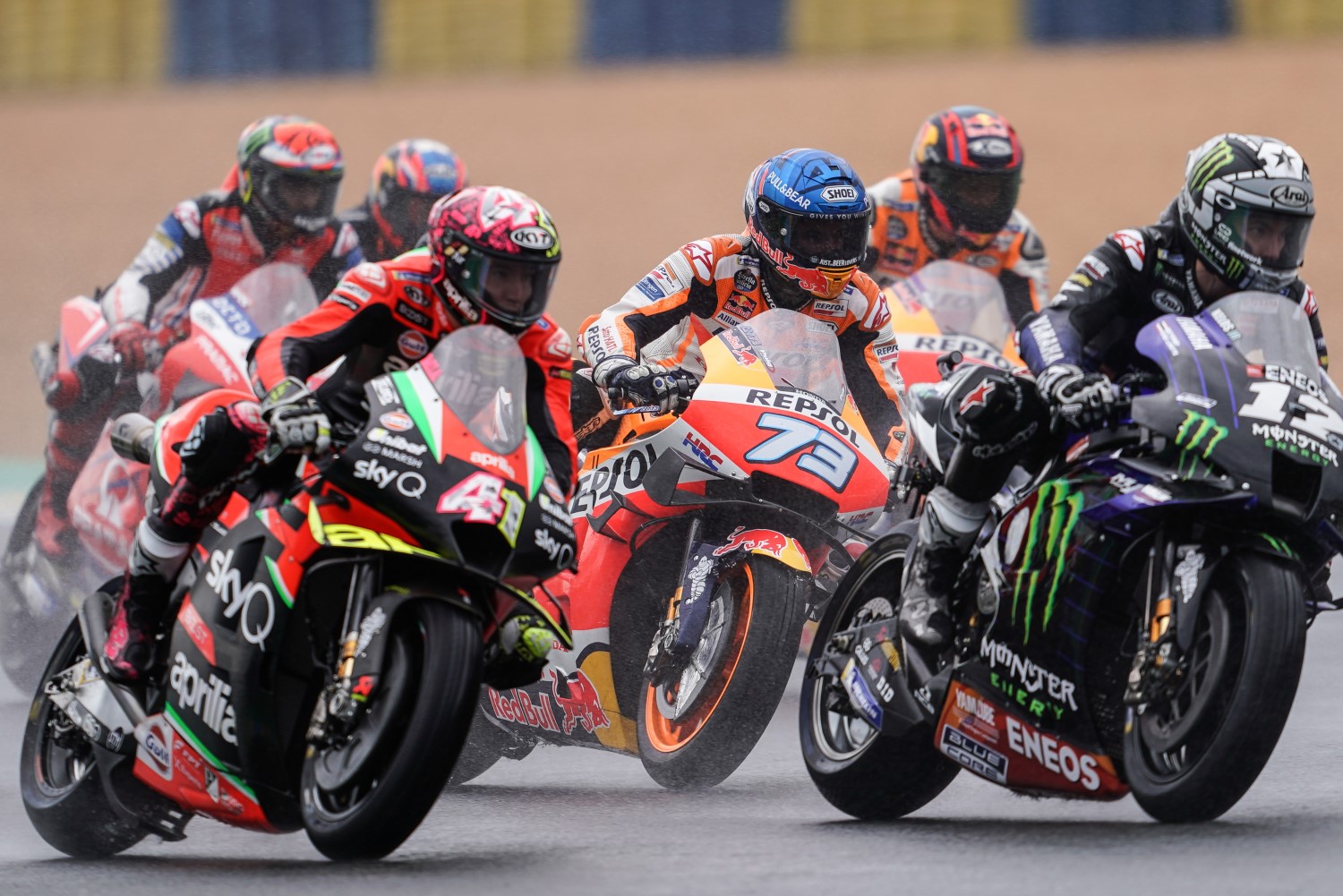 2020 didn't need another spanner in the works, but boy were we getting one in France. The race was declared wet and it was totally unfamiliar territory for the top two riders in the Championship – Quartararo and Mir. The duo didn't have experience in the wet conditions on a MotoGP™ machine – but they were about to. Pit-lane opened, the riders rumbled out on wet tires, and we were about to get going. A flag-to-flag race was a real possibility but at the start, it was properly wet. The riders were allowed to come in and swap to their dry-weather bike at any moment, and it was time for lights out as the rain stopped falling.
Miller got a lightning launch and so did Cal Crutchlow (LCR Honda Castrol) from the second row, but it was the Australian grabbed the holeshot as Valentino Rossi (Monster Energy Yamaha MotoGP) crashed at Turn 3 – race over for The Doctor who couldn't get his bike going. It was soon a Ducati 1-2-3 at the front as Petrucci and Dovizioso got the better of Quartararo on Lap 1 with Crutchlow slipping back to P6 on the opening lap. The three Ducatis immediately started to get into a great rhythm and it was Petrucci who led the way, with Dovizioso then getting the better of Miller as the Pramac rider ran wide at Turn 6.
Pol Espargaro (Red Bull KTM Factory Racing) was battling with Quartararo and eventually found a way past, with the Frenchman dropping back down the order at a rate of knots. Crutchlow and Bradley Smith (Aprilia Racing Team Gresini) maneuvered their way past Quartararo before Miguel Oliveira (Red Bull KTM Tech3) was through at Turn 13. Oliveira and Quartararo were wide though and shooting through was Alex Marquez, the Repsol Honda Team rider producing a stunning first opening few laps in his first wet MotoGP™ race to get into P8.
At the front, the Ducati trio were three seconds clear. Petrucci, Dovizioso and Miller were joined at the hip, but they needed to be careful. Alex Rins (Team Suzuki Ecstar) on the medium compound rain tires was half a second a lap quicker than the riders ahead, who were all on the soft rear rain tires. The gap was soon down to 1.5 seconds on Lap 8 and it was coming down rapidly, three successive fastest laps of the race were slammed in by Rins and with 18 laps to go, the Spaniard seemed to be the only rider able to take the fight to the three GP20s.
A quick Championship check with 18 laps to go saw Quartararo in P11 and Mir sitting P19, with Viñales and Franco Morbidelli (Petronas Yamaha SRT) also outside the points – a golden opportunity for Dovizioso and Miller, as well as the rest to get themselves right back in the 2020 title hunt. The rain was starting to fall again and now, fifth place Pol Espargaro was the fastest man on track. The KTM star was 2.4 seconds behind Rins who in turn was 1.5 seconds off the Ducatis, with Espargaro then setting another fastest lap of the race, but it was only a couple of tenths quicker than race leader Petrucci.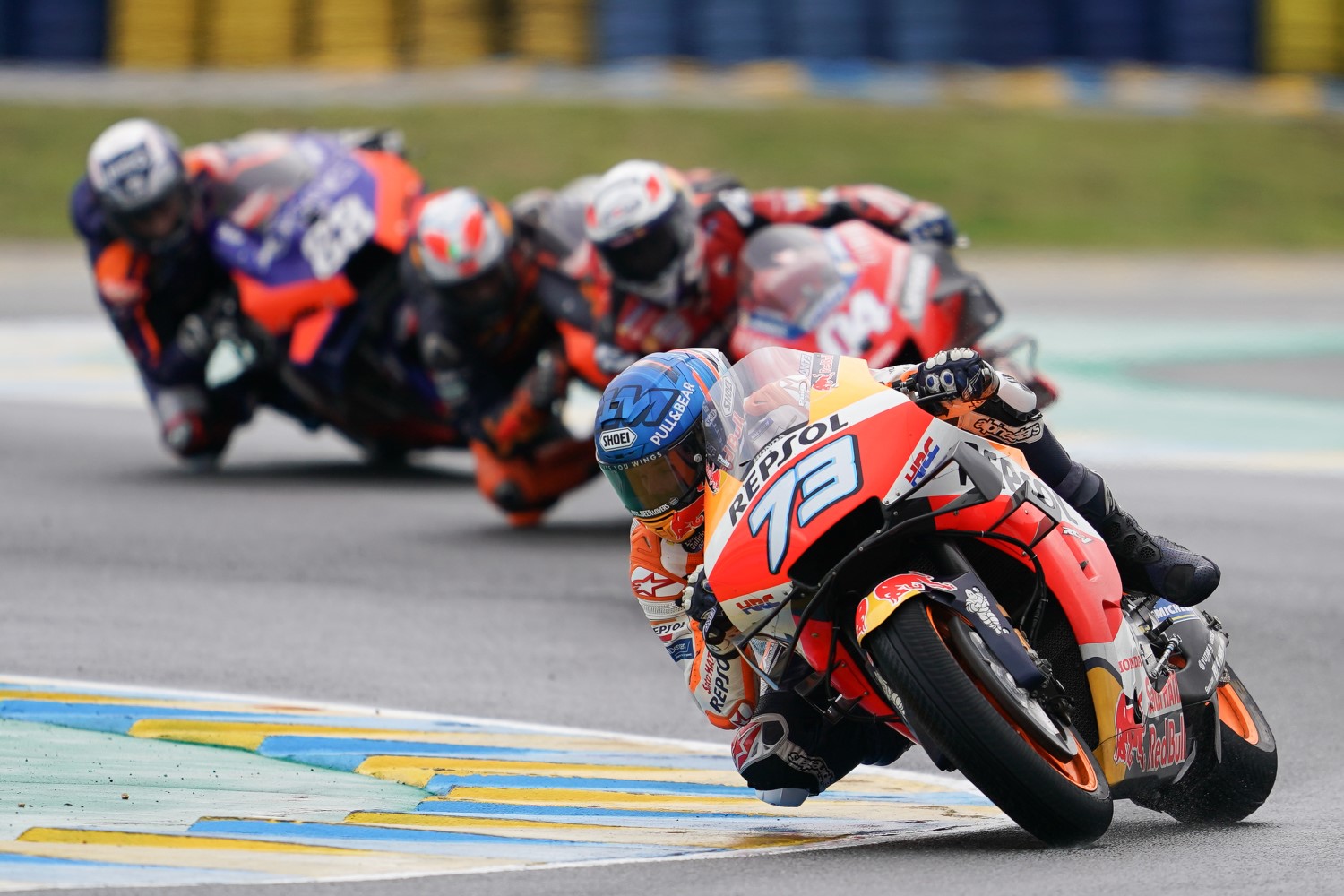 On Lap 11, Rins was then into the 1:44s for the first time. A 1:44.959 was eight tenths quicker than Petrucci and the GSX-RR rider was within touching distance of Miller's rear wheel. Lap 13 – half race distance – and Rins made his move, Turn 7 was the place but he was slightly wide to allow Miller through. The latter had a look over his shoulder, saw a face full of Suzuki blue and it was now a four-rider fight for victory with 13 laps to go. Further back, Mir was finding pace and was in a battle with Morbidelli, Viñales and Aleix Espargaro (Aprilia Racing Team Gresini), with Quartararo not far up to the road from Mir in P11.
With 12 to go, Rins made a move on Miller stick. Turn 3 was the place but Miller was back up to P3 at Turn 8, with Pol Espargaro and Marquez closing in – the reigning Moto2™ World Champion the fastest man on the circuit. The 73 was 1.2 seconds faster than race leader Petrucci and with 11 laps to go, the top eight were split by 4.3 seconds, Crutchlow and Oliveira gaining pace too. With 10 to go, Oliveira was then the fastest man in the top eight – four seconds exactly covering the fastest riders on track.
A change of the lead. Dovizioso picked up the baton to lead in France heading into Turn 3. Petrucci was back at Turn 8 but Dovizioso dived underneath. Breathless stuff at Le Mans and at Turn 9, it was chaos. Rins was late on the brakes and was up the inside of all the Ducatis, Dovi lost out and dropped to P4, Miller was wide, Rins was P2 and Petrucci was back into P1. On the next lap at Turn 10 again, cruel luck for Miller as his Ducati started blowing smoke – the Aussie was out with eight laps to go. Moments later at Turn 3, Rins was then down at the notorious Turn 3 as Suzuki's dreams of a win at Le Mans ended.
The drama, which also saw Crutchlow crash, left Petrucci with a healthy advantage and with six to go, the Italian was quicker than anybody on track. Petrucci's lead had risen to 2.5 seconds with Dovizioso second, but he was getting hounded by Marquez – the rookie was now P3! Pol Espargaro and Oliveira were also right with Dovizioso and Marquez, as seventh place Johann Zarco (Esponsorama Racing) set the fastest lap of the race. Unbelievable scenes at Le Mans and with five laps to go, Dovizioso started to reel in teammate Petrucci.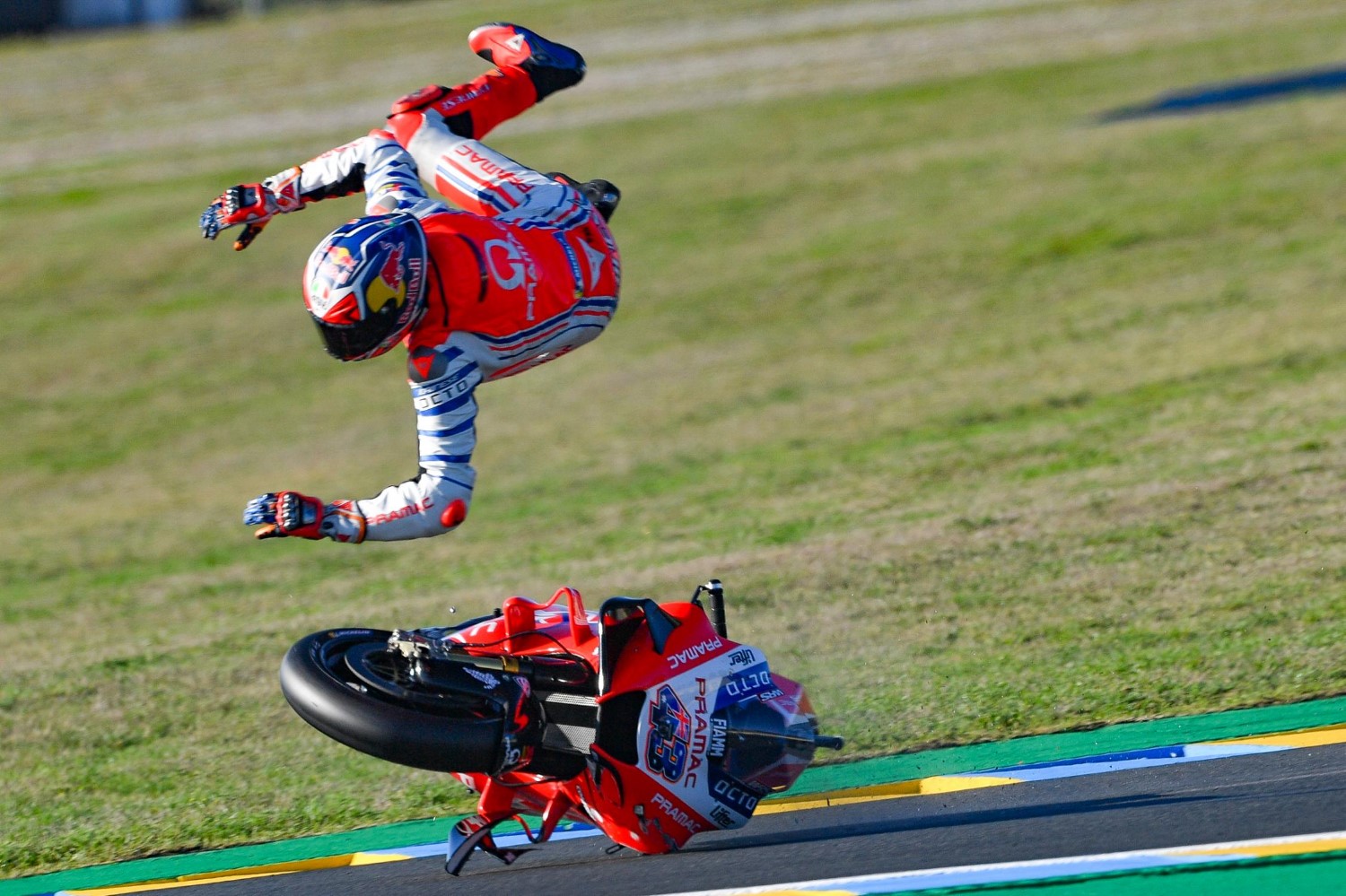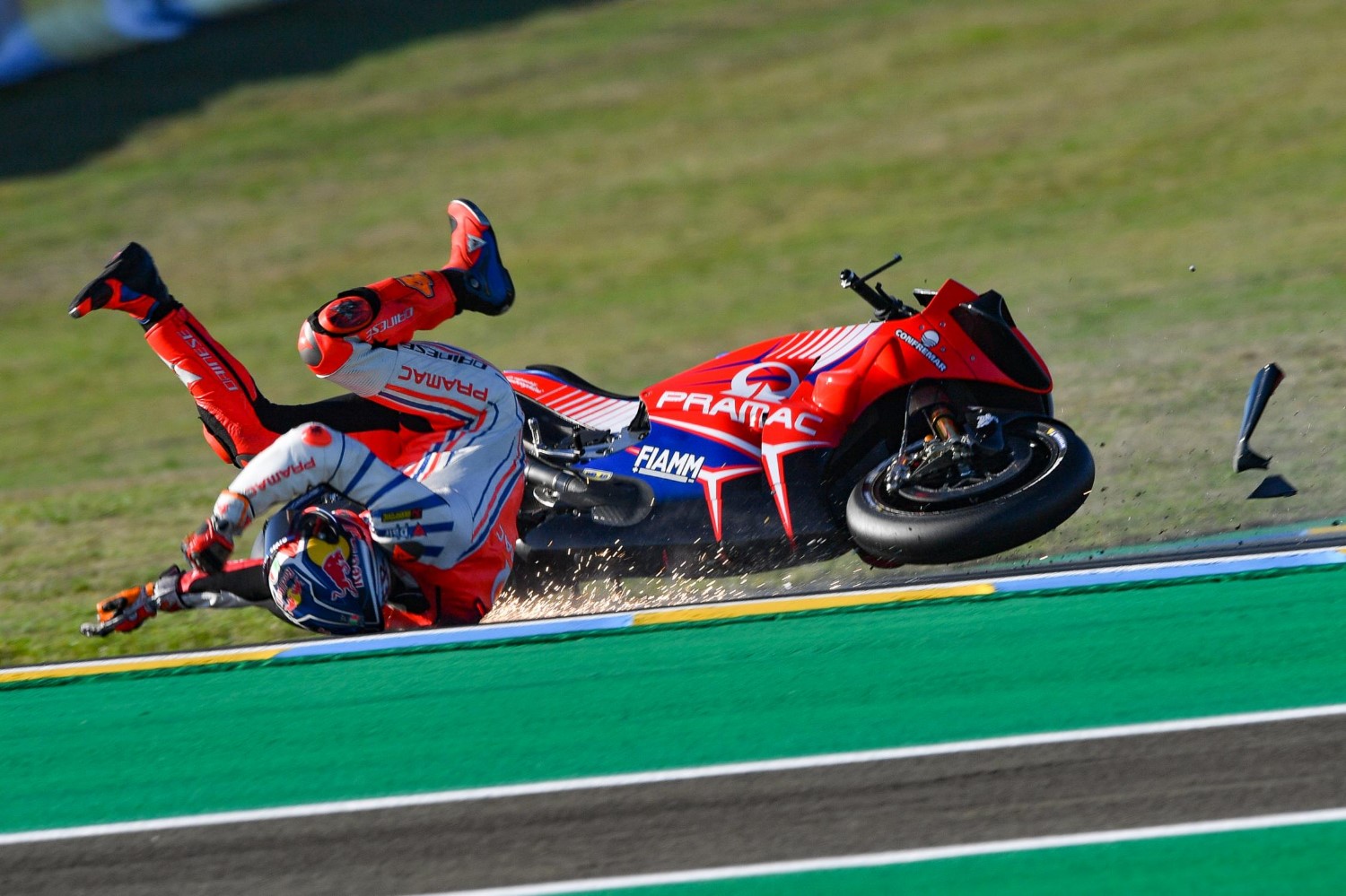 Four to go, the gap was 1.7 and that was soon 1.3 seconds. Dovizioso, Marquez, Pol Espargaro and Oliveira were all catching the number 9 Bologna bullet. Three to go, Marquez was up to P2 as Dovizioso left a small gap down into Turn 6, Petrucci's gap up to 1.7 seconds and it looked like Dovizioso was seemingly out of grip – Espargaro was through at Turn 3 with two to go and Oliveira was swarming. Dovi was a sitting duck and Oliveira was through, Dovi defenceless and all this was aiding 8th place Quartararo in terms of the title race. Dovi was back through though as the riders headed onto the final lap of a magnificent French GP.
Marquez was hunting Petrucci, the gap 1.2 seconds. Pol Espargaro was eying P2 and Dovi was somehow holding off Oliveira. Halfway round, Petrucci was holding strong and it was his to lose. 'Petrux' made no mistake to take his second MotoGP™ victory, silencing his critics after a tough year. The first Ducati rider to win at Le Mans and his third successive podium at the layout, making it seven winners in nine races. Marquez held off Espargaro as the Spaniards completed the podium, Marquez' ride was simply stunning in his first wet MotoGP™ race. It was his 39th career podium and first in the premier class, with Espargaro more than chuffed to claim his fourth premier class rostrum – number three of the season.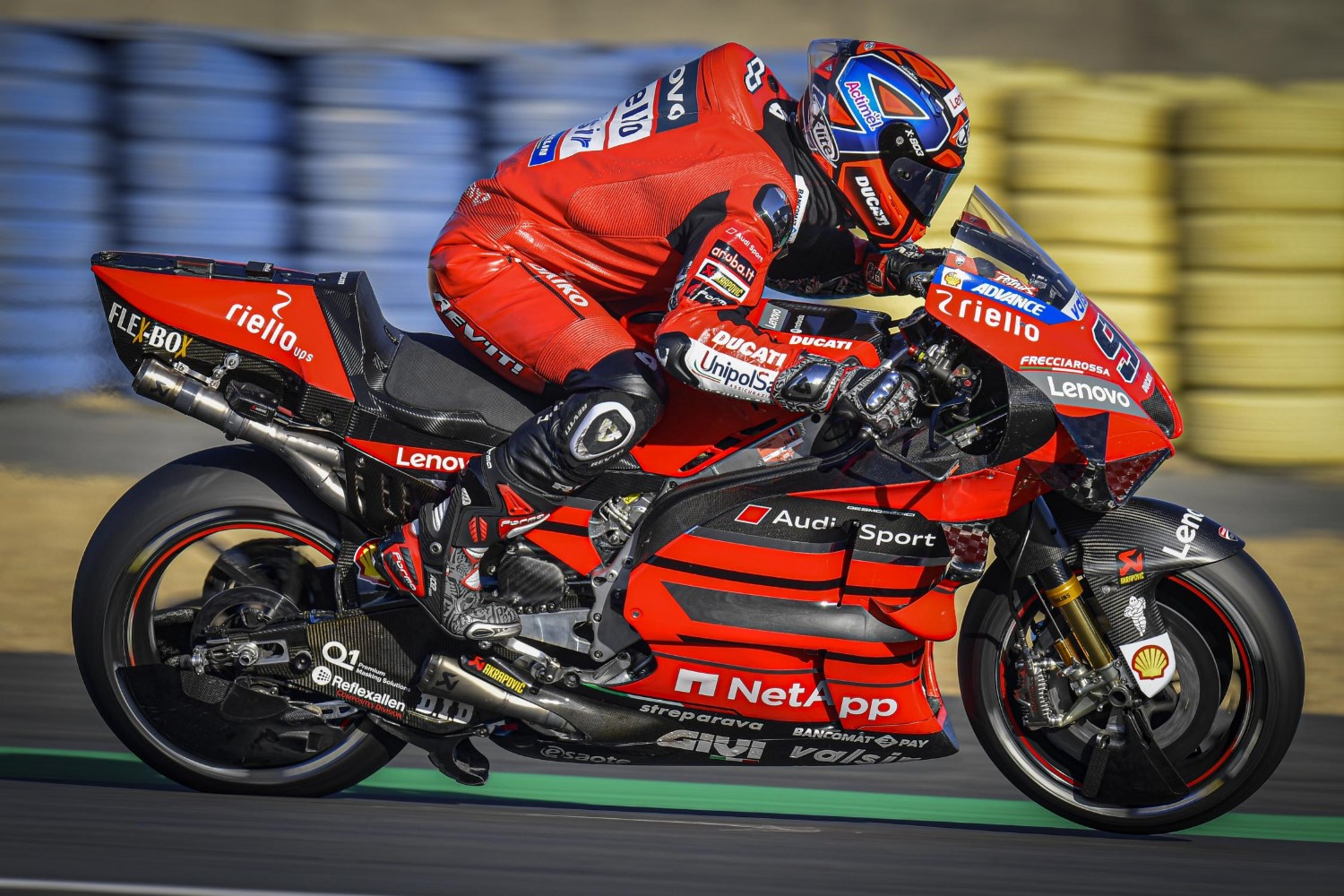 Dovizioso just didn't have the rear grip to hold onto a podium place in the latter stages. However, Dovi gains ground in the Championship chase to move above Viñales and into P3 – 18 points off Quartararo. Zarco showed awesome late race pace to get the better of Oliveira on the final lap, P5 for the Frenchman is a great result, Oliveira's P6 also a very solid ride. Takaaki Nakagami (LCR Honda Idemitsu) took P7 to keep his 100% 2020 top 10 record intact, the Japanese rider is now fifth in the World Champion and by no means out of the equation – 34 points separate the Honda rider and Quartararo.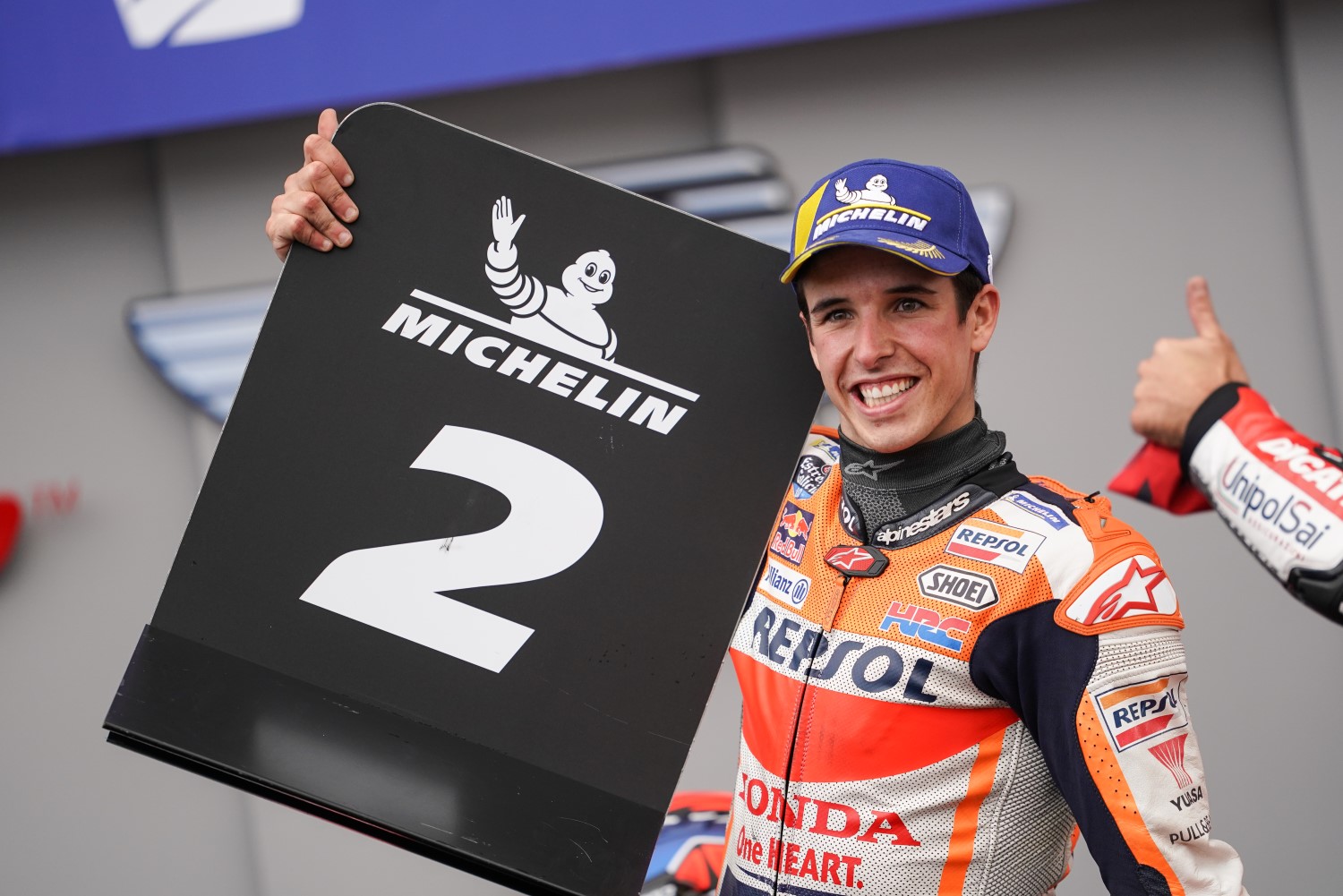 The experienced Stefan Bradl (Repsol Honda Team) crossed the line to take a commendable P8, just over a second ahead of Quartararo. Despite a P9 finish, the home hero extends his lead in the overall standings after a last lap battle with Mir and Viñales. Mir got the better of Quartararo at Turn 8 but the latter then got his title rival back at Turn 9. Viñales then passed Mir as the top three in the Championship fought it out for P9, P10 and P11, with Quartararo – crucially – picking up that P9. Viñales and Mir were right behind El Diablo and took the chequered flag in P10 and P11 respectively, as the top four in the Championship now sit just 20 points apart heading to Aragon.
Race Results
| | | | | | | | |
| --- | --- | --- | --- | --- | --- | --- | --- |
| Pos. | Points | Num. | Rider | Nation | Team | Bike | Gap |
| 1 | 25 | 9 | Danilo PETRUCCI | ITA | Ducati Team | Ducati | +0.000s |
| 2 | 20 | 73 | Alex MARQUEZ | SPA | Repsol Honda Team | Honda | +1.273 |
| 3 | 16 | 44 | Pol ESPARGARO | SPA | Red Bull KTM Factory Racing | KTM | +1.711 |
| 4 | 13 | 4 | Andrea DOVIZIOSO | ITA | Ducati Team | Ducati | +3.911 |
| 5 | 11 | 5 | Johann ZARCO | FRA | Esponsorama Racing | Ducati | +4.310 |
| 6 | 10 | 88 | Miguel OLIVEIRA | POR | Red Bull KTM Tech 3 | KTM | +4.466 |
| 7 | 9 | 30 | Takaaki NAKAGAMI | JPN | LCR Honda IDEMITSU | Honda | +5.921 |
| 8 | 8 | 6 | Stefan BRADL | GER | Repsol Honda Team | Honda | +15.597 |
| 9 | 7 | 20 | Fabio QUARTARARO | FRA | Petronas Yamaha SRT | Yamaha | +16.687 |
| 10 | 6 | 12 | Maverick VIÑALES | SPA | Monster Energy Yamaha MotoGP | Yamaha | +16.895 |
| 11 | 5 | 36 | Joan MIR | SPA | Team SUZUKI ECSTAR | Suzuki | +16.980 |
| 12 | 4 | 33 | Brad BINDER | RSA | Red Bull KTM Factory Racing | KTM | +27.321 |
| 13 | 3 | 63 | Francesco BAGNAIA | ITA | Pramac Racing | Ducati | +33.351 |
| 14 | 2 | 41 | Aleix ESPARGARO | SPA | Aprilia Racing Team Gresini | Aprilia | +39.176 |
| 15 | 1 | 27 | Iker LECUONA | SPA | Red Bull KTM Tech 3 | KTM | +51.087 |
| DNF | 0 | 42 | Alex RINS | SPA | Team SUZUKI ECSTAR | Suzuki | +1'14.190 |
| DNF | 0 | 43 | Jack MILLER | AUS | Pramac Racing | Ducati | 7 Laps |
| DNF | 0 | 21 | Franco MORBIDELLI | ITA | Petronas Yamaha SRT | Yamaha | 8 Laps |
| DNF | 0 | 35 | Cal CRUTCHLOW | GBR | LCR Honda CASTROL | Honda | 9 Laps |
| DNF | 0 | 53 | Tito RABAT | SPA | Esponsorama Racing | Ducati | 12 Laps |
| DNF | 0 | 38 | Bradley SMITH | GBR | Aprilia Racing Team Gresini | Aprilia | 18 Laps |