Dakar Stage 6: Sainz wins in cars, Barreda in Bikes
Carlos Sainz (shown above) has achieved his second victory of the year on completion of the day's special finishing near Ha'il. The Spaniard was the quickest driver at the first intermediate point and went on to open the gap over his pursuers who were not able to catch him. All in all, a fine performance from the Mini driver!
Bikes
Joan Barreda was once again triumphant on completion of the sixth special. The HRC rider wins for the third time this year, just 13 seconds in front of the Yahama ridden by Ross Branch and 53'' ahead of Daniel Sanders' KTM.
Quads
Alexandre Giroud has held steady throughout the special to keep Giovanni Enrico at a distance and grab his third victory of the year, including the prologue. The Frenchman has finished 34'' in front of the Chilean, but has only regained two minutes over Nicolás Cavigliasso, third on the day's special, and now trails the Argentinean by 45'22''.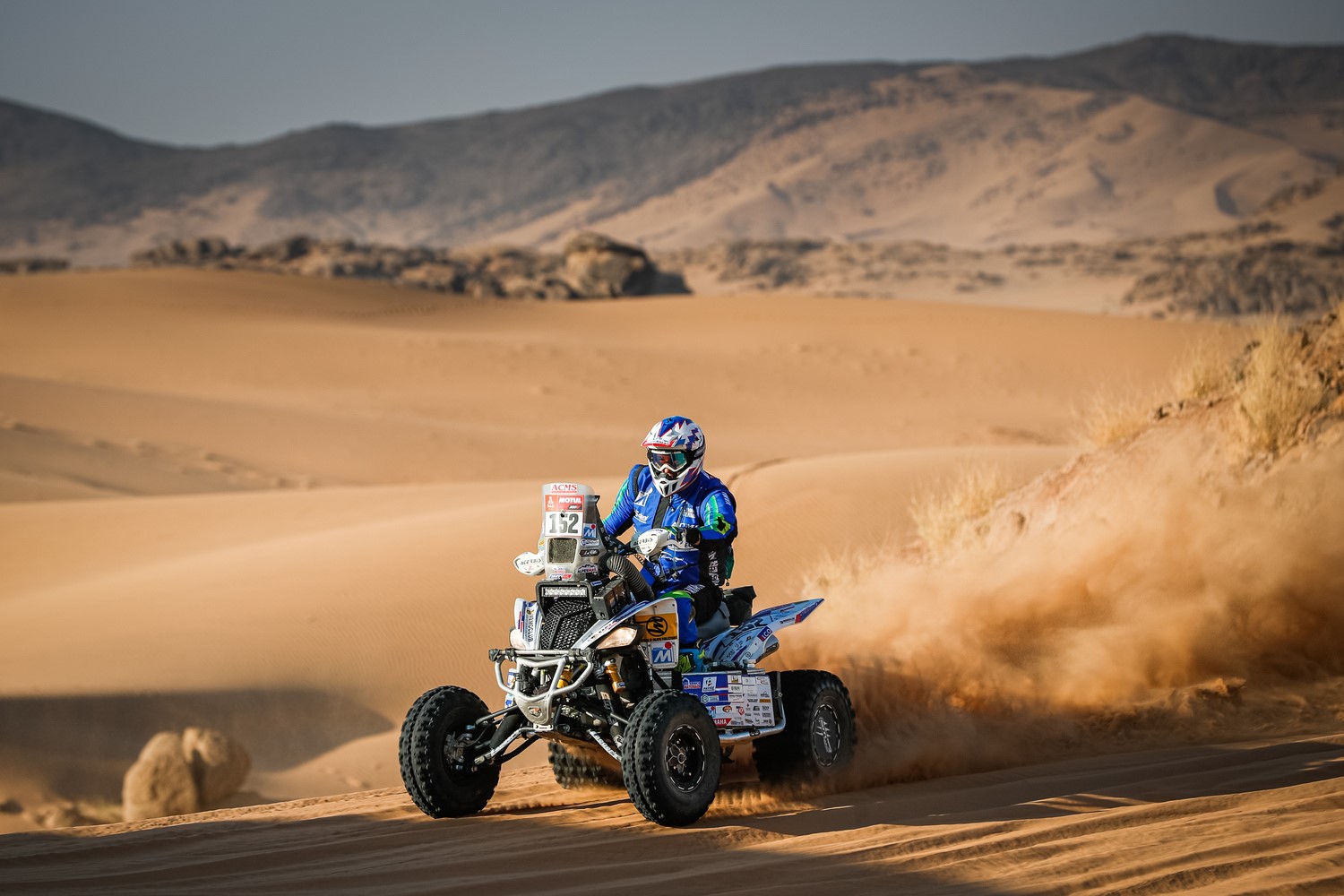 Trucks
Airat Mardeev has won the sixth special the day before the rest day and the Russian has given Kamaz their 150th victory on the Dakar! He has beaten his team-mates Dmitry Sotnikov and Anton Shibalov to make it a 100% Kamaz podium on the stage.
Overall Standings after Stage 6 (Top-10)
Cars
| | | | | | |
| --- | --- | --- | --- | --- | --- |
| Pos | No. | Driver/Nat. | Brand | Time | Gap |
| 1 | 300 | C. SAINZ ESP | MINI | 03:38:27 | 0:00:00 |
| 2 | 303 | Y. AL RAJHI SAU | TOYOTA | 03:42:30 | 0:04:03 |
| 3 | 301 | N. AL-ATTIYAH QAT | TOYOTA | 03:45:43 | 0:07:16 |
| 4 | 302 | S. PETERHANSEL FRA | MINI | 03:46:01 | 0:07:34 |
| 5 | 307 | J. PRZYGONSKI POL | TOYOTA | 03:52:48 | 0:14:21 |
| 6 | 339 | B. BARAGWANATH ZAF | CENTURY | 03:57:43 | 0:19:16 |
| 7 | 311 | N. ROMA ESP | PRODRIVE | 03:58:00 | 0:19:33 |
| 8 | 304 | G. DE VILLIERS ZAF | TOYOTA | 04:00:47 | 0:22:20 |
| 9 | 314 | C. DESPRES FRA | PEUGEOT | 04:04:12 | 0:25:45 |
| 10 | 317 | V. VASILYEV RUS | MINI | 04:04:38 | 0:26:11 |
Bikes
| | | | | | |
| --- | --- | --- | --- | --- | --- |
| Pos | No. | Rider/Nat. | Brand | Time | Gap |
| 1 | 088 | J. BARREDA ESP | HONDA | 03:45:27 | 0:00:00 |
| 2 | 018 | R. BRANCH BWA | YAMAHA | 03:45:40 | 0:00:13 |
| 3 | 021 | D. SANDERS AUS | KTM | 03:46:20 | 0:00:53 |
| 4 | 001 | R. BRABEC USA | HONDA | 03:47:51 | 0:02:24 |
| 5 | 052 | M. WALKNER AUT | KTM | 03:48:41 | 0:03:14 |
| 6 | 042 | A. VAN BEVEREN FRA | YAMAHA | 03:49:00 | 0:03:33 |
| 7 | 003 | T. PRICE AUS | KTM | 03:49:21 | 0:03:54 |
| 8 | 027 | J. RODRIGUES PRT | HERO | 03:50:02 | 0:04:35 |
| 9 | 005 | S. SUNDERLAND GBR | KTM | 03:51:21 | 0:05:54 |
| 10 | 002 | P. QUINTANILLA CHL | HUSQVARNA | 03:51:55 | 0:06:28 |
Quads
| | | | | | |
| --- | --- | --- | --- | --- | --- |
| Pos | No. | Rider/Nat. | Brand | Time | Gap |
| 1 | 152 | A. GIROUD FRA | YAMAHA | 04:50:24 | 0:00:00 |
| 2 | 159 | G. ENRICO CHL | YAMAHA | 04:50:58 | 0:00:34 |
| 3 | 150 | N. CAVIGLIASSO ARG | YAMAHA | 04:52:25 | 0:02:01 |
| 4 | 154 | M. ANDUJAR ARG | YAMAHA | 05:01:55 | 0:11:31 |
| 5 | 163 | P. COPETTI USA | YAMAHA | 05:20:35 | 0:30:11 |
| 6 | 155 | K. WISNIEWSKI POL | YAMAHA | 05:23:21 | 0:32:57 |
| 7 | 157 | R. DUTU FRA | YAMAHA | 05:24:08 | 0:33:44 |
| 8 | 153 | T. KUBIENA CZE | YAMAHA | 05:26:10 | 0:35:46 |
| 9 | 174 | T. VINGUT ESP | YAMAHA | 05:30:32 | 0:40:08 |
| 10 | 168 | I. PEDEMONTE CHL | YAMAHA | 05:37:30 | 0:47:06 |
Trucks
| | | | | | |
| --- | --- | --- | --- | --- | --- |
| Pos | No. | Driver/Nat. | Brand | Time | Gap |
| 1 | 509 | A. MARDEEV RUS | KAMAZ | 04:08:52 | 0:00:00 |
| 2 | 507 | D. SOTNIKOV RUS | KAMAZ | 04:10:00 | 0:01:08 |
| 3 | 501 | A. SHIBALOV RUS | KAMAZ | 04:13:41 | 0:04:49 |
| 4 | 504 | A. LOPRAIS CZE | PRAGA | 04:14:35 | 0:05:43 |
| 5 | 505 | A. VISHNEUSKI BLR | MAZ | 04:14:42 | 0:05:50 |
| 6 | 500 | A. KARGINOV RUS | KAMAZ | 04:15:44 | 0:06:52 |
| 7 | 503 | M. MACIK CZE | IVECO | 04:21:22 | 0:12:30 |
| 8 | 506 | M. VAN DEN BRINK NLD | RENAULT | 04:29:16 | 0:20:24 |
| 9 | 515 | P. DE BAAR NLD | RENAULT | 04:41:45 | 0:32:53 |
| 10 | 511 | G. HUZINK NLD | RENAULT | 04:48:08 | 0:39:16 |