F1: Verstappen leads opening practice over two Ferraris
Red Bull Honda F1 point leader Max Verstappen led opening practice for the Azerbaijan GP in Baku by 0.043s over Ferrari driver Charles Leclerc.
Verstappen's lap of 1m43.184s was 0.337s faster than third quick Carlos Sainz Jr. in the 2nd Ferrari while Verstappen's Red Bull teammate Sergio Perez slotted in 4th 0.446s back.
Daniel Ricciardo rounded out the top-5 for McLaren.
At the end of the session Haas rookie Nikita Mazepin spun into the barriers. "Yeah sorry, my fault," radios the Russian as the cameras pick him up as he disentangles himself from the wall and starts to creep back to the pits. Replays show that he spun on the exit of the corner, slowly sliding across the run-off area to collide with the barriers rear-first.
And as soon as Mazepin made it to the pits, his Haas teammate Mick Schumacher joins in with some off-track action of his own. He ran straight on at Turn 4, could not quite manage a handbrake turn and found himself beached against the wall.
Not to be outdone, Lando Norris and Valtteri Bottas found themselves in the runoff area.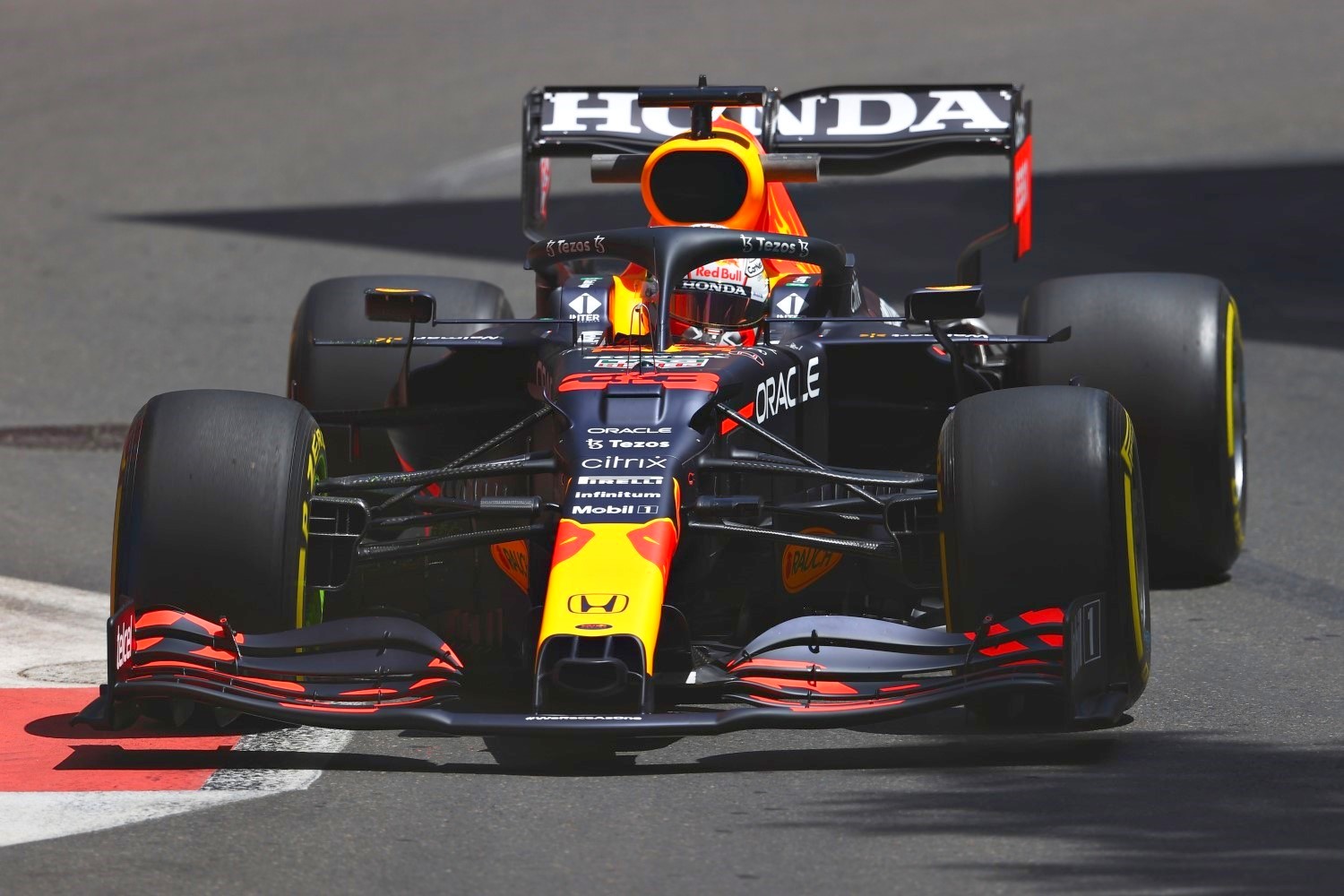 The other driver in the top 10 who didn't get much of a mention is Fernando Alonso. He was sounding quietly confident yesterday, believing his comeback is going better than expected. P9 there, comfortably ahead of his teammate – can the Spaniard really announce himself as being back to his best this weekend?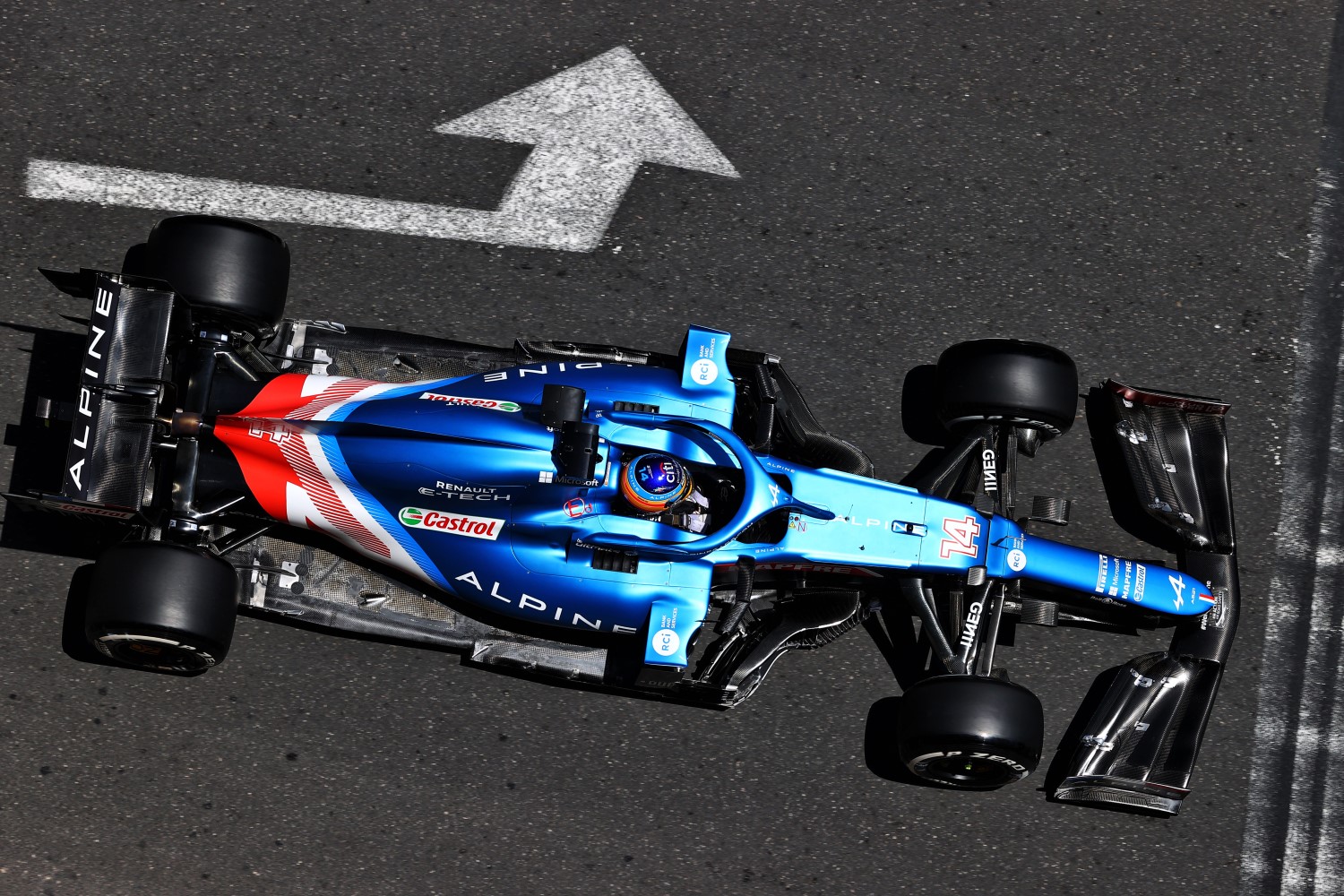 Practice 1 Results
| | | | | | | |
| --- | --- | --- | --- | --- | --- | --- |
| POS | NO | DRIVER | CAR | TIME | GAP | LAPS |
| 1 | 33 | Max Verstappen | Red Bull Racing Honda | 1:43.184 | +0.000s | 19 |
| 2 | 16 | Charles Leclerc | Ferrari | 1:43.227 | +0.043s | 20 |
| 3 | 55 | Carlos Sainz | Ferrari | 1:43.521 | +0.337s | 20 |
| 4 | 11 | Sergio Perez | Red Bull Racing Honda | 1:43.630 | +0.446s | 17 |
| 5 | 3 | Daniel Ricciardo | McLaren Mercedes | 1:43.732 | +0.548s | 25 |
| 6 | 10 | Pierre Gasly | AlphaTauri Honda | 1:43.757 | +0.573s | 23 |
| 7 | 44 | Lewis Hamilton | Mercedes | 1:43.893 | +0.709s | 20 |
| 8 | 4 | Lando Norris | McLaren Mercedes | 1:43.996 | +0.812s | 20 |
| 9 | 14 | Fernando Alonso | Alpine Renault | 1:44.777 | +1.593s | 25 |
| 10 | 77 | Valtteri Bottas | Mercedes | 1:44.891 | +1.707s | 20 |
| 11 | 7 | Kimi Räikkönen | Alfa Romeo Racing Ferrari | 1:44.943 | +1.759s | 18 |
| 12 | 99 | Antonio Giovinazzi | Alfa Romeo Racing Ferrari | 1:45.092 | +1.908s | 20 |
| 13 | 18 | Lance Stroll | Aston Martin Mercedes | 1:45.234 | +2.050s | 23 |
| 14 | 22 | Yuki Tsunoda | AlphaTauri Honda | 1:45.384 | +2.200s | 25 |
| 15 | 5 | Sebastian Vettel | Aston Martin Mercedes | 1:45.415 | +2.231s | 24 |
| 16 | 31 | Esteban Ocon | Alpine Renault | 1:45.446 | +2.262s | 23 |
| 17 | 63 | George Russell | Williams Mercedes | 1:45.452 | +2.268s | 24 |
| 18 | 6 | Nicholas Latifi | Williams Mercedes | 1:45.774 | +2.590s | 22 |
| 19 | 47 | Mick Schumacher | Haas Ferrari | 1:46.899 | +3.715s | 20 |
| 20 | 9 | Nikita Mazepin | Haas Ferrari | 1:46.945 | +3.761s | 18 |