F2: Vips beats Boschung to P1 in opening session at Baku
While a lot of the field were still getting to grips with the Baku City Circuit, Jüri Vips was finding its limits, the Hitech Grand Prix racer going more than seven-tenths faster than Campos Racing's Ralph Boschung and over a second quicker than ART Grand Prix's Théo Pourchaire to finish Free Practice in first.
Less than two weeks on from the challenges of the tight and twisting Monte Carlo circuit, the class of 2021 were arriving at a different type of street track, tackling the long, wide straights of Baku.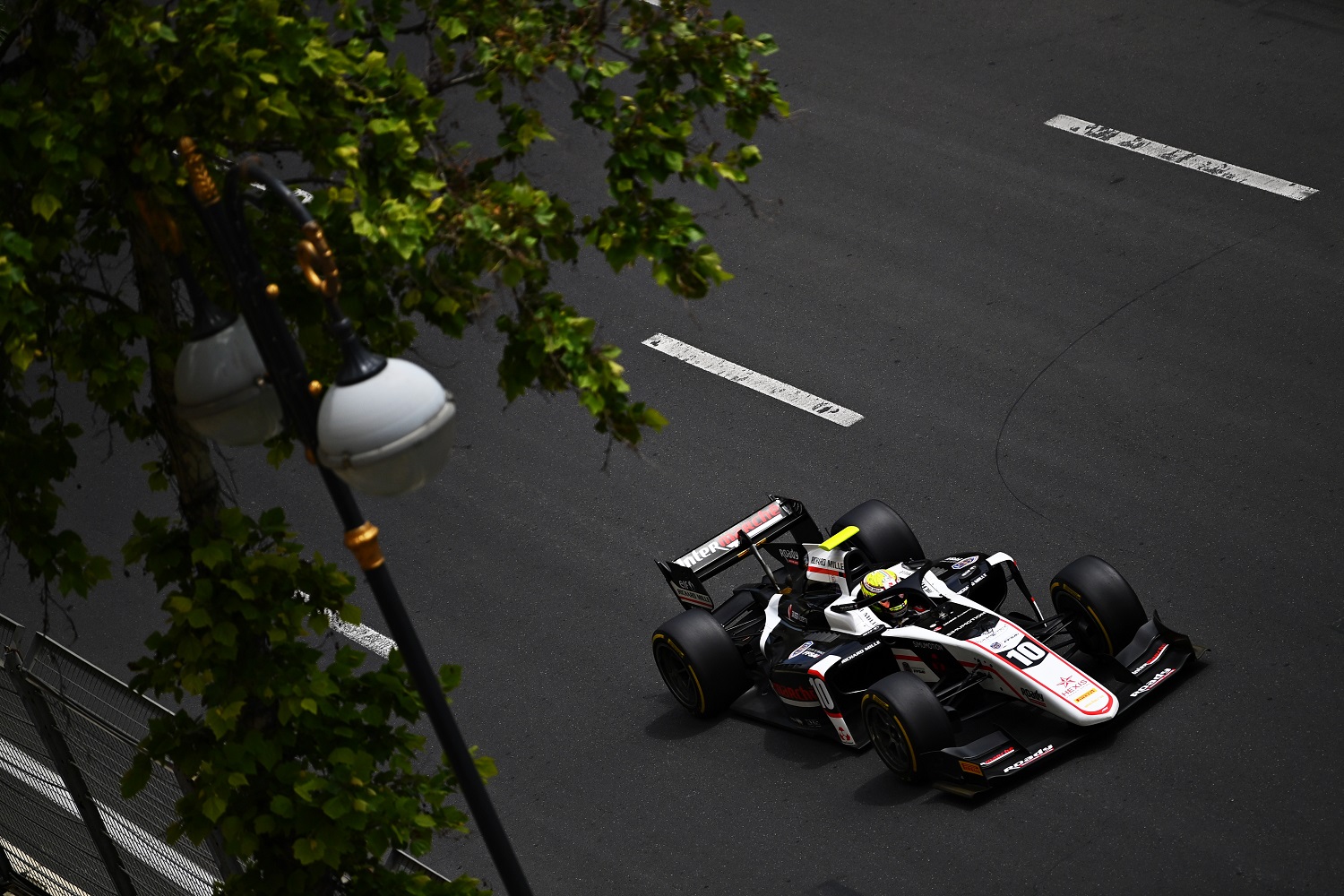 For many, it was a first experience of the Baku City Circuit and they took their time adjusting to the new surroundings. MP Motorsport duo Lirim Zendeli and Richard Verschoor led the field around the streets but were well-off representative times in the opening five minutes.
Ending the session in fifth and sixth, Oscar Piastri and Marcus Armstrong had initially traded fastest times when the tarmac began to warm up. The latter had set the initial standard at 2:00.851, before two incidents on track brought running to a halt.
Practice 1 Results
| | | | | | |
| --- | --- | --- | --- | --- | --- |
| Pos | Driver | Team | Laps | Time | Gap |
| 1 | Jüri Vips | HitechGP | 15 | 1m55.210s | 0.000s |
| 2 | Ralph Boschung | Campos Racing | 16 | 1m55.976s | 0.766s |
| 3 | Theo Pourchaire | ART Grand Prix | 17 | 1m56.323s | 1.113s |
| 4 | Robert Shwartzman | Prema Powerteam | 16 | 1m56.375s | 1.165s |
| 5 | Oscar Piastri | Prema Powerteam | 16 | 1m56.394s | 1.184s |
| 6 | Marcus Armstrong | DAMS | 17 | 1m56.515s | 1.305s |
| 7 | Bent Viscaal | Trident | 15 | 1m56.594s | 1.384s |
| 8 | David Beckmann | Charouz Racing System | 16 | 1m56.778s | 1.568s |
| 9 | Dan Ticktum | Carlin | 16 | 1m56.795s | 1.585s |
| 10 | Christian Lundgaard | ART Grand Prix | 17 | 1m56.821s | 1.611s |
| 11 | Liam Lawson | HitechGP | 14 | 1m56.860s | 1.650s |
| 12 | Guanyu Zhou | UNI-Virtuosi | 15 | 1m57.019s | 1.809s |
| 13 | Jack Aitken | HWA Racelab | 16 | 1m57.260s | 2.050s |
| 14 | Richard Verschoor | MP Motorsport | 16 | 1m57.504s | 2.294s |
| 15 | Felipe Drugovich | UNI-Virtuosi | 14 | 1m57.561s | 2.351s |
| 16 | Jehan Daruvala | Carlin | 16 | 1m57.691s | 2.481s |
| 17 | Roy Nissany | DAMS | 16 | 1m58.221s | 3.011s |
| 18 | Guilherme Samaia | Charouz Racing System | 15 | 1m59.553s | 4.343s |
| 19 | Matteo Nannini | Campos Racing | 16 | 1m59.747s | 4.537s |
| 20 | Alessio Deledda | HWA Racelab | 16 | 2m01.486s | 6.276s |
| 21 | Lirim Zendeli | MP Motorsport | 4 | 2m03.262s | 8.052s |
| 22 | Marino Sato | Trident | 4 | 2m20.421s | 25.211s |