IMSA: Acuras and Corvettes sweep front row at Watkins Glen
Ricky Taylor has led an Acura ARX-05 front row qualifying sweep for Sunday's Sahlen's Six Hours of The Glen.
The Wayne Taylor Racing driver reeled off a 1:30.022 lap time to edge out the No. 60 Meyer Shank Racing Acura DPi of Dane Cameron by 0.119 seconds in the fast-paced 15-minute session.
The Chip Ganassi Racing Cadillac DPi-V.R will start third on the DPi grid for tomorrow's running of the IMSA WeatherTech SportsCar Championship Sahlen's Six Hours of The Glen.
Following their first win of the season at Detroit two weeks ago, Renger van der Zande kept the strong performance of the Chip Ganassi team going with a third-place qualifying effort with a time of 1:30.637. The time will have him starting from the second row with teammate Kevin Magnussen. The team has decided to run the six hours with just two drivers.
"I think it was one of the best laps of my career," van der Zande said. "We fine-tuned the car for qualifying in a really nice way. So big to the Chip Ganassi team for giving me the fastest Cadillac out there. On top of that I think the lap was really, really good. I think the BoP (balance of performance) is off here. Being half a second off with the best lap of your career is not really what you want, but it is a good starting position for the race. It is going to be a long race, so anything is possible."
GTLM Pole for Garcia, No. 3 Corvette
Corvette Racing swept the front row of GT Le Mans (GTLM) grid Saturday for the Sahlen's Six Hours of The Glen with Antonio Garcia taking pole position in the No. 3 Mobil 1/SiriusXM Chevrolet Corvette C8.R.
Garcia led a 1-2 result for Corvette Racing with the mid-engine C8.R is on its maiden Watkins Glen International weekend. He took his second straight pole at Watkins Glen – he did the same in 2019 – with a lap of 1:40.944 (121.255 mph). Tommy Milner was second in class with the No. 4 Mobil 1/SiriusXM Corvette and 0.374 seconds off Garcia's time at 1:41.318 (120.807 mph).
Saturday's result continues Corvette Racing's season-long run of first-place starting positions in each of the four IMSA WeatherTech SportsCar Championship GTLM races to date. The No. 4 Corvette started on pole at Daytona and Detroit with Garcia putting the NO. 3 C8.R on pole at Sebring.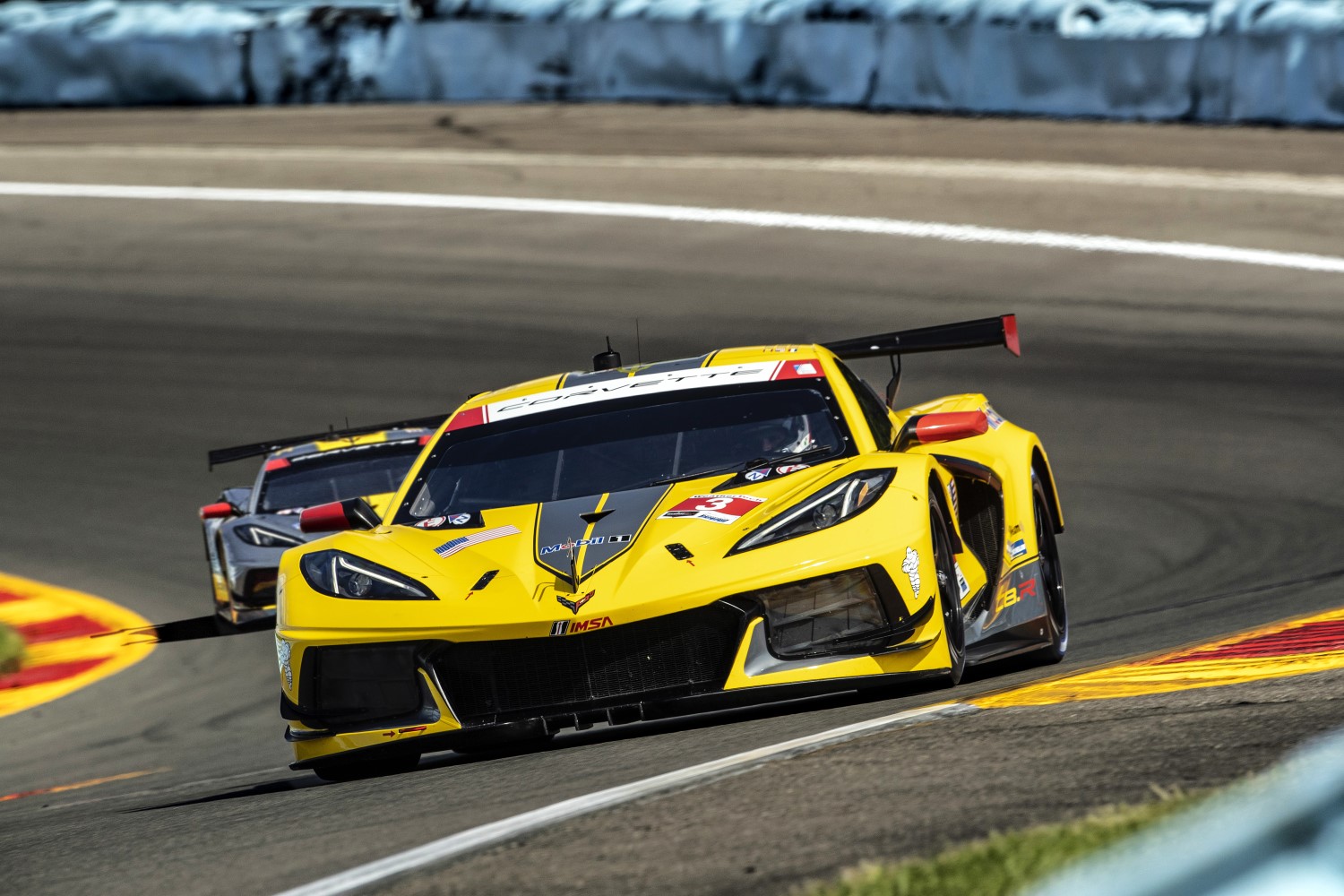 ANTONIO GARCIA, NO. 3 MOBIL 1/SiriusXM CHEVROLET CORVETTE C8.R – GTLM POLE-WINNER: "That felt really good. We're back on pole because the last time we were here, we on pole too. It's always fun to qualify at here. That's when you really get to experience Watkins Glen. You can really go for it and be really close to the walls. It was fun. Unfortunately I had one lap deleted (for track limits infraction), which didn't help but I was able to almost do it again. The C8.R was great again. It's always good to get on pole and to get one for Corvette Racing."
(Race outlook) "I think we will be alright. We saw this morning how cold it was compared to now. The car felt completely different in practice. The work we did yesterday was really good, and that will be way closer to what we will experience tomorrow. We were competitive on Friday and we will have to be the same in the race. Still, the Six Hours will come down to the last two or two-and-a-half. But we are in the best spot we can be."
Vasser Sullivan Captures GTD Pole
In his first IMSA qualifying attempt and first race at Watkins Glen International, Kyle Kirkwood qualified the No. 14 Vasser Sullivan Lexus RC F GT3 on the pole for tomorrow's Sahlen's Six Hours at the Glen.
Kirkwood, who drives for the team in IMSA endurance races, posted a fast lap of 1:45.539 in the first session of qualifying, the position round, on the historic 3.45-mile, 11-turn, permanent road course.