IMSA: Ricky Taylor puts #10 Acura on pole at The Glem
Ricky Taylor turned a fast lap of 1m30.058s (135.912 mph) around WGI's 11-turn, 3.4-mile circuit to win the pole position for the IMSA WeatherTech 240 at The Glen.
It wasn't as easy as it sounds. Part of what makes Turn 9 so tricky is the difficulty it places on tires. As drivers try to time their fastest laps when their tires are optimal, Turn 9 doesn't want to play that game.
"Normally the pace improves everywhere else around the track," Taylor said. "That's why Turn 9 always bites you at the end because the rears start to drop. That corner is always rear-limited. You get it around there and it's like, 'I hope I can hold it.'"
Taylor and his No. 10 Konica Minolta Acura ARX-05 DPi were 0.346 seconds faster than runner-up Olivier Pla in the No. 60 Meyer Shank Racing with Curb-Agajanian Acura he shares with Dane Cameron.
Taylor's lap put the No. 10 car and teammate Filipe Albuquerque in the No. 1 starting position for Friday's IMSA WeatherTech SportsCar Championship race as they continue to lead the Daytona Prototype international (DPi) standings at the season's halfway point. The Motul Pole Award effort also came less than a week after Taylor won the pole for the Sahlen's Six Hours of The Glen.
Taylor's best lap came Thursday immediately after a bad one.
"The lap before I completely messed it up, but in that (pole-winning) lap, I happened to survive a little bit better," Taylor said. "It generally does. Once I survived on that last lap, you just kind of bring it home. The last two corners are pretty straightforward."
The Chip Ganassi Racing Cadillac DPi.VR will start third for tomorrow's running of the IMSA WeatherTech SportsCar Championship WeatherTech 240 at Watkins Glen International Raceway.
The rain subsided at The Glen long enough to get the IMSA WeatherTech qualifying session in this afternoon at the 3.4-mile, 11-turn track located in the Finger Lakes region of upstate New York.
Kevin Magnussen had the wheel of the No. 01 Chip Ganassi Racing Cadillac DPi-V.R for the 15-minute session. As the track dried the times came down in the DPi class. The Dane posted a lap of 1:30.545 good for an inside second row starting position for the tomorrow evening start. Practice wasn't without incident; the former Formula 1 driver was exiting the Bus Stop turn and backed the car into the wall.
"It was fun," Magnussen said. "This track is great in normal conditions and gets even better in mixed conditions. It's a big challenge and enjoyable to drive. We got P3 in qualifying which is sort of ok for us. I think we could've had one position more. We are the best Cadillac. The Acura cars seem to have good pace in qualifying. Starting P3 we can fight for the race tomorrow."
Regarding his spin, Magnussen said, "just hit a puddle and went around."
Pipo Derani took the No. 31 Whelen Engineering Cadillac DPi-V.R out for qualifying. The Brazilian put in a time of 1:30.684 good for fourth. Together with teammate Felipe Nasr and the Action Express Racing team the duo improved the car from Sunday's six-hour race.
"It is one of those qualifying sessions where you have to do every lap," Derani said. "A little bit difficult with traffic, I lost a couple of laps where I had to abort. I was able to get a good lap in. The Cadillac cars are really close together with the Acura cars having great qualifying pace. We improved our car from last weekend. The balance is better. That is positive. We have an even better car for the race. So, if we maximize it, we will have an even better race than on Sunday."
Also improving was the No. 5 Mustang Sampling Cadillac DPi-V.R of Loic Duval and Tristan Vautier. Duval drove to a lap time of 1:31.094 that will have him starting from sixth for the 6:10 p.m. tomorrow green flag.
"The conditions were consistent through the run although not fully dry," Duval said. "There were a few wet patches. We changed the car quite a lot since last weekend as we were struggling. It's not easy to go straight to qualifying with a different car setup. The car felt quite ok, but not close enough. Except for the 10, we were a bit closer to the others, but still not enough. We have made some progress. We have a good base for tomorrow. It is positive, now let's see for the race."
Faster than Ever, Keating Takes LMP2 Pole
As Taylor won the DPi pole, Ben Keating used the final lap to slip past Steven Thomas for the pole position in Le Mans Prototype 2 (LMP2). Keating's effort of 1:34.969 (128.884 mph) was just enough to top Thomas' best of 1:35.392, which he'd used to top Keating on the previous lap.
"Is there a time limit on how long I can talk?" Keating asked before embarking on a lengthy explanation during the post-qualifying press conference.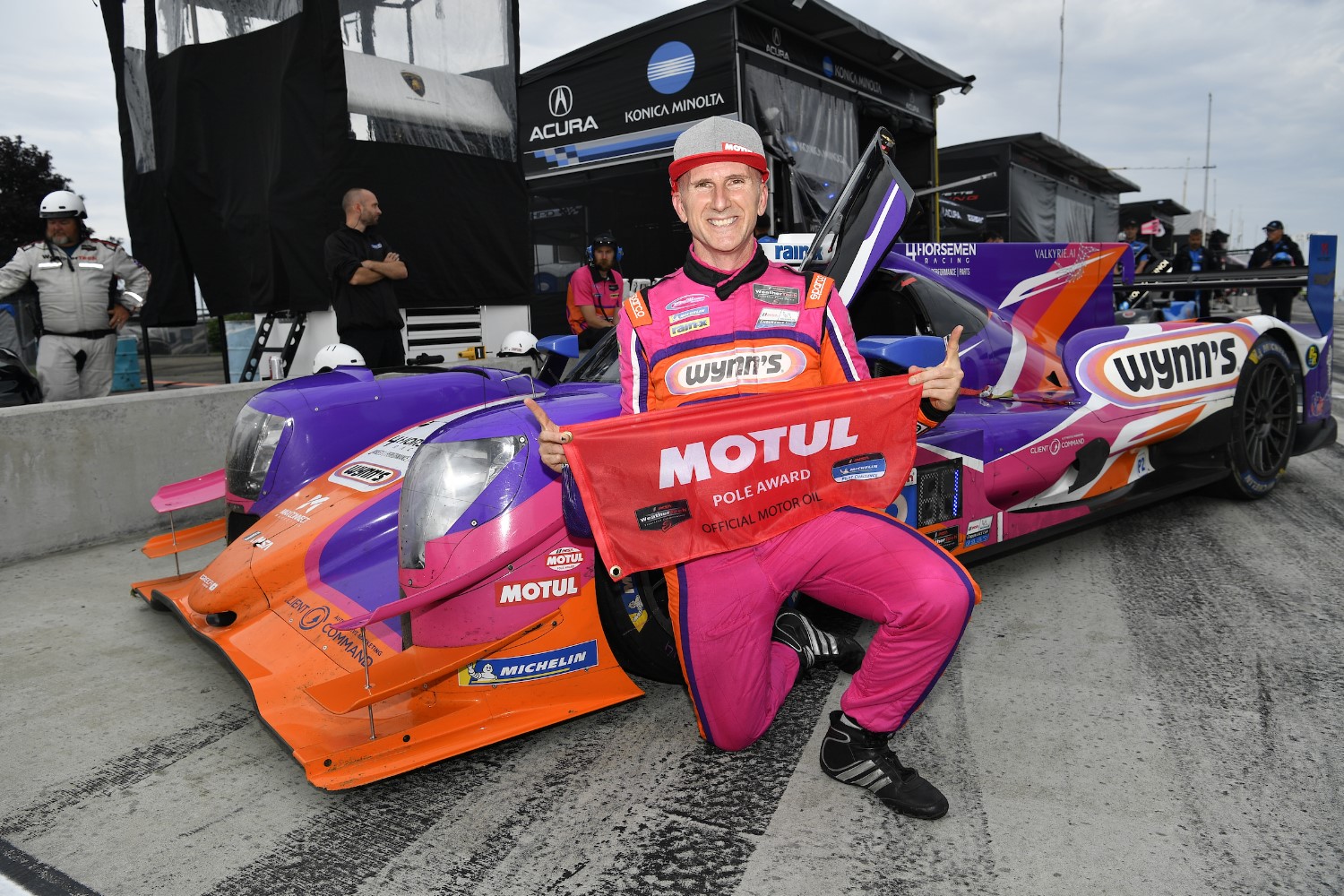 Keating and teammate Mikkel Jensen will start first in class and seventh overall in the No. 52 PR1 Mathiasen Motorsports ORECA LMP2 07. Thomas and co-driver Tristan Nunez will start second in LMP2 and eighth overall in the No. 11 WIN Autosport. Thomas, Nunez and Thomas Merrill teamed to win the Sahlen's Six Hours on Sunday.
"I feel like I pulled off heroic sectors for the last two sectors," Keating said. "I threw it into the Bus Stop faster than I've ever driven through there. I went flat around the Carousel. I went flat through the last two turns. … I could not believe that I pulled it off."
Llarena Claims First IMSA Pole in LMP3
Mateo Llarena claimed the pole for Performance Tech Motorsports in Le Mans Prototype 3 (LMP3), putting the No. 38 Ligier JS P320 for him and teammate Rasmus Lindh at the head of the class with a lap of 1:42.633 (119.259 mph).
"It was quite good," Llarena said. "We didn't expect to get it because we were struggling … with the changing conditions. So, we really didn't know like where we would start. I pushed all the way. The car was great and I managed to get a very good lap."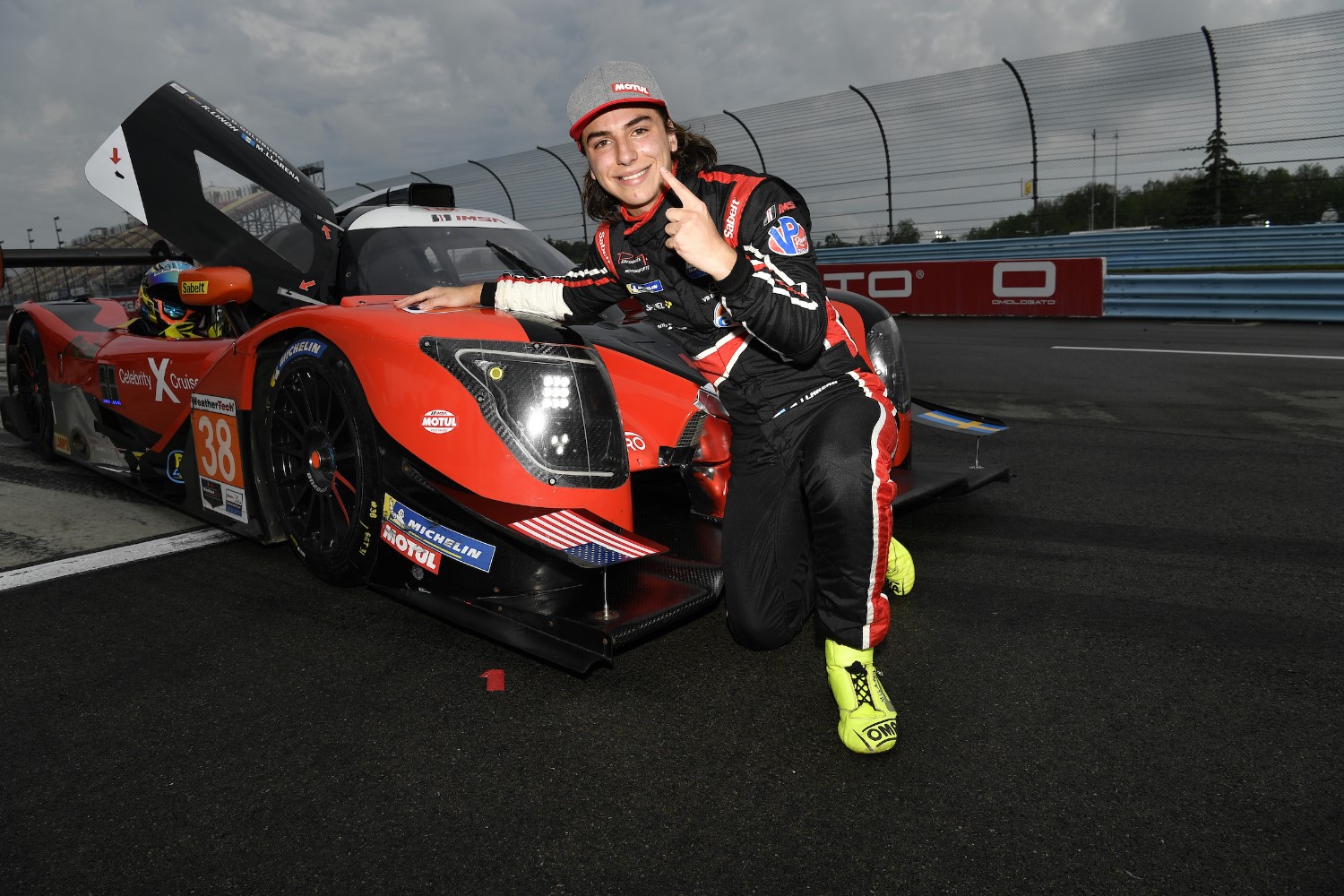 Jon Bennett and Colin Braun will start second in LMP3 with the No. 54 CORE autosport Ligier.
NBCSN's live coverage of the IMSA WeatherTech 240 begins at 6 p.m. ET Friday. The race also can be viewed on NBC Sports Gold's TrackPass. IMSA Radio also has complete coverage.
Kranz Edges Sarchet for IMSA Prototype Challenge Pole
The top two in the IMSA Prototype Challenge point standings finished 1-2 in qualifying for Friday's race at Watkins Glen. Championship leader Moritz Kranz edged Josh Sarchet by 0.379 seconds and will lead the field to the green flag in the one-hour, 45-minute race.
Kranz's fast lap in the No. 21 Muehlner Motorsports America Duqueine D08 was 1:41.228 (120.915 mph) and made him a perfect 4-for-4 in Motul Pole Award qualifying this season. The German has won two of the first three Prototype Challenge races this season.
Sarchet, who shares the No. 54 MLT Motorsports Ligier JS P320 with Dakota Dickerson, was timed at 1:41.607 (120.464 mph) to earn the outside front row starting position. Sarchet and Dickerson, who have finished on the podium in all three 2021 races but have yet to win, trail Kranz by 40 points leading into the race.
Taylor Holds off Tandy in Corvette GTLM Qualifying Shootout
WATKINS GLEN, N.Y. –
Jordan Taylor put Corvette Racing on pole position Thursday for the IMSA WeatherTech 240 at Watkins Glen International. A winner with Antonio Garcia on Sunday in the Sahlen's Six Hours of The Glen, Taylor set a time of 1:43.821 in the No. 3 Mobil 1/SiriusXM Chevrolet Corvette C8.R.
The time was a scant 0.224 seconds quicker than Nick Tandy in the No. 4 Corvette C8.R that he drives with Tommy Milner.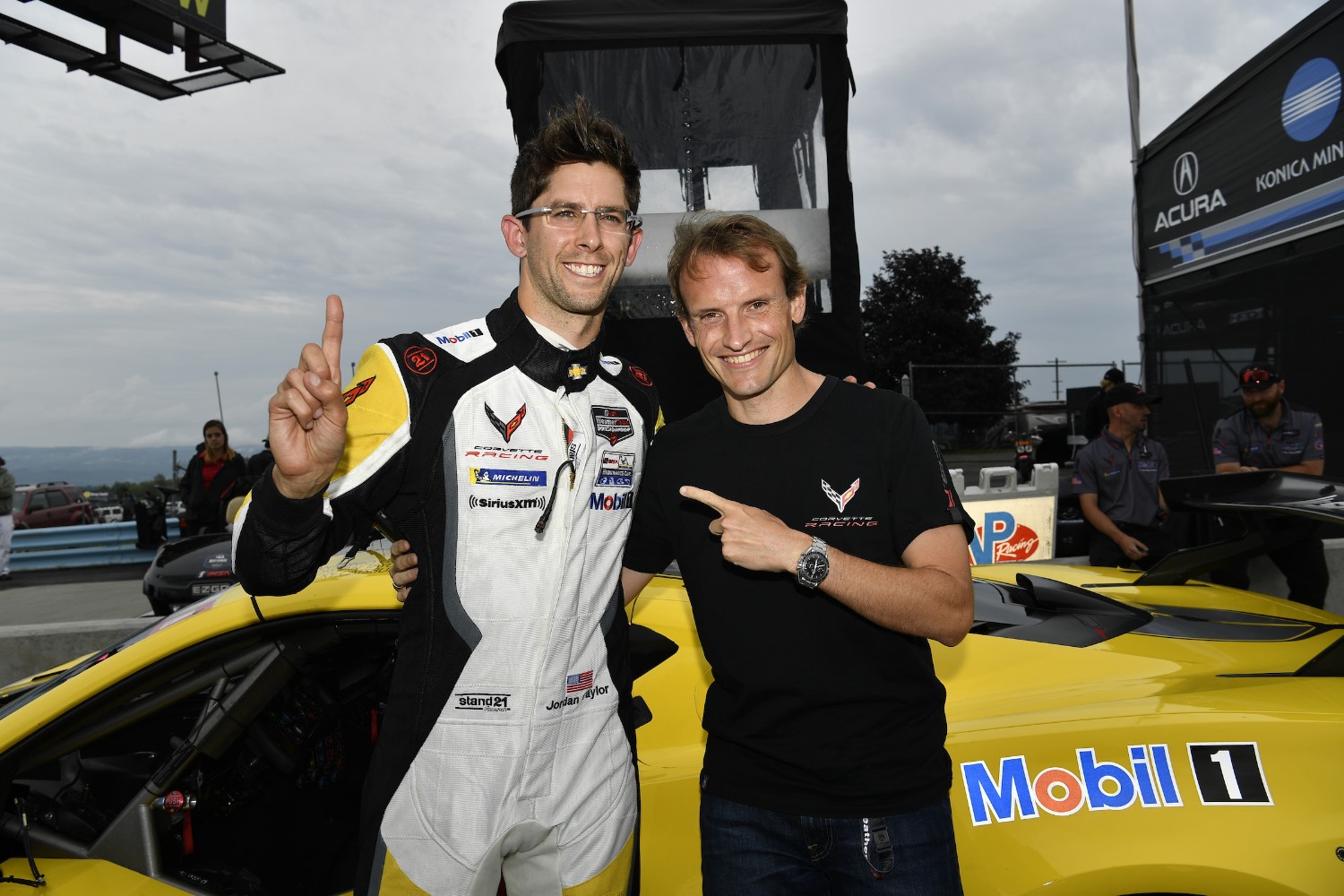 GTLM Pole Winner Richard Dole #3: Corvette Racing Corvette C8.R, GTLM: Jordan Taylor with teammate Antonio Garcia. Photo by LAT for IMSA"It was a good lap, obviously," Taylor said after being clocked at 1 minute, 43.821 seconds (117.895 mph). "This session was a bit different and stressful with different conditions leading into it. We didn't know whether to go slick or wet (-condition tires). Thankfully, the guys made the right call with slicks, and then it was all about building temperatures in the tires and nailing it at the end."
It was the second GTLM pole in less than a week for the No. 3 Corvette with Garcia claiming the honors ahead of the Six Hours.
Rain pelted Watkins Glen throughout Thursday afternoon. The day's lone practice session featured a mix of light and more moderate showers that left the track damp throughout. Conditions dried out for qualifying with both Corvettes opting for slick Michelin tires for qualifying.
Weather for the race could mirror what Corvette Racing experienced Thursday, giving team strategists and engineers plenty to think about before Friday evening's green flag.
"When you're head-to-head with a guy like Nick Tandy, you really need to make the most of it," Taylor said. "He's a guy that I've grown up watching and respected, so I knew I had to be nailing everything and on my 'A' game. I'm glad it worked out."
Cooper MacNeil qualified a cautious third in the No. 79 WeatherTech Racing Porsche 911 RSR-19 that underwent significant repairs after catching fire Sunday in the Sahlen's Six Hours of The Glen. MacNeil and co-driver Matt Campbell used Thursday's lone practice session and qualifying to work out issues in the car and focus on race performance.
Snow Storms to Motul Pole Award in GT Daytona
It didn't matter to Madison Snow that conditions were at their most treacherous for GT Daytona (GTD) grid position qualifying on Thursday. He was in charge of the entire 15-minute segment when the track was its wettest from earlier rain to win the Motul Pole Award.
Snow's final lap in the No. 1 Paul Miller Racing Lamborghini Huracán GT3, 1:59.380 (102.529 mph) was nearly a half-second clear of the GTD field and earned Snow the fourth pole position of his IMSA career and first since 2017. Using wet-condition Michelin tires, he topped the speed chart nearly throughout and punctuated it with his last lap. Afterward, he applauded the team's move for the grooved wet tires, while some in the 12-car class struggled on dry-condition slicks.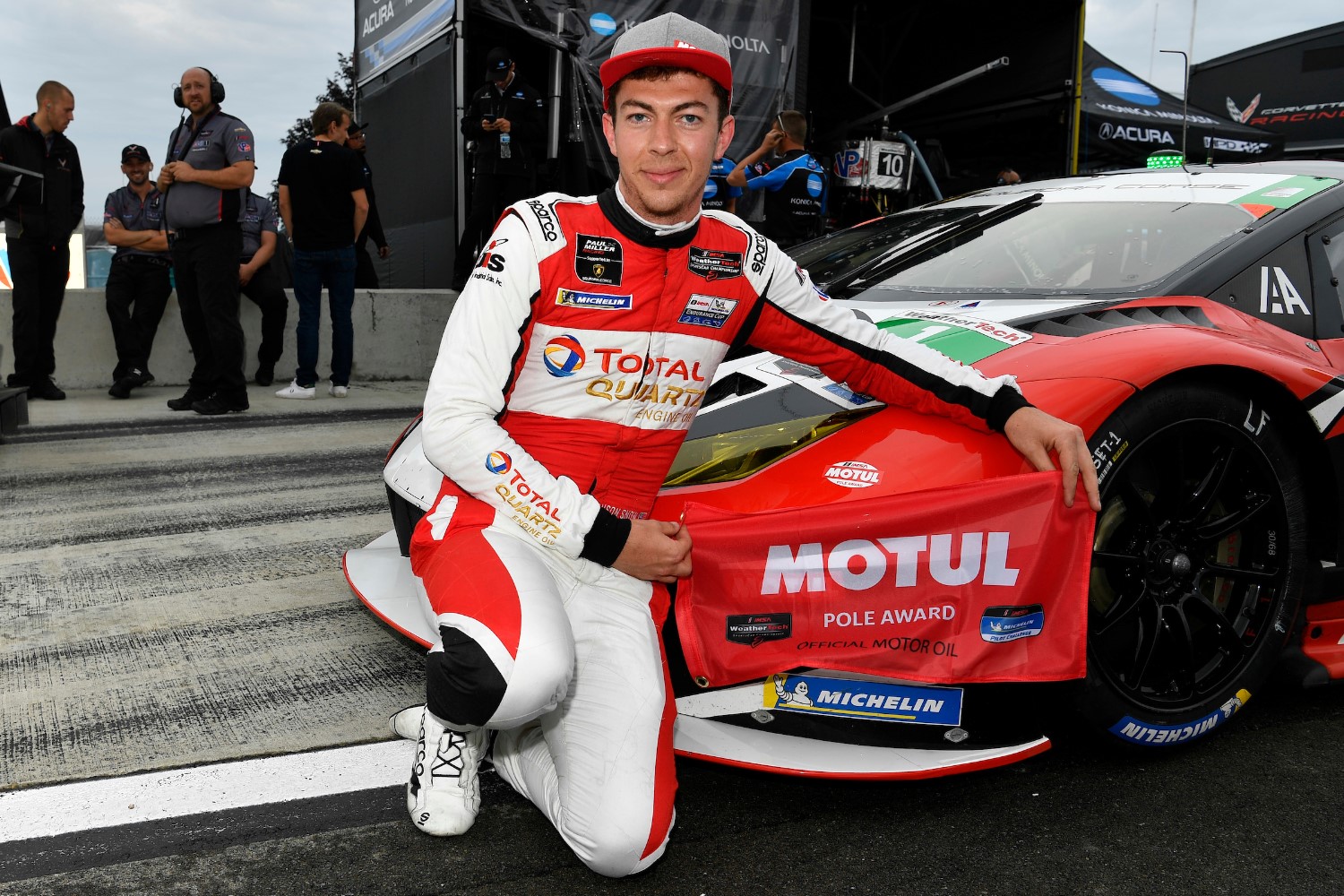 "I went out the first couple laps, got quite a bit of heat in (the tires) and did a decent time," Snow said. "Then I took two laps to cool off the tires because I had too much to keep pushing. So that last lap I was able to build more heat back in them because they heated up real quick with almost dry conditions out there.
"For me, it was kind of feeling what the tire had and just making sure you didn't kill it, so that at the end of the session you still had something left."
Frankie Montecalvo was second in the grid position qualifying session with a lap of 1:59.820 (102.153 mph) in the No. 12 Vasser Sullivan Lexus RC F GT3. He and Snow were the only drivers to turn a lap in under two minutes.
In the ensuing 15-minute session to decide qualifying points under much drier conditions, Jack Hawksworth survived the frantic final minutes to set the fastest lap (1:46.988, 114.405 mph) and rake in 35 points toward the IMSA WeatherTech Sprint Cup standings. The lead changed five times in the final minute and after the checkered flag waved, as drivers pushed to the limit. Bill Auberlen, Zach Veach and Mario Farnbacher each took turns at the top until Hawksworth launched in with his best lap in the No. 14 Vasser Sullivan Lexus RC F GT3.
Ross Gunn qualified the No. 23 Heart of Racing Aston Martin Vantage GT3 fifth in the points session. It gives Gunn and co-driver Roman De Angelis an unofficial 47-point lead over Montecalvo in the Sprint Cup standings, with Friday's GTD race counting only toward the Sprint Cup and not the overall WeatherTech Championship.
Lineup
| | | | | | |
| --- | --- | --- | --- | --- | --- |
| Pos | Class | No.. Drivers* | Team | Car | Time |
| 1 | DPI | 10 R. Taylor / F. Albuquerque | Konica Minolta Acura ARX-05 | Acura DPi | 1:30.058 |
| 2 | DPi | 60 D. Cameron / O. Pla | Meyer Shank Racing w/Curb-Agajanian | Acura DPi | 1:30.404 |
| 3 | DPi | 01 R. van der Zande / K. Magnussen | Cadillac Chip Ganassi Racing | Cadillac DPi | 1:30.545 |
| 4 | DPi | 31 F. Nasr / P. Derani | Whelen Engineering Racing | Cadillac DPi | 1:30.684 |
| 5 | DPi | 55 O. Jarvis / H. Tincknell | Mazda Motorsports | Mazda DPi | 1:30.947 |
| 6 | DPi | 5 T. Vautier / L. Duval | Mustang Sampling / JDC-Miller MotorSports | Cadillac DPi | 1:31.094 |
| 7 | LMP2 | 52 B. Keating / M. Jensen | PR1 Mathiasen Motorsports | ORECA LMP2 07 | 1:34.969 |
| 8 | LMP2 | 11 S. Thomas / T. Nunez | WIN Autosport | ORECA LMP2 07 | 1:35.392 |
| 9 | LMP2 | 8 J. Farano / G. Aubry | Tower Motorsport | ORECA LMP2 07 | 1:39.644 |
| 10 | LMP3 | 38 M. LLarena / R. Lindh | Performance Tech Motorsports | Ligier JS P320 | 1:42.633 |
| 11 | LMP3 | 54 J. Bennett / C. Braun | Core Autosport | Ligier JS P320 | 1:43.368 |
| 12 | LMP3 | 36 J. Andretti / O. Askew | Andretti Autosport | Ligier JS P320 | 1:43.608 |
| 13 | LMP3 | 74 G. Robinson / F. Fraga | Riley Motorsports | Ligier JS P320 | 1:44.650 |
| 14 | LMP3 | 84 T. Olsen / D. Cicero | Dawson Racing | Ligier JS P320 | 1:49.677 |
| 15 | LMP3 | 91 J. Cox / D. Murry | Riley Motorsports | Ligier JS P320 | 1:50.230 |
| 16 | GTLM | 3 A. Garcia / J. Taylor | Corvette Racing | Chevrolet Corvette C8.R | 1:43.821 |
| 17 | GTLM | 4 T. Milner / N. Tandy | Corvette Racing | Chevrolet Corvette C8.R | 1:44.045 |
| 18 | GTLM | 79 C. MacNeil / M. Campbell | WeatherTech Racing | Porsche 911 RSR – 19 | 1:57.420 |
| 19 | GTD | 1 B. Sellers / M. Snow | Paul Miller Racing | Lamborghini Huracan GT3 | 1:59.380 |
| 20 | GTD | 12 F. Montecalvo / Z. Veach | Vasser Sullivan | Lexus RC F GT3 | 1:59.820 |
| 21 | GTD | 39 R. Heistand / J. Westphal | CarBahn with Peregrine Racing | Audi R8 LMS GT3 | 2:00.946 |
| 22 | GTD | 66 T. Bechtolsheimer / M. Miller | Gradient Racing | Acura NSX GT3 | 2:01.146 |
| 23 | GTD | 76 J. Kingsley / M. Farnbacher | Compass Racing | Acura NSX GT3 | 2:01.146 |
| 24 | GTD | 23 R. De Angelis / R. Gunn | Heart Of Racing Team | Aston Martin Vantage GT3 | 2:01.198 |
| 25 | GTD | 28 D. Morad / M. de Quesada | Alegra Motorsports | Mercedes-AMG GT3 | 2:01.201 |
| 26 | GTD | 14 A. Telitz / J. Hawksworth | Vasser Sullivan | Lexus RC F GT3 | 2:01.396 |
| 27 | GTD | 96 B. Auberlen / R. Foley | Turner Motorsport | BMW M6 GT3 | 2:01.894 |
| 28 | GTD | 88 R. Ferriol / K. Legge | Team Hardpoint EBM | Porsche 911 GT3R | 2:02.907 |
| 29 | GTD | 32 G. Cosmo / S. Lewis | Gilbert/Korthoff Motorsports | Mercedes-AMG GT3 | 2:04.610 |
| 30 | GTD | 19 M. Goikhberg / F. Perera | GRT Grasser Racing Team | Lamborghini Huracan GT3 | No Time |