F1: Verstappen defeats Hamilton to win Mexican GP
Before a packed Mexico City circuit, Max Verstappen took the lead from his 3rd starting under braking into Turn 1 and eased to a 16.555s lead over championship leader Lewis Hamilton to extend his point lead over Hamilton to 19 points with 4 races left to run.
Sergio Perez hounded Hamilton most of the race but had to settle for third, less than a second behind.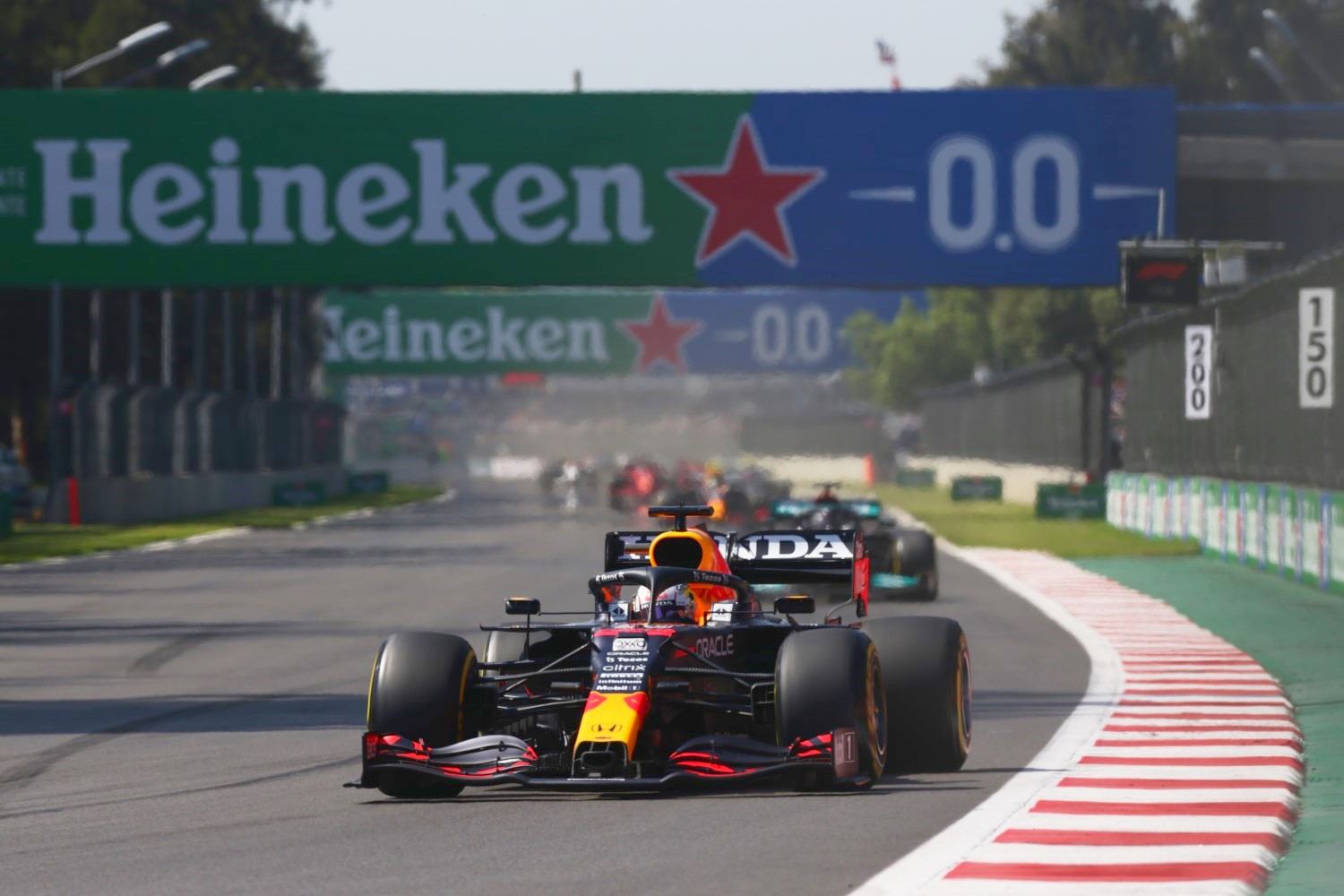 It was the third time Verstappen has won in Mexico City, more than any other driver in history. The Dutchman was imperious since he flew past the Mercedes pair around the outside into Turn 1 on the very first lap, and is well deserved of his victory.
Huge cheers erupted when the crowds saw how close their home hero was to Hamilton and the Briton's case wasn't helped when he was told to lift and coast, but Perez couldn't make the pass and ended up third – just 1.1s behind Hamilton – despite having hard tires that were 11 laps newer than the Mercedes driver's.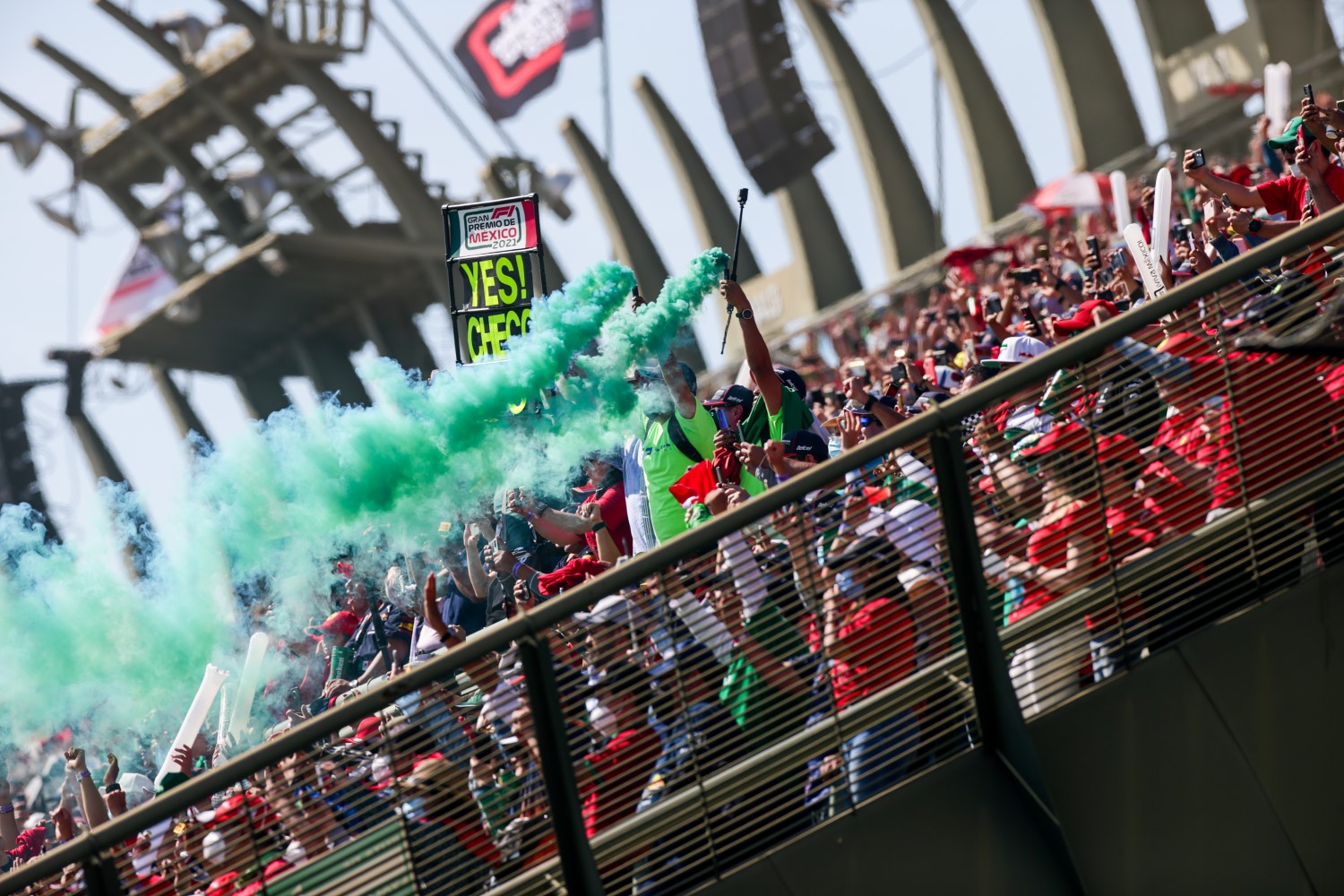 Pierre Gasly came home a distant 4th, 63.845s behind while Charles Leclerc rounded out the top-5 almost a full lap behind Verstappen.
"The fans here, they've been incredible," said Verstappen. "The start was all about trying to break as late as you can, and it made my race as I could just focus on myself. Still a long way to go, but of course it's looking good."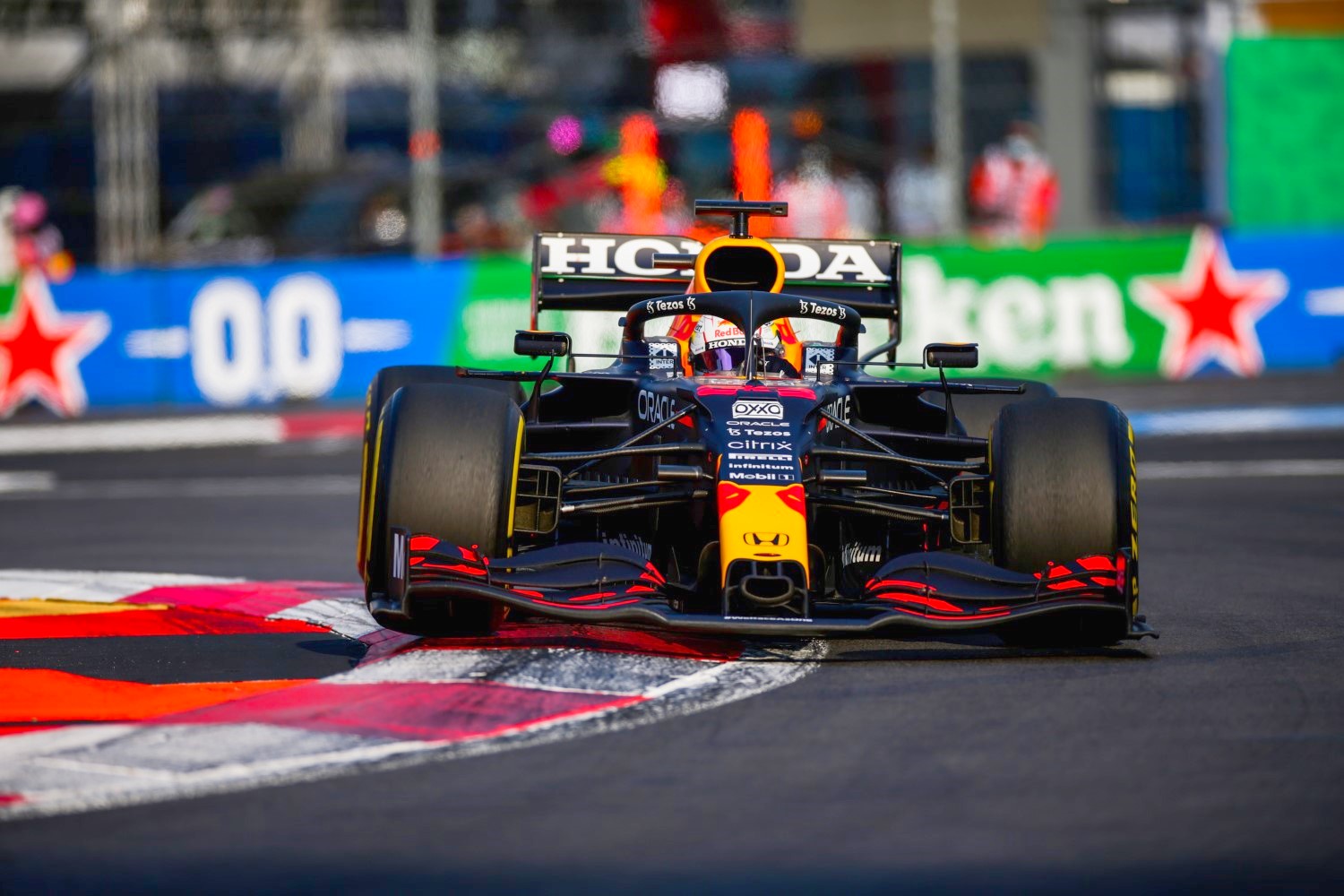 "Congratulations to Max, their car was fastest this weekend and there wasn't a lot I could do about it," said Hamilton. "I gave it everything, a great fight with Sergio at the end. It just shows how fast their car was, he was applying that pressure and just kept going."
"Today I wanted to get the 1-2 for the team, it was really close. The support here was fantastic," said Perez as the crowd goes wild and heads under the podium.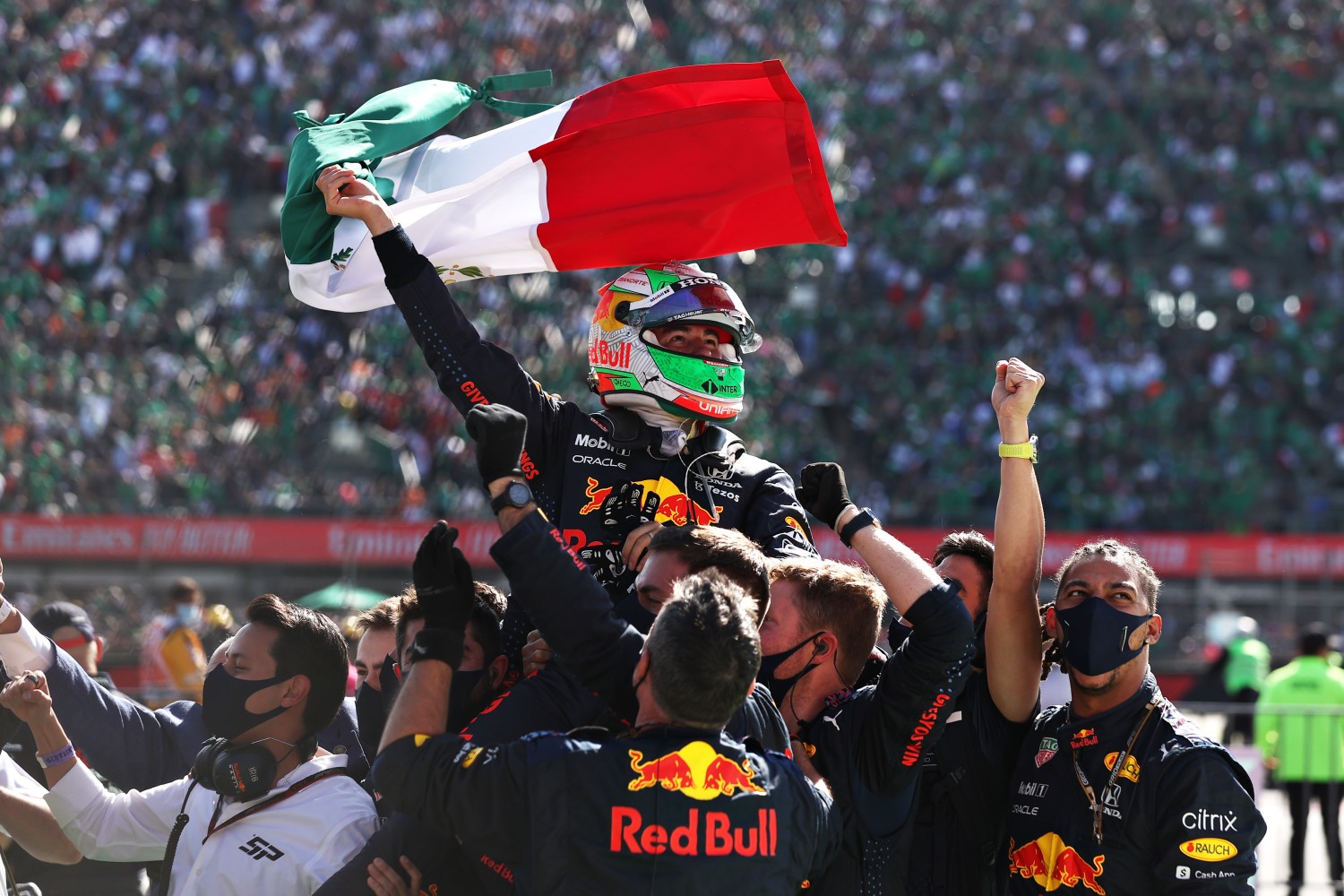 Red Bull is just 1 point behind Mercedes in the Constructors championship, but it would be the other way around if Valtteri Bottas was not brought in once, but twice, for soft Red Pirellis and get the one point for the fastest lap on the final lap of the race.
"You have to congratulate Red Bull, the pace was on another level," said a defeated Toto Wolff.
"I don't think we could have won the race been if we'd stayed ahead at the first corner. For Lewis second was damage limitation. Valtteri spinning out was very painful. You have to take it on the chin."
While Carlos Sainz took sixth behind Charles Leclerc (P5) in the race, the Spaniard losing out to his Ferrari teammate at the start.
Sebastian Vettel took seventh for Aston Martin, ahead of Alfa Romeo's Kimi Raikkonen in P8.
Fernando Alonso took ninth for Alpine having started 12th, but was hampered by a slow Lap 40 pit stop. That left Lando Norris 10th from 18th, the McLaren driver having made it to P7 by Lap 45, when he pitted from mediums to hards.
Select Post-Race Quotes
Max Verstappen
"It was an incredible day for the Team and also for the fans, to have Checo on the podium here in Mexico at his home Grand Prix was great, so it couldn't have been better. I knew the start was very important today, we were three wide at one point and I was on the more ideal race line, so I could brake later and get into the lead. After that I could do my own thing, the pace was very good today so I could just keep building and creating a gap, the pit stops were seamless and the car was good throughout the race which was crucial today. Checo, for the last few races has really picked it up, he's been up there, and he was really pressuring Lewis today towards the end. I'm still not thinking about that trophy, we'll try again in Brazil and just keep pushing."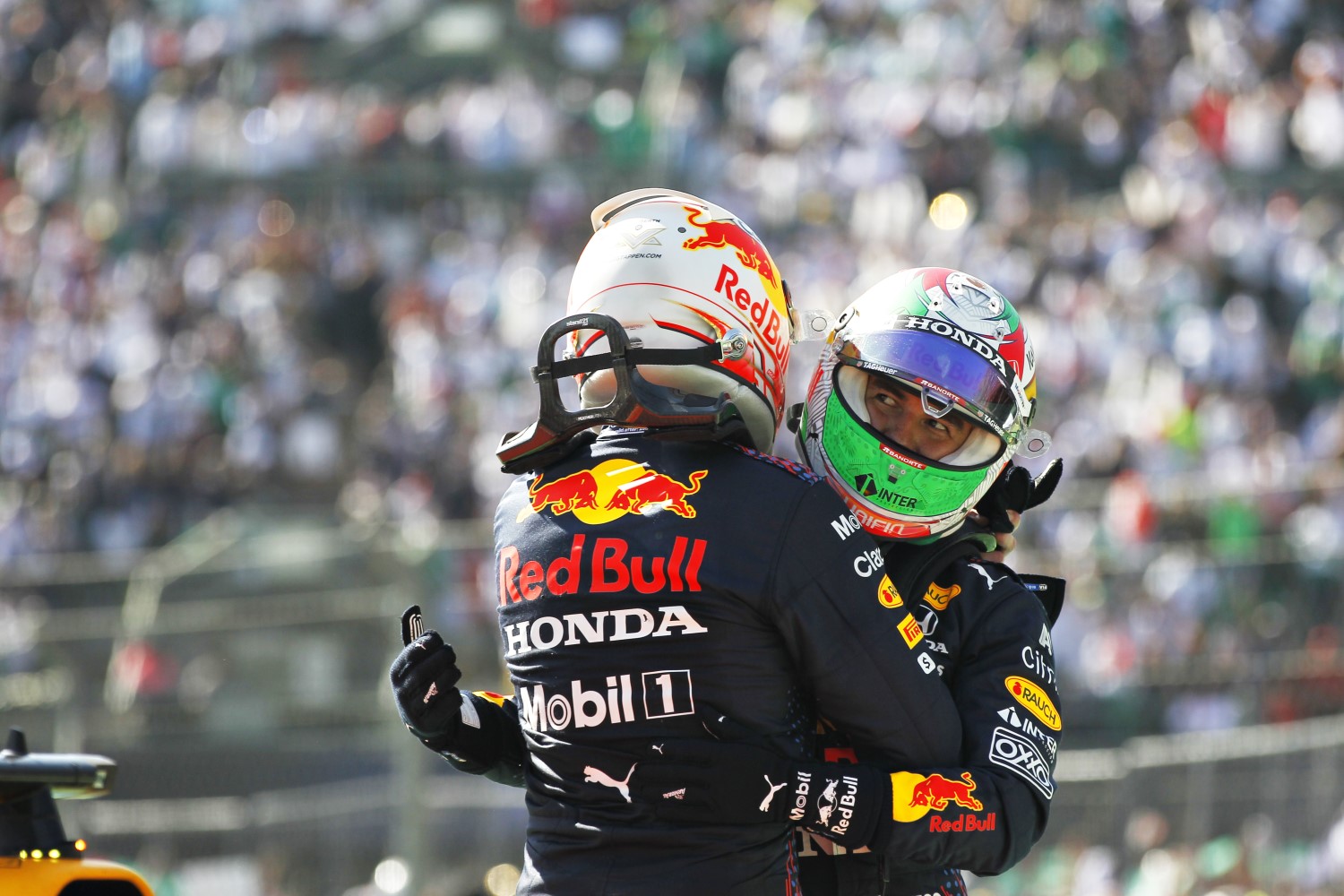 Sergio Perez
"This is a great result for my country, I really wanted more but unfortunately, we didn't get that. It was so messy in turn one so to avoid incident there was critical, and then I wanted second place, but we didn't get the chance because it is just so difficult to overtake around here. I was really close to getting Lewis but the Mercedes are so quick on the straight lines so I didn't get a opportunity to go for it, but I gave my best. I could feel the fans energy when I was going through the stadium sector, and I was thinking about how many people were here for me, I could actually hear the crowd when I was driving through Foro Sol. I wanted more, but I am just very happy to be on the podium of my home country, the Mexicans were so happy today. We are so competitive as drivers that when we finish third we aren't happy, but today I had to enjoy it, everyone who has been there since the start with me was there at the end of the race and that was an amazing moment for me. I think today we were the fastest Team, but that is going to swing around for the remainder of the season, so we just have to keep our focus and keep pushing."
Christian Horner
"Today was a big race and a big team win. It was a flawless performance from the entire team, from drivers to pitstops to strategy to reliability, it was a really strong team performance. Max was phenomenal again today, he found some space at turn one, and I have to say Bottas was very fair and allowed him enough space, and Max made the most of it and was then able to control the race. It's the first time Honda have had a driver win nine races in a year, as Max was tied with Senna on eight, so that's a great achievement for him and Honda. What a weekend it has been for Checo, the first Mexican to lead the home Grand Prix and first to finish on the podium, his third in as many races, is really special. He's found his confidence in the car and his performances are getting stronger and stronger, it's exactly what we were hoping for from him. Next up is Brazil where it's a sprint race and we still haven't won a sprint race weekend yet. We saw how competitive Mercedes were this weekend, particularly in qualifying, so we are taking nothing for granted. There are still 107 points available, it's a long way to go and there's a lot of racing left."
Lewis Hamilton
First, congratulations to Max. That car was faster than we were this weekend and there's nothing we could really do about it. I gave it absolutely everything and obviously a great fight with Sergio at the end, but I'm grateful I could still at least get a second-place finish. It was easy enough to hold on – I've been in that situation many times before – but it shows how fast their car was when Sergio was that close behind me and able to follow that closely. He did a great job! Even so, I really enjoyed the race and got everything out of it that we could today. Now we need to get our heads down and keep working hard to prepare for the next races, they will be coming at us fast over the next two weekends.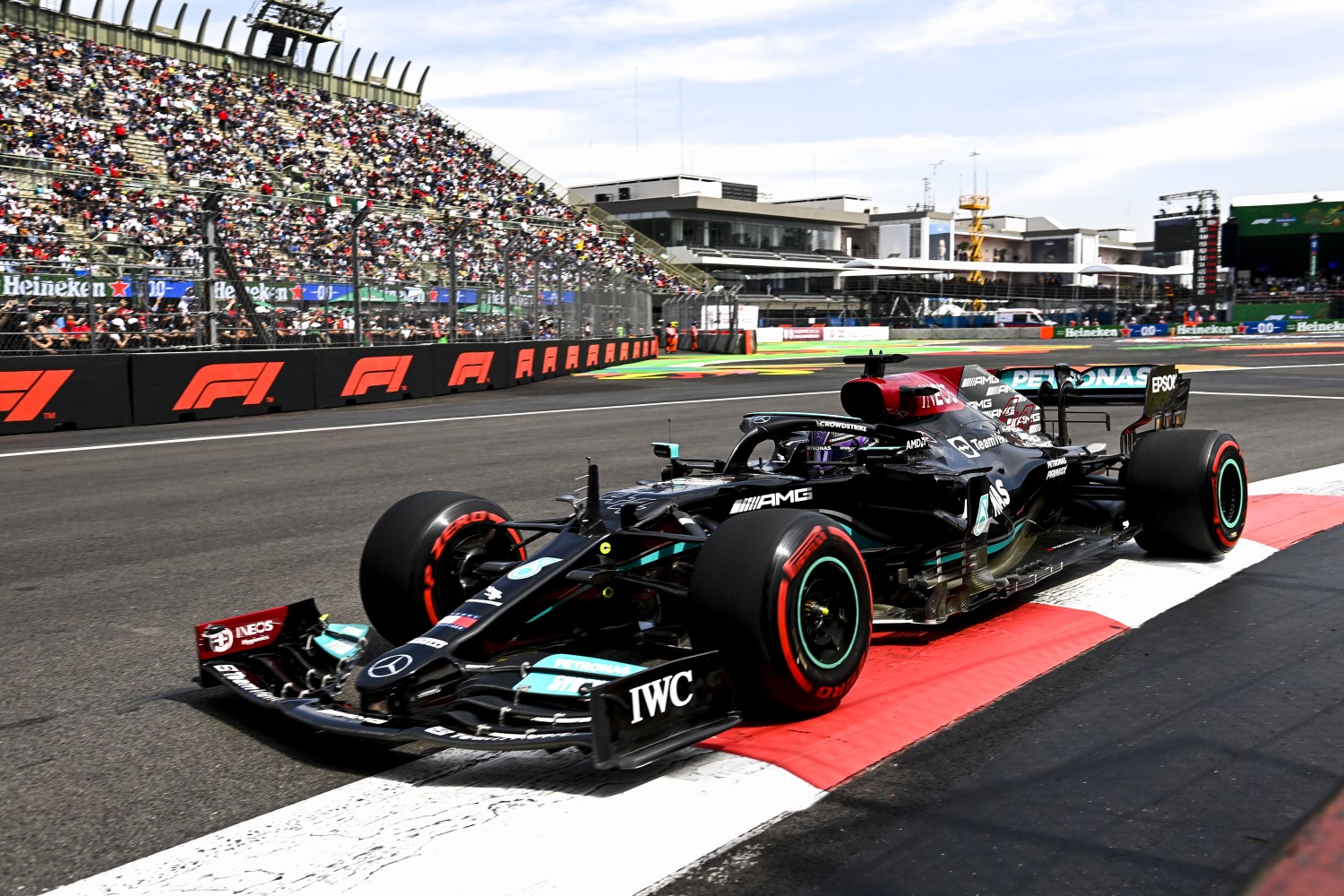 Valtteri Bottas
It was an unlucky day for me today. As I turned into Turn 1, I got hit from behind and spun me around – then I was stuck in traffic and couldn't make progress. I was giving it everything but it was hard running in traffic because I was overheating the brakes and engine, so I couldn't get past the McLaren in front. The situation at the end with fastest lap was a bit funny, it wasn't easy to find a clear space on track but in the end we were able to make it stick and at least take that point away from Red Bull. Overall, not a great day today – but at least the next race is on Sunday, so we can come back stronger then.
Toto Wolff
First, we must congratulate Red Bull because their pace was on another level. I don't think we could have won the race even if we had stayed ahead in the first corner because they could have pincered us around the pit stops. At the end, I think for Lewis' championship it was damage limitation, and he drive a brilliant race with the equipment he was given. As for the Constructors', Valtteri spinning out at turn 1 was just very painful. Looking at the start, we had two cars in front, but it seemed to open up for Max to come around the outside – then the spin for Valtteri cost us the points that we could have had for a third or fourth place finish. Looking ahead to Brazil, this has also traditionally been a Red Bull track – but we're going to pick ourselves up and give it everything to fight back, then we have three more to go after that.
Andrew Shovlin
A difficult day; most of what went wrong did so in the first twenty seconds, but ultimately we didn't have the pace and with only one car left at the head of the race, second place was the best that Lewis could have achieved. The launch phase of the starts were good, arguably Lewis's was too good as it meant he couldn't tow off Valtteri. Unfortunately Max was able to take that advantage and then found his way onto the racing line into turn 1 to take the lead. Valtteri then got spun round when Riccardo locked up and hit him which basically took him out of contention. The story of Lewis's race was quite straight forward; we had to react early on the first stop to protect against an undercut from Sergio which meant we had a long stint to the finish, but Lewis managed it very well to secure second place. We've still got four races today, we're not where we hoped to be in the championships, but we will leave no stone unturned trying to find performance in these final races.
Sebastian Vettel
"I am quite happy with our performance today. We had shown competitive long-run pace on Friday and I knew that if we could hold position on lap one, we would be able to stay there and score points. We obviously benefited from the spin for Valtteri [Bottas], although it actually held me up a bit, and the damage to Daniel's [Ricciardo] car, but we managed to recover a position from [Antonio] Giovinazzi using the strategy. After that, I was on my own for most of the race with decent pace. It was a solid weekend by the team and I am pleased we could score some good points."
Race Results
| | | | | |
| --- | --- | --- | --- | --- |
| POS | DRIVER | NAT. | TEAM | BEHIND |
| 1 | Max Verstappen | NED | Red Bull Racing | +0.000s |
| 2 | Lewis Hamilton | GBR | Mercedes AMG | +16.555s |
| 3 | Sergio Perez | MEX | Red Bull Racing | +17.752s |
| 4 | Pierre Gasly | FRA | Scuderia AlphaTauri Honda | +63.845s |
| 5 | Charles Leclerc | MON | Scuderia Ferrari Mission Winnow | +81.037s |
| 6 | Carlos Sainz | ESP | Scuderia Ferrari Mission Winnow | +1 Lap |
| 7 | Sebastian Vettel | GER | Aston Martin Cognizant | +1 Lap |
| 8 | Kimi Raikkonen | FIN | Alfa Romeo Racing Orlen | +1 Lap |
| 9 | Fernando Alonso | ESP | Alpine F1 Team | +1 Lap |
| 10 | Lando Norris | GBR | McLaren F1 Team | +1 Lap |
| 11 | Antonio Giovinazzi | ITA | Alfa Romeo Racing Orlen | +1 Lap |
| 12 | Daniel Ricciardo | AUS | McLaren F1 Team | +1 Lap |
| 13 | Esteban Ocon | FRA | Alpine F1 Team | +1 Lap |
| 14 | Lance Stroll | CAN | Aston Martin Cognizant | +2 Laps |
| 15 | Valtteri Bottas | FIN | Mercedes AMG Petronas | +2 Laps |
| 16 | George Russell | GBR | Williams Racing | +2 Laps |
| 17 | Nicholas Latifi | CAN | Williams Racing | +2 Laps |
| 18 | Nikita Mazepin | RUS | Uralkali Haas F1 Team | +3 Laps |
| DNF | Mick Schumacher | GER | Uralkali Haas F1 Team | DNF |
| DNF | Yuki Tsunoda | JPN | Scuderia AlphaTauri Honda | DNF |