F1: Verstappen wins pole for Abu Dhabi GP over Hamilton
Using a tow from Red Bull teammate Sergio Perez, Max Verstappen has won the pole for the Abu Dhabi GP with a lap of 1m22.109s, 0.371s faster than his title challenger Lewis Hamilton. It was the 10th pole of the year for the Dutchman.
On the first run on Q3, Red Bull sent Sergio Perez out ahead of Verstappen, and Verstappen used the tow to perfection in the full throttle 2nd sector to make up time he was losing to the more powerful Mercedes of Hamilton.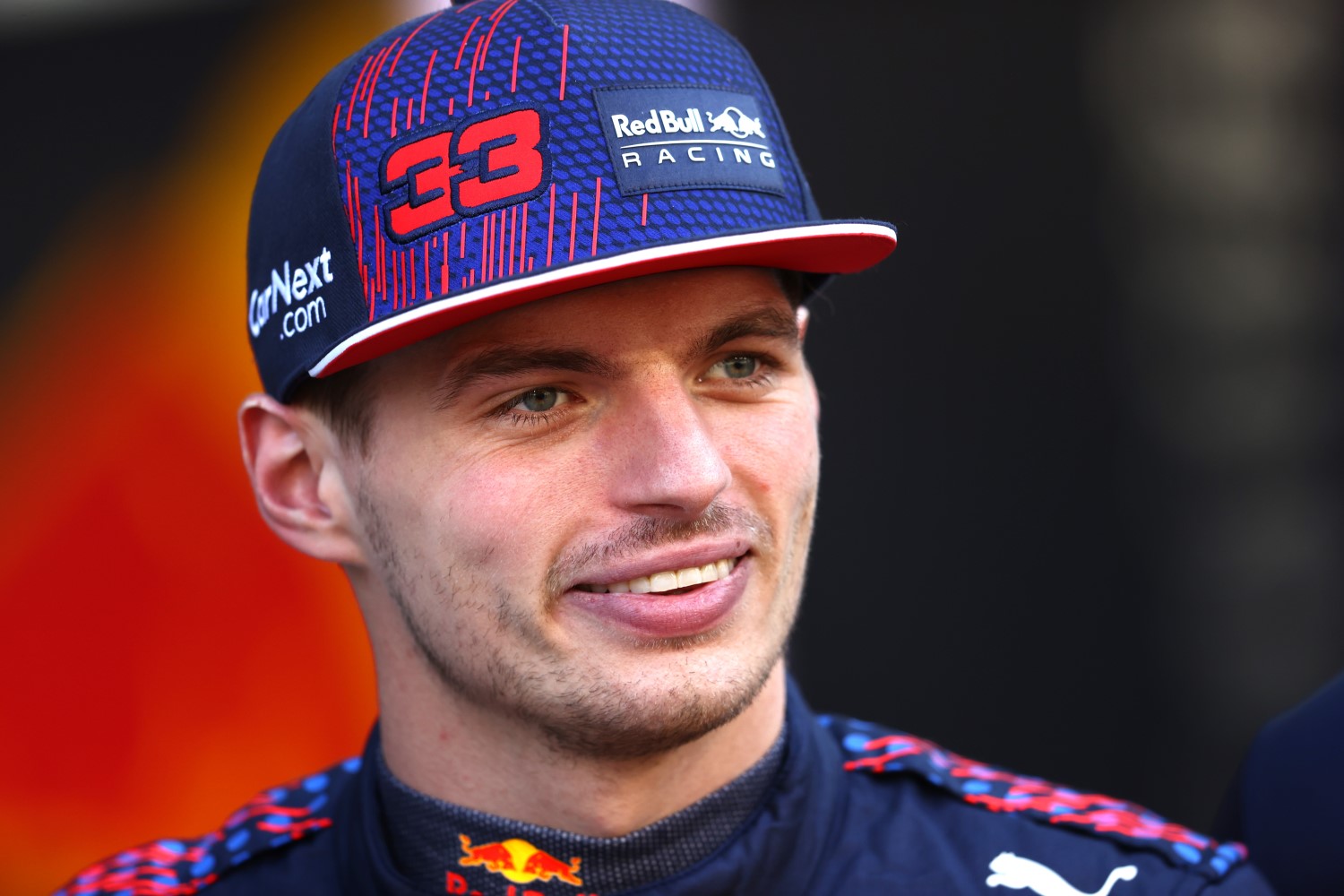 Strategically, both Red Bull cars will start the race on the soft red tires, vs. the mediums for the Mercedes cars, which should give them the jump off the line at the start, but now Red Bull will be at a disadvantage for race strategy.
But what a lap that was from Verstappen. Even taking into account the tow, he nailed every single corner to comfortably beat the field. The margin in the end was 0.371s, absolutely colossal all things considered.
"It's an amazing feeling. We definitely improved the car in qualifying, we got what we wanted," said Verstappen. "
I'm just looking forward to tomorrow, that's the most important. I felt good on both tires, so we'll see."
He has more than made up for his mistake last time out in Saudi Arabia – in fact, having the luxury of coasting over the line in his final run in Q3, knowing he had already done enough to secure pole.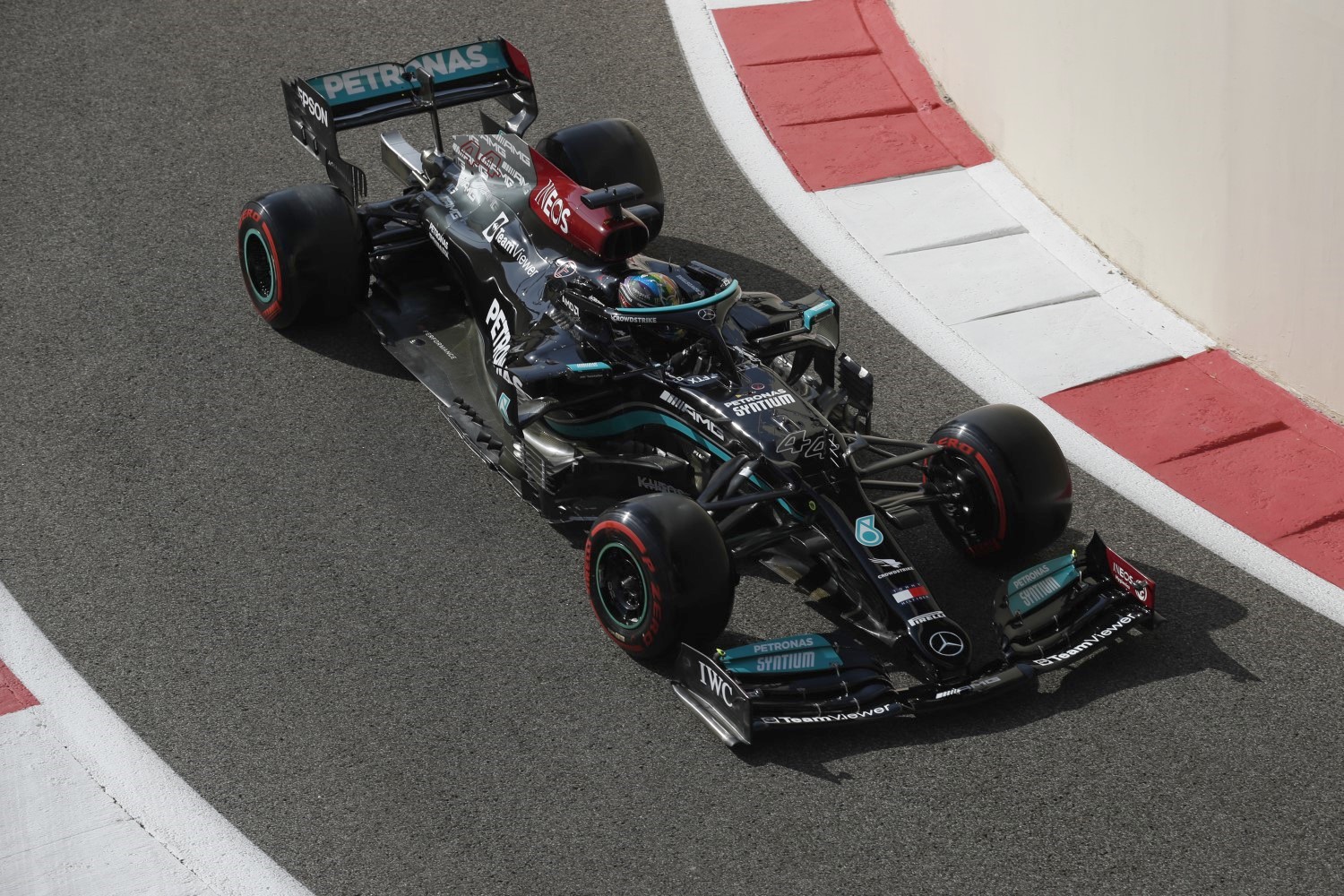 "Max did a great lap today, we just couldn't compete with that time at the end there," Said Hamilton.  "We couldn't answer to that lap, but we're in a good position with our tires tomorrow. The last lap was nice and clean, I just couldn't go any quicker."
Lando Norris put his McLaren third fastest, just ahead of Sergio Perez in 4th, 0.822s and 0.838s behind respectively.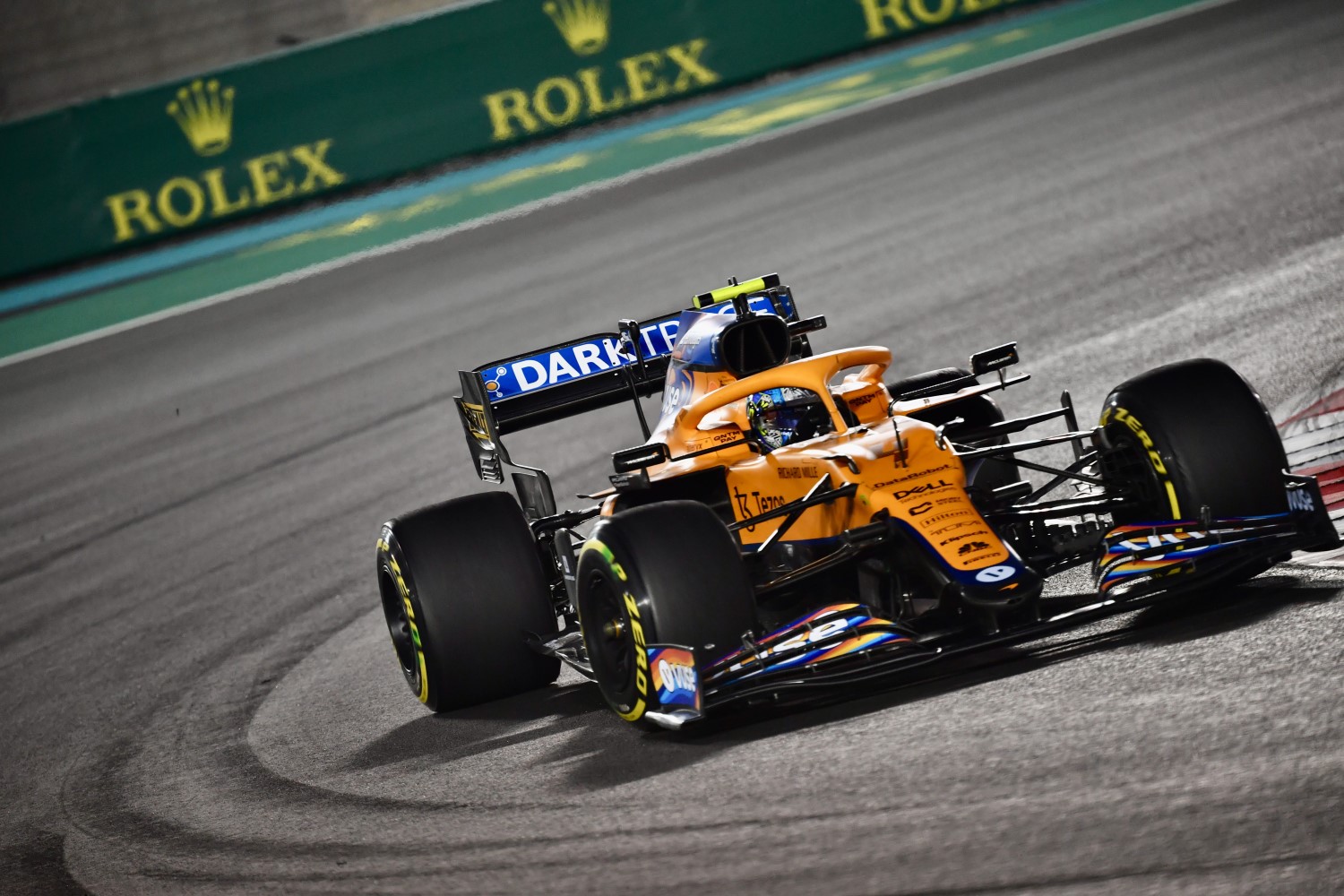 "I dunno really, where that lap came from! I went for pole, didn't quite work out, still a little bit off," said Norris. "I'm a bit nervous, I kind of want to stay where I am and just watch, I don't want to get too involved and cause any controversy…"
"I wish I could have been P3, but it is still a great team result," said Perez.  "There is still a lot we can do [on the softs] so hopefully we have a good start and go from there."
Norris has the best seat in the house for the start tomorrow from P3 on the grid, that's for sure.
It was a brilliant qualifying for Norris and McLaren – but as he said, while he has a brilliant position with which to see the carnage unfold, he will not want to be part of it and inadvertently influence the championship. Expect a very conservative start from him tomorrow.
Carlos Sainz Jr. rounded out the top-5 for Ferrari, 0.883s behind the Dutchman.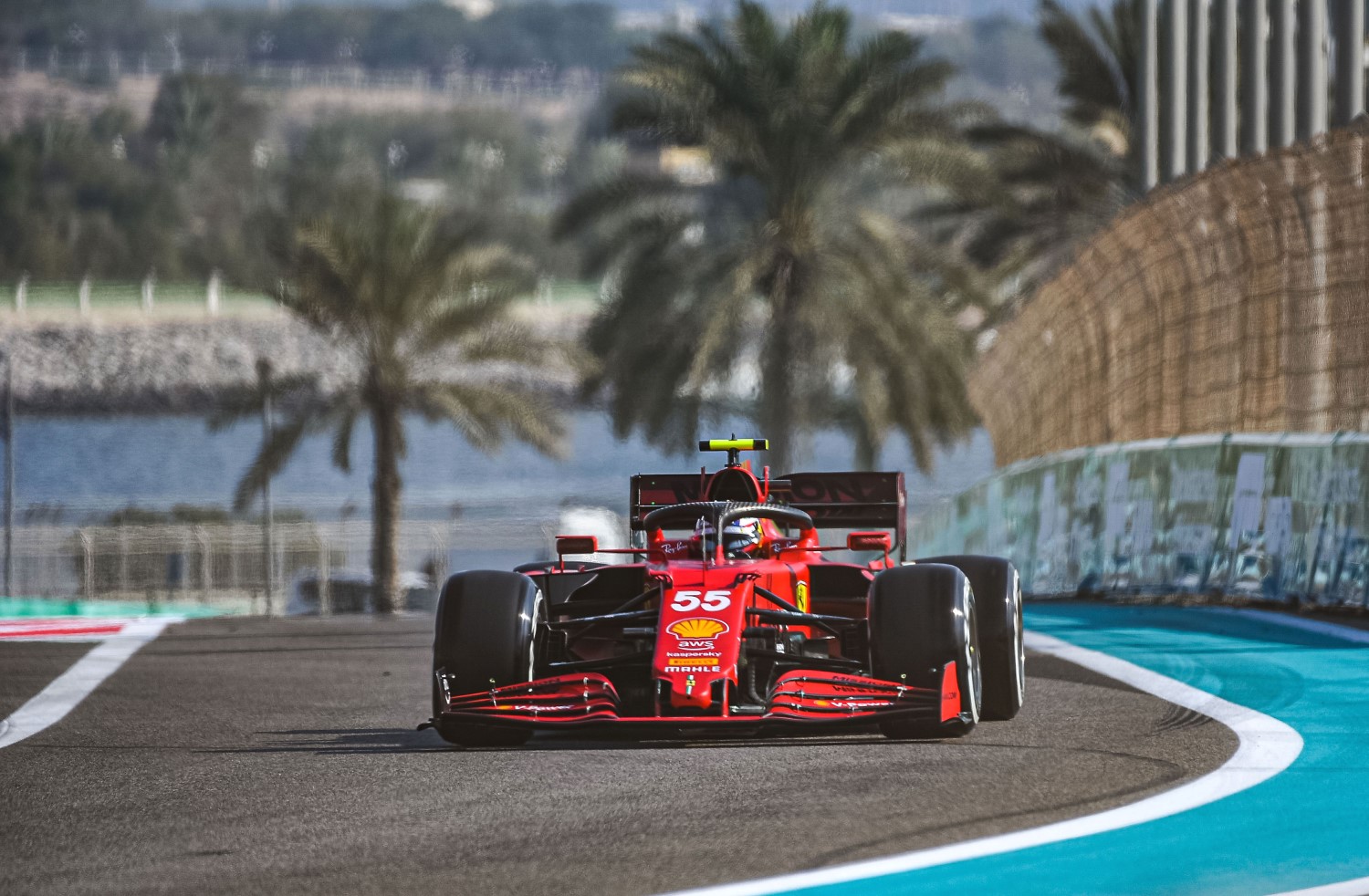 Well, it looked like Mercedes were favorites. Red Bull then made mistakes in Q2. And yet they nailed their strategy in Q3 to grab pole and P4. That is quite a turn around today, considering they've had reliability issues with their rear wing as well.
"We discussed the slipstream this morning, we lowered the downforce, it was the only way to match these guys on the straights, said Red Bull team boss Christian Horner.
"Q2 came more towards us, and then both runs in Q3 were exceptional. That tow, Checo working with his team mate, absolutely perfect team work today. I think that's one of Max's best laps of the year."
"Much rather start on the medium, we will have a slight disadvantage from the start and the first six or seven laps if [Max] goes fast," said Mercedes team boss Toto Wolff.
"We can go longer, we can go for an aggressive undercut. I'm also worried about tomorrow because their long runs were much better on Friday.
"I think there is nothing you need to say [to Lewis]. I think he's going to be angry, which is good. He's going to be hunting him down. We are on the back foot. This is a long race, and this is Lewis Hamilton in the car."
More to follow….
Qualifying Results
| | | | | | | |
| --- | --- | --- | --- | --- | --- | --- |
| POS. | DRIVER | NAT. | TEAM | Q1 | Q2 | Q3 |
| 1 | Max Verstappen | NED | Red Bull Racing | 1m23.322s | 1m22.800s | 1m22.109s |
| 2 | Lewis Hamilton | GBR | Mercedes AMG | 1m22.845s | 1m23.145s | 1m22.480s |
| 3 | Lando Norris | GBR | McLaren F1 Team | 1m23.553s | 1m23.256s | 1m22.931s |
| 4 | Sergio Perez | MEX | Red Bull Racing | 1m23.350s | 1m23.135s | 1m22.947s |
| 5 | Carlos Sainz Jr. | ESP | Scuderia Ferrari | 1m23.624s | 1m23.174s | 1m22.992s |
| 6 | Valtteri Bottas | FIN | Mercedes AMG | 1m23.117s | 1m23.246s | 1m23.036s |
| 7 | Charles Leclerc | MON | Scuderia Ferrari | 1m23.467s | 1m23.202s | 1m23.122s |
| 8 | Yuki Tsunoda | JPN | Scuderia AlphaTauri Honda | 1m23.428s | 1m23.404s | 1m23.220s |
| 9 | Esteban Ocon | FRA | Alpine F1 Team | 1m23.764s | 1m23.420s | 1m23.389s |
| 10 | Daniel Ricciardo | AUS | McLaren F1 Team | 1m23.829s | 1m23.448s | 1m23.409s |
| 11 | Fernando Alonso | ESP | Alpine F1 Team | 1m23.846s | 1m23.460s | – |
| 12 | Pierre Gasly | FRA | Scuderia AlphaTauri Honda | 1m23.489s | 1m24.043s | – |
| 13 | Lance Stroll | CAN | Aston Martin | 1m24.061s | 1m24.066s | – |
| 14 | Antonio Giovinazzi | ITA | Alfa Romeo Racing Orlen | 1m24.118s | 1m24.251s | – |
| 15 | Sebastian Vettel | GER | Aston Martin | 1m24.225s | 1m24.305s | – |
| 16 | Nicholas Latifi | CAN | Williams Racing | 1m24.338s | – | – |
| 17 | George Russell | GBR | Williams Racing | 1m24.423s | – | – |
| 18 | Kimi Raikkonen | FIN | Alfa Romeo Racing Orlen | 1m24.779s | – | – |
| 19 | Mick Schumacher | GER | Uralkali Haas F1 Team | 1m24.906s | – | – |
| 20 | Nikita Mazepin | RUS | Uralkali Haas F1 Team | 1m25.685s | – | – |