NASCAR: Zane Smith wins wild Camping World Truck Series season-opener at Daytona
A 19-car incident as the field approached the white flag signaling one lap to go instead sent Friday night's NextEra Energy 250 NASCAR Camping World Truck Series season-opener into overtime where 22-year old Californian Zane Smith won under caution over defending series champion Ben Rhodes.
A nearly 16-minute red flag was needed to clean up all the debris from the frontstretch melee, which happened only a few feet before the start/finish line and littered much of the track's tri-oval. Had Smith – the leader at the time – crossed the line before the wreck began, the race would have ended. Instead, the remaining cars that were able to continue, continued.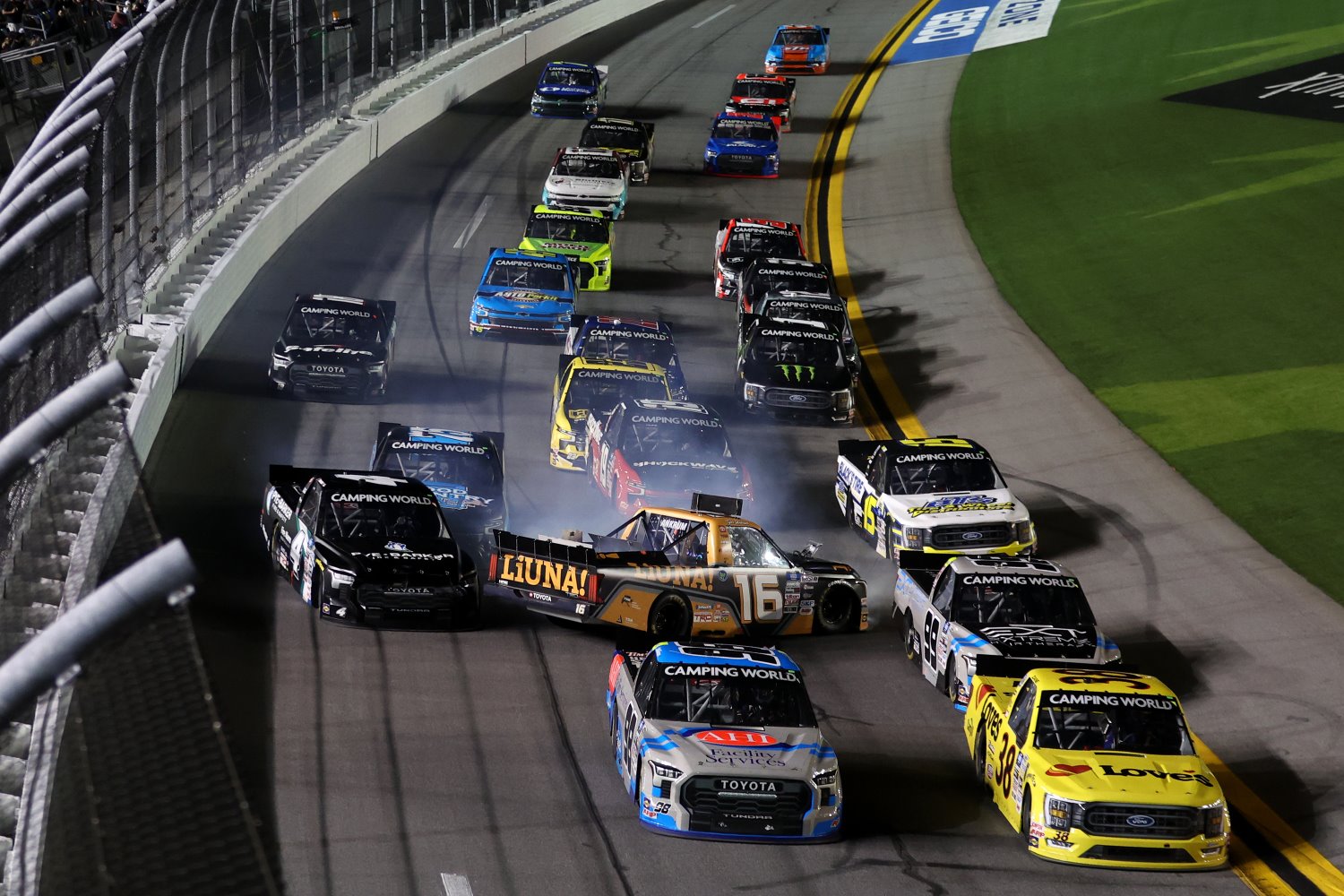 So Smith had to do it all over again. He lined up alongside Eckes for the final two-lap run to the checkered. A sturdy nudge from behind from Parker Kligerman sent Smith's No. 38 Front Row Motorsports Ford-150 to the front and he was able to pull away – taking the white flag before caution flew on the final lap. He led only three laps on the night – including the important last two.
"It's something else, man," Smith said of winning at the iconic Daytona International Speedway. "This place is its own, I'll tell you that. Literally my heart hurt during that red flag. I thought we had it.
"Just hats off to this whole group. They've really put the work in and it's so damn cool to see when it pays off. Man, this is going to be a really fun year and I'm going to try and make it a record year for myself."
Eckes finished third. Former National Hot Rod Association (NHRA) standout Tanner Gray and Kligerman rounded out the top-five. Carson Hocevar, Jesse Little, polesitter Ty Majeski, Danny Bohn and former NASCAR Cup Series driver Matt DiBenedetto rounded out the top-10. This was DiBenedetto's career first start in the series.
Kligerman, who was the last driver to qualify for the race on speed, started 31st and rallied into the top five ultimately giving that winning push to Smith, who now has four victories and was championship runner-up last year. It was the kind of dramatic racing – there were 18 lead changes – and finish that fans have come to expect of Truck races on the 2.5-mile Daytona International Speedway high banks and it did not disappoint.
"This is just huge to get this momentum," said Kligerman, a part-time series competitor who also does national racing broadcast work for NBC.
He was particular proud of Friday's effort considering his truck team has only one fulltime employee.
"It's just such an honor" Kligerman said. "I'm so grateful to have the chance to just show up here, let alone go out there and compete and reel off a top five. We're just firing on all cylinders."
While the ending was certainly exciting, last year's five-race winner John Hunter Nemechek really dominated the early-going. He led a race best 50 of the 106 laps and won both Stage 1 and Stage 2. He was caught up in the massive incident while running in the top-five and ultimately settled for a 24th-place showing.
The NASCAR Camping World Truck Series takes a week off and then resumes competition in the Victoria's Voice Foundation 200 on March 4 at Las Vegas Motor Speedway (6 p.m. ET on FS1, MRN, SiriusXM NASCAR Radio).
Winner's Quote
Zane, the celebration says so much. This is a team sport. It's all about these moments. It's the family atmosphere here. Put into perspective what it means to be a winner at Daytona.
ZANE SMITH: Something else. Man, this place is its own, I'll tell you that.
But man, literally my heart hurt during that red flag because I thought we had it. Man, just hat's off to this whole group. They've really put the work in, and it's so damn cool to see when it pays off.
Man, this is going to be a really fun year. I'm going to try to make it a record year for myself. How cool is this to get Love's back in Victory Lane? I think we need to run this scheme more often.
Results
(20)  Zane Smith, Ford, 106.
(27)  Ben Rhodes, Toyota, 106.
(14)  Christian Eckes, Toyota, 106.
(24)  Tanner Gray, Ford, 106.
(31)  Parker Kligerman, Chevrolet, 106.
(9)  Jesse Little, Chevrolet, 106.
(1)  Ty Majeski, Toyota, 106.
(28)  Danny Bohn, Chevrolet, 106.
(22)  Carson Hocevar, Chevrolet, 106.
(23)  Matt DiBenedetto, Chevrolet, 106.
(15)  Spencer Boyd, Chevrolet, 106.
(8)  Riley Herbst(i), Ford, 106.
(16)  Austin Wayne Self, Chevrolet, 106.
(35)  Timmy Hill, Toyota, 106.
(13)  Austin Hill(i), Chevrolet, 106.
(5)  Stewart Friesen, Toyota, 106.
(26)  Hailie Deegan, Ford, 106.
(34)  Thad Moffitt, Chevrolet, 106.
(12)  Kris Wright, Chevrolet, 106.
(33)  Jason White, Toyota, Accident, 105.
(3)  Chandler Smith, Toyota, 105.
(32)  Tate Fogleman, Toyota, 105.
(25)  Bryan Dauzat, Chevrolet, 105.
(2)  John Hunter Nemechek, Toyota, 104.
(10)  Lawless Alan #, Chevrolet, Accident, 103.
(30)  Derek Kraus, Chevrolet, Accident, 101.
(29)  Matt Crafton, Toyota, Accident, 100.
(4)  Tyler Ankrum, Toyota, Accident, 99.
(7)  Grant Enfinger, Chevrolet, Accident, 99.
(18)  Colby Howard, Chevrolet, Accident, 99.
(19)  Blaine Perkins #, Chevrolet, Accident, 99.
(6)  Corey Heim #, Toyota, Accident, 91.
(11)  Jack Wood #, Chevrolet, Accident, 63.
(36)  Johnny Sauter, Toyota, Electrical, 60.
(21)  Bret Holmes, Chevrolet, Clutch, 44.
(17)  Dean Thompson #, Chevrolet, Brakes, 36.
Average Speed of Race Winner:  129.146 mph.
Time of Race:  2 Hrs, 3 Mins, 7 Secs. Margin of Victory:  Under Caution Seconds.
Caution Flags:  7 for 27 laps.
Lead Changes:  18 among 10 drivers.
Lap Leaders:   T. Majeski 1-18;J. Nemechek 19-29;S. Friesen 30-31;T. Majeski 32-34;D. Kraus 35;T. Ankrum 36-37;J. Nemechek 38-43;A. Hill(i) 44;C. Howard 45-51;J. Nemechek 52-64;Z. Smith 65;J. Nemechek 66-67;C. Howard 68;T. Ankrum 69-70;C. Howard 71;J. Nemechek 72-89;B. Rhodes 90-95;C. Eckes 96-104;Z. Smith 105-106.
Leaders Summary (Driver, Times Lead, Laps Led):  John Hunter Nemechek 5 times for 50 laps; Ty Majeski 2 times for 21 laps; Colby Howard 3 times for 9 laps; Christian Eckes 1 time for 9 laps; Ben Rhodes 1 time for 6 laps; Tyler Ankrum 2 times for 4 laps; Zane Smith 2 times for 3 laps; Stewart Friesen 1 time for 2 laps; Derek Kraus 1 time for 1 lap; Austin Hill(i) 1 time for 1 lap.
Stage #1 Top Ten: 4,18,52,51,38,23,66,15,32,16
Stage #2 Top Ten: 4,99,18,98,88,22,16,19,7,66
An Interview with: Zane Smith
THE MODERATOR: We are now joined by Zane Smith, the winner of tonight's NASCAR Camping World Truck Series race from Daytona International Speedway. We will open it up to questions.
What does it feel like to win at Daytona, given the success that you've had before in the series and in the sport, but it comes here tonight, and this is about as big as it gets?
ZANE SMITH: Yeah, really as a kid, I grew up coming here racing my go-kart race after Christmas on the road course. I was like, damn, it would be pretty cool to win here in NASCAR. At that time I was like 10 years old.
I never thought it would happen, especially with my past two years here, just always having a shot right at the very end and then not working out. There's just so many variables to win here is why it's so hard to win here.
But I just felt like I really read the race the best I've ever done and read the people around me and just really tried to listen to Josh Williams, my spotter, and just play it smart and see where the cards fell.
Luckily they fell right for me.
Like I said, never thought I'd be in Victory Lane at Daytona, but pretty dang cool.
Front Row won last year with Michael McDowell, obviously; Love's was on the car then; Love's is on your truck tonight. Have you heard from the boss man at all or anybody at Love's since you won again?
ZANE SMITH: Yeah, they're pumped. I'm going to be on the infield partying with them here soon. I'm staying until Sunday. If I didn't win there, I may have been going home. No, definitely got to stay until Sunday now. Going to have some fun with Love's, Speedy Cash, everybody involved for this year. They deserve it.
I hope the rest of my team is staying, as well. I know we've got a few, couple days to celebrate, then it's back to work.
I truthfully believe this is the first of a few this year. I feel like I've clicked the best ever with a team, and it's awesome to start out with this momentum.
During that red flag, what was the mindset that you had knowing that you were going to get another chance after that big wreck?
ZANE SMITH: Yeah, like I said, it's so many variables to win here, but during that red flag I had a pretty good view of the big screen, and I had seen the yellow light flash off and a few other angles, and they showed like an onboard from somebody, and I'm like, man, it looked like the green — obviously I'm a little biased here, but it looked like the green flag light was still on and then I got confirmation that we were going back green. At that time I've really learned over the past couple years that whenever you think something is going to go your way, it goes the exact opposite.
I was just planning for the worst. We were struggling on getting going like the first lap. I couldn't push the 4, and I was hoping — I pretty much had two pretty good options. I either had a teammate behind me or Parker behind me, and ultimately Parker is what has me sitting here right now.
I definitely have a gift headed his way. I don't know what I'm going to send him, but he gave me a great push, and ultimately that's what won me it.
You only had one top-5 finish before your win at Martinsville last season. Now you start the season with a win. How gratifying is that?
ZANE SMITH: Yeah, it's wild what pit road will do for you. Those tweets and everything were honestly starting to piss me off a little bit with, oh, he only had two top 5s, but it wouldn't ever be talked about how we were either leading or top 3 and have an issue on pit road and have to go to the back, and it's really hard to come back to the front in 150- to 200-lap races, especially trucks in dirty air. That Martinsville win, I was pretty fired up with that one, and then obviously Phoenix, to come eight laps short. The past two years I've really had a lot of fuel to fire me up.
I'm just going to try to ride this wave as long as I can, but no, I don't think top 5s will be our issue this year. I think it will just be coming down to executing wins.
Does the win put finishing second in the standings for a second consecutive year behind you?
ZANE SMITH: No, that stuff always — that'll scar you. But I don't know, I guess I'm going in with the mindset of, I don't know, third time is a charm. This is as good as you can start out a year. So dang cool to already be in the playoffs. It's a huge weight off my shoulder, my team's shoulder, sponsors' shoulder, everybody.
At this time it's stage wins and more wins. We get to go really have a different pit strategy than other guys, and that's really valuable. Really looking forward to it.
How important is it to change — just a few months ago we saw you at the table not knowing what you were going to do, and now you come to this team and you already start this. How special is this for the team momentum?
ZANE SMITH: It's so dang cool. I think NASCAR is going in the right direction of it, and team owners that are starting or they're really looking for guys that can win, and Bob Jenkins is one of those guys. I'll forever be in debt for him taking a risk on me.
Days like tonight, and what do we have, 20 more, 21 more, something like that, those are all talent shows for me. It's all just trying to make him happy and proving him right. I know he's really happy right now, but if we continue to win these, not only will I be happy, but he will, as well.
Guys like him that have been here for a while and really just grind it out and keep on fighting, those are the team owners you want, the ones that are really into it, and he's one of those.
And then were you surprised about how calm it was until the end there?
ZANE SMITH: Yeah, that's why I was like really trying to race to the white. I have no idea how we did not yard sale all of them in the second stage. It was about as sketchy as it gets.
I bailed out of there, and then as soon as I bailed out, they really started single filing, and so I tried charging back up there to hopefully get a stage point or something.
Yeah, I don't even know how many finished, but I remember watching that replay, and I know it got a lot, but I've seen these truck races get a lot more. So I knew that we were most likely going to be racing to the white again, and when I heard Parker was behind me, I was excited.
You talked about Parker there; can you kind of take us through that first third or like three-quarters of the lap on that last restart where he pushed you? You guys seemed like you got a perfect tandem there. How much did that really give you the win?
ZANE SMITH: Yeah, it's Daytona, it's a mixture of everything, of what got me the win.
I had fired and my launch was really good, especially with the new rule of not — not being later to the line, it's how they launch in the box, so I was sure to let the 98 launch because I didn't want to be that guy to basically almost win it and then get sent to the back.
Then I looked in my mirror, and I had seen the 99 wasn't attached to him, and so I stayed off of the 98. I did not want to side draft him because if I was going to side draft him it was going to pull him back to the 99 and he was going to have a good push.
At that time it was all watching the 75 in my mirror, which I don't know if our spotters were talking on the stand or what, but I had gotten told that he was going to give me the best push he could. He did. He's just one of those guys that's got good experience. He's a really good speedway racer. There's guys that give a good push and there's guys that give a dumb push, and that was obviously a good push.
I know it's only been one race and only an off-season winter with Front Row Motorsports, but can you describe the vibe with the organization because it really seems like there's some chemistry and it's a contagious atmosphere that you have with Front Row, basically based on the celebration on the frontstretch?
ZANE SMITH: Yeah, I mean, Todd Gilliland is a good buddy of mine, and occasionally Chris would be hanging around with him. Me and him whenever we talked racing we'd obviously talk about our team or things like such, and I think just from a younger team standpoint, we just click a lot better.
I feel like that's where a lot of this momentum will grow.
I'll tell you, this is probably the most fun I've had during the off-season until now by a team standpoint with just laughing, having fun. It's really easy to get caught up in this sport into thinking it's too much of a job and too serious, but Chris and really all the 38 guys really will remind you that this is a pretty damn fun job.
I constantly remind myself of that. I'm super lucky to be here. I don't even know what I'd be doing if I wasn't in — probably walking dogs or something. Yeah, I don't know. I'm going to keep riding the wave. They're a really fun group to work with. Hopefully we get to Phoenix.
Going back to the question about how calm the race was, do you think that has anything to do with the field being made up of drivers who are more experienced and just in general having more veterans throughout the field than in years past in races like this?
ZANE SMITH: I'll be honest, after qualifying I was kind of worried what I was going to do, just because I was literally boxed in by guys that just haven't had the superspeedway experience. Not saying they're bad race car drivers, but the truck racing on the superspeedway is just so much different, especially when you get your first hit.
That was the only thing I was worried about. But it seemed like they did a good job of — like I'm guilty of this myself, but either a rookie doesn't know what to do so his solution is hit the guy in front of him because he sees other people doing that, or it's, okay, let me learn and lag off of him, and I feel like that was kind of a product of tonight.
There was a few guys that were pushing really hard, but I mean, that's the top 10 at Daytona always. It's so hard to win here, we all want to win here. Yeah, and that's where it comes from.
But no, I was honestly impressed with how everyone kind of kept themselves together. We all know that the Truck Series can get wild at times.
Zane, with this win you're now in the playoffs; how does that feel in comparison to last year when you kind of had to fight via points and race your way into the playoffs last year?
ZANE SMITH: Yeah, it's badass. It's hard to make the playoffs in any series, and then it's hard to — the playoffs are a different season pretty much. Like you reset there. But like I said, going back to now being locked in, we can take advantage of this and really race for wins and race for stage wins. That's what's so cool.
I guarantee you every single one of us in the field are thinking of that tonight, and that's where that aggression comes up. But I'm lucky I'm in that seat. I've come close here the past few years but haven't been able to pull it off, so it feels good.
You've answered most of this, but I was curious about your confidence the last 12 months. Obviously at one point it looked like you might have been in line for a promotion and then obviously some things went away. How have you kept that confidence up, and what in particular about this opportunity attracted you to it as you looked to reset your career and looked at the grand scheme of things from where you wanted your racing career to go?
ZANE SMITH: Yeah, that's a good question. Last year I thought I was going Cup racing. I'm still not in a huge hurry to go Cup racing. I'm having a ton of fun doing this. I know once you get to Sunday, it's a whole other level and you're not going to most likely win for a little bit, so while I can I'd like to fill up my trophy case.
Ever since I was a kid, like I have always been all in. Like there is not a single ounce of man, like what if this happens or man, what if I don't make it. I've just been taught that by my dad and the people around me of, man, if you're going to do it, do it right.
Being kicked in the stomach multiple, multiple times — I know what I'm capable of, and I know what I can do. It's just the deck you're dealt with, I guess, and playing with the best you can with it. I feel like I've gone about that the past few years.