Supercars: Mostert wins in the wet – leads Championship
Chaz Mostert has claimed the Repco Supercars Championship lead with victory in a wet-dry Beaurepaires Sydney SuperNight thriller.
The Bathurst winner was able to hold off two rising stars of the sport in a strategic 300km epic, with pole man Brodie Kostecki and Anton De Pasquale filling the podium.
The 77-lap race featured three BP Safety Car deployments, with scattered showers wreaking havoc through the field.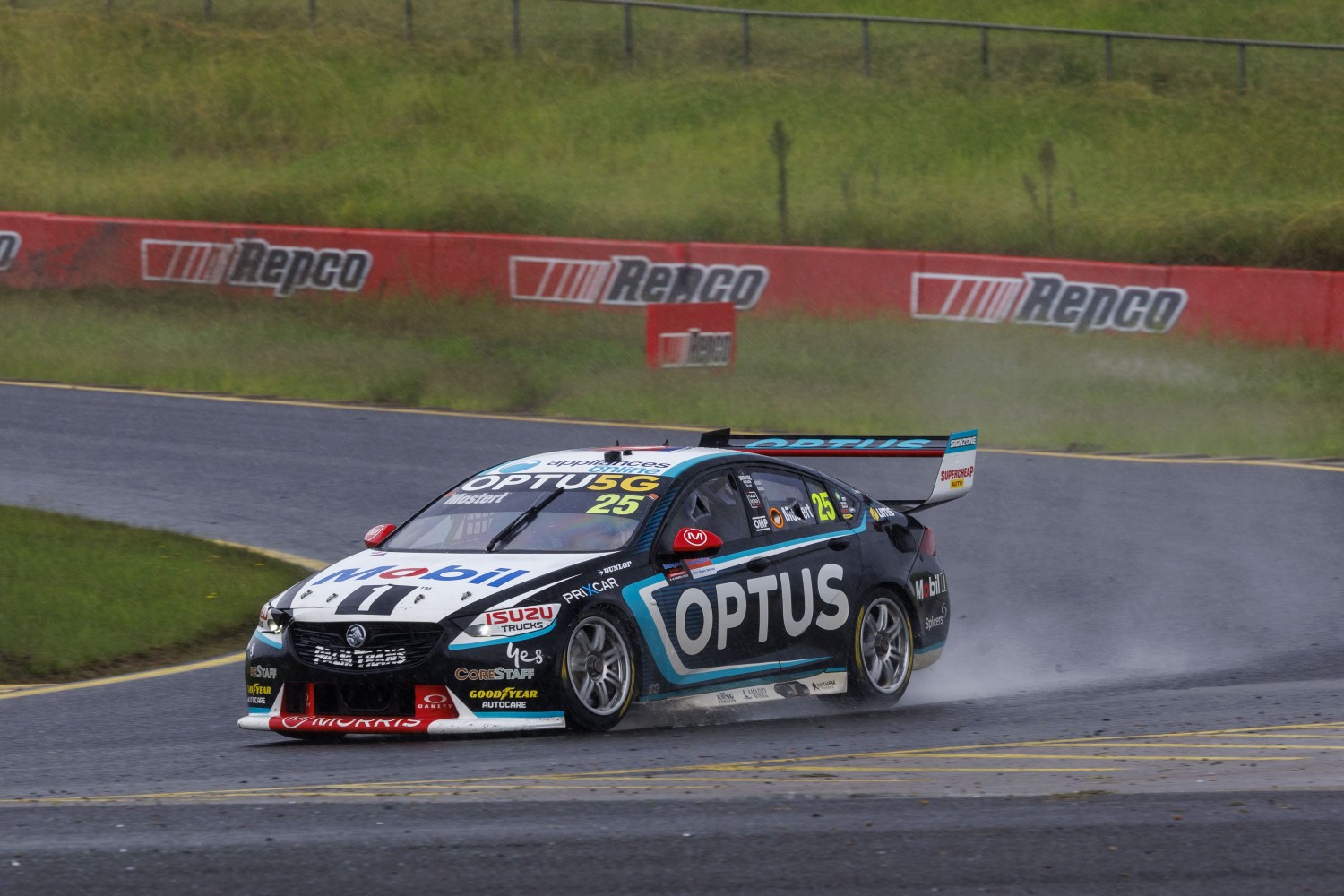 It marked Mostert's first win in Sydney since 2015, and the first at Sydney Motorsport Park for a Walkinshaw car in 14 years.
It also helped Mostert into the championship lead for the first time in his career.
Additionally, it marked the first time in six years that a non-Triple Eight or Dick Johnson Racing driver leads the championship.
"I never thought I'd have an orange number on my car," said Mostert, who finished third on Saturday.
"Driving up and seeing this [championship leader] board is pretty cool.
"It's cool to tick that box off the list… I don't know where to start. What a race, what a weekend for us.
"Super stoked for the whole team."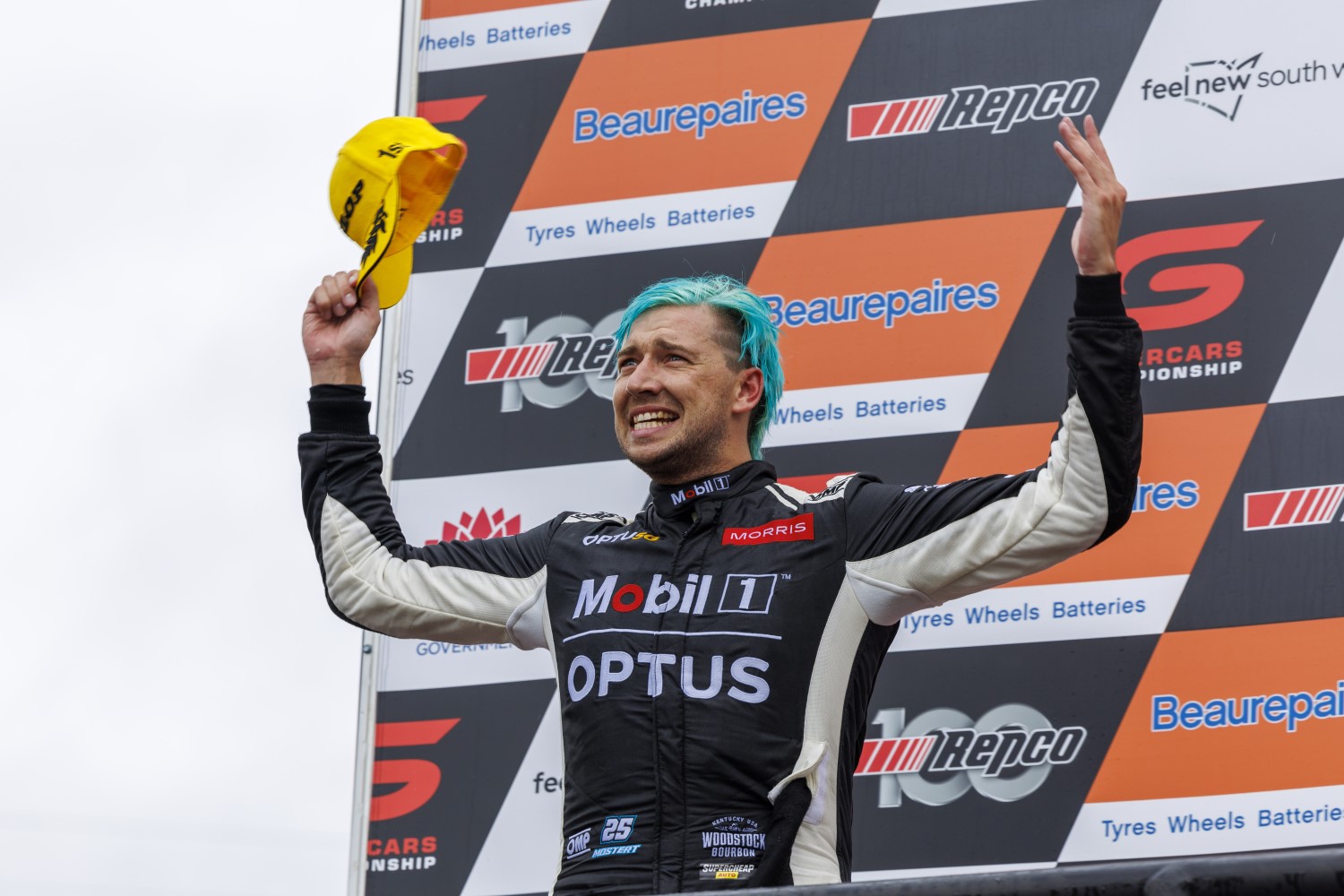 Saturday winner Shane van Gisbergen finished sixth despite starting 21st, spinning early, suffering a slow stop and at one stage was even lapped.
Mostert will carry a 12-point lead over De Pasquale to Tasmania, with van Gisbergen 27 points from the new championship leader.
The season will resume at the NED Whisky Tasmania SuperSprint on the 26-27 March.
Sydney Race 2 Results
| | | | | |
| --- | --- | --- | --- | --- |
| Pos | No. | Driver | Car | Behind |
| 1 | 25 | Chaz Mostert | Holden Commodore ZB | 0.000s |
| 2 | 99 | Brodie Kostecki | Holden Commodore ZB | 2.766 |
| 3 | 11 | Anton De Pasquale | Ford Mustang GT | 4.433 |
| 4 | 6 | Cameron Waters | Ford Mustang GT | 4.973 |
| 5 | 8 | Andre Heimgartner | Holden Commodore ZB | 6.846 |
| 6 | 97 | Shane van Gisbergen | Holden Commodore ZB | 7.872 |
| 7 | 17 | Will Davison | Ford Mustang GT | 9.346 |
| 8 | 9 | Will Brown | Holden Commodore ZB | 9.805 |
| 9 | 26 | David Reynolds | Ford Mustang GT | 10.773 |
| 10 | 3 | Tim Slade | Ford Mustang GT | 11.579 |
| 11 | 88 | Broc Feeney | Holden Commodore ZB | 11.959 |
| 12 | 18 | Mark Winterbottom | Holden Commodore ZB | 14.602 |
| 13 | 35 | Todd Hazelwood | Holden Commodore ZB | 14.715 |
| 14 | 55 | Thomas Randle | Ford Mustang GT | 15.728 |
| 15 | 20 | Scott Pye | Holden Commodore ZB | 16.719 |
| 16 | 10 | Lee Holdsworth | Ford Mustang GT | 17.286 |
| 17 | 5 | James Courtney | Ford Mustang GT | 17.988 |
| 18 | 4 | Jack Smith | Holden Commodore ZB | 1 Lap |
| 19 | 14 | Bryce Fullwood | Holden Commodore ZB | 1 Lap |
| 20 | 22 | Chris Pither | Holden Commodore ZB | 1 Lap |
| 21 | 96 | Macauley Jones | Holden Commodore ZB | 2 Laps |
| 22 | 34 | Jack Le Brocq | Holden Commodore ZB | 3 Laps |
| 23 | 2 | Nick Percat | Holden Commodore ZB | 8 Laps |
| 24 | 56 | Jake Kostecki | Ford Mustang GT | 9 Laps |
| DNF | 76 | Garry Jacobson | Holden Commodore ZB | 48 Laps |
Provisional Driver's Championship Standings
| | | | |
| --- | --- | --- | --- |
| Pos         | Driver | Team | Pts |
| 1 | Chaz Mostert | Mobil 1 Optus Racing Commodore | 279 |
| 2 | Anton De Pasquale | Shell V-Power Racing Mustang | 267 |
| 3 | Shane van Gisbergen | Red Bull Ampol Racing Commodore | 252 |
| 4 | Brodie Kostecki | Boost Mobile Erebus Commodore | 249 |
| 5 | Will Davison | Shell V-Power Racing Mustang | 216 |
| 6 | Cameron Waters | Monster Energy Mustang | 192 |
| 7 | William Brown | Boost Mobile Erebus Commodore | 186 |
| 8 | Andre Heimgartner | R&J Batteries Commodore | 174 |
| 9 | Tim Slade | CoolDrive Commodore | 168 |
| 10 | Broc Feeney | Red Bull Ampol Racing Commodore | 156 |
| 11 | Nick Percat | Mobil 1 NTI Commodore | 138 |
| 12 | James Courtney | Opposite Lock Mustang | 132 |
| 13 | Mark Winterbottom | Irwin Racing Commodore | 126 |
| 14 | Todd Hazelwood | Truck Assist Commodore | 126 |
| 15 | Bryce Fullwood | Middy's Commodore | 117 |
| 16 | David Reynolds | Penrite Racing Commodore | 117 |
| 17 | Thomas Randle | Castrol Racing Mustang | 108 |
| 18 | Jack Le Brocq | Truck Assist Commodore | 105 |
| 19 | Jack Smith | SCT Logistics Commodore | 105 |
| 20 | Lee Holdsworth | Penrite Racing Commodore | 99 |
| 21 | Jake Kostecki | Tradie Mustang | 81 |
| 22 | Chris Pither | Coca Cola Commodore | 81 |
| 23 | Macauley Jones | Tools.com Commodore | 81 |
| 24 | Scott Pye | Seiko Commodore | 60 |
| 25 | Garry Jacobson | Subway Commodore | 51 |