IMSA Sebring Hour 1: Ricky Taylor's Acura leads Derani's Cadillac
The No. 10 Wayne Taylor Racing Acura ARX-05 of Ricky Taylor leads the Mobil 1 Twelve Hours of Sebring IMSA WeatherTech SportsCar Championship race.
Taylor, who pitted early in the opening hour, holds a 0.685-second lead over the No. 31 Action Express Racing Cadillac DPi-V.R of Pipo Derani.
Mike Rockenfeller runs third in the No. 48 Ally-sponsored Action Express Cadillac, meanwhile.
LMP2 is led by the No. 52 PR1/Mathiasen Motorsports Oreca of Ben Keating, with No. 74 Riley Motorsports Ligier out front in LMP3.
Mirko Bortolotti took over the GTD Pro class lead in the No. 63 TR3 Racing Lamborghini Huracan GT3 Evo after a hard-fought battle with the pole-sitting No. 62 Risi Competizione Ferrari 488 GT3 Evo of Daniel Serra.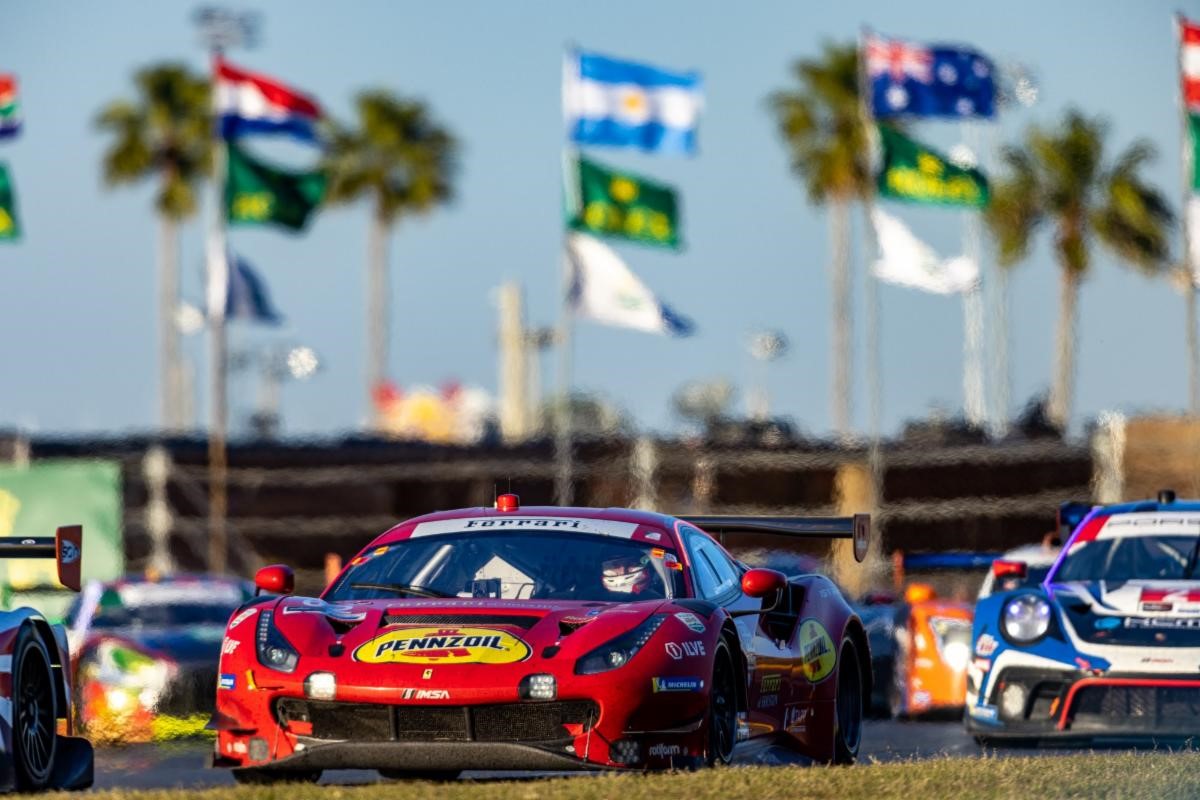 12 Hours of Sebring Hour 1 Standings
| | | | | | | | | |
| --- | --- | --- | --- | --- | --- | --- | --- | --- |
| POS | CLASS | No. | TEAM | DRIVER_1 | DRIVER_2 | DRIVER_3 | DRIVER_4 | Laps |
| 1 | DPi | 10 | Konica Minolta Acura ARX-05 | Ricky Taylor | Filipe Albuquerque | Will Stevens | Acura DPi | 33 |
| 2 | DPi | 31 | Whelen Engineering Racing | Pipo Derani | Tristan Nunez | Mike Conway | Cadillac DPi | 33 |
| 3 | DPi | 48 | Ally Cadillac | Mike Rockenfeller | Kamui Kobayashi | Jose Maria Lopez | Cadillac DPi | 33 |
| 4 | DPi | 60 | Meyer Shank Racing W/Curb-Agajanian | Oliver Jarvis | Tom Blomqvist | Stoffel Vandorne | Acura DPi | 33 |
| 5 | DPi | 02 | Cadillac Racing | Earl Bamber | Alex Lynn | Neel Jani | Cadillac DPi | 33 |
| 6 | DPi | 5 | JDC Miller MotorSports | Tristan Vautier | Richard Westbrook | Loic Duval | Cadillac DPi | 33 |
| 7 | LMP2 | 52 | PR1 Mathiasen Motorsports | Ben Keating | Mikkel Jensen | Scott Huffaker | ORECA LMP2 07 | 32 |
| 8 | LMP2 | 81 | DragonSpeed USA | Henrik Hedman | Juan Pablo Montoya | Sebastian Montoya | ORECA LMP2 07 | 32 |
| 9 | LMP2 | 18 | Era Motorsport | Dwight Merriman | Kyle Tilley | Ryan Dalziel | ORECA LMP2 07 | 32 |
| 10 | LMP2 | 29 | Racing Team Nederland | Frits Van Eerd | Giedo van der Garde | Dylan Murry | ORECA LMP2 07 | 32 |
| 11 | LMP2 | 11 | PR1 Mathiasen Motorsports | Steven Thomas | Josh Pierson | Jonathan Bomarito | ORECA LMP2 07 | 32 |
| 12 | LMP2 | 20 | High Class Racing | Dennis Andersen | Anders Fjordbach | Fabio Scherer | ORECA LMP2 07 | 31 |
| 13 | DPi | 01 | Cadillac Racing | Renger van der Zande | Sebastien Bourdais | Ryan Hunter-Reay | Cadillac DPi | 31 |
| 14 | LMP2 | 22 | United Autosports | James McGuire | Guy Smith | Duncan Tappy | ORECA LMP2 07 | 31 |
| 15 | LMP3 | 38 | Performance Tech Motorsports | Dan Goldburg | Rasmus Lindh | Cameron Shields | Ligier JS P320 | 30 |
| 16 | LMP2 | 8 | Tower Motorsport | John Farano | Louis Deletraz | Rui Pinto de Andrade | ORECA LMP2 07 | 30 |
| 17 | LMP3 | 74 | Riley Motorsports | Gar Robinson | Felipe Fraga | Kay van Berlo | Ligier JS P320 | 30 |
| 18 | LMP3 | 6 | Muehlner Motorsports America | Alec Udell | Harry Gottsacker | Ugo de Wilde | Duqueine D08 | 30 |
| 19 | LMP3 | 7 | Forty7 Motorsports | Mark Kvamme | Anthony Mantella | Matt Bell | Duqueine D08 | 30 |
| 20 | LMP3 | 54 | CORE Autosport | Jon Bennett | Colin Braun | George Kurtz | Ligier JS P320 | 30 |
| 21 | LMP3 | 40 | FastMD Racing | Max Hanratty | Todd Archer | James Vance | Duqueine D08 | 30 |
| 22 | LMP3 | 30 | Jr III Racing | Ari Balogh | Garett Grist | Dakota Dickerson | Ligier JS P320 | 30 |
| 23 | GTDPRO | 3 | Corvette Racing | Antonio Garcia | Jordan Taylor | Nicky Catsburg | Chevrolet Corvette C8.R GTD | 30 |
| 24 | GTDPRO | 63 | TR3 Racing | Marco Mapelli | Andrea Caldarelli | Mirko Bortolotti | Lamborghini Huracan GT3 | 30 |
| 25 | GTDPRO | 62 | Risi Competizione | Daniel Serra | Davide Rigon | Edward Cheever | Ferrari 488 GT3 | 30 |
| 26 | GTDPRO | 25 | BMW M Team RLL | Connor De Phillippi | John Edwards | Augusto Farfus | BMW M4 GT3 | 29 |
| 27 | GTDPRO | 24 | BMW M Team RLL | Philipp Eng | Marco Wittmann | Nick Yelloly | BMW M4 GT3 | 29 |
| 28 | GTD | 1 | Paul Miller Racing | Bryan Sellers | Madison Snow | Erik Johansson | BMW M4 GT3 | 29 |
| 29 | LMP3 | 33 | Sean Creech Motorsport | Joao Barbosa | Malthe Jakobsen | Lance Willsey | Ligier JS P320 | 29 |
| 30 | GTD | 96 | Turner Motorsport | Robby Foley | Bill Auberlen | Michael Dinan | BMW M4 GT3 | 29 |
| 31 | GTDPRO | 14 | VasserSullivan | Jack Hawksworth | Ben Barnicoat | Aaron Telitz | Lexus RC F GT3 | 29 |
| 32 | GTDPRO | 9 | Pfaff Motorsports | Matt Campbell | Mathieu Jaminet | Felipe Nasr | Porsche 911 GT3R | 29 |
| 33 | GTD | 44 | Magnus Racing | John Potter | Andy Lally | Spencer Pumpelly | Aston Martin Vantage GT3 | 29 |
| 34 | GTD | 28 | Alegra Motorsports | Michael de Quesada | Daniel Morad | Maximilian Goetz | Mercedes-AMG GT3 | 29 |
| 35 | GTDPRO | 79 | WeatherTech Racing | Cooper MacNeil | Julien Andlauer | Alessio Picariello | Porsche 911 GT3R | 29 |
| 36 | GTD | 12 | VasserSullivan | Frankie Montecalvo | Scott Andrews | Richard Heistand | Lexus RC F GT3 | 29 |
| 37 | GTD | 57 | Winward Racing | Russell Ward | Philip Ellis | Marvin Dienst | Mercedes-AMG GT3 | 29 |
| 38 | GTD | 21 | AF CORSE | Simon Mann | Luis Perez Companc | Toni Vilander | Ferrari 488 GT3 | 29 |
| 39 | GTD | 47 | Cetilar Racing | Roberto Lacorte | Giorgio Sernagiotto | Antonio Fuoco | Ferrari 488 GT3 | 29 |
| 40 | GTDPRO | 93 | Racers Edge Motorsports with WTR | Ashton Harrison | Kyle Marcelli | Tom Long | Acura NSX GT3 | 29 |
| 41 | GTD | 66 | Gradient Racing | Kyffin Simpson | Till Bechtolsheimer | Mario Farnbacher | Acura NSX GT3 | 29 |
| 42 | GTD | 59 | Crucial Motorsports | Jon Miller | Patrick Gallagher | Paul Holton | McLaren 720S GT3 | 29 |
| 43 | GTD | 27 | Heart of Racing Team | Roman De Angelis | Ian James | Tom Gamble | Aston Martin Vantage GT3 | 29 |
| 44 | GTD | 39 | CarBahn with Peregrine Racing | Robert Megennis | Corey Lewis | Jeff Westphal | Lamborghini Huracan GT3 | 29 |
| 45 | GTDPRO | 97 | WeatherTech Racing | Cooper MacNeil | Jules Gounon | Maro Engel | Mercedes-AMG GT3 | 29 |
| 46 | GTD | 32 | Gilbert Korthoff Motorsports | Mike Skeen | Stevan McAleer | Daniel Juncadella | Mercedes-AMG GT3 | 29 |
| 47 | GTD | 99 | Team Hardpoint | Rob Ferriol | Katherine Legge | Stefan Wilson | Porsche 911 GT3R | 29 |
| 48 | GTD | 42 | NTE/SSR | Don Yount | Jaden Conwright | Mateo Llarena | Lamborghini Huracan GT3 | 29 |
| 49 | LMP3 | 13 | AWA | Orey Fidani | Kuno Wittmer | Lars Kern | Duqueine D08 | 28 |
| 50 | GTD | 70 | inception racing | Brendan Iribe | Ollie Millroy | Jordan Pepper | McLaren 720S GT3 | 28 |
| 51 | GTD | 16 | Wright Motorsports | Ryan Hardwick | Zacharie Robichon | Jan Heylen | Porsche 911 GT3R | 12 |
| 52 | GTDPRO | 23 | Heart of Racing Team | Ross Gunn | Alex Riberas | Maxime Martin | Aston Martin Vantage GT3 | 3 |
| 53 | LMP3 | 36 | Andretti Autosport | Jarett Andretti | Josh Burdon | Gabby Chaves | Ligier JS P320 | 1 |