Supercars: Van Gisbergen wins hostile opener in Tasmania
There was no love lost as drivers battled to the very last lap of in the opening race of the NED Whisky Tasmania SuperSprint.
In the end, it was defending Repco Supercars Champion Shane van Gisbergen who claimed the victory, after run-ins with fellow podium winners Cam Waters and Will Davison.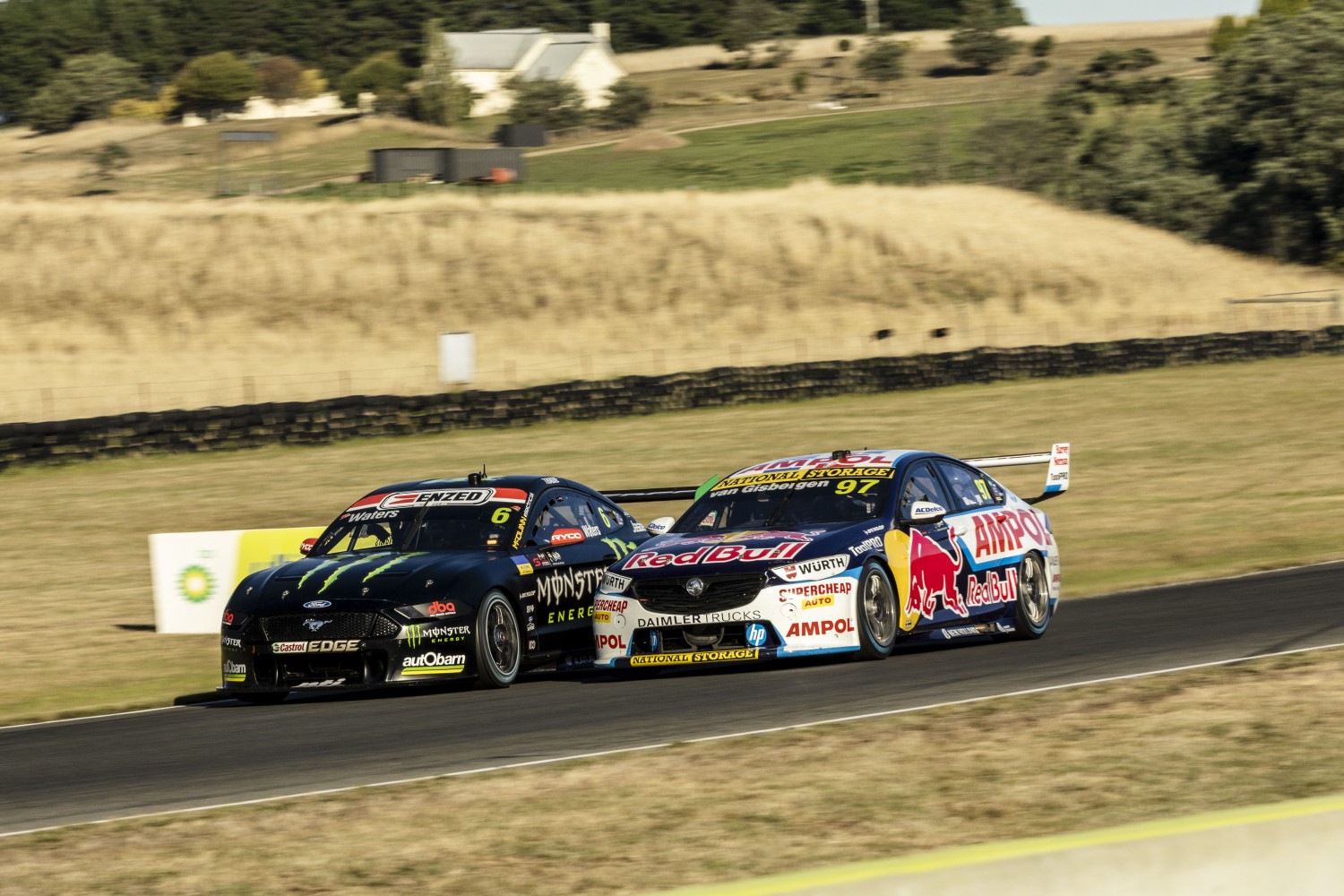 The victory, the second of van Gisbergen's 2022 campaign, means the #97 Red Bull Commodore ace has regained the points lead from Chaz Mostert.
It marked van Gisbergen's 56th career victory, equalling Scott McLaughlin and Garth Tander.
Waters and van Gisbergen collided as they rounded the famous Symmons Plains hairpin corner, and as van Gisbergen took the race lead Waters responded with a middle finger salute to the defending Champion.
Van Gisbergen won the NED Whisky Tasmania SuperSprint opener from fifth on the grid.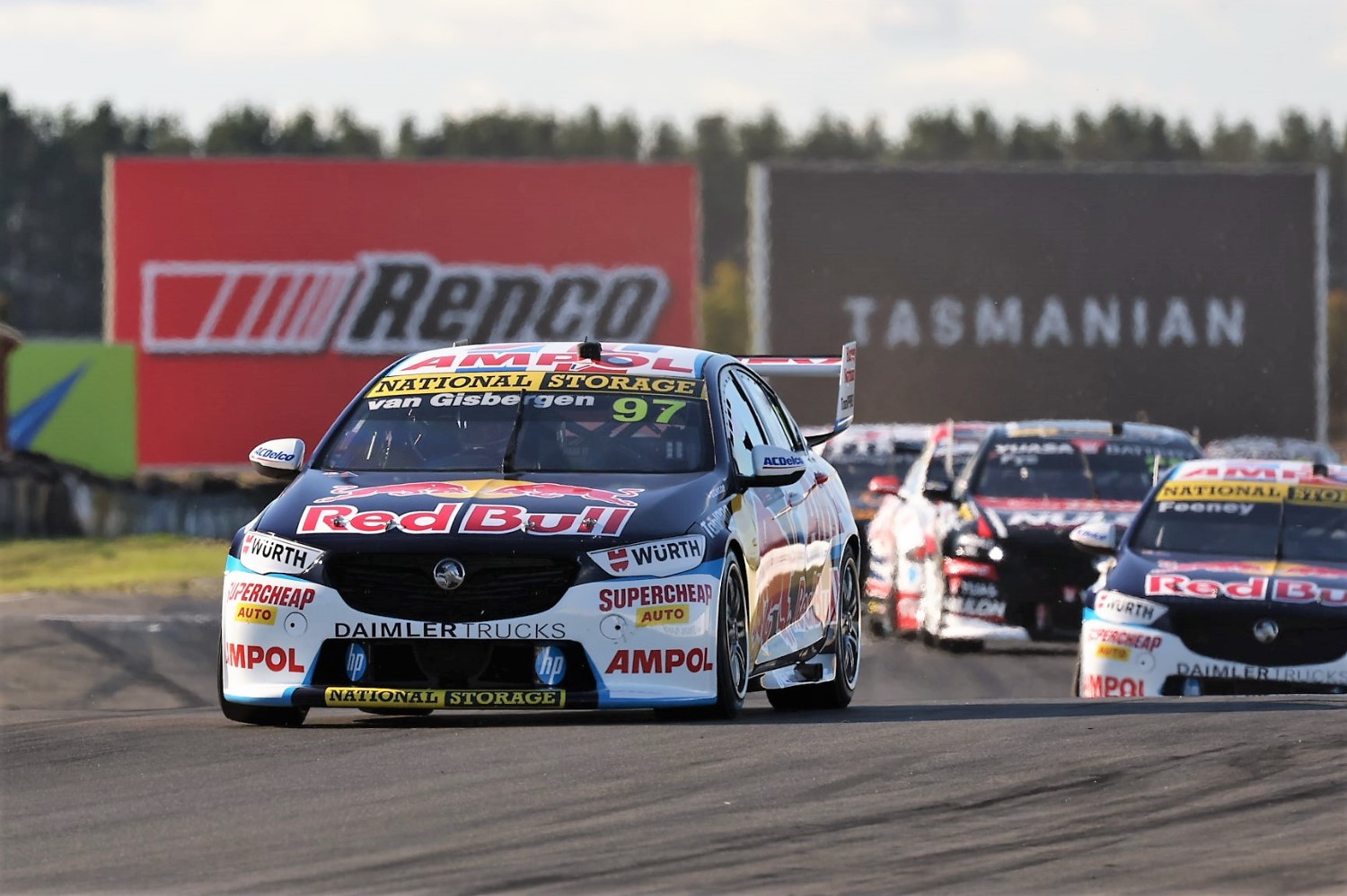 With Chaz Mostert 23rd following a late-race incident, van Gisbergen will carry a 17-point lead into Sunday.
Will Davison crossed the line second ahead of pole man Cam Waters, with Brodie Kostecki fourth.
Broc Feeney secured a career-best finish with fifth ahead of Anton De Pasquale, who moved into second overall.
"What a great race," van Gisbergen said.
"I was rubbing them up a bit, but that's what we're here to do.
"We need to be better tomorrow, but I'm super stoked."
Mostert's fate was sealed when the battle for eighth got ugly; Winterbottom turned Reynolds at Turn 4, leaving Mostert with nowhere to go.
Winterbottom was handed a 15-second penalty for the incident, with Mostert losing three laps in the pits.
Van Gisbergen crossed the line nearly three seconds ahead of Davison, who equalled legendary team boss Dick Johnson's career podiums tally of 65.
Cars will return to the track on Sunday for dual qualifying sessions from 10:35am AEDT.
Race Results
| | | | | |
| --- | --- | --- | --- | --- |
| POS | NO. | DRIVER | TEAM | BEHIND |
| 1 | 97 | Van Gisbergen | Red Bull Holden Racing Team | +0.000s |
| 2 | 17 | Davison | Shell V-Power Racing Team | +2.830 |
| 3 | 6 | C. Waters | Tickford Racing 1 | +6.286 |
| 4 | 99 | B. Kostecki | Penrite Racing – Erebus | +8.861 |
| 5 | 88 | B. Feeney | Red Bull Holden Racing Team | +11.698 |
| 6 | 11 | A. de Pasquale | Shell V-Power Racing Team | +13.742 |
| 7 | 20 | S. Pye | Team 18 | +16.078 |
| 8 | 8 | Heimgartner | Brad Jones Racing | +16.101 |
| 9 | 10 | Holdsworth | Penrite Racing | +19.054 |
| 10 | 35 | T. Hazelwood | Matt Stone Racing | +19.352 |
| 11 | 3 | Slade | CoolDrive Racing | +19.563 |
| 12 | 5 | Courtney | Tickford Racing 1 | +22.086 |
| 13 | 9 | W. Brown | Penrite Racing – Erebus | +24.734 |
| 14 | 56 | J. Kostecki | Tickford Racing 2 | +29.173 |
| 15 | 14 | B. Fullwood | Brad Jones Racing | +35.089 |
| 16 | 76 | G. Jacobson | PremiAir Subway Racing | +37.067 |
| 17 | 4 | J. Smith | SCT Motor Sports | +40.026 |
| 18 | 18 | Winterbottom | Team 18 | +43.784 |
| 19 | 96 | M. Jones | SCT Motor Sports | +47.167 |
| 20 | 22 | C. Pither | PremiAir Coca Cola Racing | +49.223 |
| 21 | 26 | Reynolds | Penrite Racing | +50.747 |
| 22 | 55 | T. Randle | Tickford Racing 2 | +1 Lap |
| 23 | 25 | Mostert | WAU Racing Pty Ltd | +3 Laps |
| 24 | 2 | Percat | WAU Racing Pty Ltd | +6 Laps |
| NC | 34 | J. Le Brocq | Matt Stone Racing | +10 Laps |