F1: Sergio Perez wins pole for Saudi Arabian GP
It looked like Ferrari had a front-row lockout for the Saudi Arabian GP, but Sergio Perez put a late stunner 1m28.200s lap to snatch the pole away from the Prancing Horses by just 0.025s.
It was the first ever F1 pole for the Mexican in 215 starts.
"What a lap, unbelievable," said an ecstatic Perez.  "I can do 1,000 laps and I don't think I could beat that one, it was unbelievable. We weren't expecting to match the Ferraris in qualifying, we were focussing on the race."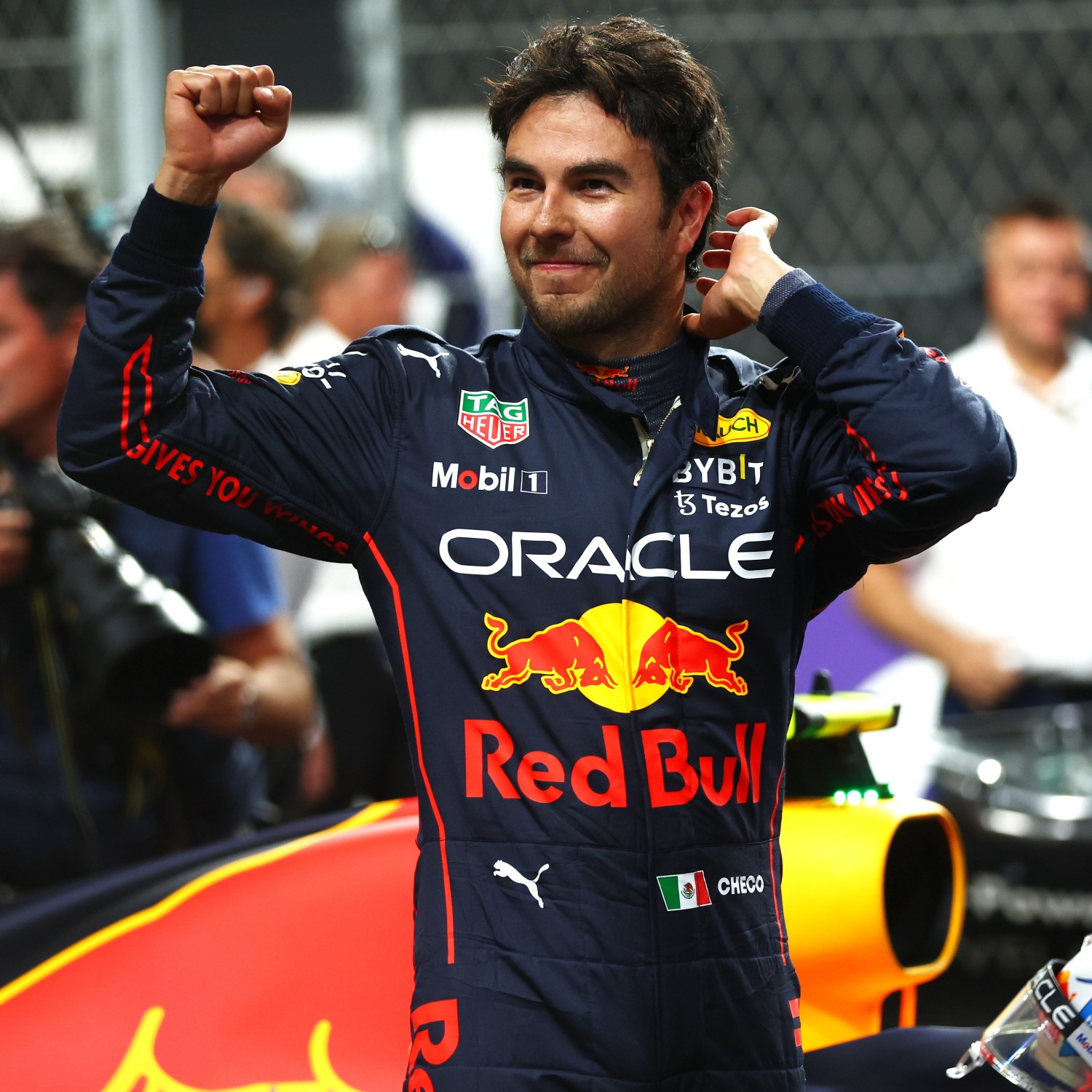 Charles Leclerc will start 2nd for Ferrari, ahead of his teammate Carlos Sainz Jr. who was 0.202s back.
"In the second lap, I went for it and I pretty much put it together," said Leclerc who thought he had pole. "I definitely did not expect Checo to come with that lap time, so congratulations to him."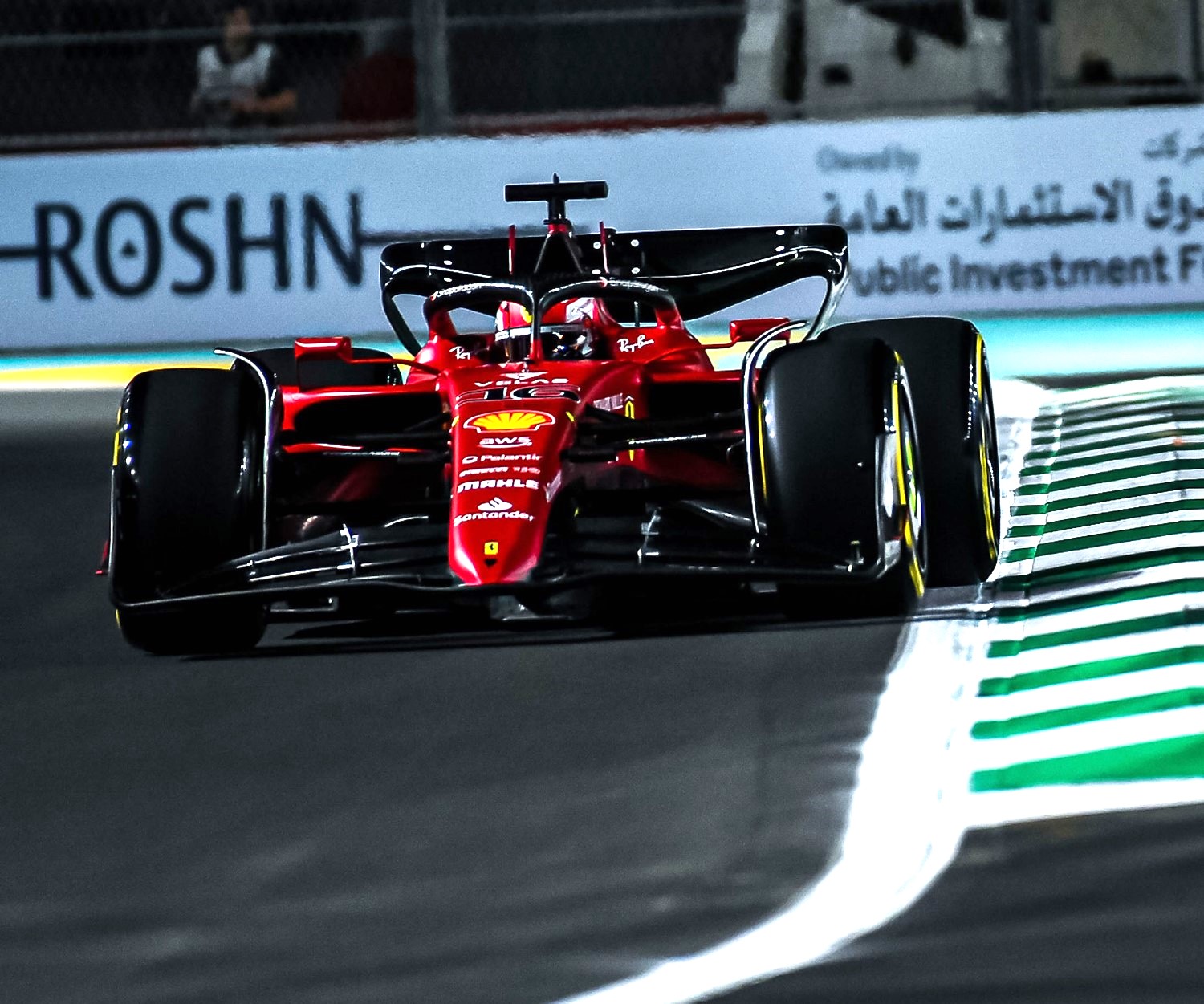 "The lap for P3 was pretty good, it was on a used tire – the new tire for some reason is tricky for me. On the new tire at the end of Q3 I didn't have the grip. Should be an exciting race," said Sainz Jr. who had the fastest Q3 lap after the first runs.
Max Verstappen will start 4th in the 2nd Red Bull, 0.261s back.
"It wasn't an amazing Q3, my first set in Q3 was terrible, like a completely different feeling with the tires," said a disappointed Verstappen.
"Onto the second set, I just didn't feel comfortable, and I couldn't extract like I did in Q1 and Q2. Track temps coming down, you should easily improve, but it felt flat or worse."
The fastest Mercedes was George Russell in 6th, 0.904s behind, while his teammate Lewis Hamilton was not fast enough to make it out of Q1 and will start 16th as Russell begins to establish himself as the fastest Mercedes driver.
Hamilton was bewildered how Russell, a qualifying master, was 0.65s faster than him in Q1 after only his 2nd race with the team.
What a lap that was from the Mexican, after just the one warm up lap. With these tires proving tricky to get in the working window – something Sainz confirmed – is it any wonder that the master of tire management came to the fore in Jeddah?
He'll line up from that P1 grid slot for the very first time after such a long and glittering career. What a moment that will be, but of course, there is the not so small matter of a very long race to contend with next.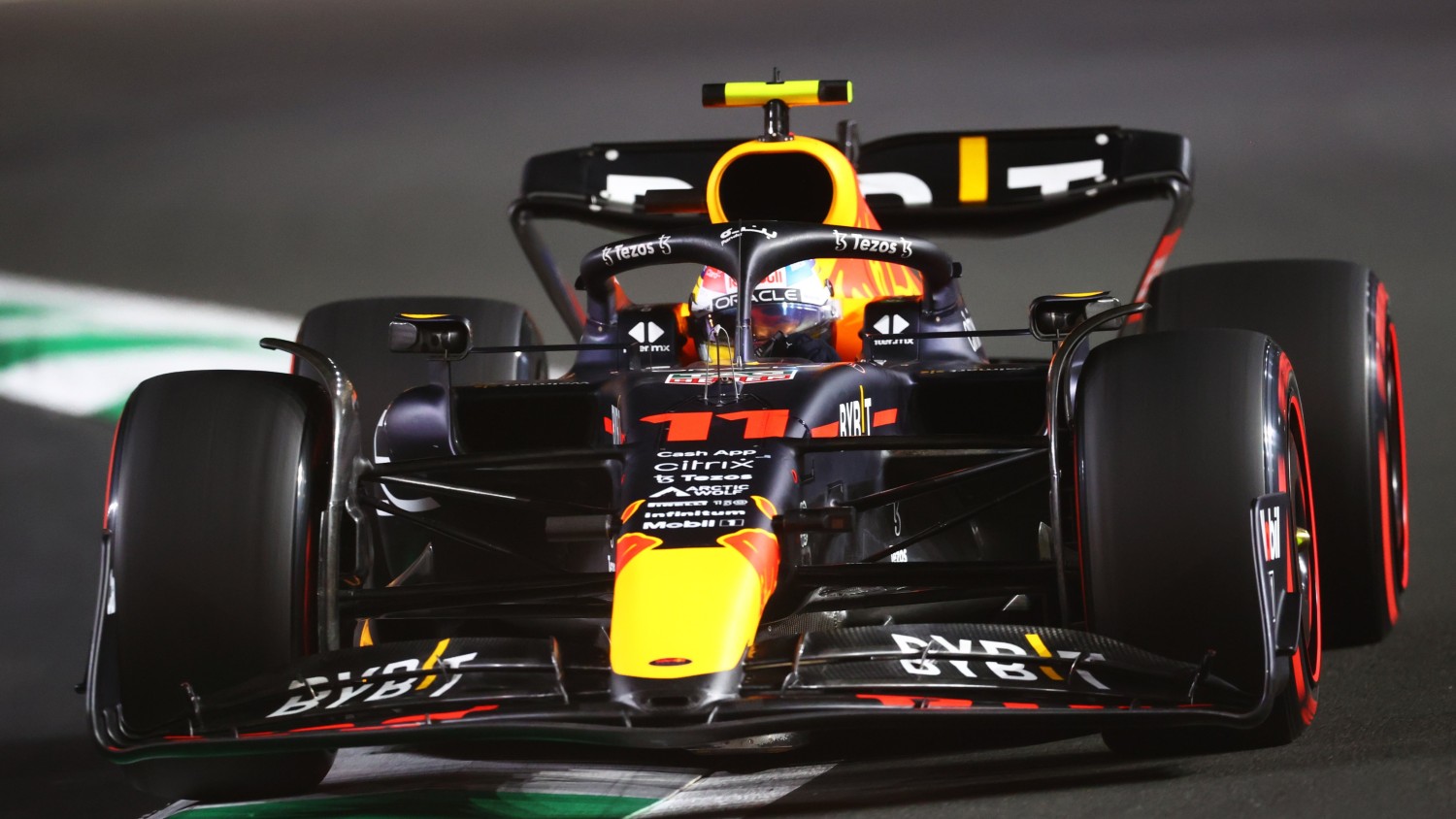 But he will have a hard time beating the Ferraris in the race. The good news for the Mexican, and his teammate starting in P4, is that Red Bull have more data from race simulation runs than their rivals, and have set up the car accordingly.
In Q 1 Haas-Ferrari driver Mick Schumacher crashed hard in the high-speed Turn 10. The German is on the way to hospital for further checks, with the impact forces of that crash likely to be extremely high. Replays of the crash show that he just took slightly too much curb, losing the rear and hitting the wall immediately – that was a very large crash
Qualifying Results
| | | | | | | | | |
| --- | --- | --- | --- | --- | --- | --- | --- | --- |
| POS | NO | DRIVER | CAR | Q1 | Q2 | Q3 | BEHIND | LAPS |
| 1 | 11 | Sergio Perez | Red Bull Racing RBPT | 1:29.705 | 1:28.924 | 1:28.200 | +0.000s | 20 |
| 2 | 16 | Charles Leclerc | Ferrari | 1:29.039 | 1:28.780 | 1:28.225 | 0.025s | 22 |
| 3 | 55 | Carlos Sainz | Ferrari | 1:28.855 | 1:28.686 | 1:28.402 | 0.202s | 23 |
| 4 | 1 | Max Verstappen | Red Bull Racing RBPT | 1:28.928 | 1:28.945 | 1:28.461 | 0.261s | 22 |
| 5 | 31 | Esteban Ocon | Alpine Renault | 1:30.093 | 1:29.584 | 1:29.068 | 0.868s | 19 |
| 6 | 63 | George Russell | Mercedes | 1:29.680 | 1:29.618 | 1:29.104 | 0.904s | 21 |
| 7 | 14 | Fernando Alonso | Alpine Renault | 1:29.978 | 1:29.295 | 1:29.147 | 0.947s | 20 |
| 8 | 77 | Valtteri Bottas | Alfa Romeo Ferrari | 1:29.683 | 1:29.404 | 1:29.183 | 0.983s | 22 |
| 9 | 10 | Pierre Gasly | AlphaTauri RBPT | 1:29.891 | 1:29.418 | 1:29.254 | 1.054s | 22 |
| 10 | 20 | Kevin Magnussen | Haas Ferrari | 1:29.831 | 1:29.546 | 1:29.588 | 1.388s | 24 |
| 11 | 4 | Lando Norris | McLaren Mercedes | 1:29.957 | 1:29.651 | – | – | 16 |
| 12 | 3 | Daniel Ricciardo | McLaren Mercedes | 1:30.009 | 1:29.773 | – | – | 17 |
| 13 | 24 | Zhou Guanyu | Alfa Romeo Ferrari | 1:29.978 | 1:29.819 | – | – | 17 |
| 14 | 47 | Mick Schumacher | Haas Ferrari | 1:30.167 | 1:29.920 | – | – | 13 |
| 15 | 18 | Lance Stroll | Aston Martin Aramco Mercedes | 1:30.256 | 1:31.009 | – | – | 15 |
| 16 | 44 | Lewis Hamilton | Mercedes | 1:30.343 | – | – | – | 11 |
| 17 | 23 | Alexander Albon | Williams Mercedes | 1:30.492 | – | – | – | 9 |
| 18 | 27 | Nico Hulkenberg | Aston Martin Aramco Mercedes | 1:30.543 | – | – | – | 10 |
| 19 | 6 | Nicholas Latifi | Williams Mercedes | 1:31.817 | – | – | – | 4 |
| RT | 22 | Yuki Tsunoda | AlphaTauri RBPT | NO TIME | – | – | – | 2 |