Supercars: Van Gisbergen takes all three race wins in Tasmania
Shane van Gisbergen has completed a clean sweep at the NED Whisky Tasmania SuperSprint and sent an ominous warning to the rest of the field that he is out for a third Supercars title in 2022.
The Red Bull Ampol Racing ace became the first driver to win all three races at a Symmons Plains weekend since Garth Tander in 2005.
After winning race 4 earlier today, the kiwi also took home a maximum 105 points in Race 5, having set the fastest lap of the race.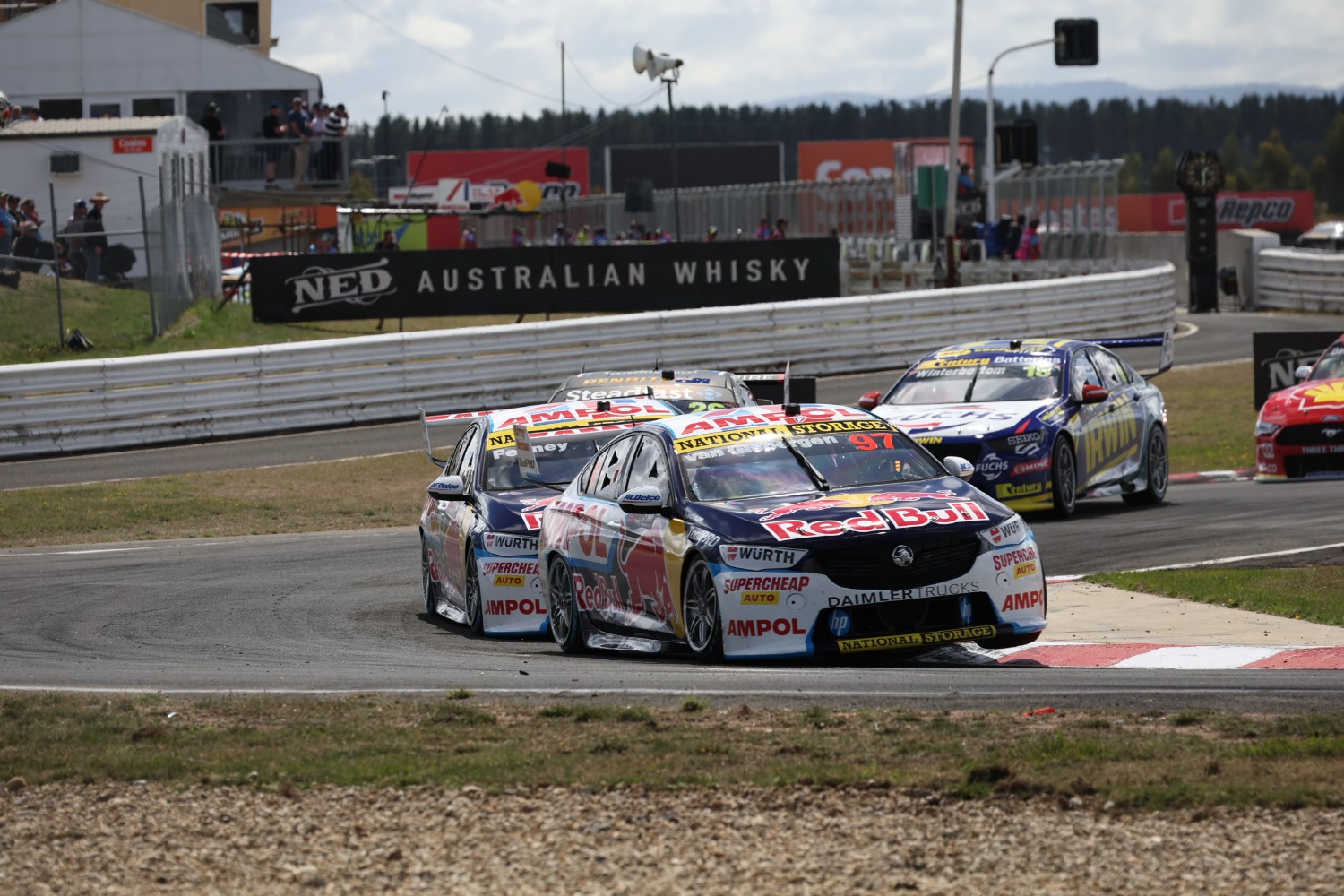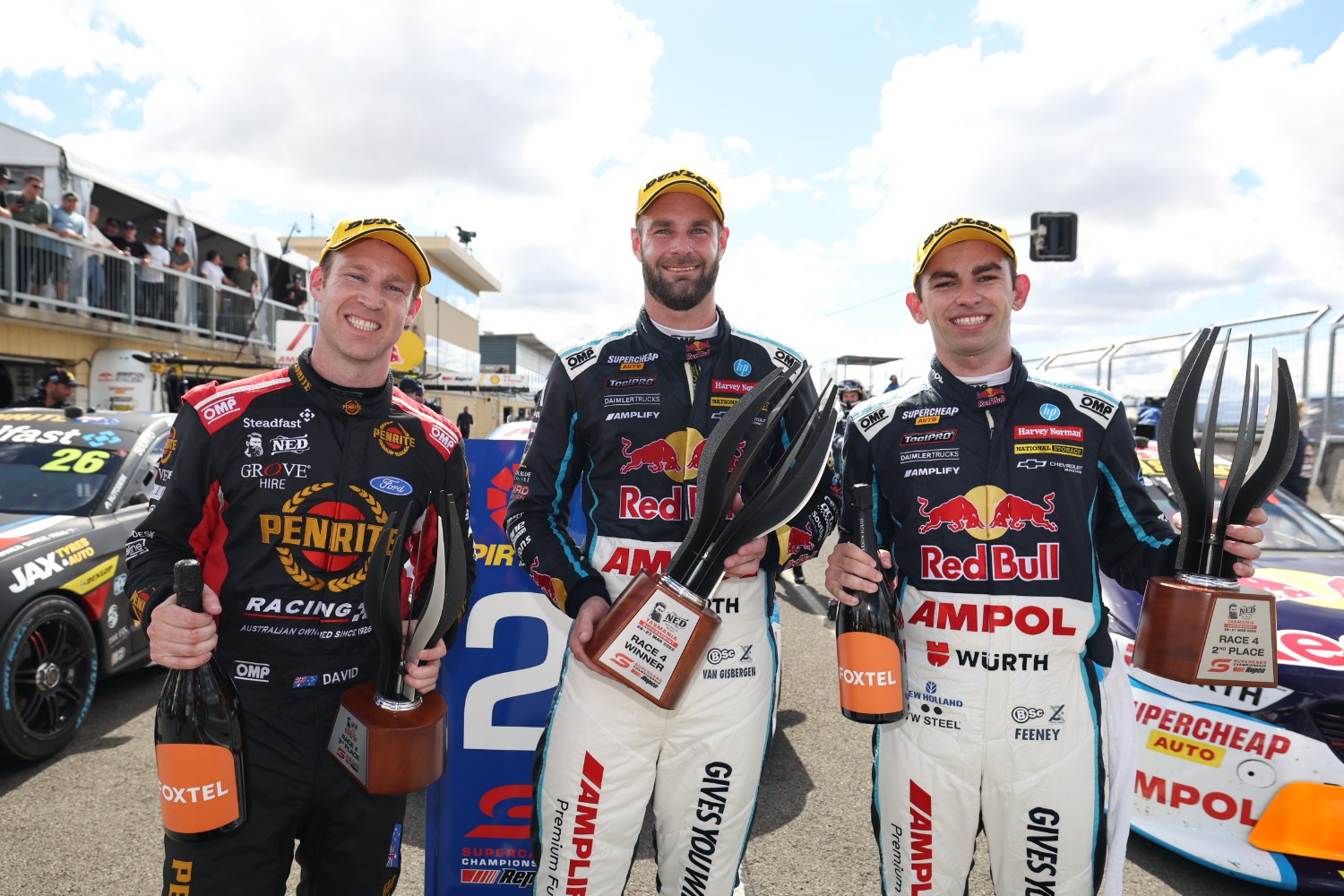 For second and third, Will Davison beat home his Shell Ford teammate Anton De Pasquale, who is now 69 points behind van Gisbergen who sits atop the Championship standings after two rounds.
It was van Gisbergen's 58th career victory, and means he now sits outright fourth on the all-time win list behind Jamie Whincup (124 wins) Craig Lowndes (110) and Mark Skaife (90).
"It's pretty awesome," van Gisbergen said.
"The car's been really good all weekend… each race we had to work for it.
"I'm pumped… I was screaming over the radio pretending I had no rear, so they pitted early.
"We've got some tough competition from these guys, I don't mean that in a bad way."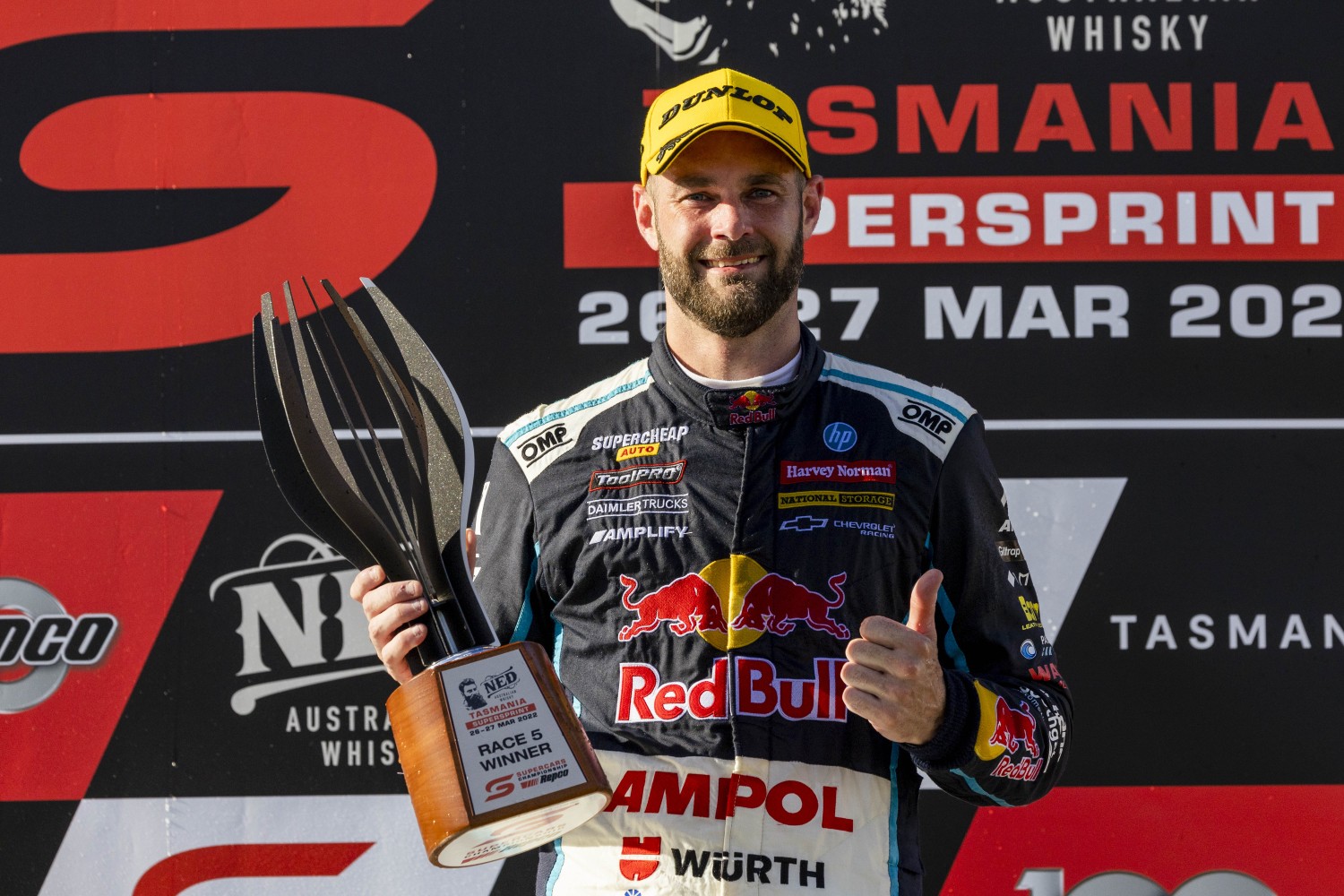 Reynolds was fourth ahead of Todd Hazelwood, who matched Matt Stone Racing's best race result in fifth. Cam Waters was sixth ahead of Mark Winterbottom.
Rookie Broc Feeney, who claimed a maiden podium in Race 4, finished eighth ahead of James Courtney and Nick Percat.
Chaz Mostert, who entered the weekend as series leader, finished a lowly 18th and is now 145 points from van Gisbergen, having been outscored by the latter by 172 points.
RESULTS: RACE 4 – TASMANIA
| | | |
| --- | --- | --- |
| Pos         | Driver | Team |
| 1 | Shane van Gisbergen | Red Bull Ampol Racing Commodore |
| 2 | Broc Feeney | Red Bull Ampol Racing Commodore |
| 3 | David Reynolds | Penrite Racing Commodore |
| 4 | Chaz Mostert | Mobil 1 Optus Racing Commodore |
| 5 | Anton De Pasquale | Shell V-Power Racing Mustang |
| 6 | Mark Winterbottom | Irwin Racing Commodore |
| 7 | Scott Pye | Seiko Commodore |
| 8 | James Courtney | Opposite Lock Mustang |
| 9 | Lee Holdsworth | Penrite Racing Commodore |
| 10 | Todd Hazelwood | Truck Assist Commodore |
| 11 | Nick Percat | Mobil 1 NTI Commodore |
| 12 | William Brown | Boost Mobile Erebus Commodore |
| 13 | Macauley Jones | Tools.com Commodore |
| 14 | Chris Pither | Coca Cola Commodore |
| 15 | Tim Slade | CoolDrive Mustang |
| 16 | Will Davison | Shell V-Power Racing Mustang |
| 17 | Cameron Waters | Monster Energy Mustang |
| 18 | Bryce Fullwood | Middy's Commodore |
| 19 | Brodie Kostecki | Boost Mobile Erebus Commodore |
| 20 | Jack Smith | SCT Logistics Commodore |
| DNF | Thomas Randle | Castrol Racing Mustang |
| DNF | Andre Heimgartner | R&J Batteries Commodore |
| DNF | Jake Kostecki | Tradie Mustang |
| DNF | Jack Le Brocq | Truck Assist Commodore |
| DNS | Garry Jacobson | Subway Commodore |
RESULTS: RACE 5 – TASMANIA
| | | |
| --- | --- | --- |
| Pos         | Driver | Team |
| 1 | Shane van Gisbergen | Red Bull Ampol Racing Commodore |
| 2 | Will Davison | Shell V-Power Racing Mustang |
| 3 | Anton De Pasquale | Shell V-Power Racing Mustang |
| 4 | David Reynolds | Penrite Racing Commodore |
| 5 | Todd Hazelwood | Truck Assist Commodore |
| 6 | Cameron Waters | Monster Energy Mustang |
| 7 | Mark Winterbottom | Irwin Racing Commodore |
| 8 | Broc Feeney | Red Bull Ampol Racing Commodore |
| 9 | James Courtney | Opposite Lock Mustang |
| 10 | Nick Percat | Mobil 1 NTI Commodore |
| 11 | Tim Slade | CoolDrive Mustang |
| 12 | Thomas Randle | Castrol Racing Mustang |
| 13 | Scott Pye | Seiko Commodore |
| 14 | Lee Holdsworth | Penrite Racing Commodore |
| 15 | William Brown | Boost Mobile Erebus Commodore |
| 16 | Chris Pither | Coca Cola Commodore |
| 17 | Jack Smith | SCT Logistics Commodore |
| 18 | Chaz Mostert | Mobil 1 Optus Racing Commodore |
| 19 | Macauley Jones | Tools.com Commodore |
| 20 | Garry Jacobson | Subway Commodore |
| 21 | Bryce Fullwood | Middy's Commodore |
| 22 | Brodie Kostecki | Boost Mobile Erebus Commodore |
| 23 | Jack Le Brocq | Truck Assist Commodore |
| 24 | Andre Heimgartner | R&J Batteries Commodore |
| 25 | Jake Kostecki | Tradie Mustang |
REPCO SUPERCARS CHAMPIONSHIP STANDINGS
| | | | |
| --- | --- | --- | --- |
| Pos         | Driver | Team |   Behind |
| Shane van Gisbergen | Red Bull Ampol Racing Commodore | 562 | -0 |
| Anton De Pasquale | Shell V-Power Racing Mustang | 495 | -67 |
| Will Davison | Shell V-Power Racing Mustang | 440 | -122 |
| Chaz Mostert | Mobil 1 Optus Racing Commodore | 417 | -145 |
| Brodie Kostecki | Boost Mobile Erebus Commodore | 387 | -175 |
| Broc Feeney | Red Bull Ampol Racing Commodore | 382 | -180 |
| Cameron Waters | Monster Energy Mustang | 382 | -180 |
| William Brown | Boost Mobile Erebus Commodore | 316 | -246 |
| David Reynolds | Penrite Racing Commodore | 311 | -251 |
| Tim Slade | CoolDrive Mustang | 306 | -256 |
| Todd Hazelwood | Truck Assist Commodore | 304 | -258 |
| James Courtney | Opposite Lock Mustang | 294 | -268 |
| Mark Winterbottom | Irwin Racing Commodore | 292 | -270 |
| Nick Percat | Mobil 1 NTI Commodore | 260 | -302 |
| Andre Heimgartner | R&J Batteries Commodore | 256 | -306 |
| Lee Holdsworth | Penrite Racing Commodore | 253 | -309 |
| Scott Pye | Seiko Commodore | 232 | -330 |
| Bryce Fullwood | Middy's Commodore | 219 | -343 |
| Jack Smith | SCT Logistics Commodore | 207 | -355 |
| Chris Pither | Coca Cola Commodore | 193 | -369 |
| Macauley Jones | Tools.com Commodore | 183 | -379 |
| Thomas Randle | Castrol Racing Mustang | 180 | -382 |
| Jake Kostecki | Tradie Mustang | 143 | -419 |
| Jack Le Brocq | Truck Assist Commodore | 129 | -433 |
| Garry Jacobson | Subway Commodore | 119 | -443 |