NHRA: Pruett, J. Force, and Stanfield lead Friday qualifying in Las Vegas
Fans in Las Vegas enjoyed a lot of sunshine and a solid day of qualifying on Friday at the NHRA Four Wide Nationals where Leah Pruett, John Force, and Aaron Stanfield landed in the top spots in Top Fuel, Funny Car, and Pro Stock, respectively. The Las Vegas event is the first of two races this season that feature the unique four-wide format, which represents a unique challenge for drivers and crew chiefs alike. The results can often be unpredictable, but it was hardly a fluke to see the results of Friday's two qualifying
Top Fuel
Pruett has now earned her first headlines with the new Tony Stewart Racing team, grabbing the provisional Top Fuel pole with a 3.741 after an opening lap of 3.772 to show that crew chief Neal Strausbaugh has found his groove.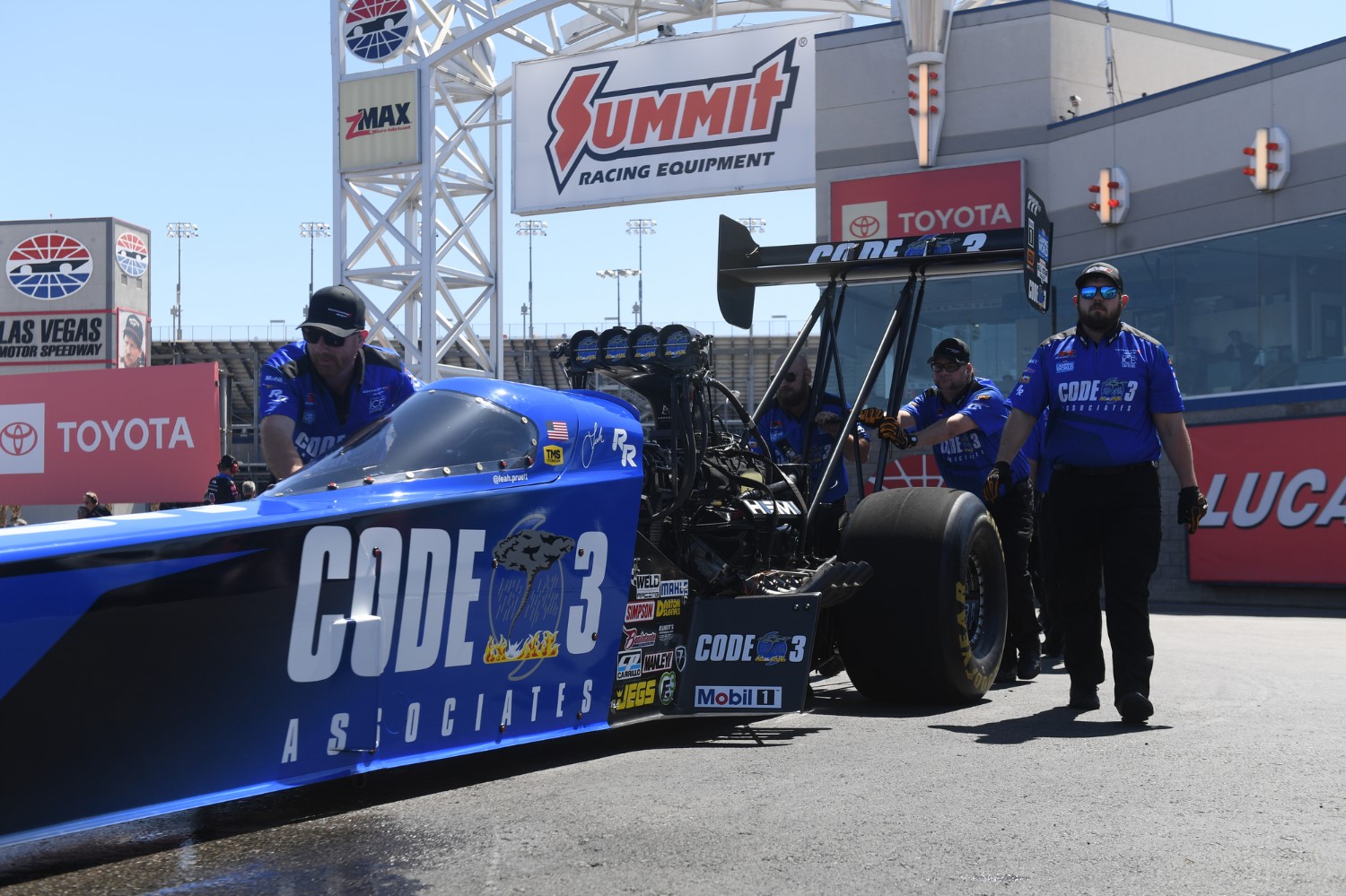 "I was super stoked to get two full pulls in a row and for it to hold," said Pruett, who's gunning for a 13th career No. 1 spot. "But I think more than anything, I'm excited for Neil, as a lead crew chief for a team in his first year doing that, and now it's our fourth race, for him to be in this spot. That's the confidence that is the building blocks of what's going to take this team to that next step.
"Tomorrow's a whole new day. And there's a ton of incredible competition. So I'm just enjoying this moment right now and enjoy the three points that come with it. The great thing is that tomorrow is [going to be] exactly like today, basically, condition-wise, and we can keep picking away at it."
Doug Kalitta, the No. 1 qualifier in Phoenix, sits second with a 3.759 from the Mac Tools dragster and just a few ticks ahead of perennial Four-Wide winner Steve Torrence, who clocked a 3.761 in his world championship-winning Capco Contractors entry. Brittany Force sits fourth with a 3.765 from her Monster Energy machine.
The top eight is rounded out by Antron Brown (3.781), Mike Salinas (3.802), Josh Hart (3.806), and Shawn Langdon (3.843). Langdon's afternoon run was impressive after the team lost its morning get-acquainted pass after the team was unable to disengage the remote starter from the engine after fire-up.
Funny Car
Force, whose four-wide history bookmarks the spectacle – winning the first one in 2010 and the most recent one on 2011, both in Charlotte — is halfway to his 164th career No. 1 qualifying spot after posting a 3.887 in the opening session with his Peak Blue Def Camaro.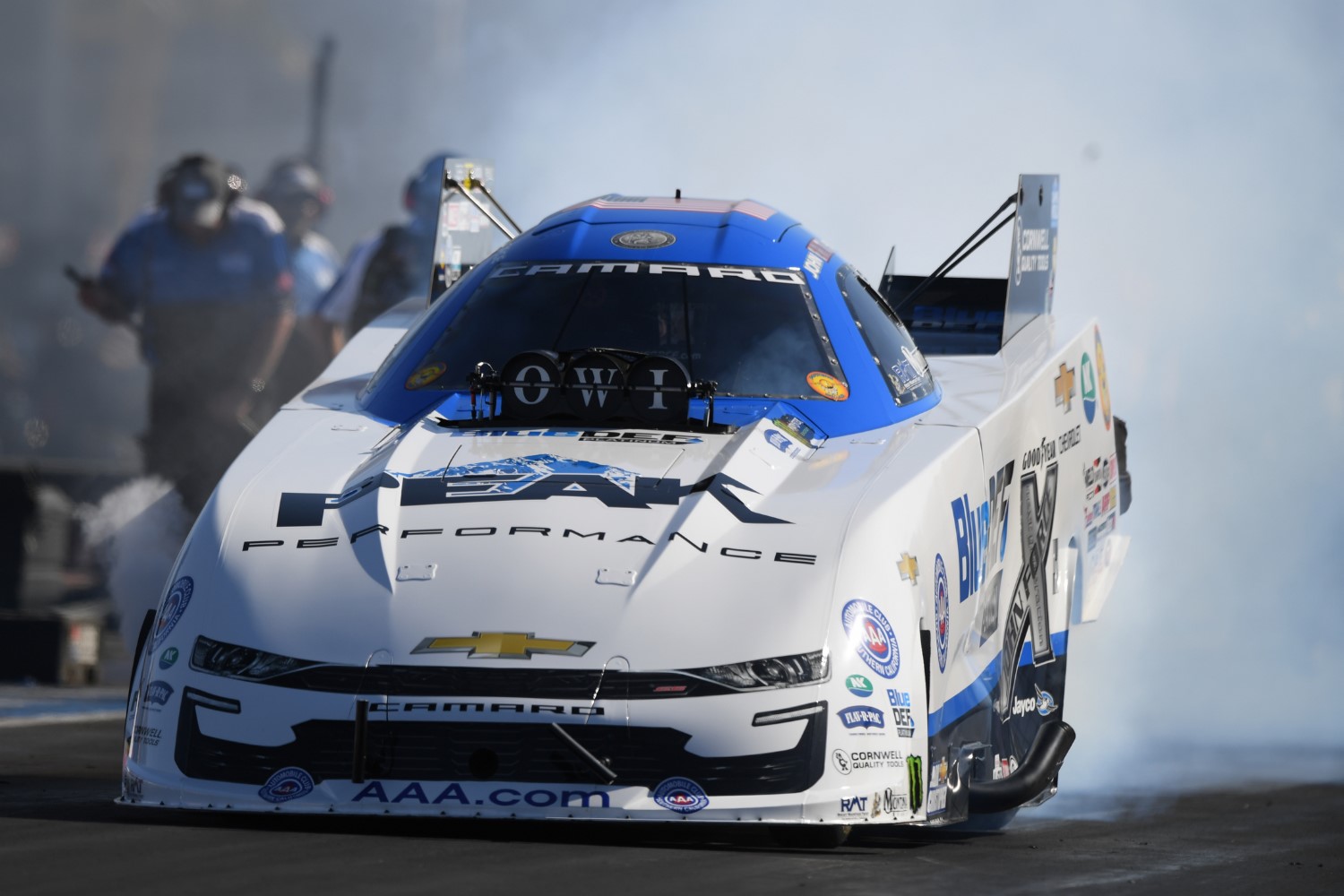 "My car was real fast and testing, but it got to Pomona and we were off our game and couldn't get it back in Gainesville or Phoenix," said Force. "It just wasn't going anywhere. It'd be quick, one run and then wouldn't for another. And it made one good run today, but there again, it didn't do it again [in Q2], so there probably be changes in the clutch. That won't stick for tomorrow, but it feels good to get back up here with y'all [the media]."
Behind Force is Blake Alexander in Jim Head's new-look machine with a 3.913 with Arizona Nationals champ Matt Hagan third in Tony Stewart's Dodge Power Brokers Charger at 3.920 and Bob Tasca III sitting fourth with a 3.921. Tasca is the only Funny Car driver to run in the threes on both passes, adding a 3.950 in Q2.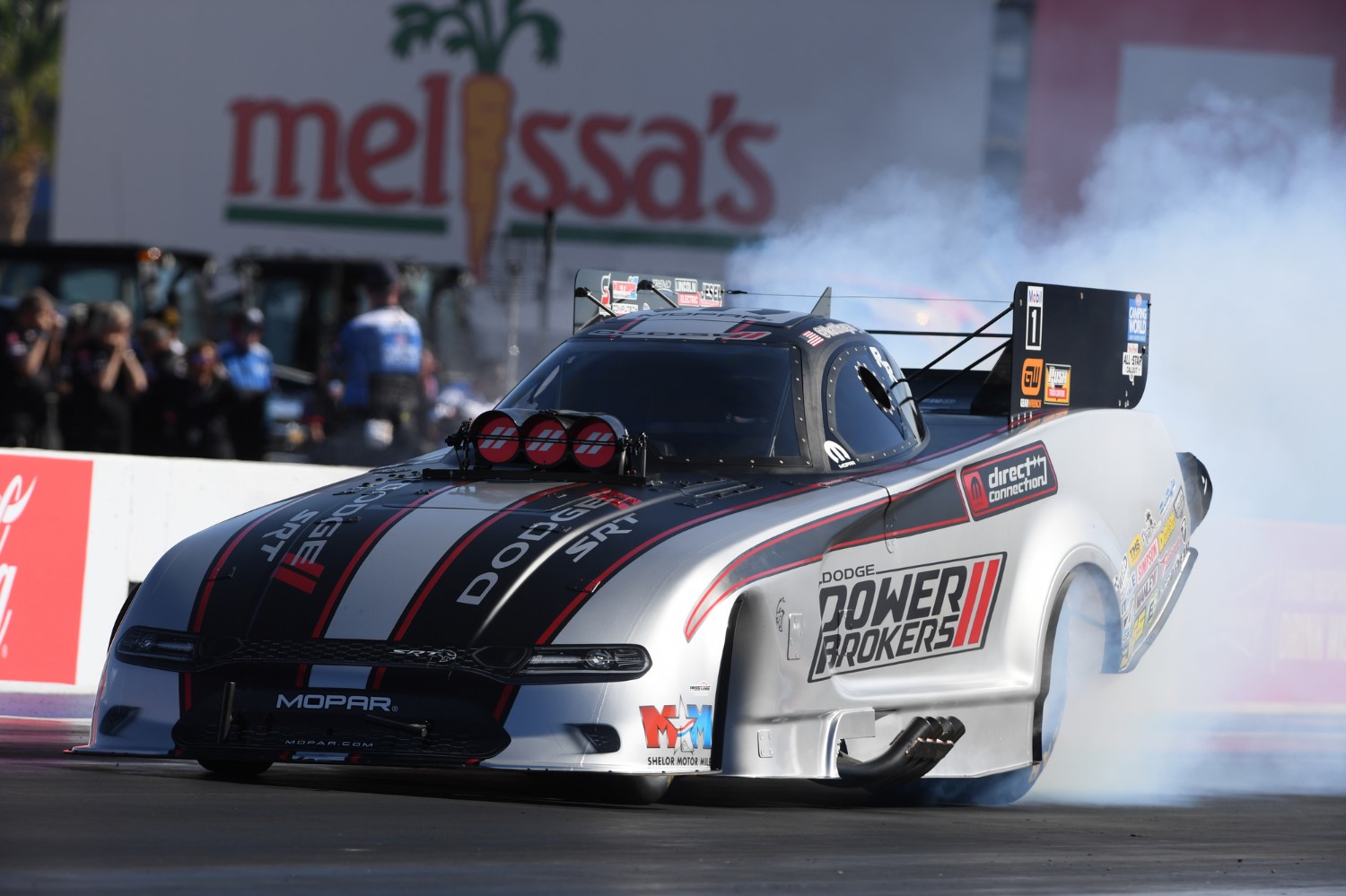 Ten drivers qualified in the three-second zone with Ron Capps (3.921), Robert Hight (3.931), Cruz Pedregon (3.940), JR Todd (3.943), Alexis DeJoria (3.961), and Tim Wilkerson (3.974) leading the charge.
Steven Densham, who's had a star-crossed event –- having to shut off in Q1 with no oil pressure and then having his parachute deploy 300 feet in his Q2 pass –- nonetheless sits on the bump spot with a 4.216.
Pro Stock
Current Pro Stock points leader Stanfield kicked off qualifying with a 6.642 in his Janac Bros. Camaro and that run was not bettered during either of Friday's sessions. Stanfield, who won the Top Dragster title at last week's Division 4 Lucas Oil Series event in Oklahoma, followed with a 6.668 in the afternoon session, where temperatures were noticeably warmer. Stanfield was happy to secure 4 qualifying bonus points as he continues his pursuit of the Camping World NHRA Pro Stock title.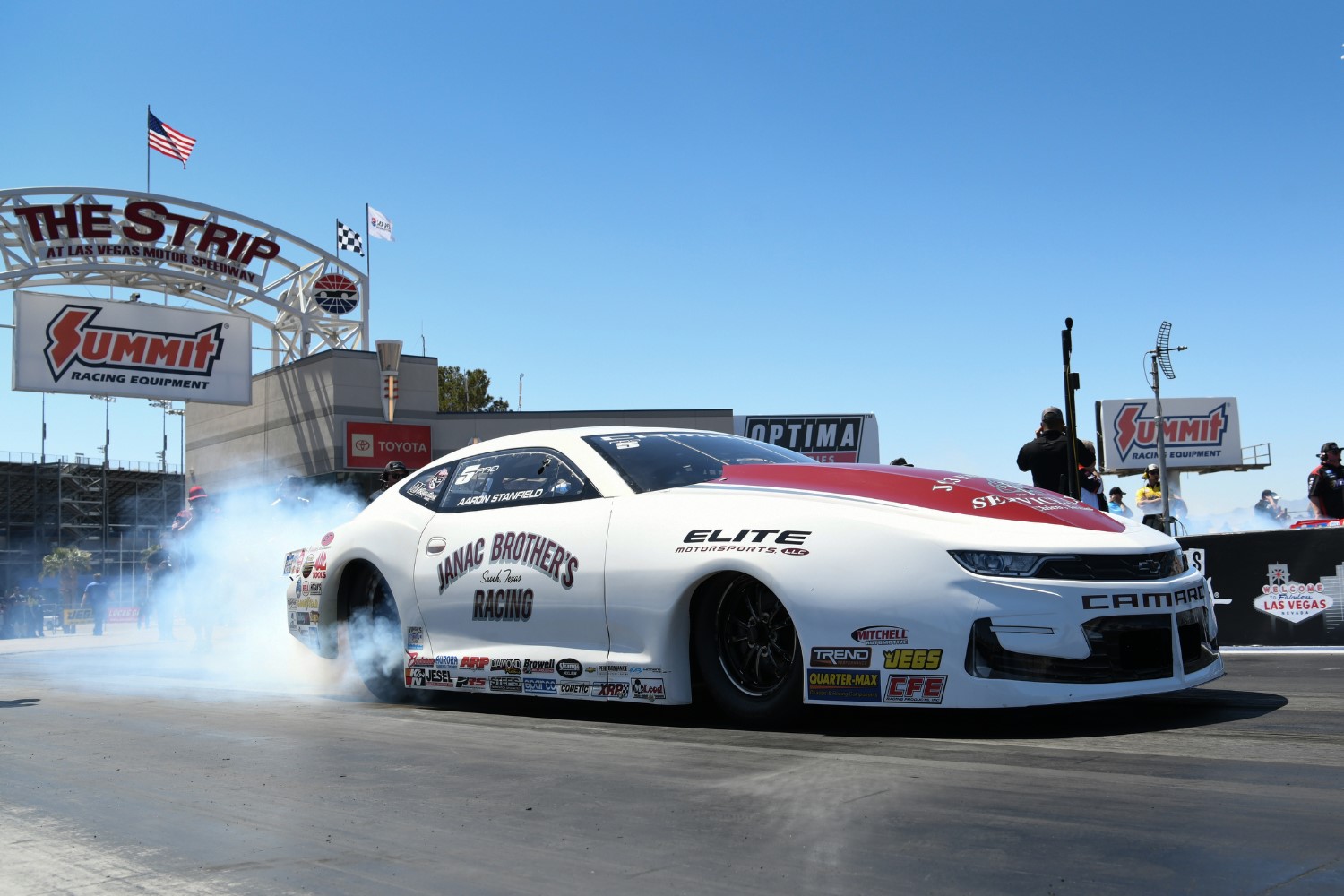 "Before we ran, [Elite crew chief] Mark Ingersoll and I talked and he said if we ran 6.63, we'd crush them and we came pretty close to that," said Stanfield. "This is a huge adjustment from Gainesville. The air and track conditions are totally different, but our guys know what to do. Right now, I've got a smooth and consistent hot rod and I just need to take advantage of it."
Stanfield has competed in just three Four Wide events (including this one) but he feels comfortable with the twice-a-year format. The reigning and two-time Constant Aviation Factory Stock champion says that seat time makes a big difference.
"I did pretty well at Four Wide races last year, so I feel pretty good about the whole thing," Stanfield said. "You do have to pat attention up there, though. I've hit the practice Tree a lot lately to stay sharp and of course, I also got to race the Top Dragster last week."
Reigning series champ Greg Anderson earned five bonus points, one more than Stanfield, but he fell short of the provisional pole. Anderson was one of the few drivers who improved on the second run, bettering his 6.667 with a 6.651 in his HendrickCars.com Camaro.
Erica Enders, who has enjoyed tremendous success both in Las Vegas and at Four Wide events, was third quickest with a 6.664. Enders and her Elite team are racing in memory of Pro Mod racer Scott Oksas, who passed away suddenly earlier this week.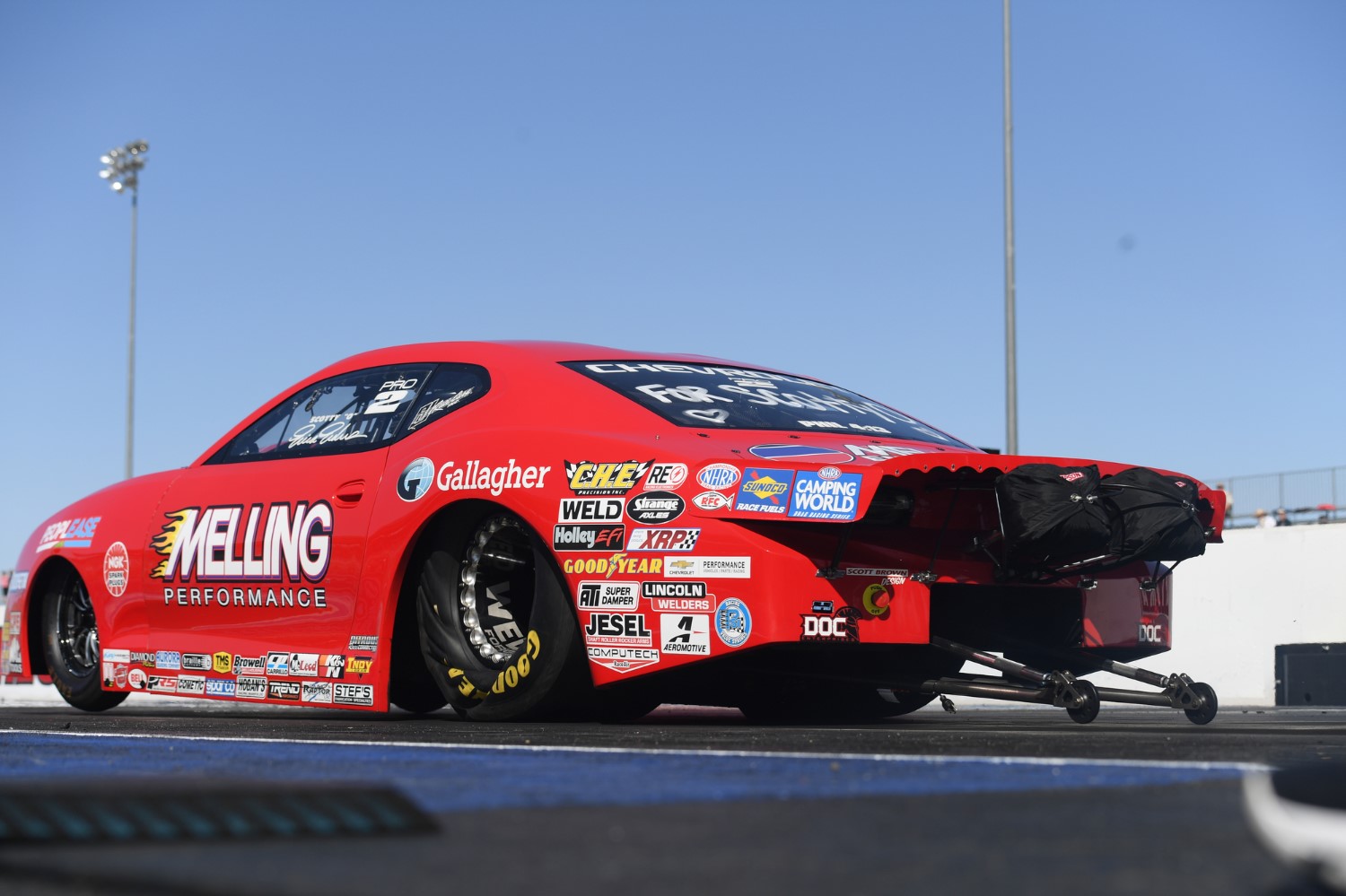 The rest of the top eight includes Dallas Glenn, Troy Coughlin Jr., Kyle Koretsky, Matt Hartford, and Bo Butner. The bump spot after two of four sessions is occupied by John Cerbone with a 6.790 while Rodger Brodgon and Cristian Cuadra are not yet qualified for the tough field.