NHRA: Force, Capps, and Enders claim Las Vegas Four-Wide victories
The NHRA Four Wide Nationals once again provided all the drama that fans have come to expect from the Camping World NHRA Drag Racing Series as Brittany Force, Ron Capps, and Erica Enders were crowned champions at The Strip at Las Vegas Motor Speedway.
Top Fuel
The Top Fuel final featured a quarter of current and past world champions representing 16 season titles, and it was 2017 world champ Brittany Force outracing her more decorated foes with a stout 3.718 in her David Grubnic-tuned Monster Energy dragster. Force finished ahead of four-wide dominator Steve Torrence, stopping his win streak at three straight as the reigning world chap finished second with a 3.756 ahead of Tony Schumacher and Antron Brown, both of whom lost traction. All four finalists were appearing in their first final rounds of the season.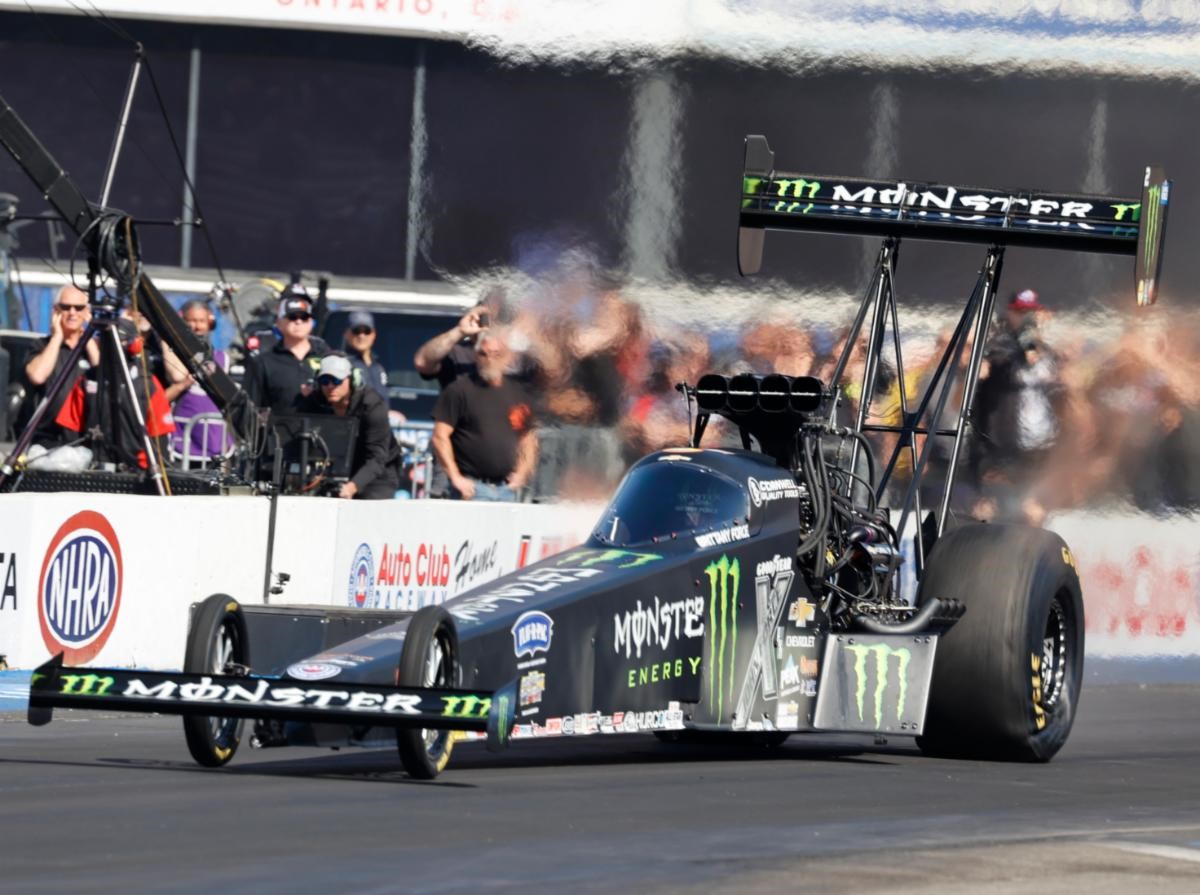 "To be able to look at that final quad and see the guys that we were good enough to pull up next to and then beat them all, it's something that we're very proud of," said Force. "I'm proud just to share the lanes with those guys to be able to race against them. I watched Tony Schumacher when I was out here watching my dad as a kid, so to be able to line up next to him is just something very exciting, and then to turn the win light on is even better.
"We had an awesome race. We qualified pretty well, No. 2, and we got four qualifying sessions this weekend and three out of the four were pretty dang good, so going in today was just consistency."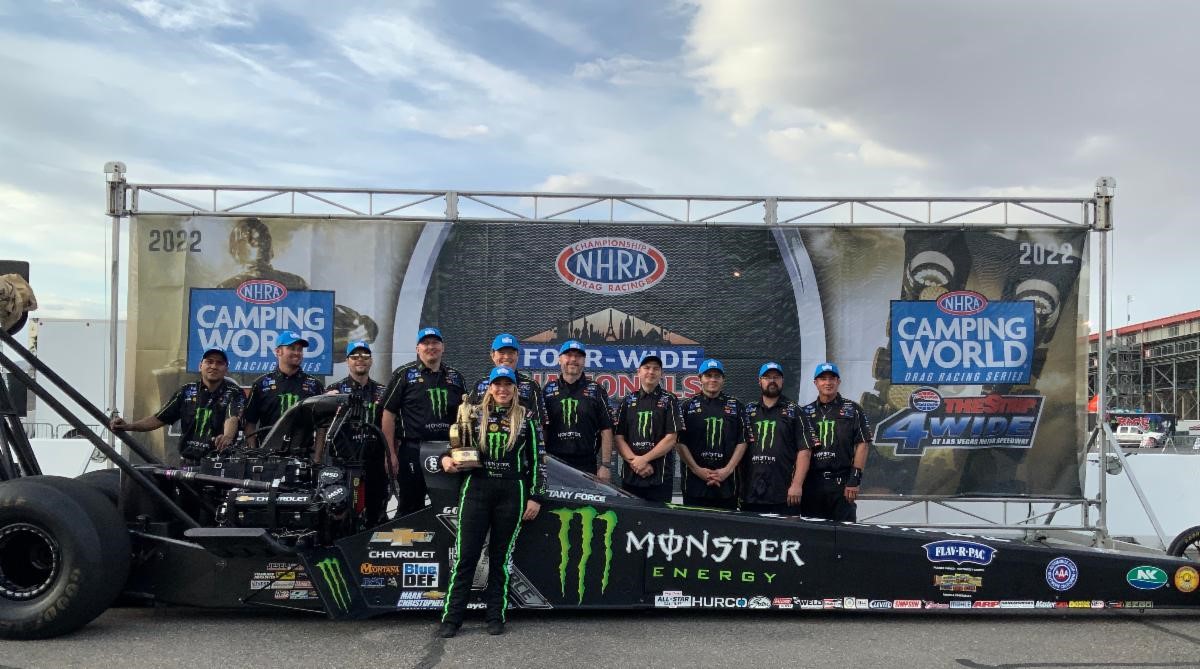 It was Force's second four-wide win on the heels of her triumph at the 2016 event in Charlotte and her first victory since last year's Topeka event. Both Torrence and Force raced past incoming points leader Mike Salinas, with Torrence holding the points lead over Force by a slim margin, 304 to 300.
Torrence and Force faced off in both of their pre-final quads, with Torrence winning the first-round quad ahead of her, 3.72 to 3.74, then she turned the tables on him in the semifinals with the reverse result, 3.72 to 3.74, in a round that eliminated Leah Pruett and Shawn Langdon.
Brown, who won the Four-Wides in Charlotte in 2015, and Schumacher, who had never won a four-wide event (four runner-ups!) raced one another in both pre-final quads with Brown finishing first in the first round and Schumacher edging Brown in the semifinals, 3.73 to 3.78. their semifinal victories sent Clay Millican and Austin Prock to the trailer.
Funny Car
The Funny Car final was a brilliant, all-three-second affair between four of the best, and it was world champ Ron Capps who led the way with a 3.914 to finish ahead of Matt Hagan (3.924), Robert Hight (3.943), and Alexis DeJoria (3.954). It didn't take Capps long to get his first win as a team owner, winning in just his fourth start since forming Ron Capps Motorsports over the winter. the victory is Capps' second in four-wide competition, the first coming in Charlotte in 2017.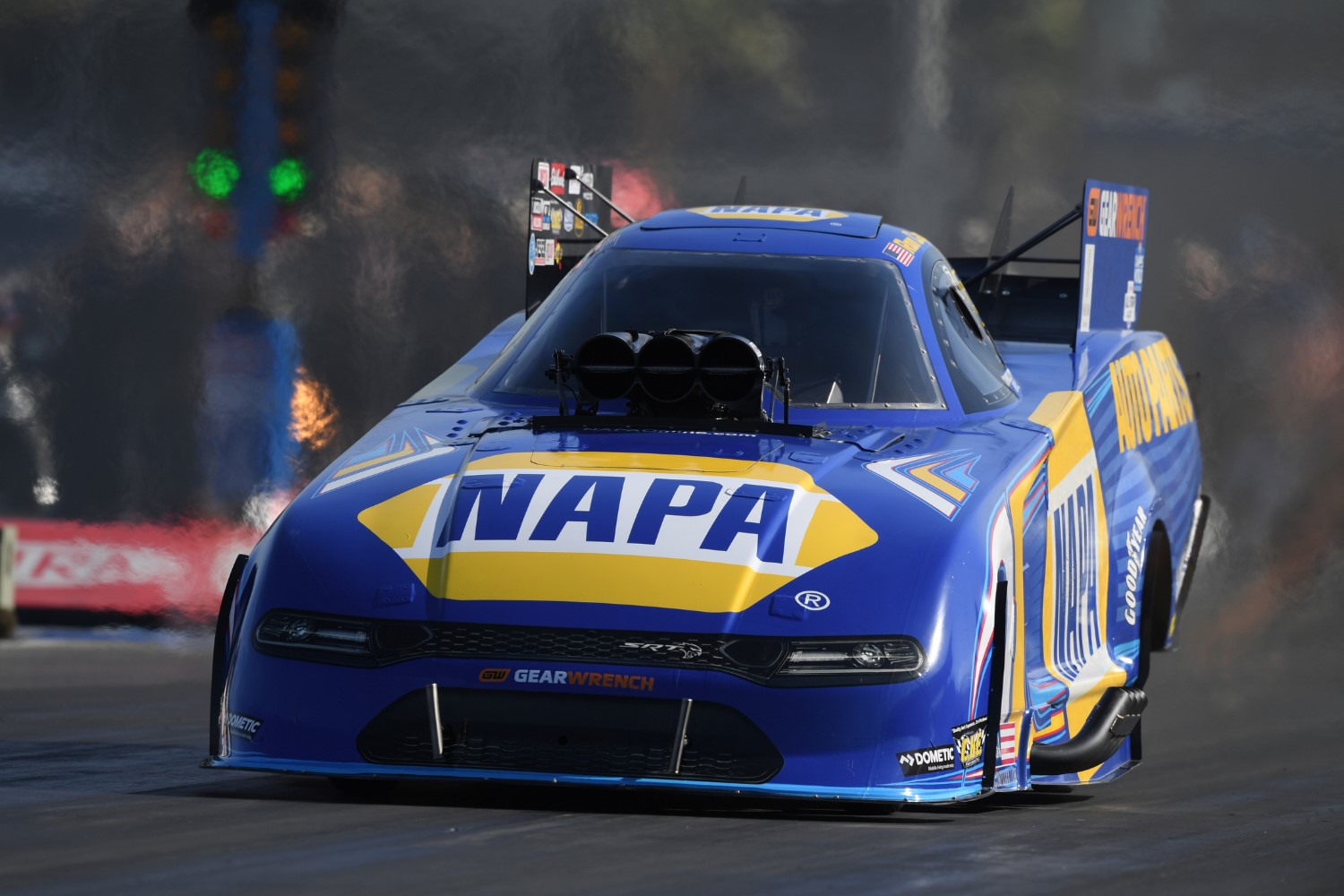 "I would sound cocky to say I expected us to win this soon as tough as Funny Car is," said the 69-time winner. "I knew we'd have to earn it. I didn't think it would come at a four-wide especially going in that final round to look over and see Robert and Matt and Alexis.
"I was speechless. It was like my first win, makes you believe that dreams are out there. In a million years I never thought I'd ever own one Wally. I still can't believe it. Here I am, in my 50s, and living a lifelong dream."
Capps and the Dean Antonelli- and John Medlen-tuned NAPA Auto Parts entry won both of their first quads with passes of 3.97 and 3.90, the first beating J.R. Todd and the semifinal pass edging Hagan's 3.919 and eliminating Todd and Bob Tasca III. Hagan had made his way to the semifinals with Tasca as both ran 3.929. Despite the runner-up, Hagan took over the points lead from Hight.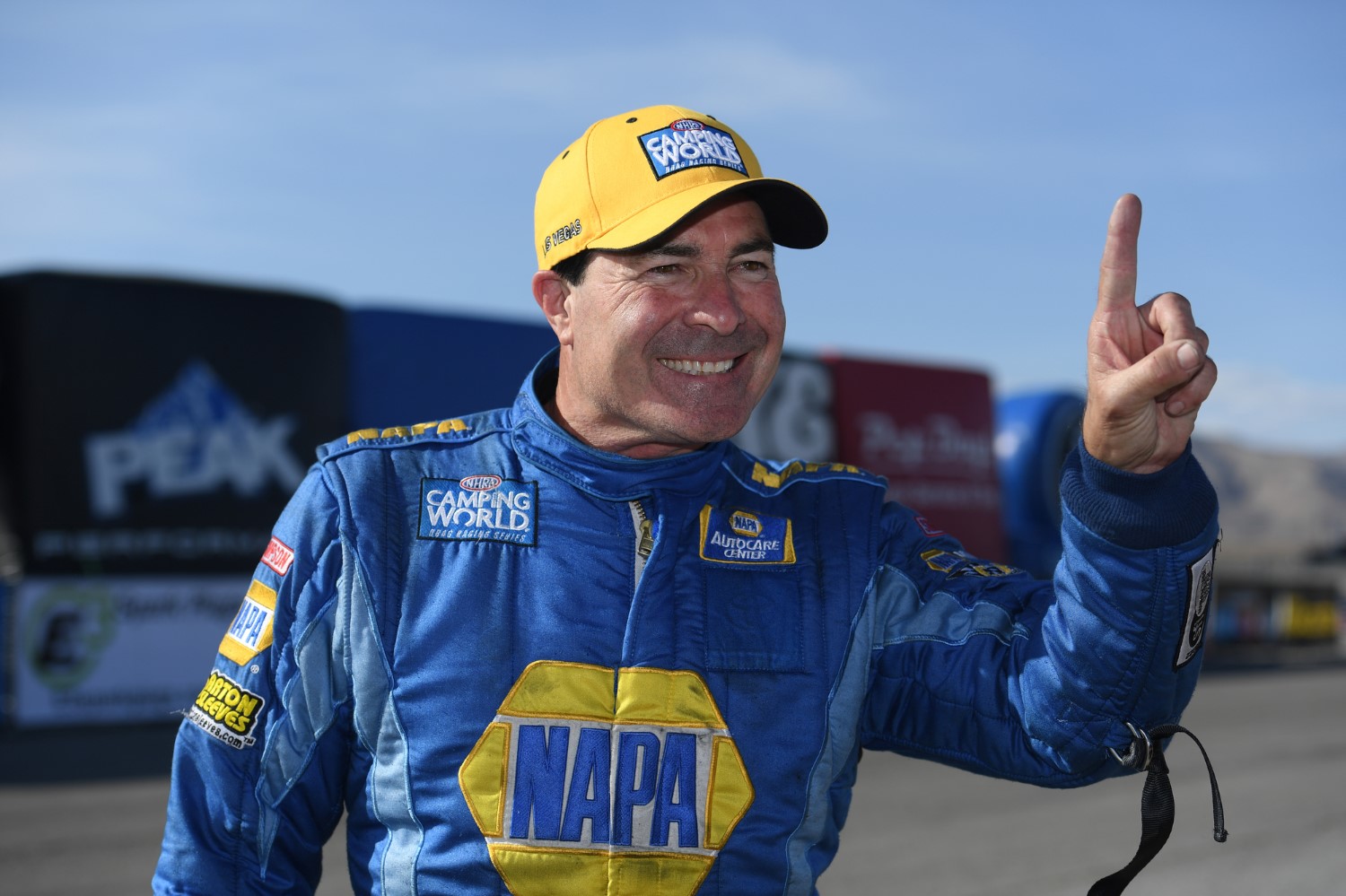 Hight, a two-time Four-Wides winner, entered the final round as the heavy favorite as the two-time season winner's Auto Club Chevy had pounded out a stunning, low e.t. 3.86 in winning the semifinals ahead of DeJoria's 3.936, John Force's 3.98, and Blake Alexander's 4.17. Hight had also won his first-round quad with a 3.94 to finish ahead of Alexander's 3.95.
DeJoria's Bandero Tequila Toyota GR Supra had finished second behind Force in round one to reach the semifinals then ran 3.93 to make it to the final round for the first time this season.
Pro Stock
It didn't take long for Enders to make up for her embarrassing holeshot loss in Gainesville as she won her 36th national event title and third at a four wide race.  Enders powered her way to the win with a 6.668, holding off Cristian Cuadra, who earned the first runner-up finish of his young career with a 6.702. Mason McGaha and Dallas Glenn finished as semifinalists.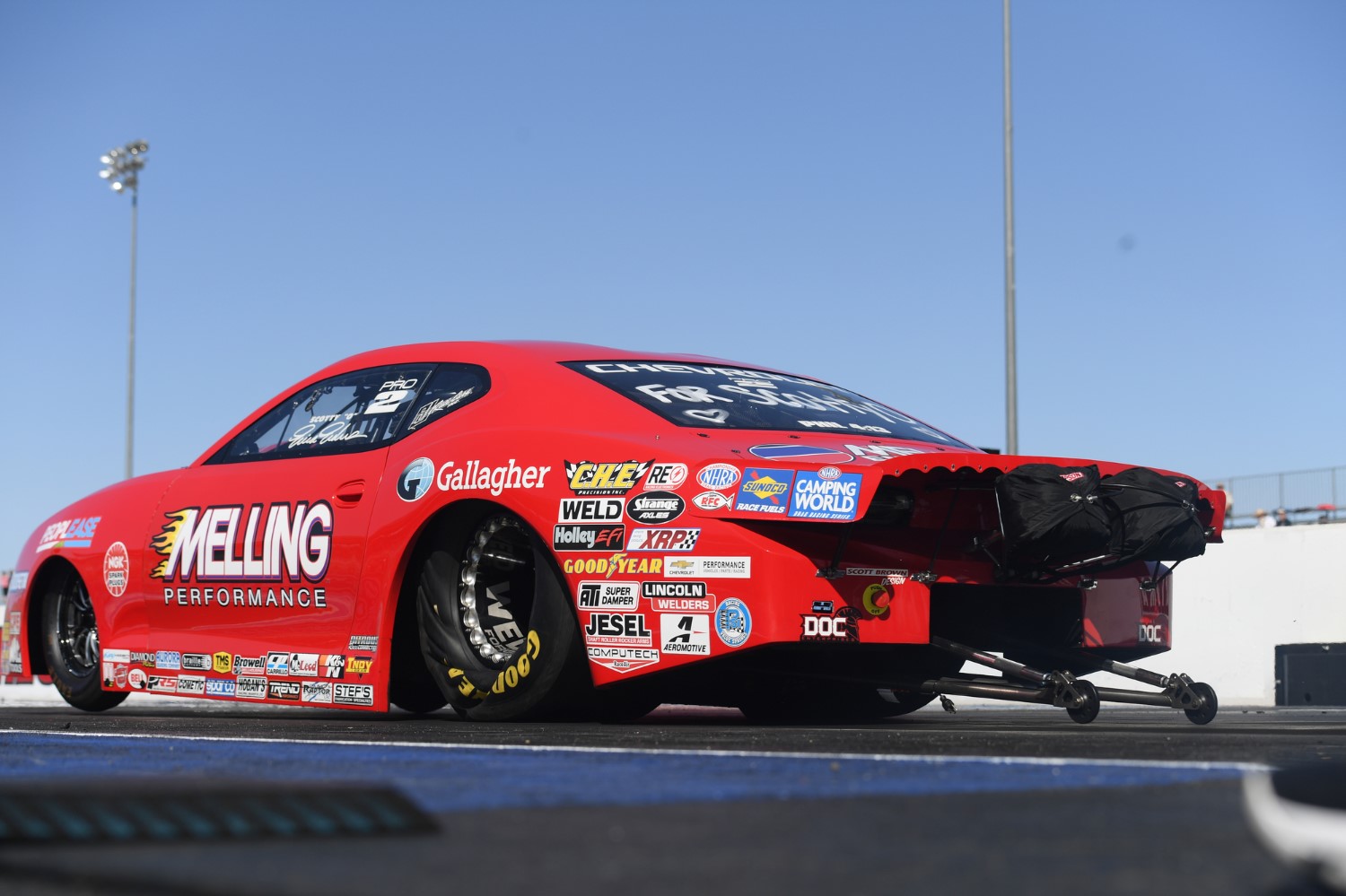 Enders set the national record in Gainesville with a 6.450, but did not turn on the win light against Bo Butner. She quickly set her sights on Las Vegas, where her Elite/Melling team could seemingly do no wrong.
"Las Vegas has been good to me even when I wasn't at my best," said Enders, who now has nine career wins in Las Vegas, more than any other racer. "Thankfully, I have a crew that picks me up when I need it. That [holeshot loss] in Gainesville was a lot of crap to eat over the last two weeks while we had off. I took it hard. I also lost on a holeshot in Phoenix but my sister reminded my that we've had four races this year and I've won two of them so she doesn't let me get too down on myself. Our Elite family lost one of the best guys on the planet this week [Pro Mod racer] Scotty Oksas. We wanted to win this one for him.
"The Cuadra's are an amazing family," Enders said. "They are so humble and gracious. Cristian and Fernando are also amazing drivers. We know the power they have. I'm sure they're going to park those cars in the winner's circle soon."
After qualifying No. 4, Enders advanced from the first two quads with runs of 6.669 and 6.684. Enders also did her job on the starting line all day including a .019 light in the final. With the win, Enders has closed the gap to points leader Aaron Stanfield to just three points.
Enders win aside, the start of the show in Pro Stock was Cuadra, who made his way to the final for the first time in his Corral Boots Mustang. Cuadra did not have the fastest car in the field, but his string of great reaction times, including a .001, .006, and .005 carried the day.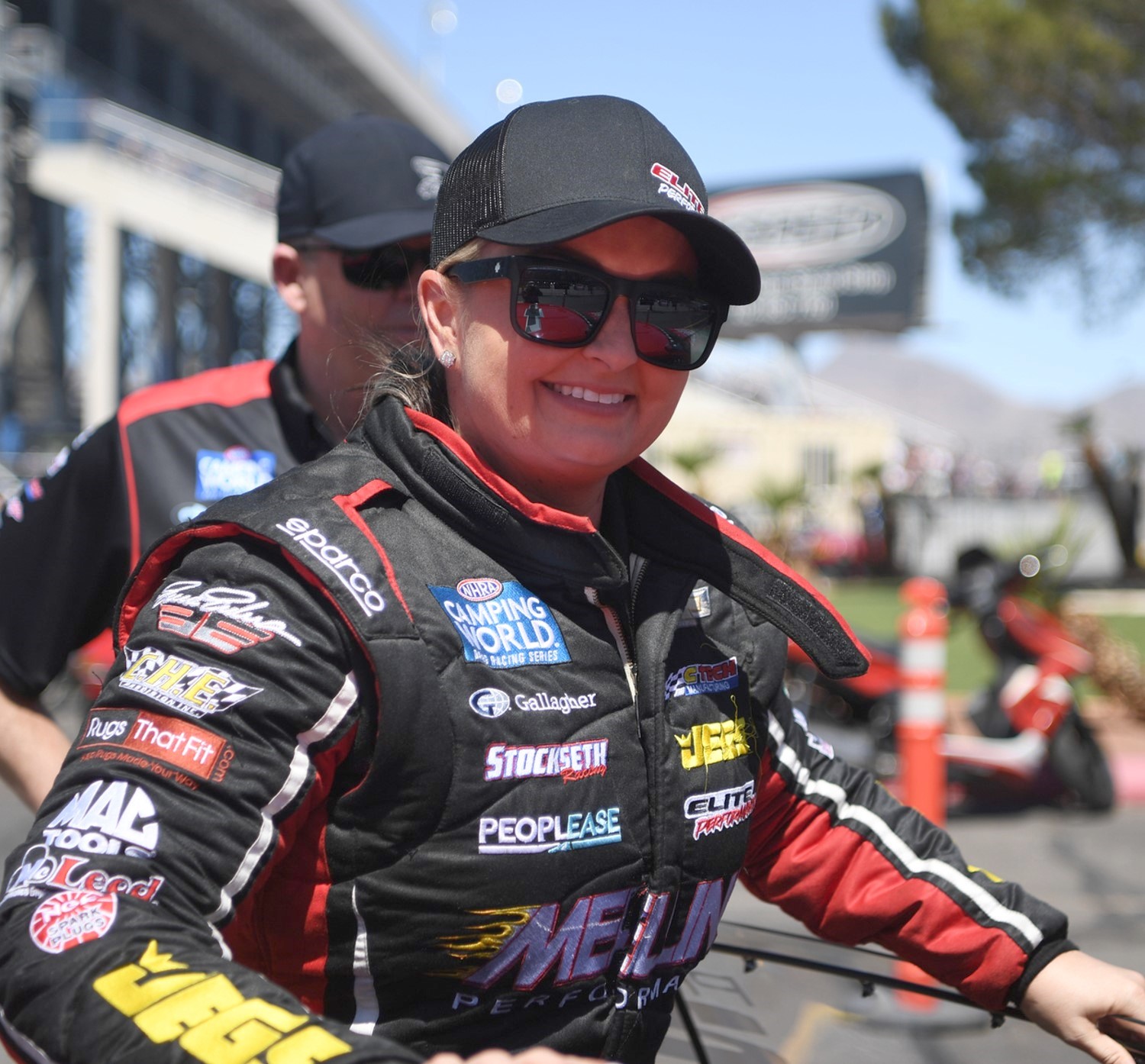 Cuadra likely would have won the final had his engine not expired before the finish line. He  was ahead of Enders at each incremental time, including the 1,000 foot mark.
"It broke in fifth gear," said Cuadra. "This was really exciting but I couldn't do anymore."