IndyCar: Friday Morning Report from The Acura Grand Prix of Long Beach
Good morning from beautiful southern California, where the NTT IndyCar Series drivers and teams will do battle this weekend on the streets of Long Beach, CA.
A heat advisory has been issued due to the temperatures expected to reach 94 degrees in Long Beach.  The NTT Data Series drivers only have one practice session today at 3:15 pm PT in the sweltering temperatures.
The heat today will not stick around for the weekend.  Saturday and Sunday should be more normal temps for this time of year, in the low 70s.  The hour-long practice session this afternoon will provide time on the track, but not help much with setup for the rest of the weekend due to the hotter temperatures.
Yesterday was the annual Walk of Fame ceremony on Pine Avenue.  Starting in 2006, the Long Beach Grand Prix Association has honored drivers and owners in racing with a special bronze medallion mounted into the sidewalk.
This year, due to supplier issues for the medallions, the Association had to improvise with portable medallions which were mounted on a circular piece of wood.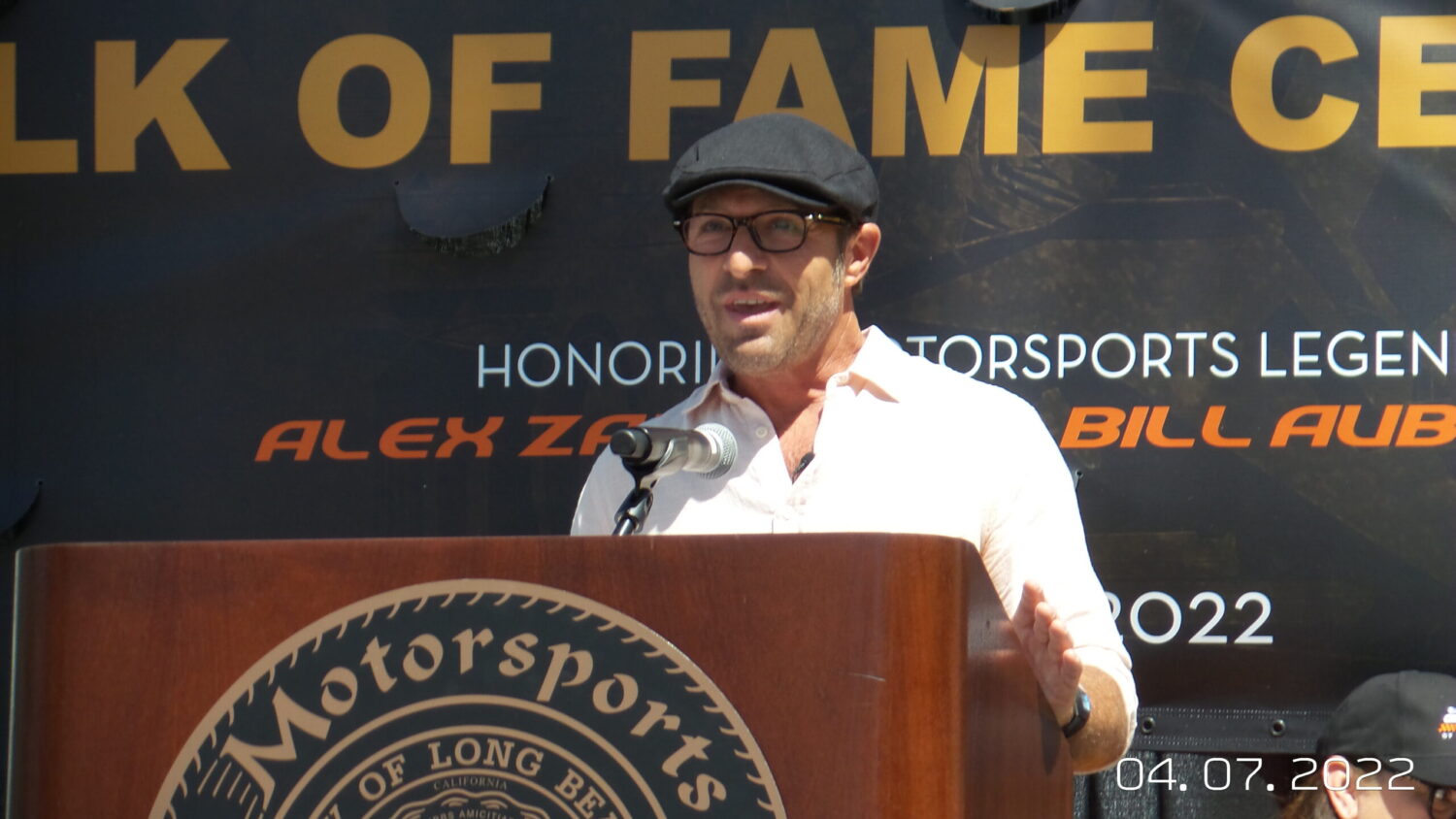 One of the honorees this year is Bill Auberlen, who drives in the IMSA Weather Tech Championship Series.  Auberlen, a native of Redondo Beach, CA, is believed to have driven BMW cars in more races than any other driver in the world.  In 2020, Auberlen captured his 61st career win, surpassing Scott Pruett for most wins in IMSA history.
Auberlen's father was beaming as his son read a list of the many people that he wanted to thank, holding back the tears when he recognized his Mom, who has passed away.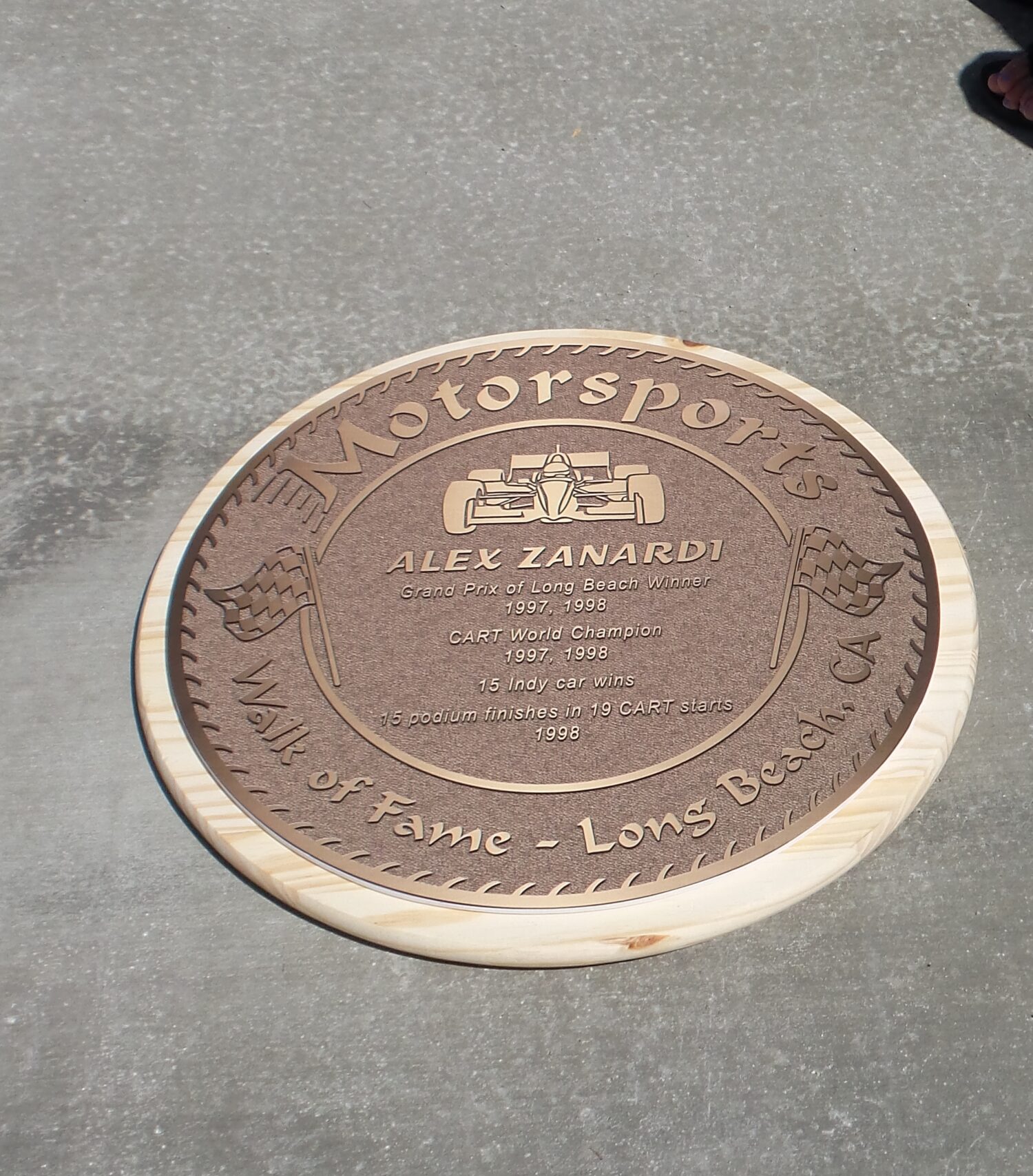 The other honoree, Alex Zanardi, was not able to attend due to his cycling accident in June 2020.  The inspiring Italian was represented by Jimmy Vasser, his Ganassi Racing teammate from 1996 to 1998.  Vasser, who won the 1996 CART Championship, talked about how he was frustrated when Zanardi joined the team and started to win every race.  Zanardi won the championship in 1997 and 1998.
Team owner Chip Ganassi also talked about the fisty driver.  Ganassi recalled  Zanardi's spirit after losing both his legs in 2001 at the race at the EuroSpeedway Lausitzring in Germany.  The Italian was able to reinvent himself by competing in the Para Olympics and winning many gold and silver medals.  Then he became the Oprah of Italy by having his own TV show.
Max Papis told us  Zarnardi is his best friend.  Meeting back in go-carts when they were just 14 years old, Papis talked about how Zarnardi met his future wife, Daniela, the team manager,  while they were racing for a Formula Three team in the early 90s.  Papis and Zanardi took her rental car out for a drive on the track and when Papis was driving, Zanardi pulled the hand brake and the car went flipping over.  Daniela ended up marrying Alex in 1996 and has been his rock through his many tough life experiences.
The entire racing community wishes Alex Zanardi a speedy recovery so he can continue to live life on his terms.
Stay tuned to AR1 for more reports from Long Beach today.
Fast Facts
Track: 1.968-mile, 11-turn temporary street course (clockwise) in Long Beach, California
Race distance: 85 laps / 167.28 miles
Push-to-pass parameters: 200 seconds of total time with a maximum time of 20 seconds per activation.
Firestone tire allotment: Six sets primary, four sets alternate. Rookie drivers are allowed one extra primary set for Practice 1.
Twitter: @GPLongBeach @INDYCAR, #AGPLB, #INDYCAR
2021 race winner: Colton Herta (No. 26 Gainbridge Honda)
2021 NTT P1 Award: Josef Newgarden (No. 2 Hitachi Team Penske Chevrolet), 1:08.2241, 103.846 mph
Qualifying lap record: Helio Castroneves, 1:06.2254, 106.980 mph, April 8, 2017
NBC Sports race telecast: 3 p.m. (ET) Sunday, April 10, NBC (live). Leigh Diffey is the play-by-play announcer for NBC's coverage of the NTT INDYCAR SERIES, alongside analysts Townsend Bell and James Hinchcliffe. Marty Snider, Dave Burns and Kevin Lee are the pit reporters.
Peacock Premium Live Streaming: All NTT INDYCAR SERIES practice sessions and qualifying will stream live on Peacock Premium, NBC's direct-to-consumer livestreaming product. NBC's Acura Grand Prix of Long Beach race telecast will be simulcast on the streaming service, while Peacock Premium's exclusive post-race show – featuring driver interviews, podium ceremonies and post-race analysis – will be streamed following the race.
INDYCAR Radio Network broadcasts: Mark Jaynes is the chief announcer alongside analyst Davey Hamilton and turn announcers Nick Yeoman, Jake Query and Michael Young. Ryan Myrehn and Joel Sebastianelli are the pit reporters. The Acura Grand Prix of Long Beach race and all NTT INDYCAR SERIES practices and qualifying sessions air live on network affiliates, SiriusXM 160, racecontrol.indycar.com and the INDYCAR App powered by NTT DATA.
At-track schedule (all times local):
Friday, April 8
3:15-4:15 p.m. – NTT INDYCAR SERIES practice 1 (45-minute session), Peacock Premium (live)
Saturday, April 9
8:45-9:45 a.m. – NTT INDYCAR SERIES practice 2 (45-minute session), Peacock Premium (live)
12:05 p.m. – NTT INDYCAR SERIES Qualifying for the NTT P1 Award (three rounds of knockout qualifying), Peacock Premium (live)
Sunday, April 10
9-9:30 a.m. – NTT INDYCAR SERIES warmup, Peacock Premium (live)
Noon – Driver introductions
Noon – NBC on air
12:38 p.m. – Start engines command
12:45 p.m. – Acura Grand Prix of Long Beach (85 laps/167.28 miles), NBC and Peacock Premium (live)
Race Notes:
This weekend's Acura Grand Prix of Long Beach will mark the 38th INDYCAR SERIES event on the historic Long Beach street circuit. Mario Andretti won the first INDYCAR SERIES race there in 1984. Colton Herta won the race in 2021.
There have been two winners in two races in 2022 – Scott McLaughlin (St. Petersburg) and Josef Newgarden (Texas). The last time Team Penske won the first three races of an INDYCAR SERIES season was in 2012 when Helio Castroneves (St. Petersburg) and Will Power (Barber, Long Beach and Sao Paulo) claimed wins in the first four races. Since 2012, the NTT INDYCAR SERIES has averaged just under nine different race winners per season, including a record-tying 11 winners in 2014. There were nine different winners in the 16 races of 2021, with equally tight competition projected for this season.
There have been seven different winners in the last 10 NTT INDYCAR SERIES races (Marcus Ericsson, Pato O'Ward, Alex Palou, Josef Newgarden, Will Power, Colton Herta and Scott McLaughlin). The only repeat winners in that stretch are Newgarden (Mid-Ohio and WWT Raceway in 2021 and Texas in 2022), Palou (Road America and Portland in 2021) and Herta (Laguna Seca and Long Beach in 2021).
Three California natives are entered: 2021 Long Beach race winner Colton Herta hails from Valencia while Andretti Autosport teammate and 2018 and 2019 Long Beach race winner Alexander Rossi is a native of Nevada City. Chip Ganassi Racing's Jimmie Johnson is from El Cajon. Herta has won the last three INDYCAR SERIES races held in the Golden State (Laguna Seca 2019, Laguna Seca 2021 and Long Beach 2021).
Al Unser Jr. has won the most times at Long Beach (six). Will Power and Alexander Rossi are the only entered drivers with multiple wins. Power won in 2008 and 2012, and Rossi won in 2018 and 2019. Other former race winners scheduled to compete are Helio Castroneves (2001), Takuma Sato (2013), Scott Dixon (2015), Simon Pagenaud (2016) and Colton Herta (2021).
Five drivers have won the race from the pole – Mario Andretti (1984, 1985 and 1987), Al Unser Jr. (1989-90), Helio Castroneves (2001), Sebastien Bourdais (2006-07) and Alexander Rossi (2018-19).
Twenty-one of the 26 drivers entered have competed in INDYCAR SERIES races at Long Beach. Will Power has 15 starts, most among all entered drivers. Ten entered drivers have led laps: Helio Castroneves 194, Power 170, Alexander Rossi 151, Scott Dixon 104, Takuma Sato 67, Simon Pagenaud 54, Colton Herta 43, Josef Newgarden 22, Graham Rahal 4 and Jack Harvey 1.
Six NTT INDYCAR SERIES rookies – Tatiana Calderon, Devlin DeFrancesco, Callum Ilott, Kyle Kirkwood, Christian Lundgaard and David Malukas – are expected to compete. All but Ilott will be making their first INDYCAR SERIES start on the Streets of Long Beach.
Milestones: Alexander Rossi will attempt to make his 100th NTT INDYCAR SERIES start … Scott Dixon will attempt to make his 291st consecutive start, the second-longest streak in INDYCAR SERIES history.
Lucille Dust reporting live from Long Beach