IMSA: Derani tops opening Long Beach practice
#31 Whelen Cadillac driver Pipo Derani led the way in a red flag-filled opening practice session for the Acura Grand Prix of Long Beach.
The Action Express Racing driver turned a lap of 1:27.387  to beat the No. 5 JDC-Miller Motorsports Cadillac of Richard Westbrook by 0.942 seconds.
The session featured 4 red flags.
Tom Blomqvist in the No. 60 Meyer Shank Racing Acura ARX-05 was third on the time charts, followed by Sebastien Bourdais in the No. 01 Chip Ganassi Racing Cadillac.
Ricky Taylor completed the top-five in DPi in his Wayne Taylor Racing Acura DPi.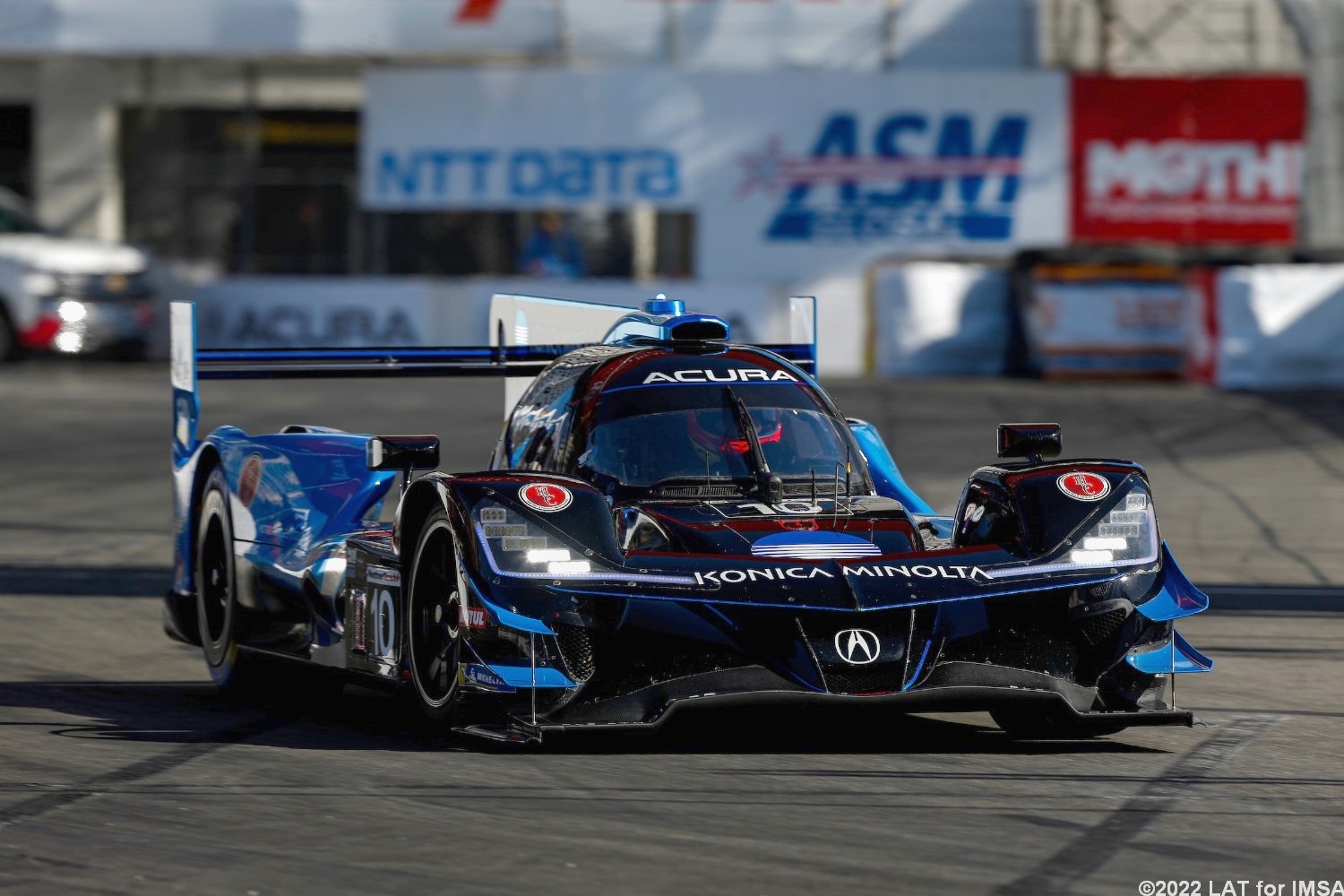 GTD was led by the No. 96 Turner Motorsport BMW of Bill Auberlen.
Auberlen's time was four-tenths better than Marc Miller, who was second quickest in the No. 66 Gradient Racing Acura NSX GT3 Evo22.
GTD Pro was led by The Heart of Racing's Ross Gunn.
The Aston Martin factory driver set a best time of 1:20.401 to edge out the No.  79 WeatherTech Racing Mercedes-AMG GT3 Evo of Raffaele Marciello and Matthieu Jaminet's Pfaff Racing Porsche 911 GT3 R.
Practice 1 Results
* Italic: Fastest Lap Driver
Pos

No.

Drivers

Team

Car

Time

Lap

Total

Gap

Mph

DPi

1

31

P. Derani / T. Nunez

Whelen Engineering Racing

Cadillac DPi

1:12.387

25

26

+0.000 +0.000

97.873

2

5

T. Vautier / R. Westbrook

JDC Miller MotorSports

Cadillac DPi

1:13.329

21

22

+0.942 +0.942

96.616

3

60

O. Jarvis / T. Blomqvist

Meyer Shank Racing W/Curb-Agajanian

Acura DPi

1:13.364

21

25

+0.977 +0.035

96.570

4

01

R. van der Zande / S. Bourdais

Cadillac Racing

Cadillac DPi

1:13.642

15

20

+1.255 +0.278

96.205

5

10

R. Taylor / F. Albuquerque

Konica Minolta Acura ARX-05

Acura DPi

1:13.703

22

24

+1.316 +0.061

96.126

6

02

E. Bamber / A. Lynn

Cadillac Racing

Cadillac DPi

1:14.509

19

23

+2.122 +0.806

95.086

GTD PRO

1

23

R. Gunn / A. Riberas

Heart of Racing Team

Aston Martin Vantage GT3

1:20.401

6

24

+0.000
+0.000

88.118

2

79

C. MacNeil / R. Marciello

WeatherTech Racing

Mercedes-AMG GT3

1:20.448

16

27

+0.047

+0.047

88.066

3

9

M. Campbell / M. Jaminet

Pfaff Motorsports

Porsche 911 GT3R

1:20.459

8

25

+0.058

+0.011

88.054

4

14

J. Hawksworth / B. Barnicoat

VasserSullivan

Lexus RC F GT3

1:20.628

18

21

+0.227

+0.169

87.870

5

3

A. Garcia / J. Taylor

Corvette Racing

Chevrolet Corvette C8.R GTD

1:20.703

20

23

+0.302

+0.075

87.788

6

25

C. De Phillippi / J. Edwards

BMW M Team RLL

BMW M4 GT3

1:21.004

4

8

+0.603

+0.301

87.462

GTD

1

96

R. Foley / B. Auberlen

Turner Motorsport

BMW M4 GT3

1:19.891

7

25

+0.000
+0.000

88.680

2

66

M. Farnbacher / M. Miller

Gradient Racing

Acura NSX GT3

1:20.296

6

27

+0.405

+0.405

88.233

3

12

F. Montecalvo / A. Telitz

VasserSullivan

Lexus RC F GT3

1:20.373

21

25

+0.482

+0.077

88.149

4

57

R. Ward / P. Ellis

Winward Racing

Mercedes-AMG GT3

1:20.519

8

26

+0.628

+0.146

87.989

5

70

B. Iribe / F. Schandorff

inception racing

McLaren 720S GT3

1:20.780

5

28

+0.889

+0.261

87.704

6

1

B. Sellers / M. Snow

Paul Miller Racing

BMW M4 GT3

1:20.825

19

23

+0.934

+0.045

87.656

7

32

M. Skeen / S. McAleer

Team Korthoff Motorsports

Mercedes-AMG GT3

1:20.985

22

26

+1.094

+0.160

87.482

8

99

R. Ferriol / K. Legge

Team Hardpoint

Porsche 911 GT3R

1:21.025

5

25

+1.134

+0.040

87.439

9

39

R. Megennis / J. Westphal

CarBahn with Peregrine Racing

Lamborghini Huracan GT3

1:21.109

7

13

+1.218

+0.084

87.349

10

59

J. Miller / P. Holton

Crucial Motorsports

McLaren 720S GT3

1:21.307

7

23

+1.416

+0.198

87.136

11

27

R. De Angelis / M. Martin

Heart of Racing Team

Aston Martin Vantage GT3

1:21.442

4

26

+1.551

+0.135

86.991

12

51

R. Eversley / A. Read

Rick Ware Racing

Acura NSX GT3

1:21.522

5

24

+1.631

+0.080

86.906

13

16

R. Hardwick / J. Heylen

Wright Motorsports

Porsche 911 GT3R

1:21.564

7

26

+1.673

+0.042

86.861

14

34

K. Washington / J. Sofronas

GMG Racing

Porsche 911 GT3R

1:21.595

6

24

+1.704

+0.031

86.828

15

42

D. Yount / J. Conwright

NTE/SSR

Lamborghini Huracan GT3