Supercars: Mostert wins race, van Gisbergen claims Larry Perkins Trophy
Defending Bathurst Champion Chaz Mostert has celebrated his 30th birthday in style, winning the final race of the Beaurepaires Melbourne 400, while Supercars Champion Shane van Gisbergen claimed his first Larry Perkins Trophy.
Mostert benefited from a major van Gisbergen tire lock-up midway through the race to win Race 9 this morning at the Australia Grand Prix.
It was Mostert's 19th career victory and third of 2022.
The Shell Ford duo of Will Davison and Anton De Pasquale, finished their rollercoaster weekend with a 2nd and 3rd place finish today.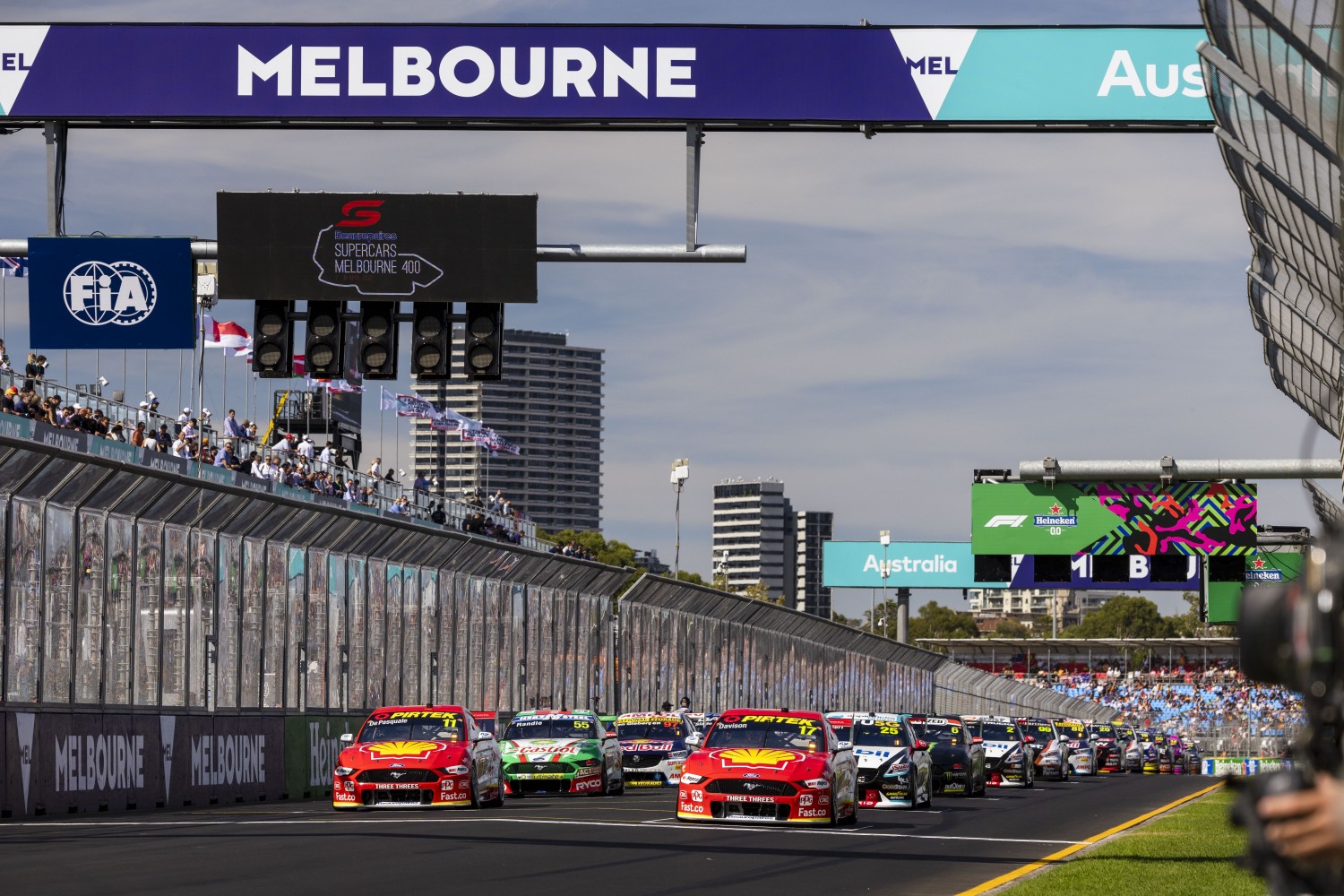 Van Gisbergen's overall victory in the LP Trophy standings was aided by a retirement for closest rival David Reynolds.
Pole-sitter Will Davison came home second behind Mostert, with Anton De Pasquale third.
"The boys did a fantastic pit stop," said Mostert, from Walkinshaw Andretti United.
"You've got to put Shane under pressure, he obviously had a beast under him.
"We've still got some work to do, but to get two wins this weekend is awesome."
The Safety Car was triggered immediately after the start after a clutch issue left Jack Smith on the grid.
Van Gisbergen stopped on lap 6 and emerged ahead of both Shell Fords; it came after De Pasquale locked up at Turn 9 and made gentle contact with Davison.
Mostert assumed the effective lead after his lap 7 stop, but came under attack from van Gisbergen.
On lap 9, van Gisbergen suffered a severe lock-up of his own at Turn 9, and quickly lost ground to Mostert.
By lap 13, the margin between Mostert and van Gisbergen was four seconds; by lap 18, it was out to five seconds.
Van Gisbergen came under attack from Davison, and the already-damaged tire gave way into Turn 11.
The ailing #97 came into pit lane, releasing Davison and De Pasquale into second and third.
However, van Gisbergen managed to secure the Perkins Trophy by just 12 points over Mostert, with Reynolds 18 points behind in third.
Van Gisbergen leaves Melbourne with a reduced 144-point lead over De Pasquale, with Mostert 18 points in arrears.
Teams now begin preparations for the return to Western Australia, the Bunnings Trade Perth SuperNight which runs April 30 and May 1.
Race Results
| | | | | |
| --- | --- | --- | --- | --- |
| POS | No. | DRIVER | TEAM | BEHIND |
| 1 | 25 | Mostert | WAU Racing Pty Ltd | +0.000 |
| 2 | 17 | Davison | Shell V-Power Racing Team | +5.217 |
| 3 | 11 | A. de Pasquale | Shell V-Power Racing Team | +6.879 |
| 4 | 3 | Slade | CoolDrive Racing | +8.130 |
| 5 | 99 | B. Kostecki | Penrite Racing – Erebus | +8.787 |
| 6 | 2 | Percat | WAU Racing Pty Ltd | +9.700 |
| 7 | 6 | C. Waters | Tickford Racing 1 | +12.609 |
| 8 | 9 | W. Brown | Penrite Racing – Erebus | +12.676 |
| 9 | 18 | Winterbottom | Team 18 | +13.928 |
| 10 | 10 | Holdsworth | Penrite Racing | +15.667 |
| 11 | 20 | S. Pye | Team 18 | +16.036 |
| 12 | 88 | B. Feeney | Red Bull Holden Racing Team | +17.964 |
| 13 | 56 | J. Kostecki | Tickford Racing 2 | +19.508 |
| 14 | 35 | T. Hazelwood | Matt Stone Racing | +20.879 |
| 15 | 76 | G. Jacobson | PremiAir Subway Racing | +21.853 |
| 16 | 34 | J. Le Brocq | Matt Stone Racing | +22.620 |
| 17 | 8 | Heimgartner | Brad Jones Racing | +22.679 |
| 18 | 96 | M. Jones | SCT Motor Sports | +31.650 |
| 19 | 14 | B. Fullwood | Brad Jones Racing | +32.806 |
| 20 | 97 | Van Gisbergen | Red Bull Holden Racing Team | +54.859 |
| 21 | 22 | C. Pither | PremiAir Coca Cola Racing | +1:06.073 |
| 22 | 500 | Courtney | Tickford Racing 1 | +1:40.748 |
| NC | 55 | T. Randle | Tickford Racing 2 | +9 Laps |
| NC | 26 | Reynolds | Penrite Racing | +14 Laps |
| NC | 4 | J. Smith | SCT Motor Sports | +20 Laps |