IMSA: Acura Front Row Lockout at Laguna Seca
Ricky Taylor led the way for Acura in the #10 Wayne Taylor Racing Acura ARX-05 prototype, notching the team's second consecutive, and Acura's fourth consecutive, DPi pole at WeatherTech Raceway Laguna Seca.
Taylor's lap time of 1:13.924 was only 0.089 of a second faster than the second-quickest qualifier, also an Acura ARX-05 in the hands of Oliver Jarvis. The #60 Meyer Shank Racing machine completed Acura's fourth consecutive front row sweep at Monterey, California track with their qualifying time of 1:14.013.
"Our car has been good since the start of practice and we tried not to mess it up," said Taylor after clinching his 34th career pole in IMSA competition. "When you have a car that unloads that well, it's very easy to get lost at a place like this because the track changes so much. So, we tried to not make too many changes. We placed a lot of emphasis on qualifying, so to get the pole is satisfying."
Filipe Albuquerque set the previous lap record of 1:14.441 (108.230 mph) in the same WTR Acura in 2021, and Taylor said he assumed his teammate would again qualify and start the two-hour, 40-minute race again this year.
"They just told me I was doing it and I tried not to mess it up," he said.
"Laguna Seca is a track that requires a lot of front grip in qualifying, then you need really good rear tire degradation for the race," he added. "The Cadillacs have really found a lot of pace since last year, so I'm sure we'll have our work cut out for us in the race. The competition has been creeping closer in every session, but as long as they don't get any closer, we'll be happy."
Alex Lynn was the fastest Cadillac qualifier in the No. 01 Cadillac Racing DPi.V.R, recording a time of 1:14.072 to secure third on the starting grid.
Lynn and co-driver Earl Bamber head into Sunday's racing with a seven-point lead in the WeatherTech Championship DPi point standings over No. 5 JDC-Miller MotorSports Cadillac co-drivers Tristan Vautier and Richard Westbrook. Vautier qualified fifth for Sunday's race.
Thomas Scores Third Career Pole in LMP2
In the Le Mans Prototype 2 (LMP2) class, Steven Thomas posted the benchmark time of 1:17.571 in the No. 11 PR1 Mathiasen Motorsports ORECA LMP2 to secure the class Motul Pole Award.
His team kept him posted over the radio as other drivers took their best shots to unseat him from the top spot, with Patrick Kelly in PR1 Mathiasen's similar No. 52 ORECA coming closest with a 1:17.628 in the closing moments of the 15-minute qualifying session.
"This feels pretty darn good," said Thomas. "The car was moving all over the place. For a 'gentleman driver' to hang on to go fast, you've got to be willing to slide the car here. I think that was the key at the end of the day to going fast.
"I wasn't expecting an easy time," he continued. "My teammate, Jonathan Bomarito, has a lot more experience than me, and he really helped me. I think I was fastest in both practices, but it was a narrow margin. So, I thought it was going to be a total shootout, which is a lot of fun. I said, 'Bring it on!'"
Jaminet Saves Best for Last to Win GTD PRO Pole in No. 9 Porsche
Mathieu Jaminet waited to get on track, then saved his best lap for the end of Saturday's 15-minute qualifying session at WeatherTech Raceway Laguna Seca.
Jaminet claimed the Motul Pole Award in GTD PRO for the Hyundai Monterey Sports Car Championship Presented by Motul with a late lap of 1 minute, 23.142 seconds around the 11-turn, 2.238-mile circuit.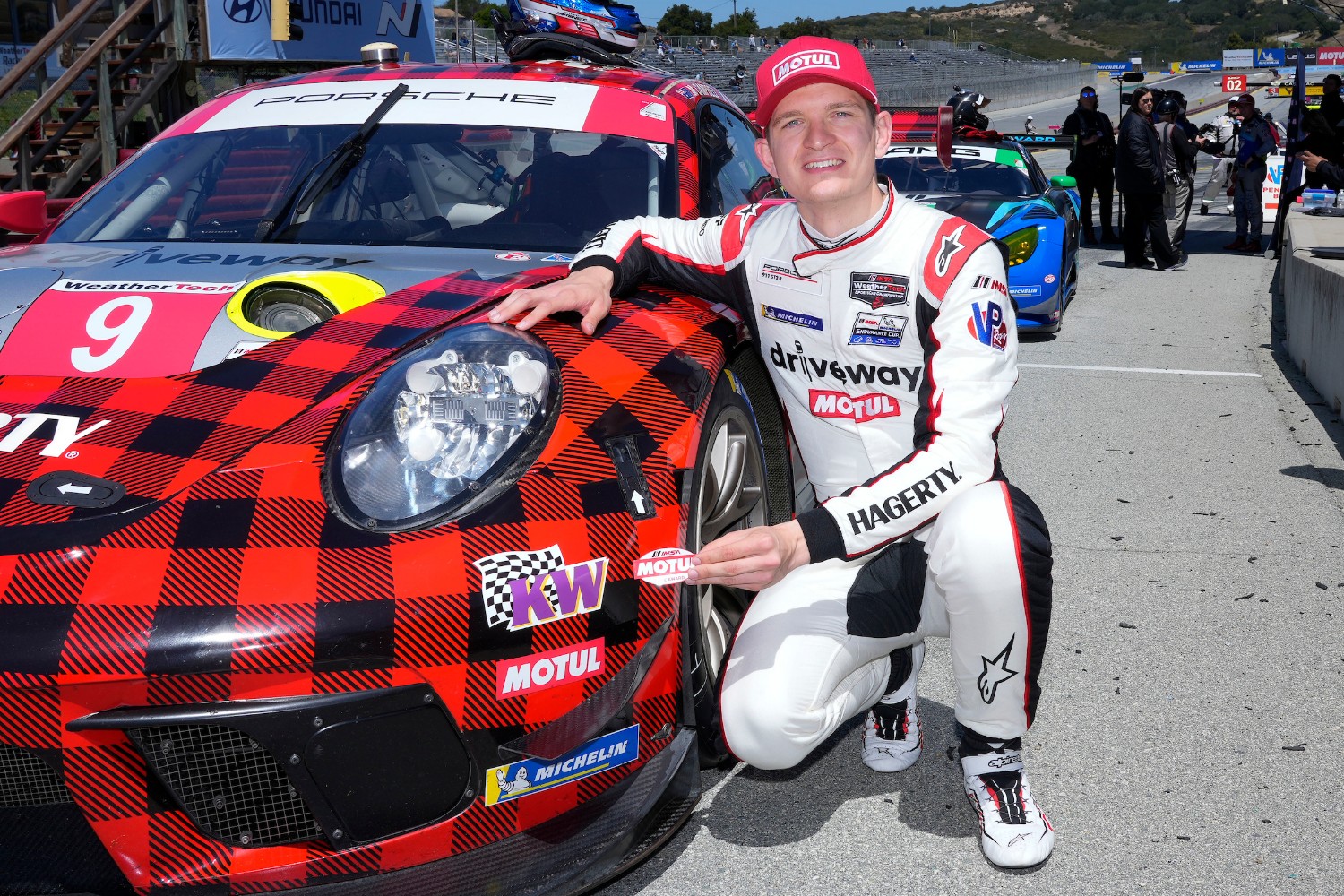 His effort put the No. 9 Pfaff Motorsports Porsche 911 GT3R he'll co-drive with Matt Campbell in the number one starting position in GTD PRO for the start of Sunday's two-hour, 40-minute race.
Waiting to leave the pits at the start of the qualifying session helped Jaminet find space on the track and save his tires for the late lap.
"I don't know if waiting was the secret, but I definitely had a very good lap," Jaminet said. "I think I did my best lap of the weekend at the right time. The team did amazing, a really fantastic job. I'm really pleased with that."
Winning the pole made up for an unfortunate incident on April 10 at Long Beach that dropped the No. 9 Porsche out of the GTD PRO points lead. After battling near the front of the field during the first stint of that race, the car was forced to retire when an errant wheel nut from the No. 3 Corvette improbably flew through the air and punctured the car's radiator while the car was undergoing service on pit lane.
Jaminet's lap topped the best lap by Daniel Juncadella by just 0.022 seconds. The No. 79 WeatherTech Racing Mercedes-AMG GT3 that Juncadella co-drives with Cooper MacNeil was clocked at 1:23.164.
The No. 23 Heart of Racing Team Aston Martin Vantage GT3 co-driven by Alex Riberas and Ross Gunn will start third in the six-car GTD PRO field after Riberas' lap of 1:23.368.
Ward hangs on for top spot in GTD in No. 57 Mercedes
Russell Ward saved his best for the very end to claim the Motul Pole Award in GTD.
Ward wheeled the No. 57 Winward Racing Mercedes-AMG GT3 around the circuit in 1:23.567, giving him and teammate Philip Ellis the top starting position in class for Sunday's race.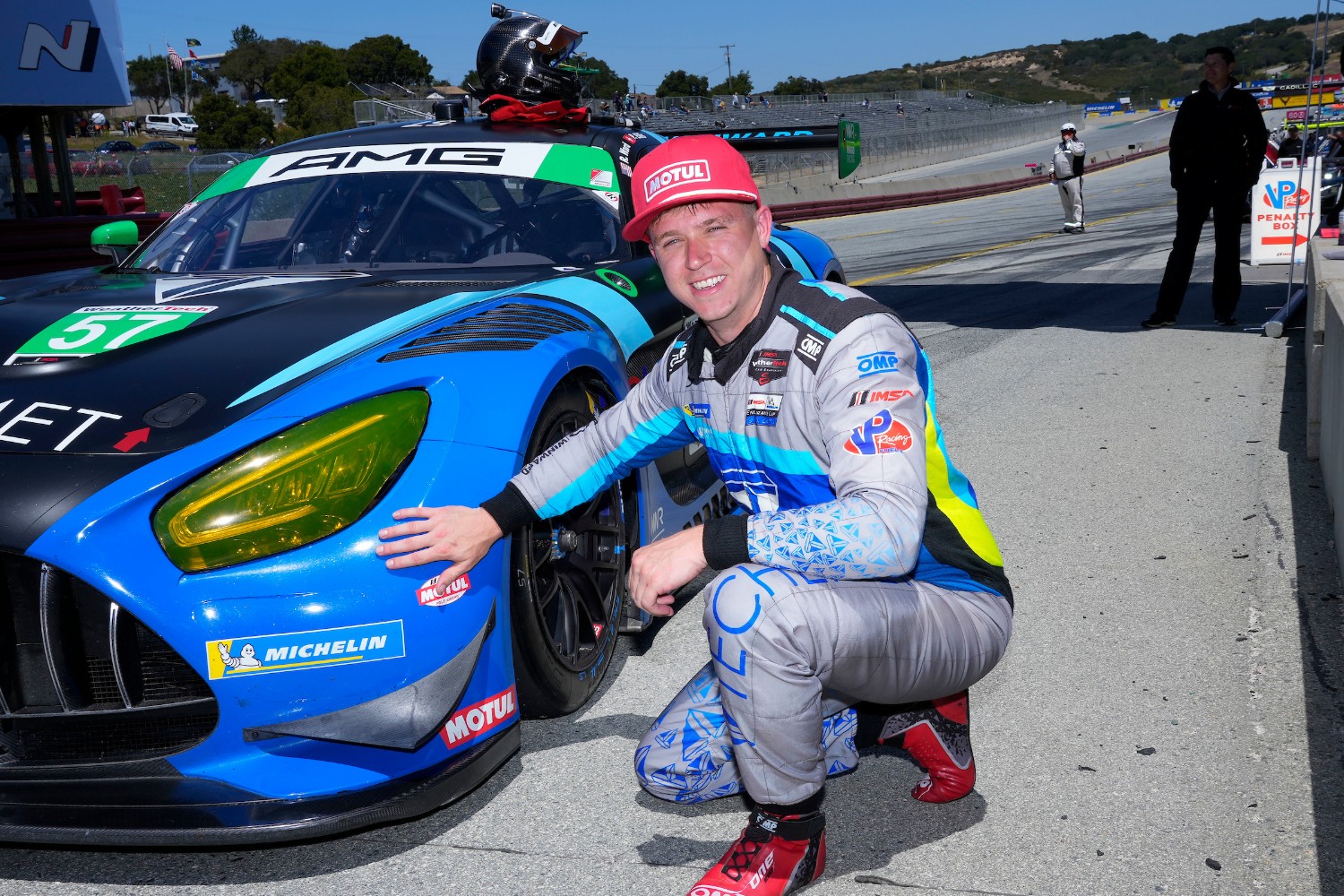 "I had to keep the excitement going," Ward joked as he celebrated afterward. "It was amazing. The guys gave us such a fast car. It's our first time here with the GT3 car. We've got some really smart and talented guys, and they know how to set these things up and make them fast. Hats off to them. They did a perfect job."
Jaden Conwright's final lap of 1:23.777 moved him into the No. 2 starting position in the No. 42 NTE/SSR Lamborghini Huracán GT3. Conwright, the inaugural IMSA Diverse Driver Development scholarship recipient, is sharing the ride with Marco Holzer this weekend.
Robby Foley will start third in the No. 96 Turner Motorsport BMW M4 GT3 he'll co-drive with Bill Auberlen after a lap of 1:23.821.
Quotes
Ricky Taylor (#10 Wayne Taylor Racing Acura ARX-05) Pole qualifier: "I'm very happy with the pole! The margin is so small, we can't relax on the performance, and we need to keep working for tomorrow. It will be a very different story once we get into the race. But this team has been doing really well. This track always suits the Acura ARX-05, but tomorrow we'll have to keep working and keep the pressure on the competition. We need to make sure we can maintain this."
Oliver Jarvis (#60 Meyer Shank Racing Acura ARX-05) Qualified 2nd: ""I'm a little disappointed actually, because we had a great car! Congrats to the #10 team and to Acura, front row lockout! They just pipped us, but they've done a great job all weekend. Like you say, it's tough when you're so close to pole and just miss out on it. But, really pleased with the car we've got, I think we have a strong race car. And hopefully between ourselves and the #10 we can pick up some big points for Acura tomorrow."
Qualifying Results