F1: Leclerc Wins pole for inaugural Miami GP
Charles Leclerc has won the pole for the inaugural Miami GP Formula 1 race with a time of 1m28.796s on a warm and windy day in south Florida.
Carlos Sainz Jr. was 2nd quick giving Ferrari a front-row lockout in an extremely tight qualifying session.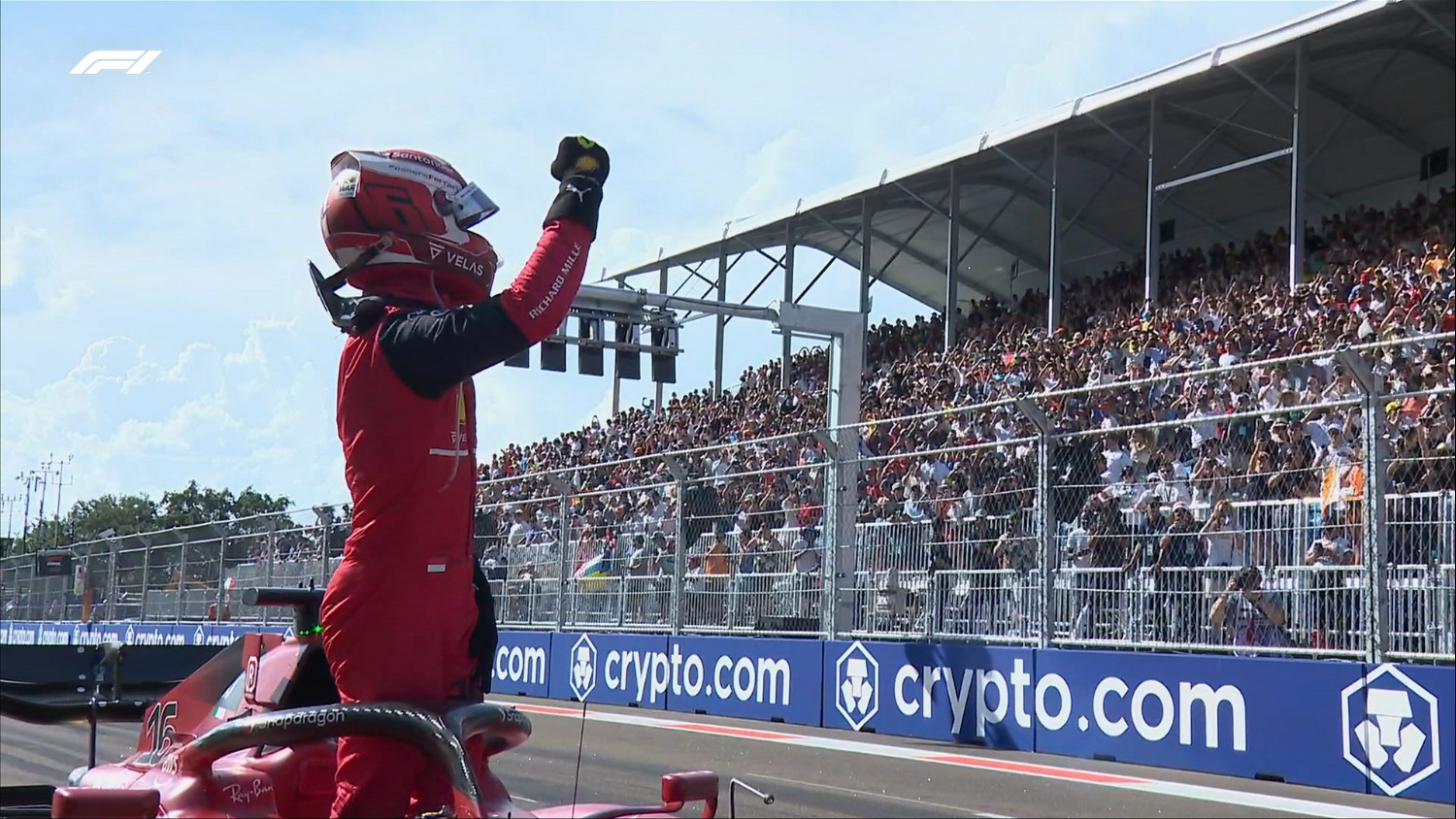 Max Verstappen was a close 3rd for Red Bull after making a mistake on his final fast lap with his teammate Sergio Perez 4th.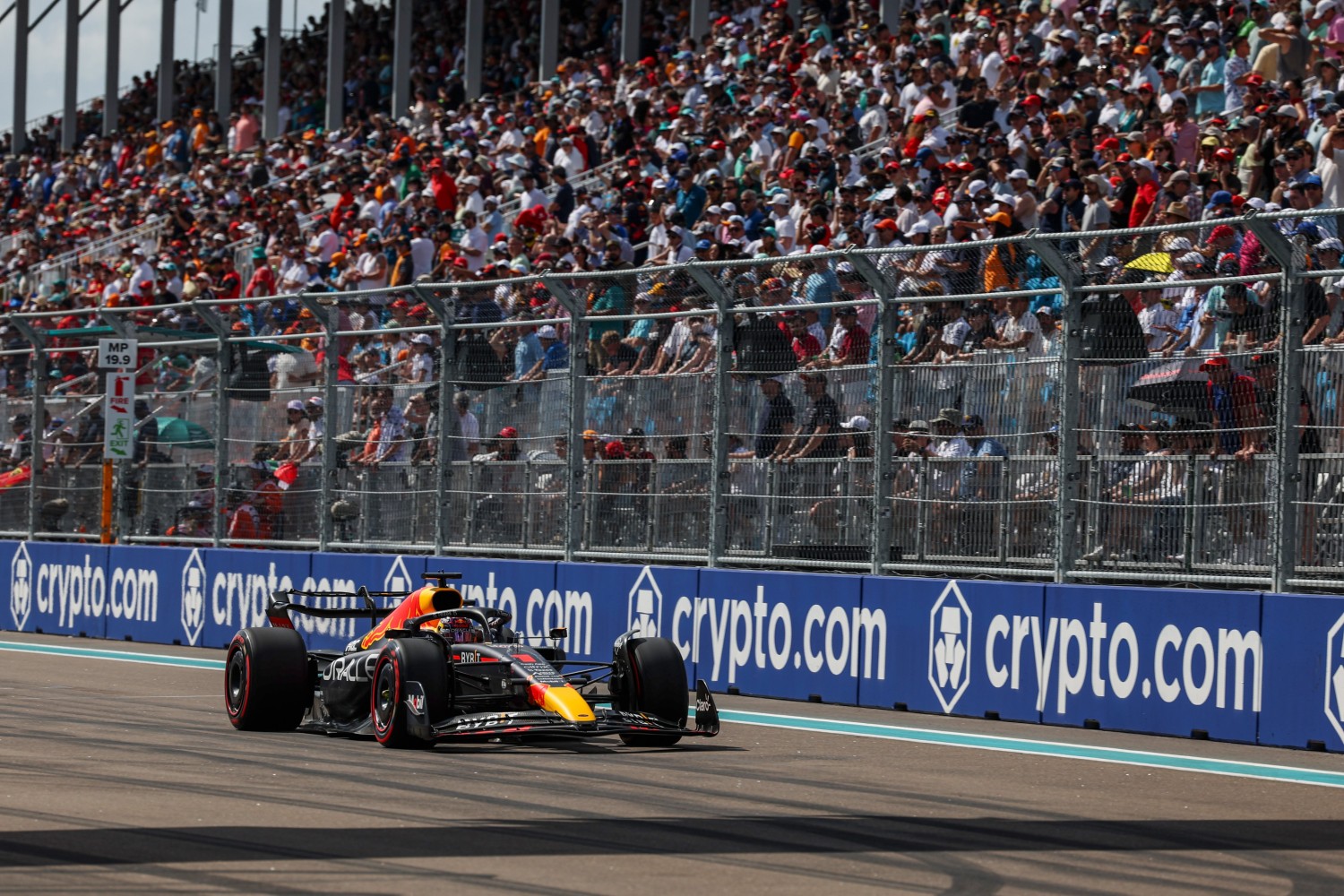 Then how about the third row of the grid? Bottas pipping Hamilton to fifth, and as the Finn said, he starts on the clean side of the grid which could well prove decisive.
Considering he too missed FP2 yesterday, it's an incredibly impressive performance from Bottas, who has come into his own since joining Alfa Romeo and seems to be relishing his role as team leader.
For Hamilton, it is a big improvement. Out in Q1 in Saudi Arabia, out in Q2 in Imola, coming home out of the points in what on paper looked a big contrast to his teammate on Italian soil. He needed a confidence-boosting result and sixth at the moment might just be about as good as it gets.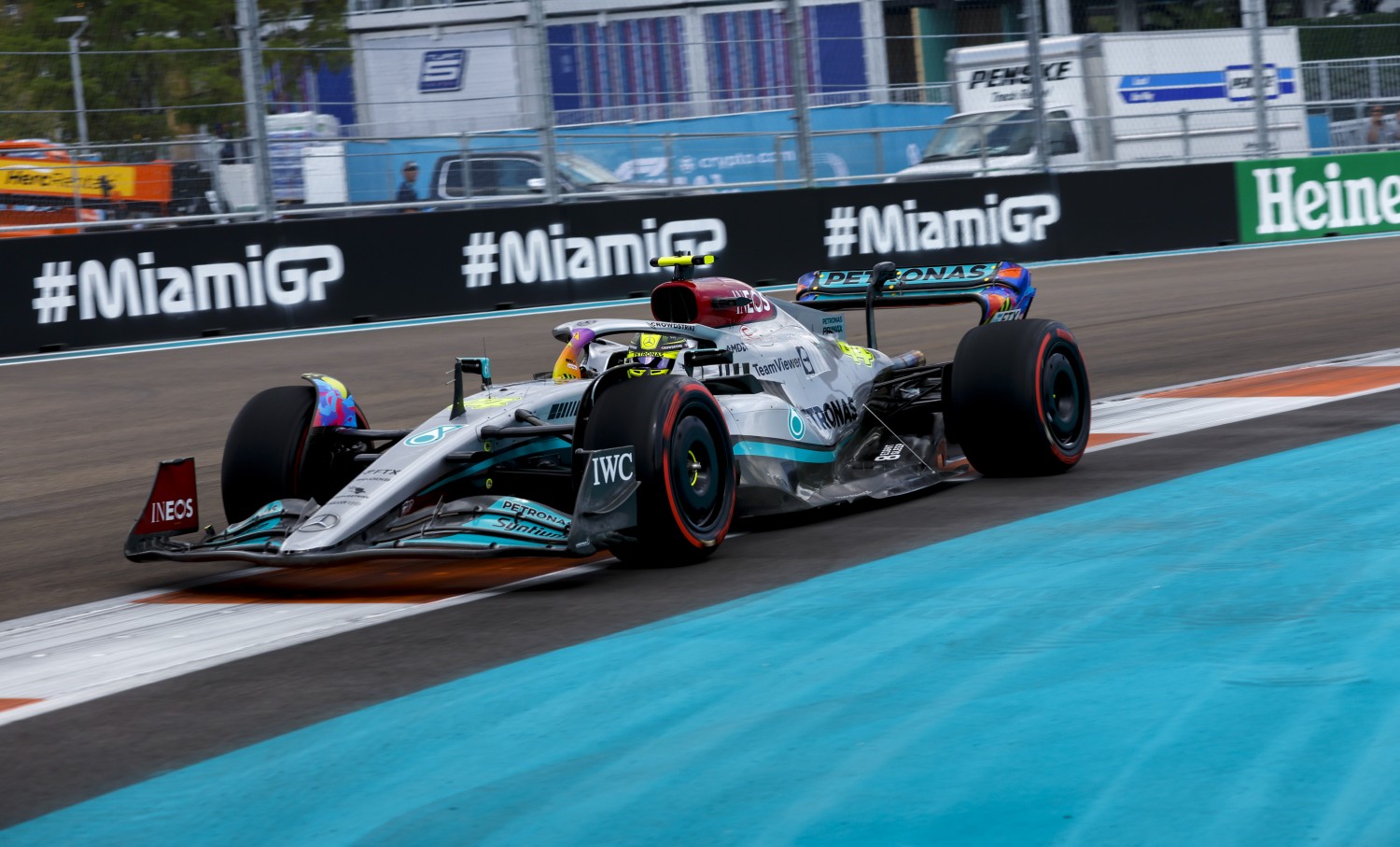 "Today went well, we are starting on pole and we need to finish the job tomorrow. [Red Bull] are extremely quick in the straight lines, we are quick in the corners," said Leclerc.
"Building back from a heavy crash yesterday, it wasn't easy to get the confidence back at a tricky circuit," said a released Sainz.. "I think I kept it cool for Q3, given where I was coming from yesterday, I'll take it. I haven't done any long runs yet, I haven't put the fuel in so the laps to the grid will be the first time I try that."
"Overall I've pretty pleased with qualifying," said a somewhat disappointed Verstappen. "Today was still trying to learn the track, so to be that competitive in qualifying was a surprise. Of course you want to be on pole but from where we came from, it's a good job. We have a good chance for tomorrow, we have good top speed."
Leclerc took advantage of his rival's error to set a blistering pace around the 5.41km track and snatched Pole Position away from his opponent. The jubilant Ferrari fans inside the circuit then had more to cheer when Sainz also improved his time to demote Verstappen to third by an incredible five thousandths of a second. Mexico's Sergio Perez took fourth to lock out the second row of the grid for the Red Bull team. Behind them, one of the stars of qualifying was Alfa Romeo's Valtteri Bottas who clinched fifth, one place ahead of seven-time World Champion Lewis Hamilton.
After he jumped out of his Ferrari, Leclerc was presented the Pirelli Pole Position Award from Hollywood actor Michael Douglas and was quick to thank the Miami crowd for their support: "It's incredible to be here in the US and to see how much the sport has grown over the past few years and to see so many people in the grandstand — it definitely motivates us. And there are also a lot of Ferrari fans, so it's amazing. I feel at ease with the car, it feels great to drive," said Leclerc. "Tomorrow will be a tight race and it is good to have Carlos by my side. The pace is there for both our cars so hopefully we can keep our positions until the end tomorrow to bring home a strong result for our team."
Saturday's qualifying hour kicked-off at 4pm E.T. local time and ran trouble-free, devoid of the red-flag stoppages that had appeared in the previous three practice sessions partly due to drivers become more familiar with the nuances of the challenging anticlockwise Miami International Autodrome. With track temperatures reaching a scorching 128 degrees F on Saturday, those behind the wheel needed a cool head to tackle the sport's newest venue.
The only absentee from qualifying was Frenchman Esteban Ocon. He had crashed his Alpine at the narrow Turn 13/14 section of the lap in the morning's third free practice and the repairs required to fix the left-hand side of his car meant he had to skip qualifying. Despite that one small interruption to proceedings, the rest of the session ran without any issues and it was the Red Bull of Sergio Perez that topped the FP3 timesheets ahead of Leclerc.
Qualifying Results
| | | | | | | | |
| --- | --- | --- | --- | --- | --- | --- | --- |
| POS | NO | DRIVER | CAR | Q1 | Q2 | Q3 | LAPS |
| 1 | 16 | Charles Leclerc | FERRARI | 1:29.474 | 1:29.130 | 1:28.796 | 25 |
| 2 | 55 | Carlos Sainz | FERRARI | 1:30.079 | 1:29.729 | 1:28.986 | 26 |
| 3 | 1 | Max Verstappen | RED BULL RACING RBPT | 1:29.836 | 1:29.202 | 1:28.991 | 18 |
| 4 | 11 | Sergio Perez | RED BULL RACING RBPT | 1:30.055 | 1:29.673 | 1:29.036 | 21 |
| 5 | 77 | Valtteri Bottas | ALFA ROMEO FERRARI | 1:30.845 | 1:29.751 | 1:29.475 | 20 |
| 6 | 44 | Lewis Hamilton | MERCEDES | 1:30.388 | 1:29.797 | 1:29.625 | 21 |
| 7 | 10 | Pierre Gasly | ALPHATAURI RBPT | 1:30.779 | 1:30.128 | 1:29.690 | 22 |
| 8 | 4 | Lando Norris | MCLAREN MERCEDES | 1:30.761 | 1:29.634 | 1:29.750 | 22 |
| 9 | 22 | Yuki Tsunoda | ALPHATAURI RBPT | 1:30.485 | 1:30.031 | 1:29.932 | 21 |
| 10 | 18 | Lance Stroll | ASTON MARTIN ARAMCO MERCEDES | 1:30.441 | 1:29.996 | 1:30.676 | 21 |
| 11 | 14 | Fernando Alonso | ALPINE RENAULT | 1:30.407 | 1:30.160 | – | 14 |
| 12 | 63 | George Russell | MERCEDES | 1:30.490 | 1:30.173 | – | 15 |
| 13 | 5 | Sebastian Vettel | ASTON MARTIN ARAMCO MERCEDES | 1:30.677 | 1:30.214 | – | 15 |
| 14 | 3 | Daniel Ricciardo | MCLAREN MERCEDES | 1:30.583 | 1:30.310 | – | 15 |
| 15 | 47 | Mick Schumacher | HAAS FERRARI | 1:30.645 | 1:30.423 | – | 19 |
| 16 | 20 | Kevin Magnussen | HAAS FERRARI | 1:30.975 | – | – | 11 |
| 17 | 24 | Zhou Guanyu | ALFA ROMEO FERRARI | 1:31.020 | – | – | 9 |
| 18 | 23 | Alexander Albon | WILLIAMS MERCEDES | 1:31.266 | – | – | 10 |
| 19 | 6 | Nicholas Latifi | WILLIAMS MERCEDES | 1:31.325 | – | – | 10 |