MotoGP: Flawless Bastianini pounces to take French glory
For the third time this season, Enea Bastianini is a MotoGP™ race winner. The Gresini Racing star put in a flawless performance in front of over 110,000 spectators to come out on top of a pulsating SHARK Grand Prix de France.
The Beast capitalized on a mistake from long-time race leader Francesco Bagnaia (Ducati Lenovo Team) to take the maximum 25 points, while Jack Miller (Ducati Lenovo Team) celebrated his second podium of the season, with Aprilia's Aleix Espargaro making it three premier class rostrums on the spin.
Local heroes Fabio Quartararo (Monster Energy Yamaha MotoGP™) and Johann Zarco (Pramac Racing) were unable to mark their home GP with a podium, as they had to settle for fourth and fifth.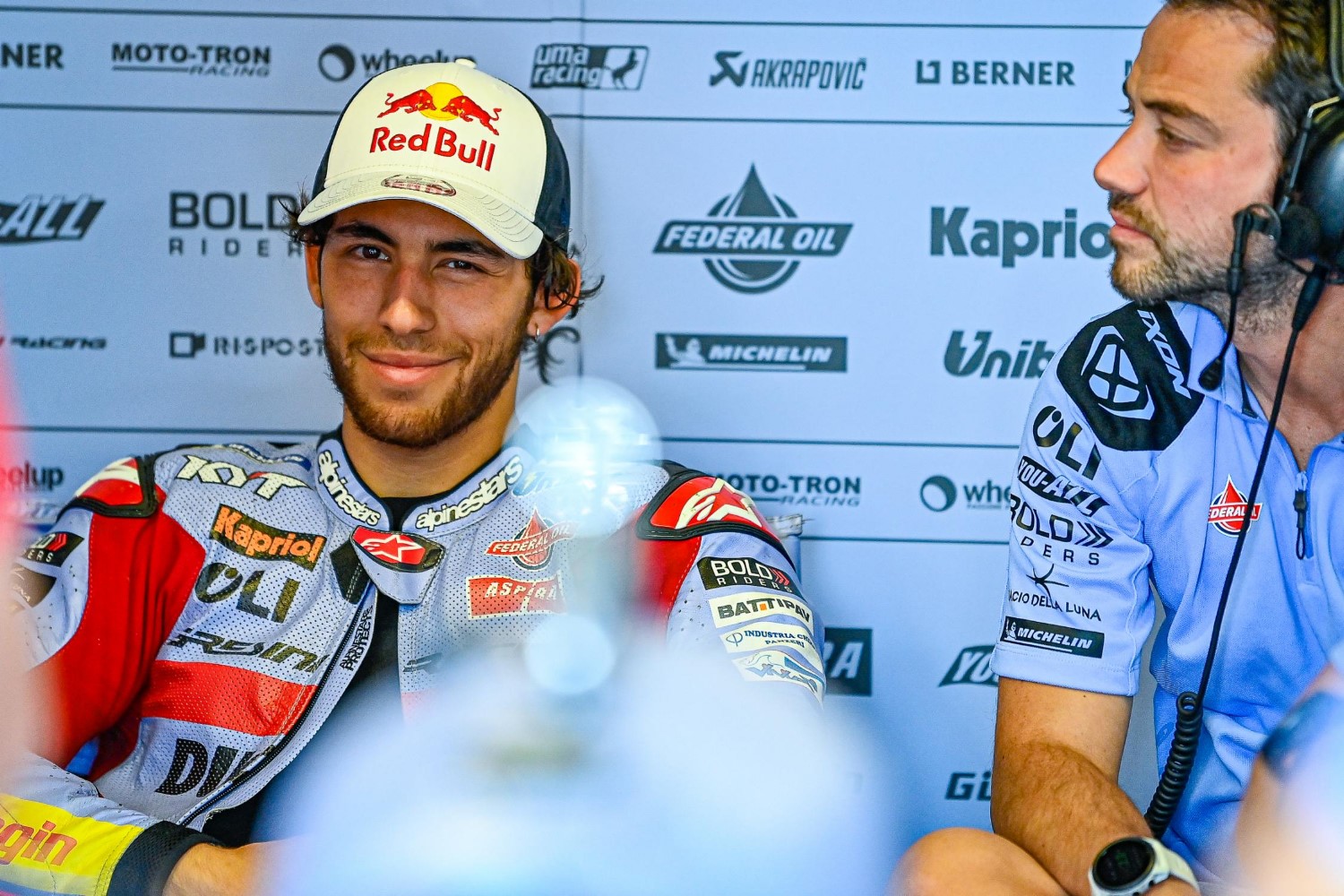 French Grand Prix Race Results
| | | | | | | | |
| --- | --- | --- | --- | --- | --- | --- | --- |
| Pos. | Rider | Num | Nation | Points | Team | Constructor | Time/Gap |
| 1 | Bastianini Enea | 23 | ITA | 25 | Team Gresini Racing MotoGP | Ducati | 41'34.613 |
| 2 | Miller Jack | 43 | AUS | 20 | Ducati Lenovo Team | Ducati | 2.718 |
| 3 | Espargaro Aleix | 41 | SPA | 16 | Aprilia Racing | Aprilia | 4.182 |
| 4 | Quartararo Fabio | 20 | FRA | 13 | Monster Energy Yamaha MotoGP | Yamaha | 4.288 |
| 5 | Zarco Johann | 5 | FRA | 11 | Pramac Racing | Ducati | 11.139 |
| 6 | Marquez Marc | 93 | SPA | 10 | Repsol Honda Team | Honda | 15.155 |
| 7 | Nakagami Takaaki | 30 | JPN | 9 | LCR Honda | Honda | 16.680 |
| 8 | Binder Brad | 33 | RSA | 8 | Red Bull KTM Factory Racing | KTM | 18.459 |
| 9 | Marini Luca | 10 | ITA | 7 | Mooney VR46 Racing Team | Ducati | 20.541 |
| 10 | Vinales Maverick | 12 | SPA | 6 | Aprilia Racing | Aprilia | 21.486 |
| 11 | Espargaro Pol | 44 | SPA | 5 | Repsol Honda Team | Honda | 22.707 |
| 12 | Bezzecchi Marco | 73 | ITA | 4 | Mooney VR46 Racing Team | Ducati | 23.408 |
| 13 | Di Giannantonio Fabio | 49 | ITA | 3 | Team Gresini Racing MotoGP | Ducati | 26.432 |
| 14 | Marquez Alex | 73 | SPA | 2 | LCR Honda | Honda | 28.710 |
| 15 | Morbidelli Franco | 21 | ITA | 1 | Monster Energy Yamaha MotoGP | Yamaha | 29.433 |
| 16 | Dovizioso Andrea | 4 | ITA | 0 | WithU Yamaha RNF MotoGP Team | Yamaha | 38.149 |
| 17 | Binder Darryn | 40 | RSA | 0 | WithU Yamaha RNF MotoGP Team | Yamaha | 59.748 |
| 18 | Oliveira Miguel | 88 | POR | 0 | Red Bull KTM Factory Racing | KTM | DNF |
| 19 | Bagnaia Francesco | 62 | ITA | 0 | Ducati Lenovo Team | Ducati | DNF |
| 20 | Martin Jorge | 89 | SPA | 0 | Pramac Racing | Ducati | DNF |
| 21 | Mir Joan | 36 | SPA | 0 | Team Suzuki Ecstar | Suzuki | DNF |
| 22 | Fernandez Raul | 25 | SPA | 0 | Tech 3 KTM Factory Racing | KTM | DNF |
| 23 | Rins Alex | 42 | SPA | 0 | Team Suzuki Ecstar | Suzuki | DNF |
| 24 | Gardner Remy | 87 | AUS | 0 | Tech 3 KTM Factory Racing | KTM | DNF |
Rider Standings
| | | | | | | |
| --- | --- | --- | --- | --- | --- | --- |
| Pos. | Rider | Num | Nation | Points | Team | Constructor |
| 1 | Quartararo Fabio | 20 | FRA | 102 | Monster Energy Yamaha MotoGP | Yamaha |
| 2 | Espargaro Aleix | 41 | SPA | 98 | Aprilia Racing | Aprilia |
| 3 | Bastianini Enea | 23 | ITA | 94 | Team Gresini Racing MotoGP | Ducati |
| 4 | Rins Alex | 42 | SPA | 69 | Team Suzuki Ecstar | Suzuki |
| 5 | Miller Jack | 43 | AUS | 62 | Ducati Lenovo Team | Ducati |
| 6 | Zarco Johann | 5 | FRA | 62 | Pramac Racing | Ducati |
| 7 | Binder Brad | 33 | RSA | 56 | Red Bull KTM Factory Racing | KTM |
| 8 | Bagnaia Francesco | 62 | ITA | 56 | Ducati Lenovo Team | Ducati |
| 9 | Mir Joan | 36 | SPA | 56 | Team Suzuki Ecstar | Suzuki |
| 10 | Marquez Marc | 93 | SPA | 54 | Repsol Honda Team | Honda |
| 11 | Oliveira Miguel | 88 | POR | 43 | Red Bull KTM Factory Racing | KTM |
| 12 | Espargaro Pol | 44 | SPA | 40 | Repsol Honda Team | Honda |
| 13 | Vinales Maverick | 12 | SPA | 33 | Aprilia Racing | Aprilia |
| 14 | Nakagami Takaaki | 30 | JPN | 30 | LCR Honda | Honda |
| 15 | Martin Jorge | 89 | SPA | 28 | Pramac Racing | Ducati |
| 16 | Marini Luca | 10 | ITA | 21 | Mooney VR46 Racing Team | Ducati |
| 17 | Bezzecchi Marco | 73 | ITA | 19 | Mooney VR46 Racing Team | Ducati |
| 18 | Morbidelli Franco | 21 | ITA | 19 | Monster Energy Yamaha MotoGP | Yamaha |
| 19 | Marquez Alex | 73 | SPA | 18 | LCR Honda | Honda |
| 20 | Dovizioso Andrea | 4 | ITA | 8 | WithU Yamaha RNF MotoGP Team | Yamaha |
| 21 | Binder Darryn | 40 | RSA | 6 | WithU Yamaha RNF MotoGP Team | Yamaha |
| 22 | Di Giannantonio Fabio | 49 | ITA | 3 | Team Gresini Racing MotoGP | Ducati |
| 23 | Gardner Remy | 87 | AUS | 3 | Tech 3 KTM Factory Racing | KTM |